---
Crew
Director/Screenplay – Kenneth Branagh, Based on the Play by William Shakespeare, Producer – David Barron, Photography – Alex Thomson, Music – Patrick Doyle, Special Effects Supervisor – Joss Williams, Production Design – Tim Harvey. Production Company – Castle Rock/Fishmonger Films.
Cast
Kenneth Branagh (Hamlet), Derek Jacobi (Claudius), Richard Briers (Polonius), Michael Maloney (Laertes), Kate Winslet (Ophelia), Julie Christie (Gertrude), Nicholas Farrell (Horatio), Brian Blessed (Hamlet's Father), Timothy Spall (Rosencrantz), Reece Dinsdale (Guildenstern), Billy Crystal (Gravedigger), Robin Williams (Osric), Charlton Heston (King in the Play), Jack Lemmon (Marcellus)
---
Plot
Hamlet, the prince of Denmark, is unhappy because within only a matter of weeks of the death of his father, his uncle Claudius has married his mother Gertrude. Hamlet then receives news that the guards of the palace have seen his father's ghost. The father's ghost appears to Hamlet, telling him how Claudius killed him by pouring poison in his ear while he slept. Hamlet attempts to find the truth of this and stages an elaborate ruse to determine if Claudius is the murderer. All around him, people begin to wonder if Hamlet has not gone mad.
---
Kenneth Branagh materialised out of nowhere in the late 1980s with roles in tv mini-series like Maybury (1981), The Boy in the Bush (1984), the fabulous Fortunes of War (1987) and the tv remake of Look Back in Anger (1989) and in films such as A Month in the Country (1987). Branagh was one of the brightest young stars of the British Shakespearean tradition. At the age of 18, he had been one of the youngest ever lead actors at the Royal Shakespeare Company and then formed his own Shakespearean company The Renaissance Theatre Company in 1987. With his first film as director, Henry V (1989), Kenneth Branagh was nominated twice for an Oscar in one year and won a BAFTA as Best Director – all before reaching the age of thirty.
Kenneth Branagh is one of the greatest cinematic populists of Shakespeare. Hamlet was Branagh's third venture into cinematic Shakespeare, following the success of his dazzling adaptations of Henry V and Much Ado About Nothing (1993) and would later be followed by his musical adaptation of Love's Labor Lost (2000) and As You Like It (2006). [He had also earlier directed a tv adaptation of Twelfth Night (1988)]. Kenneth Branagh's adaptations single-handedly reinvigorated Shakespeare on screen in the 1990s. Up until then, filmed Shakespeare had been more or less like filmed stage plays with the camera only following the action. There were one or two notable exceptions – Franco Zefferelli's Romeo and Juliet (1968) and Roman Polanski's MacBeth (1971). However, Branagh succeeded in firing Shakespeare up with a cinematic dynamism, accomplishing the difficult task of being both faithful to the play in question and also making it work as great cinema.
Branagh's successes brought in a new vogue in cinematic Shakespeare and the 1990s saw a series of big-budget adaptations of various Shakespearean plays, all taking their cue from Kenneth Branagh's more cinematic interpretation – Zefferelli's Hamlet (1990) with Mel Gibson, Richard III (1995), Othello (1995) (which also starred Branagh), Romeo +& Juliet (1996), Twelfth Night (1996), A Midsummer Night's Dream (1999), Titus (1999), The Tempest (2010), peculiar updatings such as The Tempest (tv movie, 1998), 10 Things I Hate About You (1999), Hamlet (2000), O (2001), Gnomeo & Juliet (2011) and the BBC tv series ShakespeaRe-Told (2005), which redid a number of Shakespeare plays in modern setting and dialogue, as well as other oddities like Prospero's Books (1991), Al Pacino's documentary Looking for Richard (1996), Tromeo & Juliet (1996) and the entirely overrated Shakespeare in Love (1998).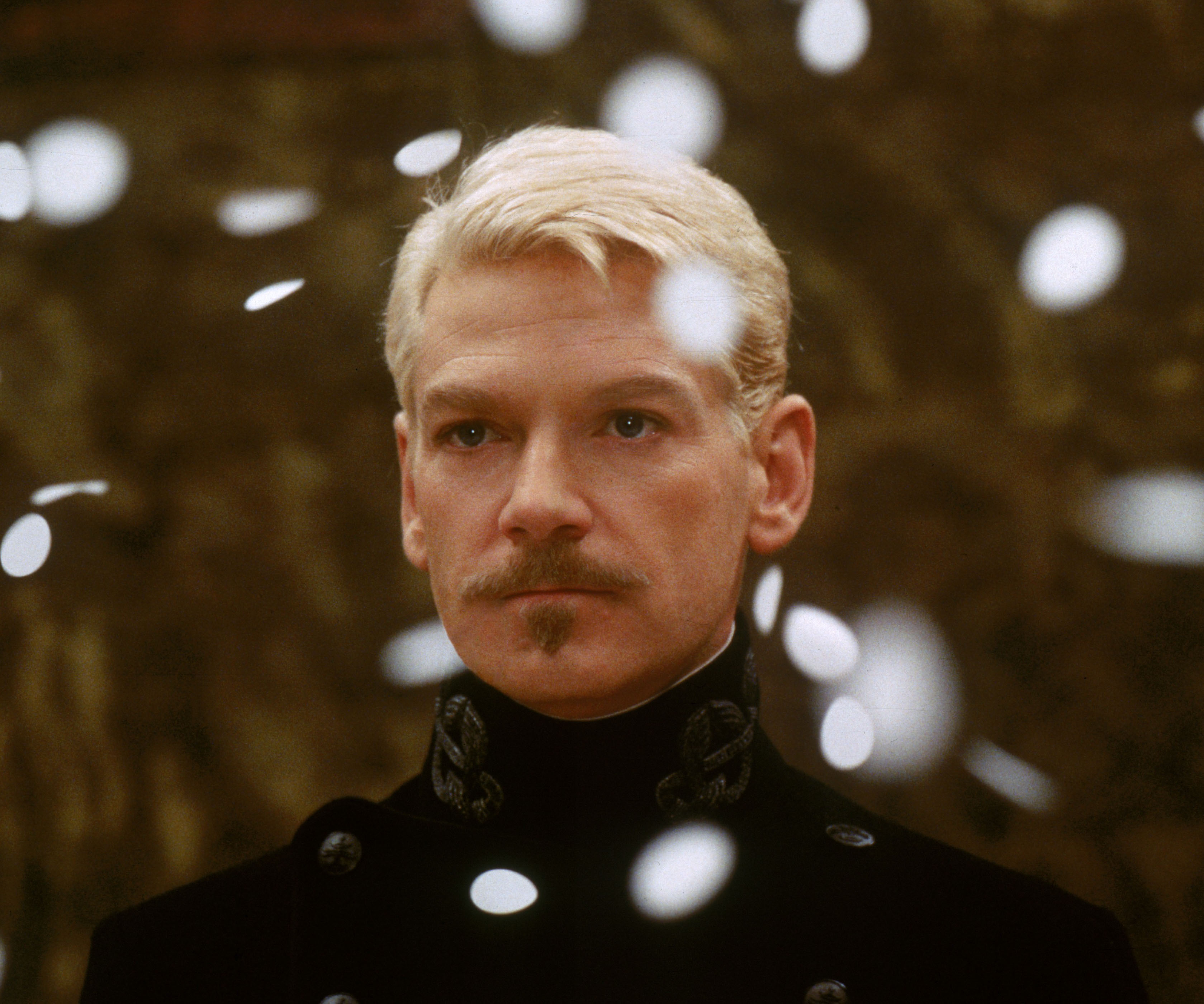 Hamlet (1602) is considered by most to be Shakespeare's greatest play, if not the greatest play ever written. Accomplishing it as an actor is akin to performing one's masterwork. Here Kenneth Branagh tries for a definitive Hamlet no less – and very nearly achieves it. However, the problem with the film is exactly that. Branagh attempts a completely faithful Hamlet – every other screen adaptation up to that point had abridged the play in one way or another.
This results in a very long film – four hours and two minutes in length. (The film was cut down to a 2½-hour version but this was promptly restored after public outcry). No scene is left untouched by Branagh – and somewhat to his detriment. While certainly never uninteresting, the overall effect is of a long and talky film filled with sporadic moments of brilliance. Branagh's two previous Shakespearean films have been uniformly brilliant but here the length of the play slows the film down.
Nevertheless, when the play is good – it particularly picking up its dramatic momentum in the second half – the film is exceptional. Branagh invests the classical overly familiar speeches – "Alas poor Yorick, I knew him, Horatio" and "To be or not to be" – with a reverence that makes them feel as though they are being uttered anew for the first time. Especially innovative is the utterance of "to be" speech, delivered in front of a mirror behind which Claudius and Polonius are hiding.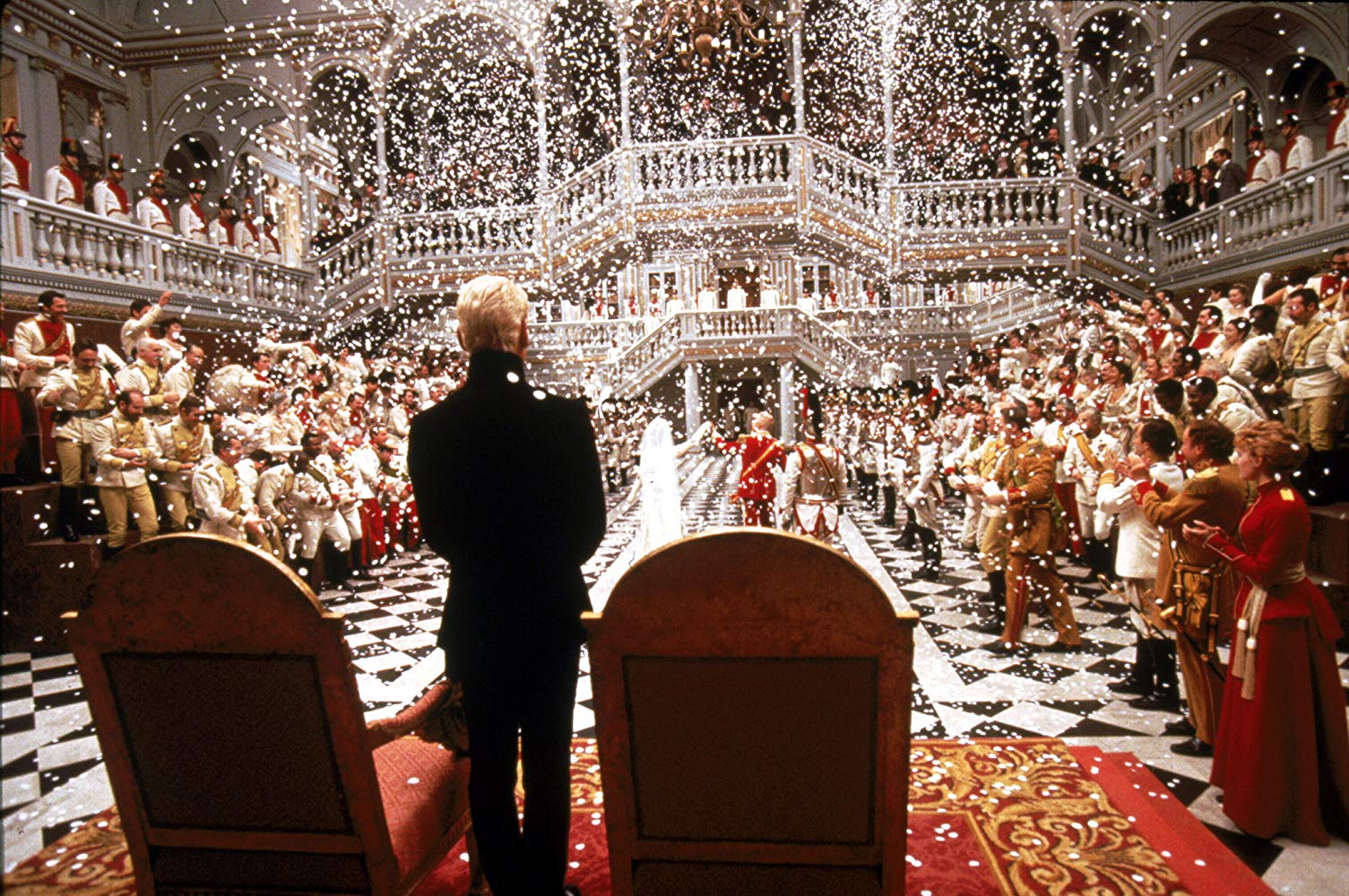 Hamlet has an epic sweep – Branagh shot it in 70mm. The speech where Hamlet vows his vengeance is a breathtaking shot that pulls back from medium closeup to show him on a cliffside above a snowy plain across which an entire army is marching. The climactic fight with Laertes and the killing of Claudius by throwing a sword the length of the throne room and then cutting the chandelier to impale him is thrillingly good cinema. Elsinore is designed as an impressive labyrinth of mirrored ballrooms and hidden doors.
Everything in the film is epic, including the remarkable cast that Branagh has marshalled – he even uses actors like John Gielgud and Judi Dench to fill parts in a throwaway flashback that any other adaptation would only leave the characters as names mentioned only in passing. For all that, there are not any truly standout performances. Billy Crystal has a witty cameo as the gravedigger and Kate Winslet is good in the scene where she breaks down into madness.
Other performances less so. Brian Blessed as the father's ghost just does not work – Blessed is far too melodramatic an actor and the scenes with him whispering loudly seem overly theatrical. Plus the fact that one keeps getting distracted by the obvious and piercingly blue contact lenses that Blessed has been provided with.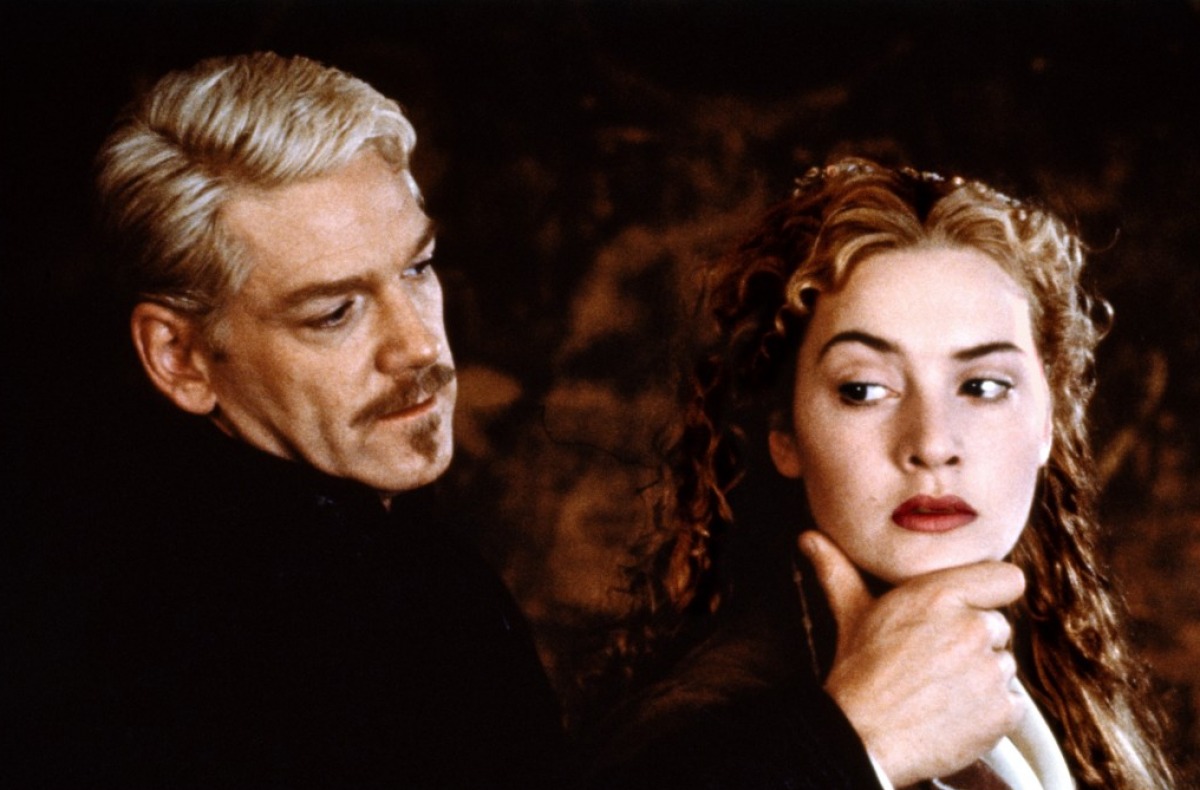 Sadly, the film is let down most of all by Kenneth Branagh himself. Branagh is a stage-trained actor and on film he comes across more as an over-actor than a real actor. His Hamlet tends to come off more as a manic depressive leprechaun than a study in obsession and madness. For all its faults and unevenness, this is a near great adaptation of the play.
Kenneth Branagh has also directed several other films that are of genre interest:– the reincarnation thriller Dead Again (1991); Mary Shelley's Frankenstein (1994), an adaptation of the oft-filmed horror classic; The Magic Flute (2006), an adaptation of the Mozart opera to the World War I battlefield; the Marvel Comics superhero film Thor (2011); the reboot of the Tom Clancy series Jack Ryan: Shadow Recruit (2014); the big screen adaptation of Cinderella (2015); and the Young Adult adaptation Artemis Fowl (2020).
(Winner in this site's Top 10 Films of 1996 list. Nominee for Best Adapted Screenplay and Best Production Design at this site's Best of 1996 Awards).
---
---