USA. 1996.
Crew
Director – Michael Pressman, Screenplay – David E. Kelley, Based on the Play by Michael Brady, Producers – David E. Kelley & Marykay Powell, Photography – Tim Suhrstedt, Music – James Horner, Music Supervisors – Pilar McCurry & Happy Walters, Mechanical Effects Supervisor – Vincent Montefusco, Production Design – Linda Pearl. Production Company – Rastar/David E. Kelley.
Cast
Peter Gallagher (David Lewis), Claire Danes (Rachel Lewis), Kathy Bates (Esther Wheeler), Bruce Altman (Paul Wheeler), Michelle Pfeiffer (Gillian Lewis), Laurie Fortier (Cindy Bayles), Wendy Crewson (Kevin Dollof), Freddie Prinze Jr (Joey Bost)
---
Plot
Paul and Esther Wheeler join David Lewis on Nantucket Island for the weekend. It is the second anniversary of David's wife (and Esther's sister) Gillian's death in a yachting accident. David is still grieving, having dropped out of his job as an academic and come to live on the island. At night, he takes long walks on the beach and has conversations with Gillian, who appears to him. Esther is concerned for the way David is behaving and the effect it might be having on his teenage daughter Rachel. She reveals that she is about to go to court to have him declared incompetent as a parent.
---
To Gillian on Her 37th Birthday is a borderline ghost story. The film was adapted from a 1984 play by Michael Brady and the script written by David E. Kelley, the mega-successful creator-producer of tv series such as The Practice (1997-2004), Ally McBeal (1997-2002) and Boston Legal (2004-8).
To Gillian on Her 37th Birthday is an interestingly ambiguous film. We see the ghost of Peter Gallagher's late wife (Michelle Pfeiffer) – he frolics, swims and trades wry one-liners with her. The film eventually comes down on the side of her being in his imagination but it almost falls into being a ghost story in the vogue of producer Val Lewton who made classics such as Cat People (1942), I Walked with a Zombie (1943) and The Curse of the Cat People (1944), all of which hovered in an eerily ambiguous place about whether apparitions of the supernatural were real or merely something that was believed in by the characters in the film. Certainly, it is interesting to see a ghost story where the apparitions are shown as being someone's eccentric infatuation of the imagination rather than ones that have an ontological existence.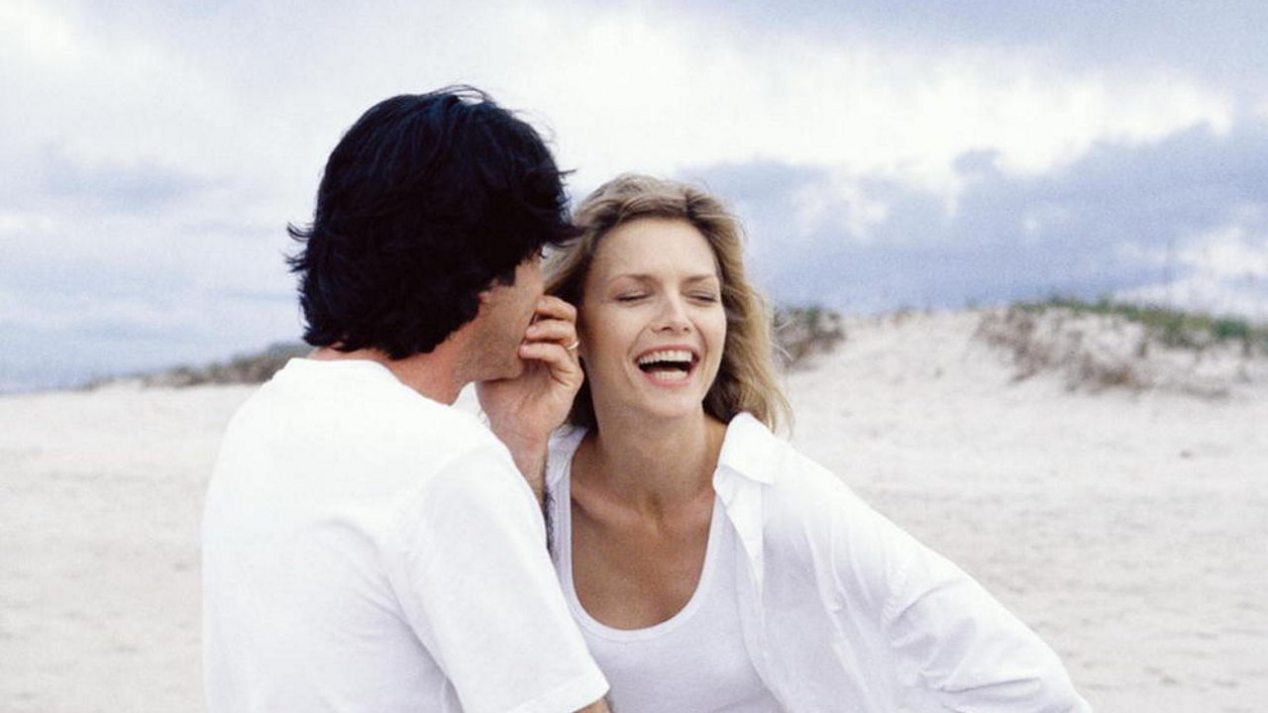 Of course, the major difference between Lewton's work and To Gillian on Her 37th Birthday is that Lewton's films are horror stories, whereas To Gillian is a weepy New Age drama. While Kelley's work is frequently exceptional tv drama, the downside of his writing is that it can often be preachy or, as in Ally McBeal in particular, filled with a cutsie self-congratulatory narcissism. It is this latter that fatally infects To Gillian. Kelley seems more interested in writing wryly, self-reflexive one-liners than he does fully rounded characters. You get godawfully pretentious lines like "The fucking Statute of Limitations on pain has run out." Bruce Altman's sarcastic husband seems particularly irritating in this regard. Kelley mounts a well-constructed story and everyone gives decent performances but it is all very bland, very New Agey and California therapyspeak. The only moment the film moves out of its feelgood banality is the scene where teenager Laurie Fortier turns Bruce Altman's sexual slaverings around and propositions him, leaving him speechless.
The only other genre film that David E. Kelley has ever written has been the killer crocodile film Lake Placid (1999), while on television he was also responsible for an unsold tv pilot for Wonder Woman (2011) and the Stephen King tv series adaptation Mr. Mercedes (2017-9). Michael Pressman's one other genre film was Teenage Mutant Ninja Turtles II: The Secret of the Ooze (1991).
---
Trailer here
---