---
Germany/Denmark/USA/Portugal. 1993.
Crew
Director/Screenplay – Bille August, Based on the Novel by Isabel Allende, Producer – Bernd Eichinger, Photography – Jorgen Persson, Music – Hans Zimmer, Special Effects Supervisor – David Harris, Makeup Effects – Horst Stadlinger, Production Design – Anna Asp. Production Company – Neue Constantin Film/Spring Creek Productions/House of the Spirits Film/Costa do Castelo Filmes.
Cast
Jeremy Irons (Esteban Trueba), Meryl Streep (Clara Trueba), Winona Ryder (Blanca Trueba), Glenn Close (Ferula Trueba), Antonio Banderas (Pedro Segrado), Jan Niklas (Count Satigny), Joaquim Martinez (Segrado), Vincent Gallo (Esteban Garcia), Sasha Hanau (Alba Trueba), Maria Conchita Alonso (Transito), Vanessa Redgrave (Nivea), Armin Mueller-Stahl (Severo)
---
Plot
Blanca Trueba tells the story of her family. In 1926, her mother Clara fell for the young Esteban Trueba when he came to ask for the hand of her sister Rosa in marriage. Rosa then died. Esteban brought an estate with money earned gold-mining but became a harsh and cruel landlord. He returned to Clara, who had not spoken for many years, preferring to live in the 'house of the spirits' inside her head. She suddenly spoke and agreed to marry him. Blanca was later born. As a teenager, Blanca ran up against her father's iron hand when he found her sneaking out to see the peasant boy Pedro. The leftist People's Party then won at the elections and the militia conducted a coup. Esteban, who had become a prominent conservative politician, was left powerless and then hunted for his life.
---
There is something undeniably autobiographical to Isabel Allende's novel The House of the Spirits (1982), which this film is based on. Isabel was a niece of Chile's President Salvador Allende whose socialist government was overthrown in a CIA-backed military junta by General Pinochet in 1973. There are many aspects of The House of the Spirits that can be seen as autobiographical on Allende's part.
On the other hand, there is also something undeniably fictional to the story's multi-generational romantic saga, told as it is in the Latino style of Magical Realism, featuring the likes of a precognitive Meryl Streep and appearances from various ghosts. Exactly what is fiction and what is not is hard to tell – the film, for instance, never specifies which South American country the story takes place in.
The book is certainly a mammoth effort to try and pull off as a single film. It falls into two stories – the first and most interesting being the study of Esteban's rise to power and of his cruelty and hypocrisy; the second and less interesting (and less convincing), the romantic story of two lovers set against the background of the revolution. The first half of the film is excellent. Jeremy Irons, despite appearing to be talking through an ill-fitting set of dentures, gives a performance of cruel power and all-too-believable tyranny that dominates the entire film. It is a beautifully written and acted piece of characterisation.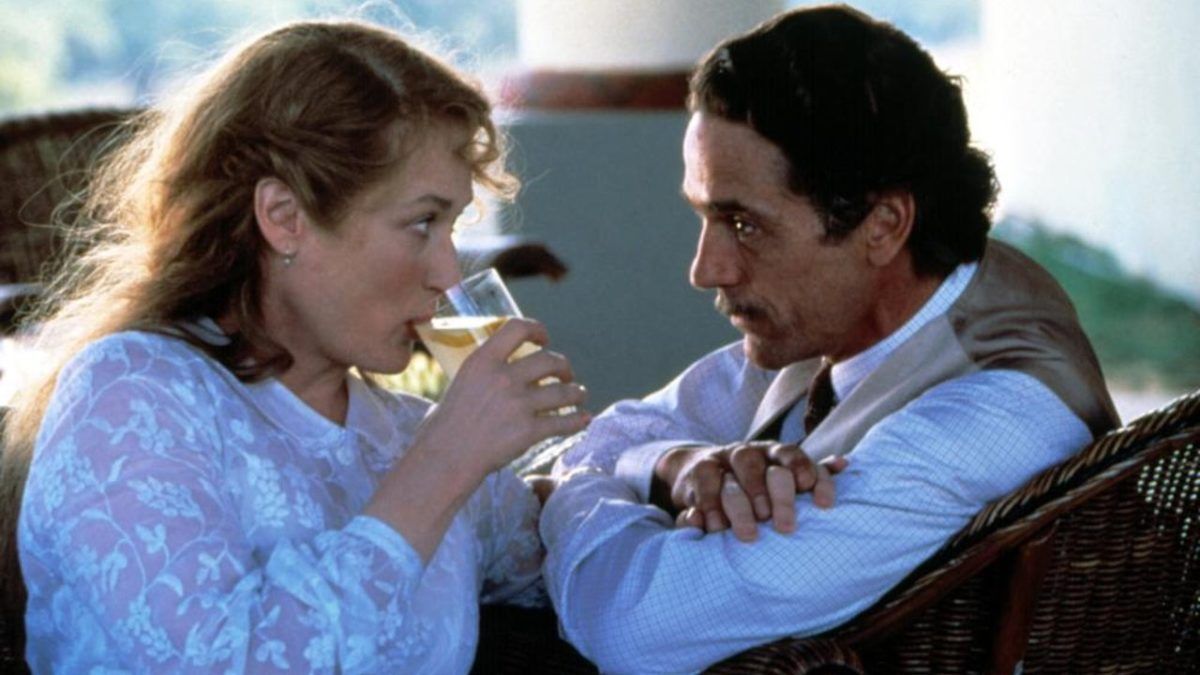 Unfortunately, the second half of the film almost entirely mitigates the character. The first half puts incredible emotion and dramatic conviction into detailing the man's cruelty but the second half gets sentimental and pushes the character's cruelty under the carpet, granting him maudlin forgiveness. The results are almost impossible to credibly swallow – one minute Esteban is trying to kill Antonio Banderas, the next he is trying to smuggle Banderas out of the country.
The drama of the second half hardly convinces either. It becomes like a tv mini-series playing out of a revolution, all epic posturing and melodrama – crosscuts of lovers struggling in one another's arms while tanks and troops pass through the streets; and Meryl Streep and Jeremy Irons both having the appallingly sentimental touch of apparently knowing when their own deaths are about to occur and deciding to lie down and wait for them.
One suspects that the Isabel Allende book would have been better suited as a tv mini-series than as this ungainly film. Director Bille August has an eye for epic size – the film takes places in opulent cafes, plush houses, big crowds – all designed for maximum widescreen impact. However, August does little to animate the drama taking place. A scene where Meryl Streep's parents are killed when their car stalls on a train line feels like it has strayed in from another film altogether, so dramatically out-of-the-blue it is. Bille August statedly wanted to play the book's fantastic elements down as much as possible and these are pushed to the background.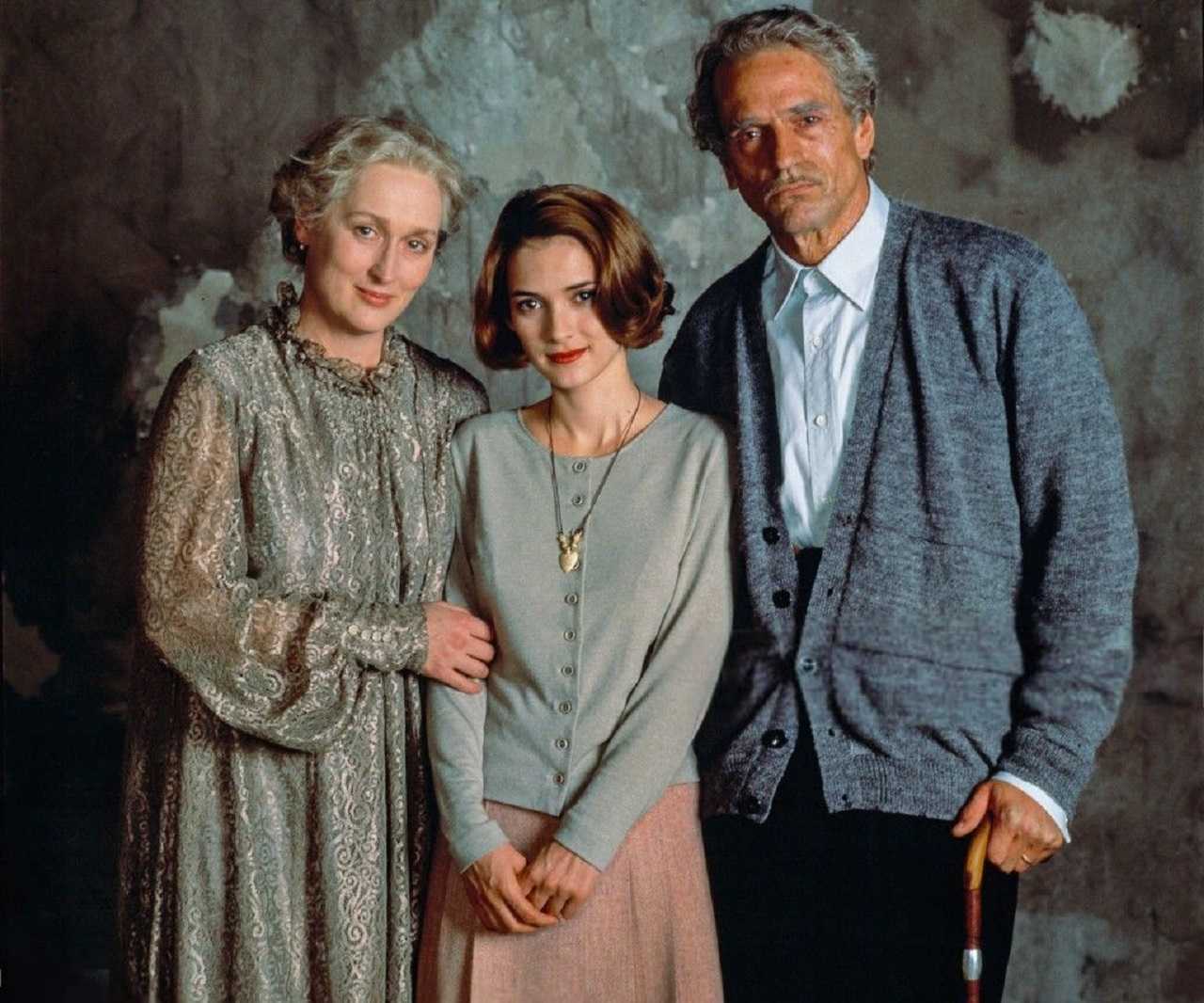 Some individual scenes do work though. The scene where Glenn Close confesses to the priest about her suppressed desire and the way she peeps in on Jeremy Irons and Meryl Streep in bed briefly conjures an atmosphere of heated and torrid fascination. The slow-motion scene where Jeremy Irons snatches up a peasant girl on horseback and rapes her has a remarkable poetic intensity. Nevertheless, the film seems like a series of missed opportunities. A much better and genuinely Latino version of the Magical Realist family saga that came out around the same time was the Mexican Like Water for Chocolate (1992).
The House of the Spirits also seems to have a case of confused cultural identity – it is an epic about South American revolution made by a Danish director, financed by German, Portuguese and Danish production companies, shot in Denmark, and cast with Americans, British, Spanish and Germans as the Latinos. Indeed, there are no genuine Latin American actors until some way down the supporting cast. Certainly, none of the big name cast make for convincing Latinos. Neither are many of the performances, apart from the central one from Jeremy Irons, very good. Meryl Streep is at her irritably airy worst. Outside of waif roles and light comedy, Winona Ryder, as usual, does not have the ability required for a serious dramatic role. The other best performance comes from Glenn Close who manages to suggest her near-saintly character's dedication and repressed passion rather well.
Danish director Bille August had come to international attention with the acclaimed Pelle the Conqueror (1987) and would next go onto make the interesting Smilla's Sense of Snow/Smilla's Feeling for Snow (1997), a Scandinavian detective story that comes with a science-fiction twist.
---
---