---
Crew
Director – David Yates, Screenplay – Steve Kloves & J.K. Rowling, Based on a Screenplay by J.K. Rowling, Producers – David Heyman, Steve Kloves, Tim Lewis & J.K. Rowling & Lionel Wigram, Photography – George Richmond, Music – James Newton Howard, Visual Effects Supervisor – Christian Mänz, Visual Effects – Digital Domain 3.0 (Supervisor – Jay Barton), Framestore (Supervisors – Benjamin Loch & Stephane Naze), Image Engine (Supervisor – Martyn Culpitt), One of Us (Supervisor – Louis LaFlamme-Fillion), Rise | Visual Effects Studio & Rodeo FX, Special Effects Supervisor – Alistair Williams, Production Design – Stuart Craig & Neil Lamont. Production Company – Heyday Films.
Cast
Eddie Redmayne (Newt Scamander), Jude Law (Albus Dumbledore), Mads Mikkelsen (Gellert Grindelwald), Dan Fogler (Jacob Kowalski), Jessica Williams (Eulalie 'Lally' Hicks), Callum Turner (Theseus Scamander), Alison Sudol (Queenie Goldstein), Ezra Miller (Credence Barebone), William Nadylam (Yusuf Kama), Victoria Yeates (Bunty Broadacre), Richard Coyle (Aberforth Dumbledore), Oliver Masucci (Anton Vogel), Valerie Pachner (Henrietta Fischer), Poppy Corby-Tuech (Vinda Rosier), Katherine Waterston (Tina Goldstein), Maria Fernanda Cândido (Vicencia Santos), Fiona Glascott (Minerva McGonagall)
---
Plot
Albus Dumblebore unites a group of wizards in secrecy to do something about the threat posed by Gellert Grindelwald. Because of a magical blood pact he made when he was in love with the young Grindelwald, Dumbledore is unable to directly betray him in anyway. Gathered are Newt Scamander, his brother Thesesus, several other wizards and the Muggle Jacob Kowalski. Grindelwald's ability to see the future presents a problem to making any plans. They head to Germany where Grindelwald has infiltrated members of the magic council who announce that all charges against Grindelwald are dropped. This clears Grindelwald to stand for election as the Supreme Mugwump in elections to be held in Bhutan. The ceremony uses a Qilin, a creature that looks into a person's soul to see if they are pure of heart and bows to them when it does. However, as Newt realises, Grindelwald has killed and resurrected a Qilin so that it will chose him.
---
This was the third of the Fantastic Beasts films, following Fantastic Beasts and Where to Find Them (2016) and Fantastic Beasts: The Crimes of Grindelwald (2018). These in turn were created by J.K. Rowling as a prequel series to her massively successful Harry Potter films – Harry Potter and the Sorcerer's Stone/Harry Potter and the Philosopher's Stone (2001), Harry Potter and the Chamber of Secrets (2002), Harry Potter and the Prisoner of Azkaban (2004), Harry Potter and the Goblet of Fire (2005), Harry Potter and the Order of the Phoenix (2007), Harry Potter and the Half-Blood Prince (2009), Harry Potter and the Deathly Hallows Part 1 (2010) and Harry Potter and the Deathly Hallows Part 2 (2011).
A good deal has changed between The Crimes of Grindelwald in 2018 and when The Secrets of Dumbledore arrives in 2022. Some of its luminaries are not what they once were. In particular, there is a massive online hate campaign against J.K. Rowling for her comments that are being perceived as transphobic, which has resulted in a movement to have her removed from bookshops and libraries. Similarly, Johnny Depp, who played Grindelwald in the previous two films, became a victim of Cancel Culture, over ex-wife Amber Heard's claims that he had physically abused her. As a result, Depp's once A-list name evaporated overnight and he was removed from the role of Grindelwald by the studio after shooting three scenes whereupon the part was recast with Mads Mikkelsen.
Furthermore, in between 2018 and 2022, there has been a worldwide pandemic. The set of The Secrets of Dumbledore was briefly shut down after one crewmember tested positive. The climactic scenes were originally intended to be filmed in Rio de Janeiro but the lockdowns precluded this and the locale was recast as Bhutan, which was recreated at the Warner Brothers studio lot in the UK. Even more so, following theatrical closures during the pandemic, box-office has been slow to resurge and when The Secrets of Dumbledore did open it did so to the lowest box-office of any film in the Harry Potter franchise.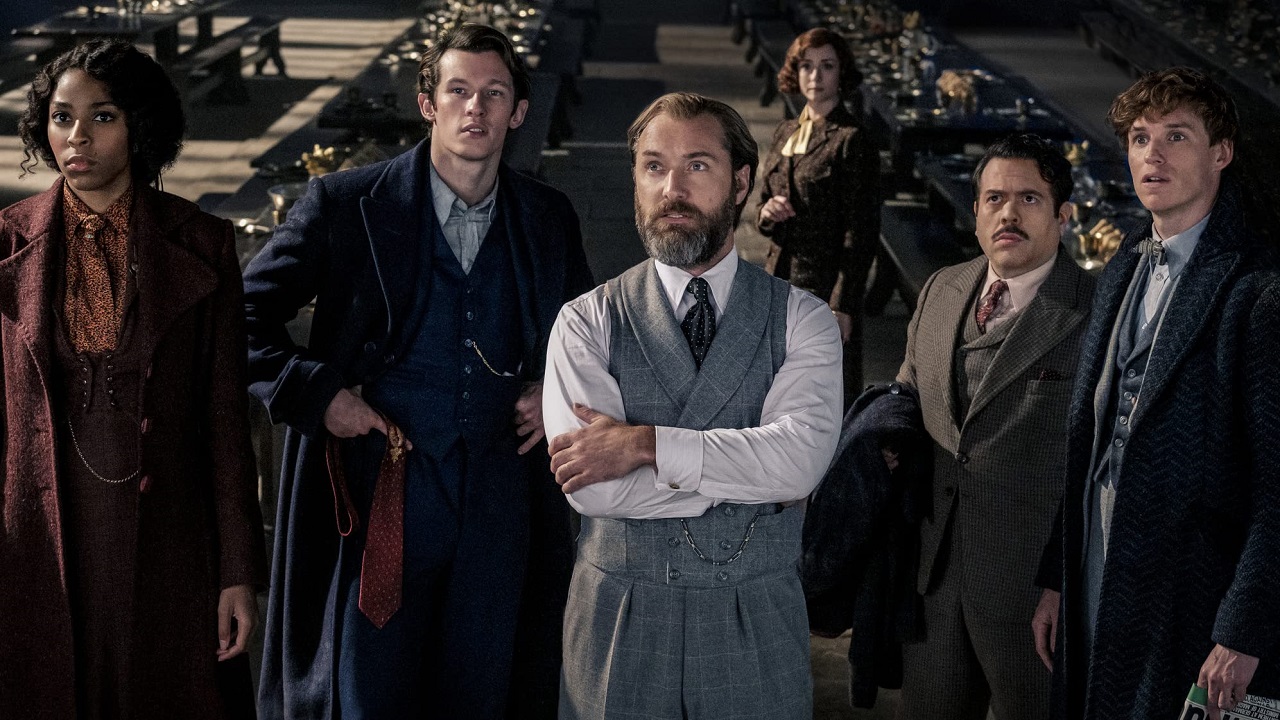 When I was writing up The Crimes of Grindelwald, I felt an ennui with the Harry Potter universe and that has not gone away by the time that The Secrets of Dumbledore starts. For much of the film, there is a blur of characters and locations. Things happen but they only seem to make sense if you have done a deep dive into Harry Potter fandom. For example, I was never clear why the group had to go and infiltrate a dinner party/political rally in Germany – the scene is there because it is part of the plot where Grindelwald is acquitted, Theseus arrested and Kolwaksi framed but I was never sure why the characters had to go there in the first place. Similarly, Dumbledore and Credence Barebone meet in the streets of Germany in a magical battle that destroys much of the surrounding area and an entire streetcar, which looks cool from a visual effects perspective, but what this was all about seemed entirely unclear to me.
The other issue that switches me off about the entire Harry Potter universe is the use of free energy. This is something that runs through all of the films but seems particularly evident here. It seems nothing for characters to casually teleport everywhere, use a wand as an energy weapon, or to conjure almost anything into happening from a transformation of appearance to the shutting of Kowalski's shop. A visit to cafes and dinner parties is filled with crockery and teapots floating through the air. Jessica Williams casually turns page from books into storms that can fill an entire room and even teleport people about. At one point during the battle in Bhutan, one person is transformed into a painted figure on the wall, while pursuers are overrun by a tidal wave of baked goods after opening a suitcase.
This is a world where there seems no limits on what it is possible to conjure. As I have repeatedly said, in a world where anything can happen, it ceases to matter what does happen. For instance, in the real world, travelling anywhere requires either a plane or vehicle journey of some sort and at the very least an investment of time and money. For a real world tidal wave of baked goods, someone would have to bake them all and pack them into a suitcase. In other words, this has a cost in terms of what people can achieve and there are usually limitations on this such as physical laws, time, expense or practicality. As with Dumbledore and Credence's fight demolishing entire city blocks and street cars, it seems something that is pretty eye candy but means nothing – least of all in the considerable cost of human life and damage to property that such an event would incur. At least in the Harry Potter films, the constraints on what happened was how much you learned or your skill level and the possibility that things could go wrong due to inexperience but there seems none of that here.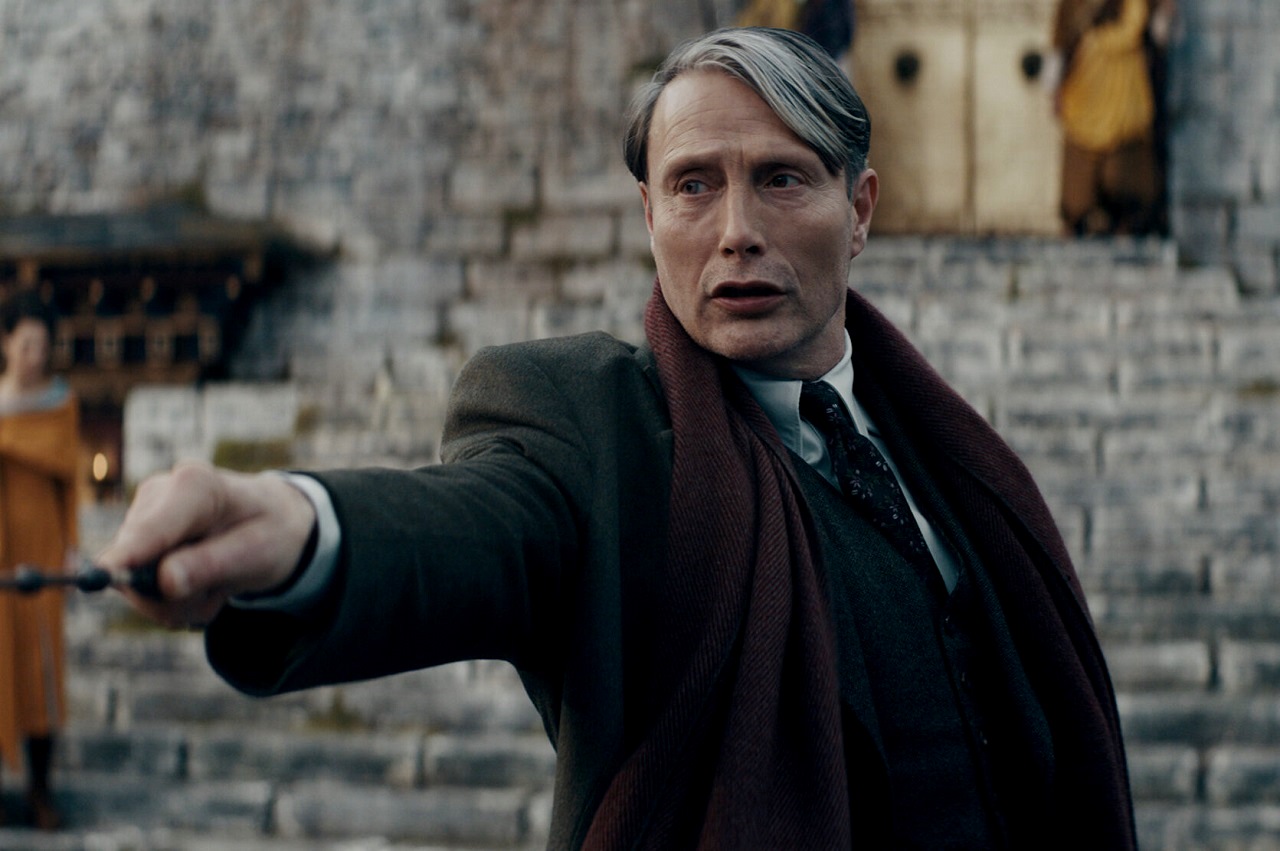 Certainly, David Yates, who has directed the previous six outings in the Harry Potter universe, has his act perfectly polished. The film is a marvel of production design and looks great, from the narrow backstreets of Bhutan to the dinner parties in the German chancellery and especially the 1930s era New York streets. As with most of the previous films, Yates likes lowering the lighting levels to the point the film is often in darkness surrounded by glimmer of light.
On the other hand, this sits at odds with J.K. Rowling's plotting with characters with cartoon names and Grindelwald as a heavy-handed magical analogue of Adolf Hitler. At least, Mads Mikkelsen does well as Grindelwald. As much, as Johnny Depp is an aggrieved party, I contrast him and Mads and have to say Mads gives the better performance.
On the other hand, there comes a sudden point near the end of the film where the plot slots into place and the film suddenly works. The chase through the streets of Bhutan has a smart cleverness – even if it is too dependent on the casual magic – where we start to see the caper plot that has been set up falling into place, The film works especially when it comes to the scenes where Grindelwald tries to rig the election and in Newt's efforts to expose it, where we finally see something happening where the stakes are of vital importance to the characters. The film winds up at a point where the Fantastic Beasts series has come to a natural end. Now would be a good point to place the series into a retirement.
---
Trailer here
---