---
Crew
Director – Emir Kusturica, Screenplay – David Atkins, Story – David Atkins & Emir Kusturica, Producers – Yves Marmion & Claudie Ossard, Photography – Vilko Filac, Music – Goran Bregovic, Visual Effects – Peerless Camera Company Ltd, Special Effects Supervisors – Kenny Estes & Gregory C. Landerer, Production Design – Miljen Kljakovic "Kreka". Production Company – Constellation/UGC/Hachette Premiere/Canal+.
Cast
Johnny Depp (Axel Blackmar), Faye Dunaway (Elaine Stalker), Lili Taylor (Grace Stalker), Vincent Gallo (Paul Leger), Jerry Lewis (Leo Sweetie), Paulina Porizkova (Millie), Michael J. Pollard (Fabian)
---
Plot
Axel Blackmar is trying to make a life in New York City but is troubled by dreams of an Inuit village. He is interrupted by his cousin Paul Leger who wants Axel to come to Arizona for their Uncle Leo's wedding. Axel doesn't want to go but Paul gets him drunk and abducts him. In Arizona, Leo is insistent that Axel come to work at his used car sales business. There Axel and Paul befriend Elaine Stalker and her stepdaughter Grace after they come to buy a car. After they invite themselves to the Stalker ranch for dinner, Axel and Elaine become lovers. Elaine talks of her dream of being able to fly and so Axel determines to build her a flying machine, much to the irritation of the mentally unstable Grace.
---
Emir Kusturica is a director who grew up in the former Yugoslavia (the area now known as Serbia). Kusturica began directing in the 1980s and gained reasonable acclaim with films such as Do You Remember Dolly Bell? (1981), When Father Was Away on Business (1985) and the Magical Realist The Time of the Gypsies (1988). The festival acclaim received by the latter had Kusturica brought to America to make the French-funded Arizona Dream, his only venture into the English-language. He subsequently returned to Serbia to make the likes of Underground (1995), the award-winning Black Cat, White Cat (1998) and Life is a Miracle (2004).
Though made in 1991, it was not until 1993 that Arizona Dream received a European release, while the US didn't get to see it until 1994 where it was released to only three theatres nationwide. This perhaps gives some indication of the unclassifiable eccentricity of the film – one that lacked any identifiable niche other than "arthouse weirdness from a director who had a name in Europe."
Certainly, going by the cast list, the film should have been a hit. There's Johnny Depp who was just starting to move from teenybop star and finding his feet as a major name actor and was charting his place by working with notable independent and non-mainstream directors; the young and acclaimed Lili Taylor; the perpetually eccentric Vincent Gallo; Jerry Lewis now well into his sixties and the sunshine of his career when he stopped doing comedy and started doing hard-nosed serious acting; and Faye Dunaway, a major star in the 1970s who was now into her fifties (and despite which manages to deliver a saucy performance as she burns the screen up romantically paired with Depp, twenty years her junior).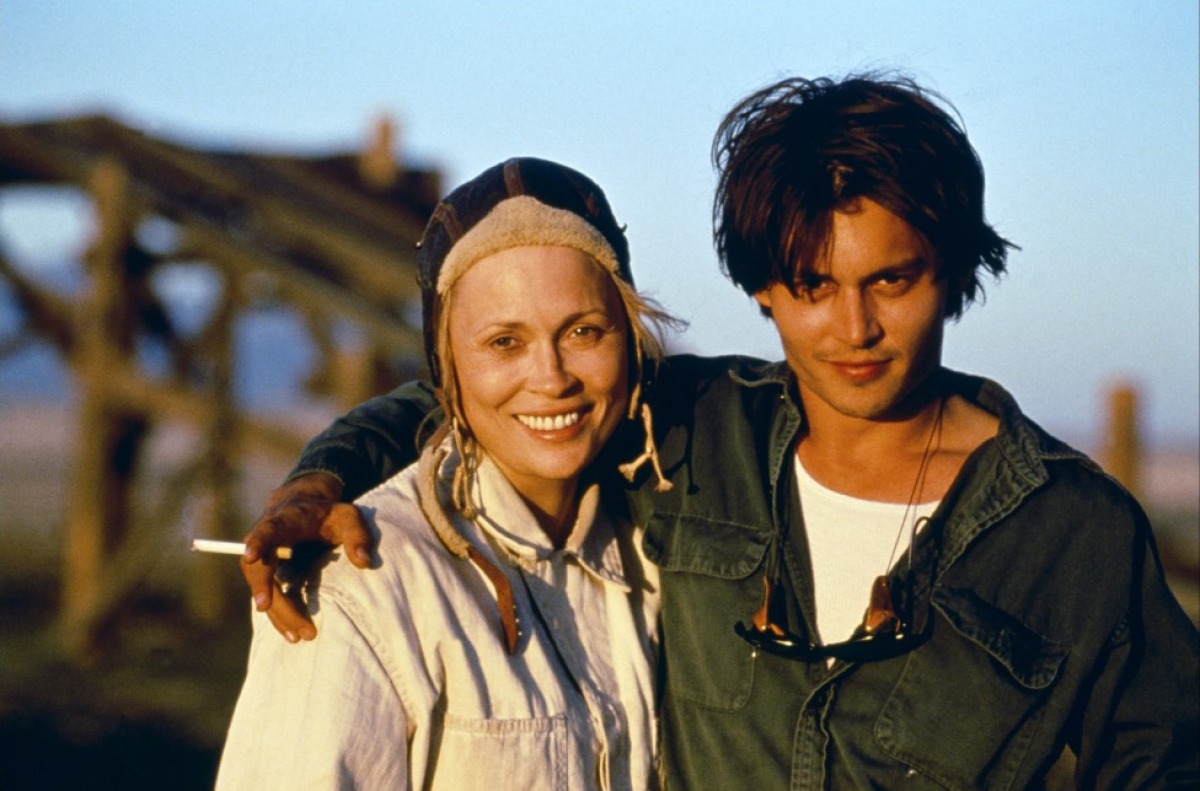 Arizona Dream has a number of people who acclaim it a great film. I am of more mixed outlook than that. The main problem for me was that it doesn't really seem to be about anything. It has all the hallmarks of a breed of French film and certain indie US films, which are less concerned with a plot that starts at Point A and winds its way through various convolutions to an end, and instead place all their focus on the characters, observing them in mundane situations until this builds to a whole. These are frequently films that are less plotted than they are regarded as improvisational exercises by their director and cast with a maximum amount of room being given over to whatever way the particular actors want to take drama on the set.
There is a similar kind of looseness to the happenings in Arizona Dream – of watching actors engaged in various pieces of character improv rather than participating in a plot that comes with a pre-planned direction. Certainly, the sheer calibre of the cast that Emir Kusturica has assembled makes all of this undeniably watchable. And there are moments when this becomes something brilliantly directed – none the more so than the dinnertable conversation with two different couples playing footsie under the table, ending with an argument between Faye Dunaway and Lili Taylor and Lili deciding to hang herself with her pantyhose on the stair landing. Or in some of Vincent Gallo's clever acted out versions of North By Northwest (1959) and Raging Bull (1980) that follow the original beat for beat.
This kind of loose, improvisational drama never much lends itself to genre cinema, which is usually focused around ideas (in the case of science-fiction), otherworldly externals (in the case of fantasy) or shock and suspense set-pieces (in the case of horror). That said, Kusturica allows a number of surreal and puzzling elements to run through the film. There are several scenes where characters start spontaneously floating up into the air. We also get a number of appearances of a fish that flies through the air for reasons unknown. There are also Johnny Depp's dreams of being part of an Inuit community, from which the flying fish originates, while the end of the film features he and Jerry Lewis's departed character amid the Inuit community fishing on the ice. Quite what all of this means is a considerable scratch of the head.
---
Trailer here
Full film available online here:-
---