---
Crew
Director – Stobe Harju, Co-Director – Mark Roper, Screenplay – Stobe Harju, Richard Jackson & Mikko Rautalahti, Story – Stobe Harju & Tuomas Holopainen, Producers – Neil Dunn, Jukka Helle, Andre Rouleau & Markus Selin, Photography – Benoit Beaulieu, Music – Petri Alanko & Nightwish, Visual Effects Supervisor – Joshua Sherrett, Visual Effects – Alchemy 24 (Supervisor – Jean-Francois 'Jafaz– Ferland), Vision Globale (Supervisor – Etienne Daigle), Visual Effects Finland (Supervisor – Eki Halkka) & The Workshop, Special Effects – Cinnefects, Production Design – Elisabeth Williams. Production Company – Scene Nation/Solar Films Inc/Caramel Films/Talisman Films.
Cast
Thomas Lord (Thomas 10), Marianne Farley (Gem Whitman 35), Joanna Noyes (Ann 73), Francis-Xavier McCarthy (Thomas Whitman 75), Keyanna Fielding (Gem Whitman 7), Anette Olzon (Ann 32), Victoria Ann Jung (Ann 8), Ikka Villi (Theodore Whitman), Ron Lea (Dr Jansson), Tuomas Holopainen (Thomas Whitman 34 & 47)
---
Plot
The 75-year-old Thomas Whitman, a former rock musician, lies dying in a hospital bed. His daughter Gem, who has remained estranged from her father, tells the doctor to turn off the life support. Inside Thomas's mind, his ten-year-old self is taken on a journey through his memories by a sinister snowman. There he must confront the suicide of his father and the other tragedies that have brought him to where he is today.
---
Imaginaerum is a film from the Finnish symphonic metal group Nightwish. Nightwish have been playing since the 1990s and have put out nine studio albums that have achieved reasonable success worldwide. The film grew out of the concept album Imaginaerum (2011) – originally entitled Imaginarium but changed to avoid confusion with the Terry Gilliam film The Imaginarium of Doctor Parnassus (2009). The group then employed Stobe Harju, the Finnish director behind several of their music videos to spin Imaginaerum out as a feature film. Various of the members of Nightwish make appearances throughout the film – Tuomas Holopainen, the band's founder and songwriter, plays the middle-aged version of the protagonist, while Anette Olzon, one of the band's lead singers, plays the middle-aged Ann who can be seen as a dark version of Snow White during the scenes at the circus.
Imaginaerum falls into the same vein as works like The Singing Detective (1986), I'm a Cyborg, But That's Ok (2006), Ink (2009) and Sucker Punch (2011), which occur in an place caught between the objective world and an allegorical inner space where aspects of the protagonist's psyche symbolically play out. We move between elderly protagonist Francis-Xavier McCarthy lying dying on a hospital bed and his mental terrain where his childlike self (Thomas Lord) is guided through the snowy world by an increasingly sinister snowman.
We pass through a dark circus, revisit his childhood, in particular the issue of his father's suicide. These are interspersed with scenes in the outside world where Thomas's estranged daughter (Marianne Farley) wants to turn off his life-support and she and her father's aging partner (Joanna Noyes) gather to talk as Joanna seeks a connection to her father. There are ample opportunities in all of this for the playing of songs from the album.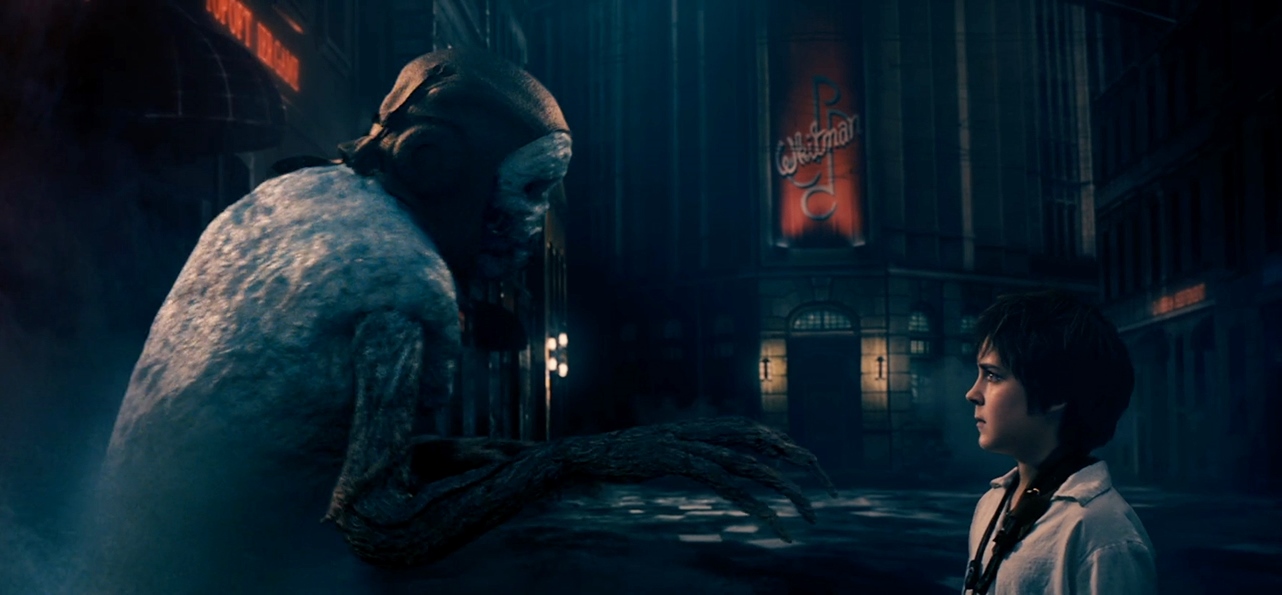 What Imaginaerum seems like is a feature-length music video with artistic pretensions. It is filled with the same allegorical and heavy-handed symbolism that usually plays out in a 4-5 minute music video where there are no words needed and where what is going on is usually all conveyed by the song. In this respect, Imaginaerum seems strained. Director Stobe Harju creates a clear and well-imagined inner world, with some fine effects of the snowman creature and sinister clown figures at the circus. However, it is all dreadfully amateurish symbolism.
In fact, what Imaginaerum reminds of more than any of the abovementioned works is Pink Floyd – The Wall (1982). This was similarly a film adapted from a double concept album, which became an amazing work that swam between objective reality and the surrealistic symbolism of a drug-addicted singer's psyche. The Wall was brilliant in its use of symbolism, visual metaphor and allusion in its near-plotless venture into the dark realm of a fracturing mind. By contrast, Imaginaerum delivers some pretty landscapes, some nice creature effects but is of surprisingly little depth – it even manages to make the traumatic suicide of the hero's father into something that is little more than a novelty picture postcard effect.
---
---