---
Crew
Director/Choreography – Adam Shankman, Screenplay – Brigitte Hales, Story – Richard LaGravanese, J. David Stem & David N. Weiss, Producers – Amy Adams, Barry Josephson & Barry Sonnenfeld, Photography – Simon Duggan, Music – Alan Menken, Songs – (Music) Alan Menken & (Lyrics) Stephen Schwartz, Visual Effects Supervisor – Charles Henley, Visual Effects – Barnstorm (Supervisors – Nicholas Daniels & Laura Hill), Lola Visual Effects (Supervisor – Edson Williams) & MPC (Supervisor – Sebstien Raets), Animation – Tonic DNA, Special Effects Supervisor – Kevin Byrne, Production Design – Dan Hennah. Production Company – Disney/Josephson.
Cast
Amy Adams (Giselle), Patrick Dempsey (Robert), Maya Rudolph (Malvina Monroe), Gabriella Baldachino (Morgan), James Marsden (Edward), Idina Menzel (Nancy), Yvette Nicole Brown (Rosaleen), Jayma Mays (Ruby), Kolton Stewart (Tyson Monroe), Griffin Newman (Voice of Pip), Oscar Nunez (Edgar), Alan Tudyk (Voice of Scroll)
---
Plot
Giselle and Robert have settled into their Happily Ever After of married life. Giselle misses Andalasia until she sees a billboard advertising the ideal fairytale-like community of Monroeville. They decide to relocate there but this makes the now teenage Morgan unhappy at having to leave her school friends. The community is socially dominated by the self-styled queen Malvina Monroe. Edward and Nancy come to visit, leaving Giselle with a wishing wand. When things with Morgan go sideways, Giselle uses the wand to wish things could be more like a fairytale. She wakes up to find that Monroeville has been transformed into the fairytale kingdom Monrolasia with Malvina as the evil queen. Giselle now realises that with this being a fairytale world, she is meant to be the evil stepmother to Morgan. Giselle's personality begins to change and become more vain and calculating. She has until midnight to reverse the spell but Malvina's minions have stolen the wand. However, this is also having an effect on Andalasia as all the magic is being drained from the realm to change this world as part of the wish.
---
Enchanted (2007) was a reasonable hit for Disney when it came out, the fifteenth top-grossing film of its year around the world. It was premised around the appealing idea of an animated Disney princess being transported into the real world and finding it quite unlike what she is used to. It served to introduce the great Amy Adams to the wider world.
The idea of a sequel has been mentioned ever since the original came out. Given the length of time between the original and this – fifteen years – not to mention the number of credited writers, it would appear that it has been in production limbo for some time. Certainly, it has been enough time for Amy Adams to have gone from a fresh face to a major Hollywood name.
The downside of the fifteen year difference is that the two leads are looking a lot less young and dashing. Amy Adams is 48, while at 56 Patrick Dempsey has settled into middle-age and no longer looks like Prince Charming. Part of this is also the makeup and in particular hair-styling people on the film do nothing to make the actors look flattering. Maya Rudolph and Irina Menzel in particular seem to suffer from wigs that are ill-fitting.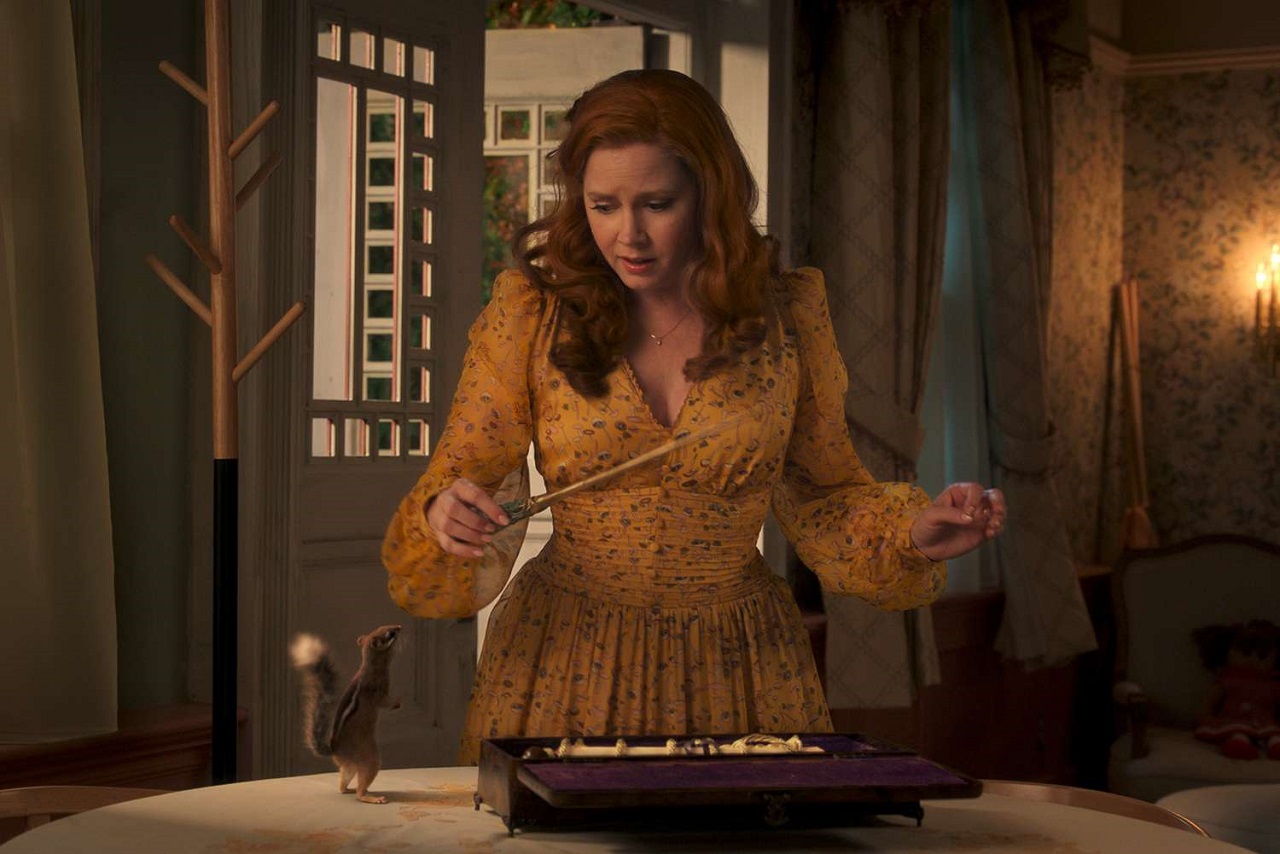 Enchanted director Kevin Lima seems to have disappeared off the map – indeed, does not appear to have worked again since the original. The new director is former choreographer Adam Shankman who has made a range of entirely forgettable films including the Jennifer Lopez romcom The Wedding Planner (2001), the chastity romance A Walk to Remember (2002) and a bunch of light family comedies such as Bringing Down the House (2003), Cheaper By the Dozen 2 (2005), Vin Diesel's worst film The Pacifier (2005), the Adam Sandler film Bedtime Stories (2008) and What Men Want (2019), as well as the musicals Hairspray (2007) and Rock of Ages (2012). Shankman has also produced the clairvoyance film Premonition (2007), the ageswap fantasy 17 Again (2009) and Status Update (2018) about a magical social media app.
Disenchanted brings back many of the principals from the first film – the major exception being Susan Sarandon's evil witch – although to little effect. The presence of James Marsden and Idina Menzel feels superfluous to the story, while Patrick Dempsey ends up being mostly sidelined after the main battle between Amy Adams and Maya Rudolph begins.
Disenchanted feels exactly like hearing someone else trying to retell a joke that was funny the first time. It is as though the second-hand retelling misses the sparkle and novelty of the original. The element of parody and its deflation of the Disney fairytale that the first film was founded on seems to have been missed by Adam Shankman and his writers. This is just more of the same joke we have in the first film, but with a lot more eminently forgettable songs. There is a mildly amusing take on Beauty and the Beast (1991) where Amy wakes up to find that the toaster, blender and coffee maker in the house are now singing and dancing. On the other hand, the addition of a talking animal sidekick with a throaty New York rasp is grating.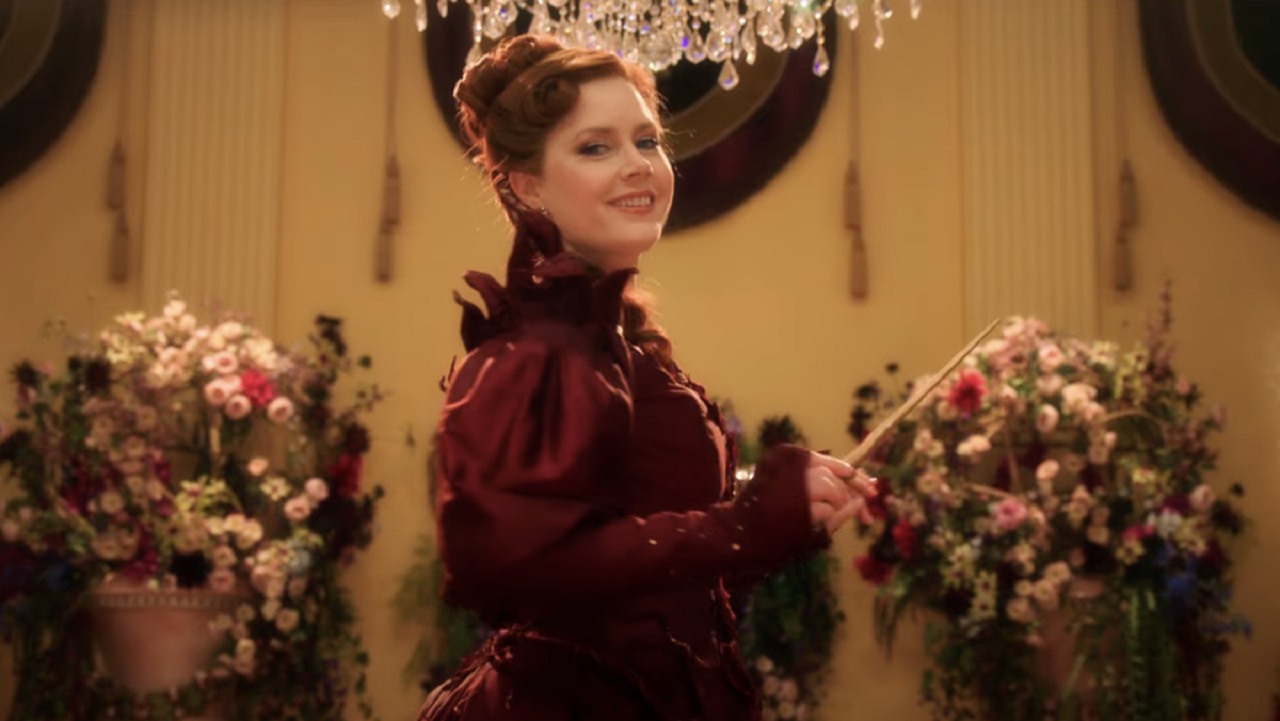 The main twist that this offers is the unexceptional one that the real world is transformed into a fairytale kingdom. The most amusing addition this offers is for Amy Adams to suddenly realise that this means that as stepmother to Morgan, she is now meant to be an evil stepmother. I love everything Amy Adams does – this is an exceedingly lightweight film but there is an undeniable amusement to watching her go over to the dark side.
On the other hand, there is nothing especial about the film accompanying her. Crucially, the latter third of the show gets taken over by formula dramatics without a trace of any comedy or parody element. Everything climaxes in a big display of visual effects and faux dramatics as the crucial countdown occurs and contorted twisting of the wording allows catastrophe to be averted.
---
Trailer here
---