---
Crew
Director/Screenplay – Andrew Adamson, Additional Material – David Mallet, Producers – Andrew Adamson & Aron Warner, Photography (3D) – Brett Turnbull, Music – Benoit Jutras, Additional Music – Stephen Norton, Visual Effects – Evil Eye (Supervisor – Matt McDonald), ICO VFX (Supervisor – Jeff Kalmus) & Reel FX (Supervisor – Scott Gordon), Special Effects Supervisor – Brendon Durey. Production Company – Cirque du Soleil/Reel FX/Strange Weather and Cameron/Pace Group.
Cast
Erica Linz (Mia), Igor Zaripov (The Aerialist), Lutz Halbhubner (The Ringmaster)
---
Plot
Mia goes to the circus. There she is attracted to a handsome trapeze artist known as The Aerialist. During his act, The Aerialist misses the rope and falls to the ground. Shocked, Mia runs forward and both of them are swallowed up in the sands of the ring. She falls through to find herself in another world. In her effort to reunite with The Aerialist, she passes through a series of circus tents that are populated by strange and amazing costumed performers and creatures.
---
Today, Cirque du Soleil is a world famous brand and makes the claim that it has performed on every continent except Antarctica. This is remarkable worldwide success story, especially given its lowly beginnings as a performing troupe formed in Montreal in 1979 by unemployed street performer Guy Laliberte. After several problems, the Cirque du Soleil brand premiered in 1983 backed by provincial funding. By the early 1990s, Cirque du Soleil had expanded to an international touring company and now has permanent shows at several Las Vegas hotels. The rise of Cirque du Soleil came at a time when protests from the animal rights people brought the traditional idea of the circus featuring performing animals to an end. Guy Laliberte's unique idea was to reinvent the circus as an artform with performers who were more akin to dancers – indeed, the various Cirque du Soleil performances often look more like the traditional idea of an Italian masque.
Cirque du Soleil has appeared on film before with a number of IMAX featurettes, dramatic adaptations of the material and behind-the-scenes documentaries. Cirque du Soleil: Worlds Away is a new feature-length film that attempts to set the performances within a plot. The film is written and directed by Andrew Adamson, the director of Shrek (2001), The Chronicles of Narnia: The Lion, The Witch and the Wardrobe (2005) and The Chronicles of Narnia: Prince Caspian (2008). The film is presented in 3D and comes executive produced by the new patron saint of 3D, James Cameron who set the current fad alight with Avatar (2009).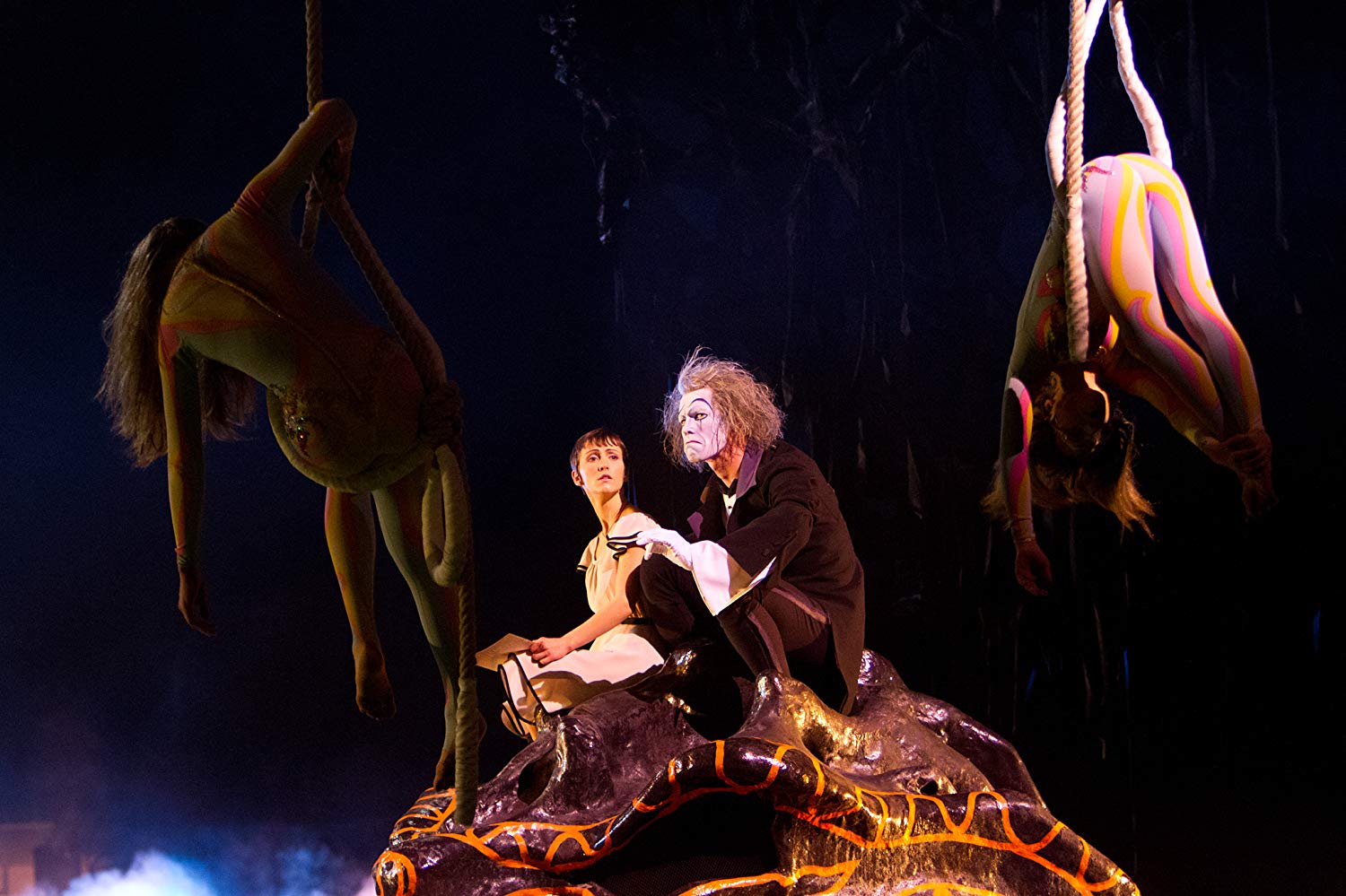 Cirque du Soleil: Worlds Away nominally takes place as a fantasy film – wherein an ordinary woman (Erica Linz) enters the equivalent of a magic portal (through the sawdust ring on the floor of a shabby circus) into a world that consists of several circus tents on a moonlit desert plain, which she passes through as she searches for the handsome performer (Igor Zaripov) whose eyes she met while coming into the circus as he is variously held captive and tries to escape.
That said, though the film's trailer tries to bill Cirque du Soleil: Worlds Away as a fantasy film set in a magical world, all that we have in actuality is a film where Andrew Adamson and his team have filmed several different Cirque du Soleil performances – seven different acts at various Las Vegas casinos – and attempted to thread them together with a narrative.
The story that holds the film together is so slender it approaches the point of non-existent – the number of lines of dialogue in the film, for instance, can probably be counted on the fingers of one hand. As each performance is visited and the spectacle takes over, Erica Linz's quest gets forgotten and the film only occasionally gets back to remembering her efforts to find the missing Aerialist. It is surely a misnomer to think of Cirque du Soleil: Worlds Away as a dramatic film, rather it is more of an extended version of one of their IMAX documentary featurettes than anything we could regard as a traditional film driven by a narrative.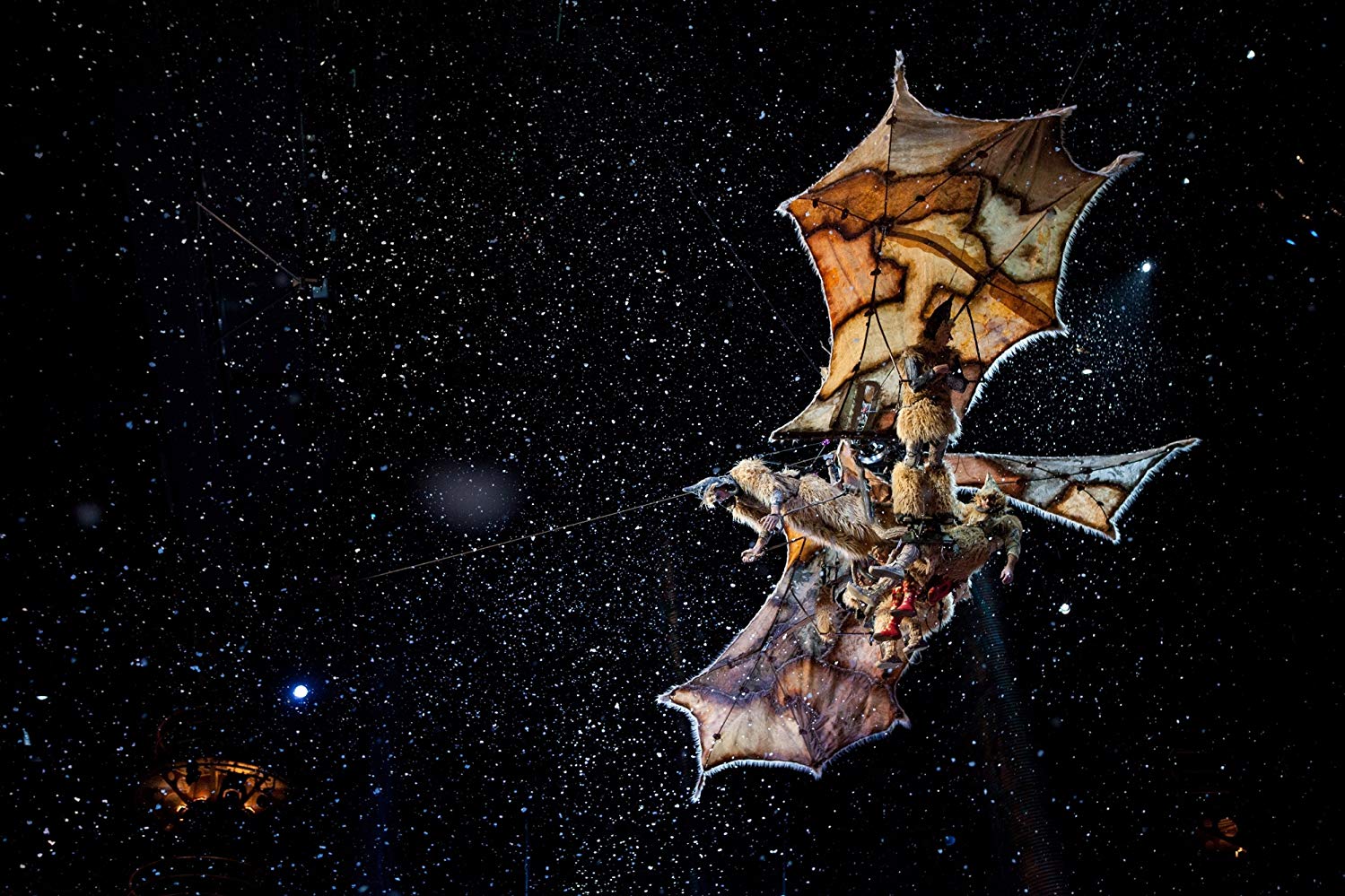 Certainly, Cirque du Soleil put on a beautiful spectacle in the sheer artistry of its trapeze performances, dance and costuming. This is often dazzling – giant-sized insects crawling up massive plant stalks; acts that take place on vertically elevated stages with arrows being fired at the performers as they struggle upwards; a number with performers dangling on wires in costumes that outfit them as marine life, including octopuses and jellyfish.
There are some imaginative fantastique touches – seeing Igor Zaripov fly up into a giant-sized Moon and it turn into a pool that he swims in; Erica Linz being accompanied by a child's tricycle that has a set of leggings that peddle it by itself; a journey down a river with an upturned umbrella as a boat; human-powered pterodactyl-like flying machines.
In the end though, the film is pretty eye candy without any real dramatic import. Nothing particularly connects one set-piece to another – as witness one sequence that out of nowhere turns into a medley of Beatles songs for no particular reason with everybody flying around the stage as sealife in a rendition of Octopus's Garden. There is the vague theme of the girl trying to rescue the guy but this lacks any dramatic contortion, just consists of lots of scenes of people dancing, swinging and trampolining about, before an abrupt wrap-up where the guy and girl come together in a kiss.
---
---