(Incroyable Mais Vrai)
---
Crew
Director/Screenplay/Photography – Quentin Dupieux, Producers – Mathieu Verhaeghe & Thomas Verhaeghe, Music – Jon Santo, Visual Effects – Benuts (Supervisor – Tristan Lillien), Compagnie Generale de Effets Visuels (Supervisor – Alain Carsoux) & Mikros (Supervisor – Cedric Veyollse), Special Effects Supervisor – Jean-Baptiste Bonetto, Production Design – Joan Le Boru. Production Company – Atelier de Production/Arte France Cinema/Versus Production/Voo and Be TV/Cinemage 15/Cofinova 17/Indefilms 9/SG Image 2019/Ile-de-France/Centre National du Cinema et de l'Image Animee/OCS/Arte France/Diaphana Distribution/Wild Bunch International/WTFilms.
Cast
Alain Chabat (Alain Duval), Lea Drucker (Marie Duval), Benoit Magimel (Gerard), Anais Demoustier (Jeanne), Stephane Pezerat (The Real Estate Agent), Roxanne Arnal (Marie Age 19)
---
Plot
Insurance broker Alain and his wife Marie buy a new house. The realtor introduces them to a unique feature of the house – a trapdoor in the basement that takes them twelve hours into the future, while at the same time making them three days younger. Not long after moving in, they invite Alain's boss Gerard and his wife to dinner. Gerard reveals that he has had an electronic penis implanted. Alain then finds that Marie has become obsessed with the trapdoor in the cellar and is repeatedly going down through it in an effort to make herself look younger.
---
The name of Quentin Dupieux is one that has crossed the desk here at Moria with regularity ever since his third film Rubber (2010), an hilariously mind-bending meta-fiction about a killer car tire made in a deadpan absurd style. Dupieux subsequently went onto make Wrong (2012), Wrong Cops (2013), Reality (2014), Keep an Eye Out (2018), Deerskin (2019), Mandibles (2020) and Smoking Causes Coughing (2022), all in the same gonzo surreal style.
The pleasure of Quentin Dupieux's films is that he takes a wild and wacky premise and keeps playing it in perfect deadpan, while piling one bizarre twist after another on top of the original idea. You end up laughing at the ridiculous deadpan of the characters as they pass through the surreal happenings. Incredible But True comes with an outlandishly surreal premise – a house with a cellar trapdoor that transports people twelve hours into the future at the same time as making them three days younger, whereupon Lea Drucker becomes obsessed with using this to make herself younger. There is also a B plot about Benoit Magimel and his electronic penis.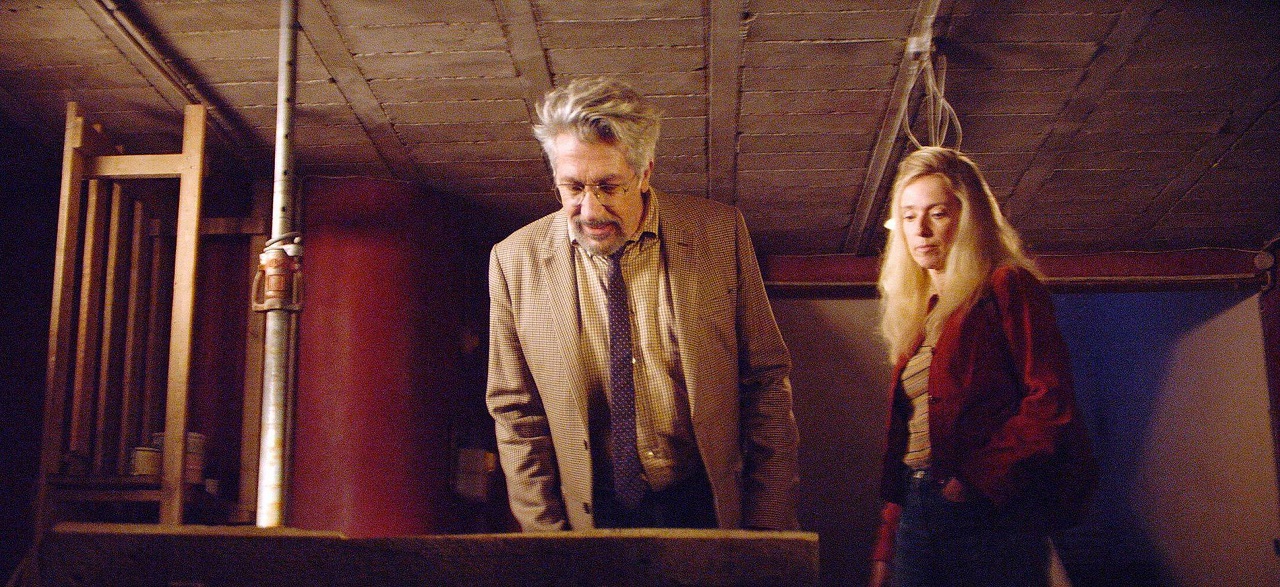 On the other hand, you would have to say that Incredible But True emerges as Quentin Dupieux's most regular film yet. There's a bizarre premise and people react to it with the same deadpan normalcy they do in all of his films but there is the lack of weirdness, of Dupieux constantly piling more ridiculous twists on top of each other. Perhaps the most we get of Dupieux's comic bizarreness are the scenes where Benoit Magimel's artificial penis starts malfunctioning.
On the other hand, the scenes with Alain Chabat, Lea Drucker and the trapdoor in the basement come with a surprisingly normalcy. We get repeated scenes of her going down there, which do not appear to do much until an abrupt cut later in the show where we see her now as a nineteen year-old (played by Roxanne Arnal). However, you keep sitting watching these scenes wondering where the deadpan normalcy or bizarre Dupieux twists are going to turn up. In actuality, what we get is a deadpan that is so laidback it can be mistaken for ordinary unexceptional drama. Just like the end the film arrives at with Alain Chabat sitting by the river fishing, the film arrives at a singularly undramatic non-event.
---
Trailer here
---