---
Crew
Director – Joe Lynch, Screenplay – Kevin Dreyfuss & Matt Wall, Producers – Mark Burton, Kevin Dreyfuss & Matt Wall, Photography – Sam McCurdy, Music – Bear McCreary, Visual Effects Supervisor – Jason McKee, Visual Effects/Animation – Flat Earth Productions, Inc. (Supervisor – Kevin O'Neill), Special Effects Supervisors – Casey Pritchett & Conor Wing, Creature Effects Supervisor – Mike Elizade, Makeup Effects – Bernie Eichholz, Production Design – Vincent Defelice. Production Company – IndieVest Pictures/Bayview Films.
Cast
Ryan Kwanten (Joe), Steve Zahn (Eric), Summer Glau (Gwen), Peter Dinklage (Hung), Jimmi Simpson (Ronnie Kwok), Margarita Levieva (Beth), Brett Gipson & Tom Hopper (Gunther), W. Earl Brown (Randy), Joshua Malina (Travis), Brian Posehn (Gilberto)
---
Plot
Joe's girlfriend Beth breaks up with him because she thinks that he is going nowhere in life trying to make it with a doom metal band. To commiserate, Joe's two best friends Eric and Hung insist he smoke a bong. He comes around to find they have abducted and taken him to a weekend LARP (Live-Action Role Playing) event. Joe was a former Dungeons and Dragons player and is quickly introduced to the live-action version of this. His old D&D nemesis Ronnie Kwok is the LARP gamemaster who insists that Eric's wizard character perform a powerful spell to bring Joe's character to life. Eric does so using an old book of spells he found and they are startled when this causes the sky to open and the earth to move. The spell has unwittingly summoned a demon that takes the likeness of Beth from a photo in Joe's pocket. She now starts to slaughter all the LARPers around the game site. It is up to Joe, Eric, Hung and Gwen, the cute girl that Joe has met, to fight off the demonic menace – but this proves to be very different to play-acting.
---
Knights of Badassdom comes from director Joe Lynch. Lynch is a relative newcomer although has staked out a clear genre association. His first feature film was the sequel Wrong Turn 2: Dead End (2007), followed by the Zom-B-Movie segment of the spoof horror anthology Chillerama (2011). Subsequent to Knights of Badassdom, he went on to make the action film Everly (2014), Mayhem (2017) about a mass-insanity inducing virus loose in an office and the action film Point Blank (2019), while he has also produced Ghoul (2015) and the tv mini-series 12 Deadly Days (2016).
There have been a certain spate of films over the last few years that take fandom as a topic with the likes of the documentaries Trekkies (1997) and Trekkies 2 (2004) and the films Free Enterprise (1998) and GalaxyQuest (1999) about Star Trek fandom; Mark Hamill's hilarious mockumentary Comic Book: The Movie (2004) set around the San Diego Comic-Con; Fanboys (2008), which concerns itself with Star Wars fans; Frequently Asked Questions About Time Travel (2009) with fans caught up in a time travel adventure; The Last Lovecraft: Relic of Cthulhu (2009) about H.P. Lovecraft fans; Paul (2011) about fans encountering a real alien; even an entire tv series The Big Bang Theory (2007-19) set around fans and fannish in-jokes. Even the cast of Knights of Badassdom gives the impression they have been recruited by a genre tv fan – Ryan Kwanten, the Australian actor best known as Jason Stackhouse on tv's True Blood (2008-14); Summer Glau, the cult star of tv's Firefly (2002) and Terminator: The Sarah Connor Chronicles (2008-9); and Peter Dinklage, the breakout star from tv's hit Game of Thrones (2011-9).
Knights of Badassdom explores LARPing (or live-action role-playing). LARPing is an outgrowth from role-playing games such as Dungeons and Dragons (1974), which are traditionally played over a table with drawn maps and using dice and tables to determine outcomes of things like combat and spells. From the 1980s and in particular from the late 1990s onwards, players began to conduct live-action versions of these, dressing up in costume, using open-air or large unused building venues and conducting combat using foam and plastic weapons, smoke bombs for magic spells and so on. LARPs have ranged between amateur fan weekends to large-scale commercial games, with some gaming companies even producing systems and modules for live-action use. Genres range from the most popular fantasy gaming to Steampunk, Cyberpunk and horror, among others.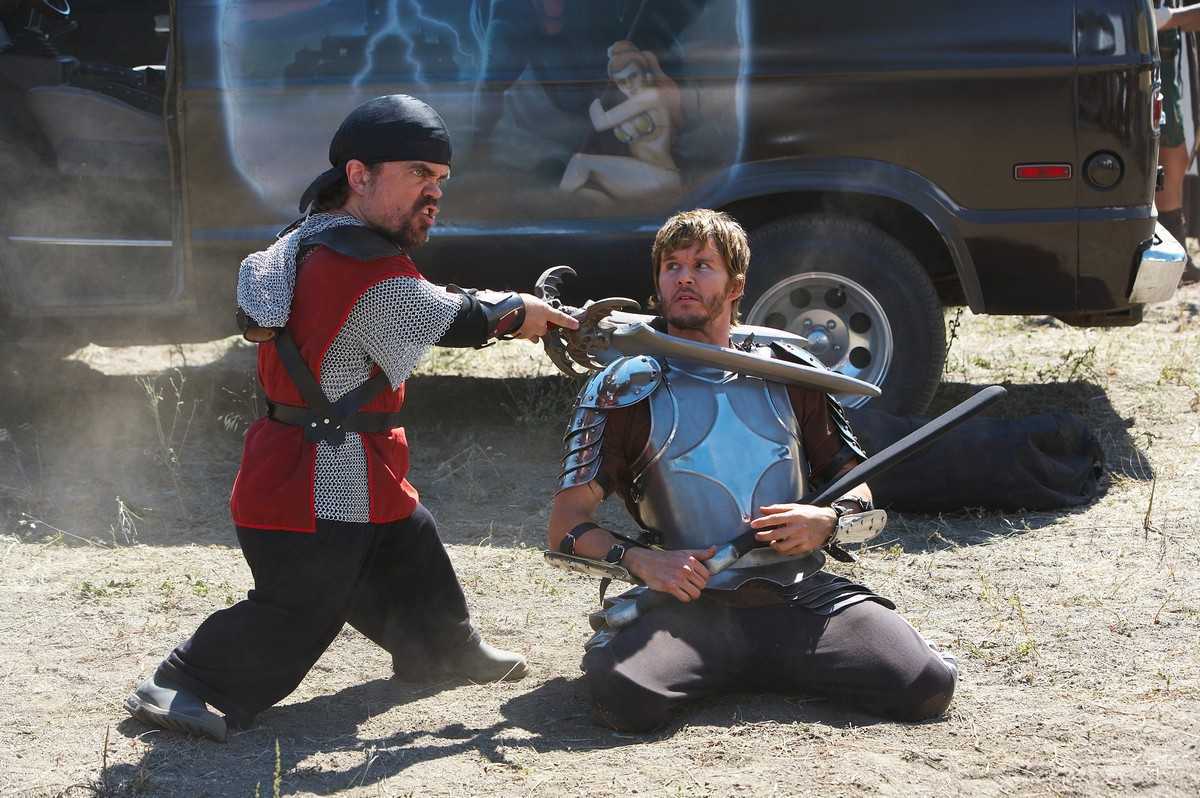 Knights of Badassdom is not even the first film we have had about the subject of LARPIng – there was the previous tv movie Mazes and Monsters (1982), which was made before the term LARP was even coined. More recently, there were the documentaries Darkon (2006) and Monster Camp (2007) and in fiction the comedy Role Models (2008), the horror film The Wild Hunt (2009) and the subsequent ghost story The Bunker Game (2021).
The basic premise of this film is that the role-players are forced to confront a real demonic figure they accidentally conjure. As a film that taps into fandom, one hoped that Knights of Badassdom would have been sharp, wittily self-aware and filled with lots of fannish in-humour as most of the abovementioned films – only it isn't. At most, the film makes a comic virtue of the floridly over-the-top mock mediaeval dialogue – "Verily, this is retarded," and so on. However, hearing all of this being uttered by characters in silly falsettos amid much fruity quavering starts to become rather silly after a time.
Margarita Levieva's personified demon is strictly B-budget horror movie territory – all that she seems to do is wander about and vamp it up as she kills people. The film's most amusing part – especially in comparison to 1980s films like Trick or Treat (1986) and The Gate (1987) – is the climactic scenes that has heavy metal music be the spell that banishes rather than conjures the demon.
---
---