---
Crew
Director – Peter Hewitt, Screenplay – Chris Matheson & Ed Solomon, Producer – Scott Kroopf, Photography – Oliver Wood, Music – David Newman, Visual Effects Supervisors – Gregory L. McMurray & Richard Yuricich, Makeup Effects – Kevin Yagher, Production Design – David L. Snyder. Production Company – Interscope Communications..
Cast
Alexander Winter (Bill S. Preston Esq/Granny Preston), Keanu Reeves (Ted Theodore Logan), William Sadler (Grim Reaper), Joss Ackland (Chuck De Nomolous), Annette Azcuy & Sarah Trigger (Princesses), Hal Landon Jr (Captain Logan), Amy Stock-Poynton (Missy), George Carlin (Rufus), Pam Grier (Miss Woodrow), Roy Brocksmith (Mr Preston)
---
Plot
The warlord De Nomolous, tired of life in a future ruled by the Bill and Ted philosophy, creates two android duplicates of Bill and Ted. He sends these back in time to the present where they throw Bill and Ted off a cliff to their deaths. As disembodied spirits, Bill and Ted travel through the afterlife, journeying to both Heaven and Hell. There they encounter Death and challenge him to a series of board games in order to obtain his help in getting back home.
---
This is a sequel to Bill and Ted's Excellent Adventure (1989), which proved a reasonable hit with its idiosyncratic and appealingly offbeat sense of humour. It was one of those sleeper hits that took off in ways that nobody expected. Not to mention that it propelled co-star Keanu Reeves on his subsequent path to A-list stardom.
As is usually the wont with sequels, Bill and Ted's Bogus Journey offers much the same as last time – and in an often entertaining package. However, the very act of repetition also lacks the unique one-offness and the lightness of step that came in the hip nonsensical wit of the original. Director Peter Hewitt lingers on the all the 'exxx-cellent's and the guitar riff pantomimes too long and often (although there are some amusing variations on the latter – when Ted's father conducts a trill, it comes out as an acoustic guitar chord, while Death's is accompanied by a Gothic organ) and the joke wearies through over-emphasis.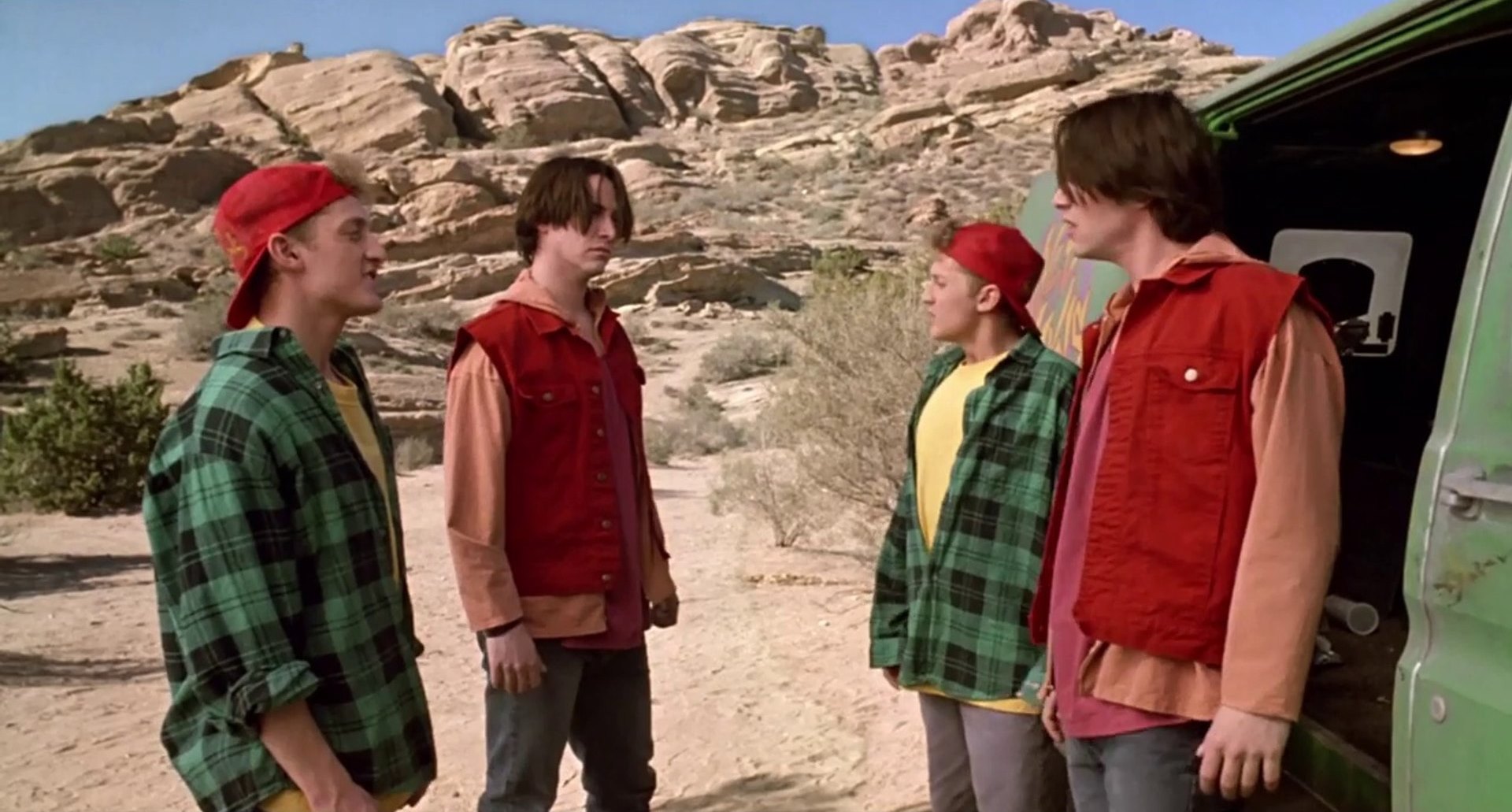 Most noticeably, the gags have been scaled up from an economy to an A-size budget. Like the game of Battleships with Death at a giant table, this leaves them echoing amid the cavernous oversized sets and the top-notch but superfluous effects. Heaven, for example, is an impressive set with some well-done creature effects but all there is to look at is the sets – there is no particular gag going on inside them.
Much of the film is just there for you to look at and the first film's slacker/stoner humour is left wandering. The first film's charm was all in its humour; it did not need, nor did it have, big-budget effects and razzle-dazzle. Bill and Ted's Bogus Journey fatally mis-scales the film into something oversized. Even a chase sequence through Bill and Ted's private Hells adds nothing (although has enough sentiment-bashing amusement to suggest that their Hells will be embodied by fluffy toys and a halitotic Granny wanting a kiss).
Still Bill and Ted's Bogus Journey has its small successes. The best aspect is William Sadler as a slightly disgruntled Grim Reaper, played with the accent and wry mannerisms with which they used to characterise Jewish immigrants. The character is an amusing send-up of the personified Death in Ingmar Bergman's The Seventh Seal (1957) (although one suspects that Chris Matheson and Ed Solomon stole more than a little from Terry Pratchett). Bergman crafted the archetypal image of a chess-playing Death but this film's amusing spin is to have Death challenging souls to games of Battleships, Cluedo and Twister; or throwing in wittily incongruous images like seeing Death outfitted in a Bo Peep costume and contemplating turning in his scythe for a hoe at a hardware store. The montage ending also does an amusing and credible job of suggesting how the Bill and Ted philosophy could end up conquering the world.
29 years after this, a third film was made, reuniting Keanu Reeves, Alex Winter and William Sadler, with Bill & Ted Face the Music (2020). The two characters were subsequently spun out in the animated tv series Bill and Ted's Excellent Adventures (1990) and awful live-action tv series Bill and Ted's Excellent Adventures (1992) where Keanu Reeves and Alex Winter were replaced respectively by Christopher Kennedy and Evan Richards.
British director Peter (sometimes Pete) Hewitt stayed with genre material through his next several films:– the adaptation of Mary Norton's little people adventures The Borrowers (1997); Whatever Happened to Harold Smith? (1999), a coming of age comedy about a teen whose father has psychic powers; Thunderpants (2002) about a kid who launches a NASA mission using his farts; Garfield (2004), a live-action adaptation of the popular syndicated comic-strip; the superhero film Zoom: Academy for Superheroes (2006); and Mostly Ghostly: Have You Met My Ghoulfriend? (2014). Hewitt is also credited with the story for Thunderbirds (2004).
---
---