---
Crew
Director – Brad Silberling, Screenplay – Robert Gordon, Based on the Books The Bad Beginning, The Reptile Room and The Wide Window by Lemony Snicket [Daniel Handler], Producers – Laurie MacDonald & Walter F. Parkes, Photography – Emmanuel Lubezki, Music – Thomas Newman, Visual Effects – Industrial Light and Magic (Supervisor – Stefan Fangmeier, Animation Supervisor – Colin Brady), Main Title Animation – MWP/Calari Productions/Axiom, Special Effects Supervisor – Michael Lantieri, Makeup Effects – Kevin Yagher Productions Inc (Supervisor – Kevin Yagher), Production Design – Rick Heinrichs. Production Company – DreamWorks SKG/Paramount/Parkes-MacDonald/Nickelodeon Movies.
Cast
Jim Carrey (Count Olaf), Emily Browning (Violet Baudelaire), Liam Aiken (Klaus Baudelaire), Kara & Shelby Hoffman (Sunny Baudelaire), Billy Connolly (Uncle Monty Montgomery), Meryl Streep (Aunt Josephine), Timothy Spall (Mr Poe), Jude Law (Voice of Lemony Snicket), Catherine O'Hara (Justice Strauss), Cedric the Entertainer (Constable), Luiz Guzman (Bald Man), Jamie Harris (Hook Handed Man)
---
Plot
The writer Lemony Snicket tells the terrible tale of the Baudelaire children. The three children – Violet, who is a great inventor; Klaus, a voracious reader who remembers everything he reads; and the baby Sunny, who can bite through anything – became orphans after their parents were killed by a mysterious fire that burned their house to the ground. They were duly adopted by a distant relative, the actor Count Olaf. However, once in his mansion, Olaf made it perfectly clear that he was only interested in the fortune that they were to inherit when they came of age. He treated them as servants and then attempted to kill them by parking his car on a railway line in the path of a train. After their ingenuity saved them, they were taken to stay with further relatives – the herpetologist Uncle Monty and then the phobically obsessed Aunt Josephine. Upon each occasion, Olaf came using a variety of disguises, determined to kill the other relatives and gets his hands on the inheritance.
---
Lemony Snicket's A Series of Unfortunate Events is based on the best-selling children's books series by Daniel Handler. Handler published the first of the Lemony Snicket books A Series of Unfortunate Events in 1999 and the series spread to a total of thirteen books that have sold some 30 million copies worldwide.
The San Francisco-based Daniel Handler writes all of the books under the name Lemony Snicket, which apparently began as a pseudonym that Handler used to sign up to several right wing mailing lists while researching a book several years earlier. Handler treats Lemony Snicket as a real character throughout the books – we are given various hints as to his wilfully absurdist background throughout the series ("Lemony Snicket was born by the sea and now lives under it") – who talks directly to and gives dire warnings to the reader.
The books centre around the Baudelaire children as they pass through the custody of various relatives, all the while pursued by the evil Count Olaf who concocts increasingly more dastardly schemes to dispose of them and lay his hands on their fortune. Daniel Handler is perhaps one of the few modern inheritors of the mantle of Roald Dahl's world of gleeful grotesqueries and virtuous innocence. The books come with an ingenious marketing scheme where the back covers warn readers to immediately put the book down as it contains descriptions of extremely unpleasant and horrible things – a sublimely Dahl-esque marketing ploy that has in its obvious reverse psychology added immensely to the books' readability.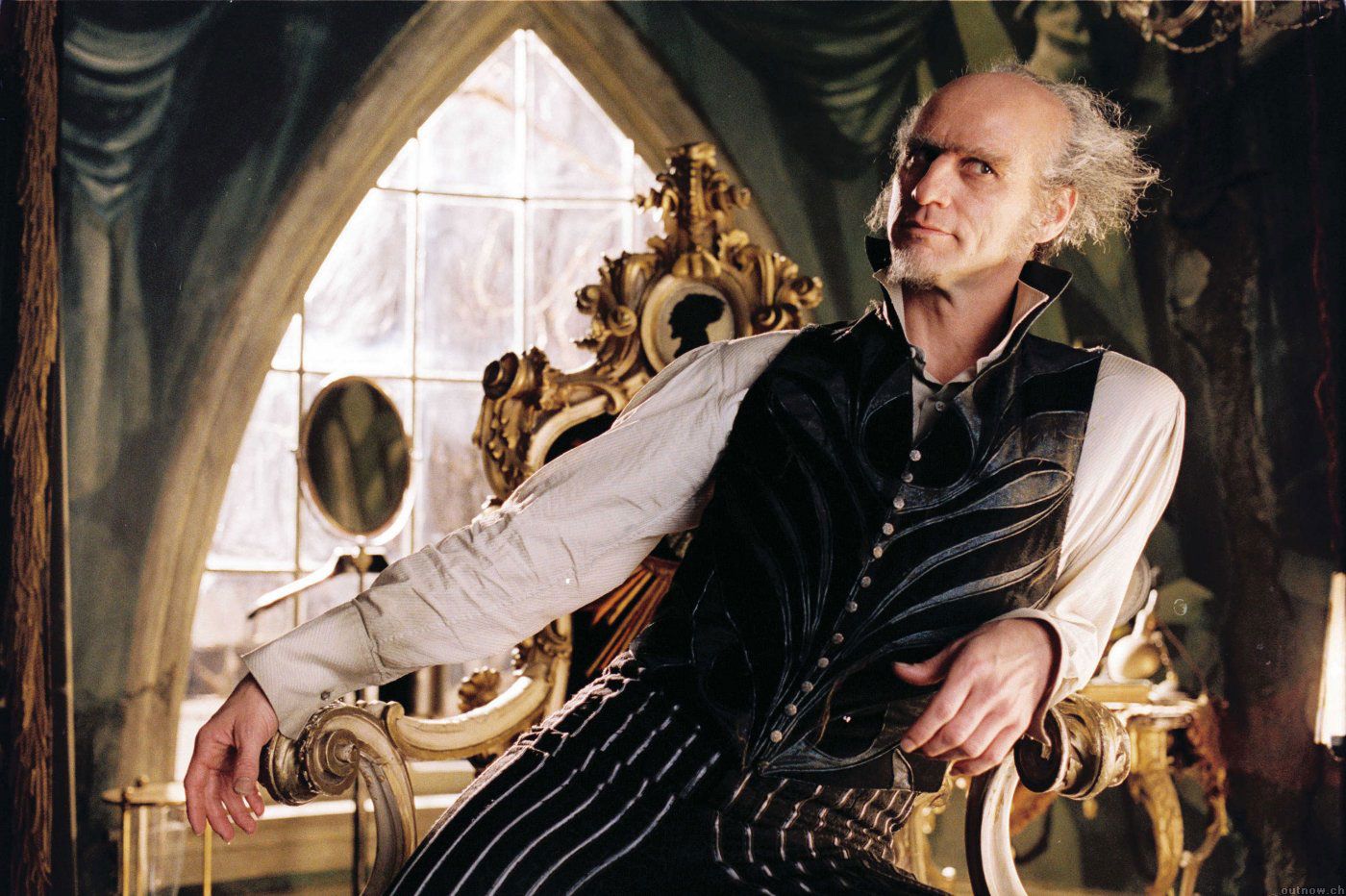 This film version of the books comes to the screen as a clear attempt by a studio (two studios in fact, a co-production between DreamWorks and Paramount) to find another children's franchise along the lines of the runaway success of the Harry Potter movies. Lemony Snicket's A Series of Unfortunate Events was first announced in 2000 and passed through the hands of several directors including Harry Potter director Chris Columbus and Barry Sonnenfeld of The Addams Family (1991) and Men in Black (1997) fame (who retains an executive producer role), before coming to rest in the hands of Brad Silberling. Silberling is a director who has mostly worked in tv and has hazarded out onto cinema screens before with two uneven ventures into fantasy – the comic-book character adaptation Casper (1995) and the bland angel romance City of Angels (1998), as well as one non-fantastic melodrama Moonlight Mile (2002) and the dismal big-screen remake of Land of the Lost (2009). The screenplay, which comes after a treatment by Daniel Handler was rejected, is from Robert Gordon who has one promising credit under his belt – the hilarious GalaxyQuest (1999) – and one bad strike – Sonnenfeld's Men in Black II (2002).
The production designers have created a magnificently baroque world – sort of like a Dickensian fantasy that might have been invaded by the Addams Family. Much comparison can be made to the eccentrically akilter worlds created by Tim Burton in films like Edward Scissorhands (1990), The Nightmare Before Christmas (1993) and Corpse Bride (2005). The filmmakers seem conscious of this and have brought on board as production designer Rick Heinrichs, whose hand has been on every Burton film in the various capacities of production designer, art director, visual consultant and producer. Although the real source of inspiration to both Burton and Daniel Handler has been the Gothic illustrations and dark fables of children's writer Edward Gorey. The illustrations that accompany the Lemony Snicket books, which have been faithfully recreated by Rick Heinrichs, certainly source Gorey.
Rick Heinrichs creates a wonderfully Gothic rococo world for the film – from the clock tower where the silhouette of Lemony Snicket feverishly writes surrounded by whirling cogs; to Meryl Streep's rickety shack perched on stilts on the edge of a clifftop; to the rustic magpie's nest of Count Olaf's suburban castle. All colour has been bled out of the frame to create a world that takes place in duns and stark black and whites, which forms a perfect counterpoint to the wilfully miserable and unhappy story that Daniel Handler tells in the books.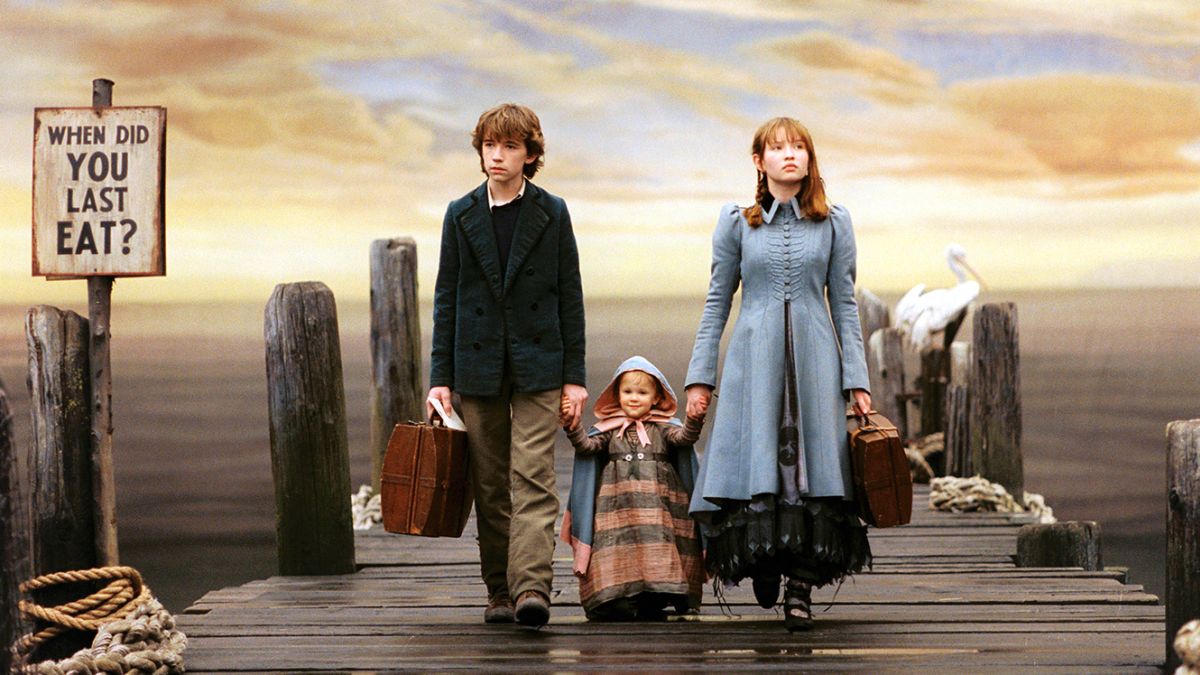 Alas, almost all of Lemony Snicket's A Series of Unfortunate Events's creative energy seems to have been spent by the production design team and been spread thinly elsewhere. The screenplay encompasses no less than Daniel Handler's first three books – The Bad Beginning (1999), The Reptile Room (1999) and The Wide Window (1999) – and has condensed them down into one somewhat episodic story. Despite this, the actual story still manages to seem slight. Indeed, while the film assembles a magnificently baroque world and populates it with a hissably skulking storybook villain with a penchant for extravagant disguises and who exudes much menace, little happens dramatically during the film.
Indeed, while the titular Lemony Snicket is constantly interrupting the narrative to warn the audience how horrible things are about to happen and how miserable the children are, there is precious little in the film that ever is horrible or threatening. Contrast this to Tim Burton's The Nightmare Before Christmas or Beetlejuice (1988), ostensibly children's films that also had a dark (albeit arch) bite not far beneath, or the minatory menace of Dahl's Willy Wonka and the Chocolate Factory (1971).
By contrast to these, Lemony Snicket's A Series of Unfortunate Events seems anodyne. There are various set-pieces with the children facing killer leeches, a collapsing house, having to climb a clock tower to save the baby and most successfully the scene where Count Olaf abandons them on the train track but none of these raise one's pulse anywhat. You come out of the film feeling that you should have cared more, that you should have been on a seat-edge or laughing at the mock dramatic thrills. Instead you end up feeling that the film never got started.
Part of the problem is that the plot feels unfinished. There is mention made in Lemony Snicket's introduction about secret societies but clearly anything to do with these was cut from the film; there is clearly also meant to be something of significance regarding the spyglasses; while the cause of the parents' death is never explained. These mysteries was left open-ended in the books but the feeling here is of a story that is frustratingly incomplete rather than any sense that one wants to return to the series and find the answers in subsequent episodes.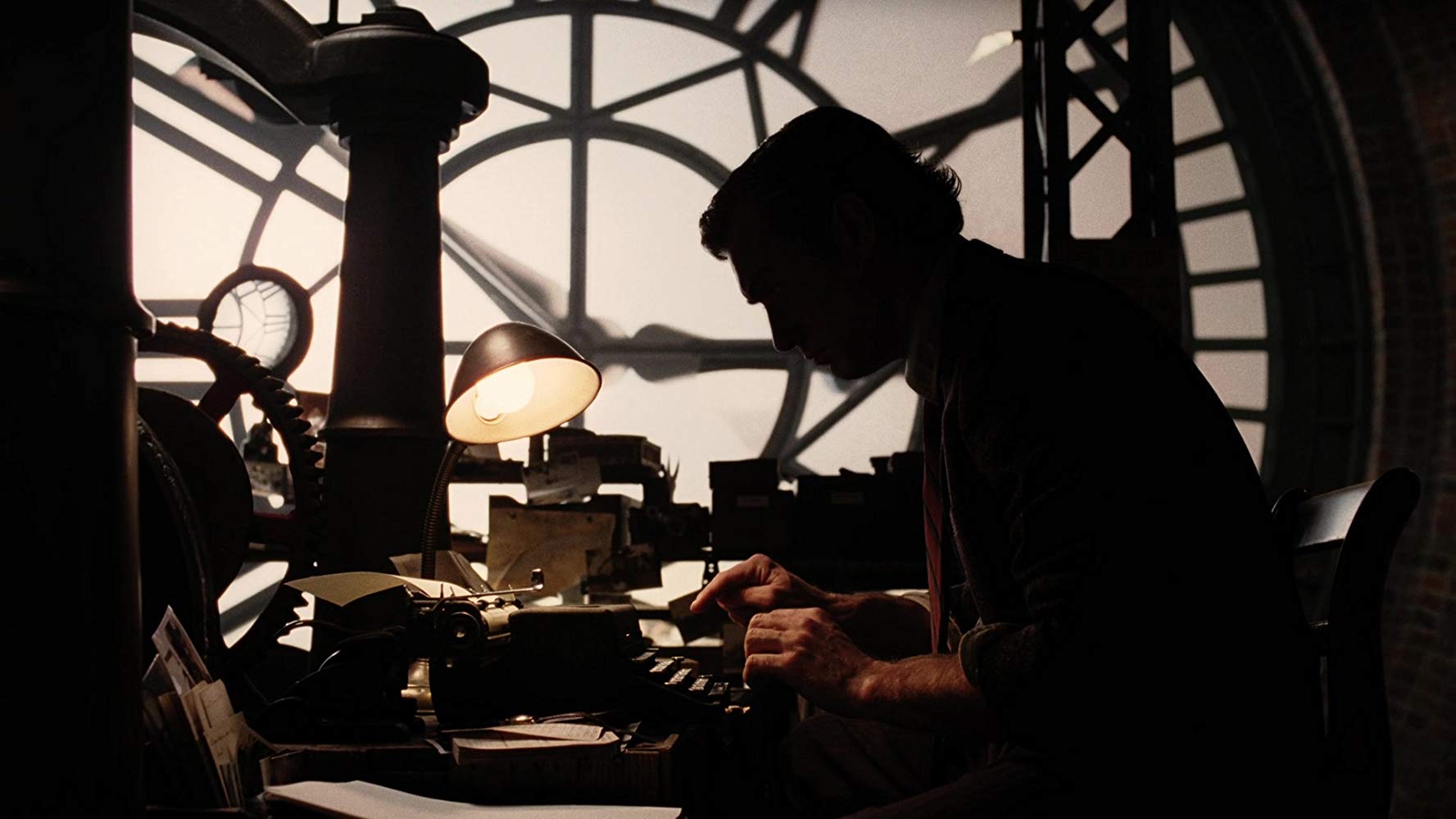 About the only other thing that Lemony Snicket's A Series of Unfortunate Events has propelling it along is an unrestrained Jim Carrey. Since about 1998, Jim Carrey has been trying to perfect his serious acting mode, which has not always been a pretty sight to behold. Count Olaf is Carrey's first chance to return to the kind of completely over-the-top acting that he first found fame with and Lemony Snicket his first film back in this vein since about Me, Myself & Irene (2000). Carrey lets go and graces the show with his characteristically rafter-rattling histrionics. All of this is dependent on whether one likes Jim Carrey's excesses – I admit to being in the camp that finds him an intense irritation. Perhaps in the most telling line, the film has Emily Browning tell him: "You're a terrible actor."
The children, Emily Browning and Liam Aiken, by contrast give sweet and appealing performances and are perfectly cast in their parts. The other big name of the show, Meryl Streep, is under-utilised. Brad Silberling rarely gives Streep an opportunity to flourish and it is a forgettable role, even more so for an actress of Meryl Streep's estimable stature.
The Lemony Snicket books were subsequently revived as a tv series A Series of Unfortunate Events (2017-9) with Neil Patrick Harris as Count Olaf.
(Nominee for Best Production Design at this site's Best of 2004 Awards. No. 10 on the SF, Horror & Fantasy Box-Office Top 10 of 2004 list).
---
---