---
Crew
Director – Rob Marshall, Screenplay – David Magee, Story – John De Luca, David Magee & Rob Marshall, Based on the Stories by P.L. Travers, Producers – John DeLuca, Rob Marshall & Marc Platt, Photography – Dion Beebe, Music/Songs – Marc Shaiman, Lyrics – Marc Shaiman & Scott Wittman, Visual Effects Supervisor – Matt Johnson, Visual Effects – Cinesite (Supervisor – Christian Irles), Framestore (Supervisors – Christian Kaestner & Kyle McCulloch), Luma Pictures (Supervisors – Brendan Seals & Kevin Souls), Pixomondo (Supervisors – Michael Shelton & Nhat Phong Tran), Animation Sequence Supervisor – Jim Capobianco, Animation Supervisor – Ken Duncan, Special Effects Supervisor – Steve Warner, Production Design – John Myhre, Choreography – John De Luca & Rob Marshall. Production Company – Disney/Lucamar/Marc Platt.
Cast
Emily Blunt (Mary Poppins), Ben Whishaw (Michael Banks), Emily Mortimer (Jane Banks), Pixie Davis (Annabel Banks), Nathaniel Saleh (John Banks), Joel Dawson (Georgie Banks), Lin-Manuel Miranda (Jack), Colin Firth (William Weatherall Wilkins/Voice of Wolf), Julie Walters (Ellen), Maeryl Streep (Tatiana 'Topsy' Topotrepolovsky), Jeremy Swift (Hamilton Gooding/Voice of Badger), Kobna Holdbrook-Smith (Templeton Frye/Voice of Weasel), David Warner (Admiral Boom), Dick Van Dyke (Mr Dawes Jr), Angela Lansbury (Balloon Lady), Noma Dumezweni (Miss Penny Farthing), Steve Nicolson (Park Keeper), Jim Norton (Binnacle)
---
Plot
Michael and Jane Banks have grown up. Michael is a widower and is trying to raise his three children, Annabel, John and Georgie, on his own in the Banks house at Cherry Tree Lane. They then receive news that his employer The Fidelity Fiduciary Bank is about to repossess the house following the failure to repay a loan he took out unless they can pay it in full by midnight Friday. Jane realises they could save themselves with the bank shares their father bought but they cannot find them. While the children are at the park, Georgie is playing with an old kite of Michael's only for it to blow away. However, this is rescued as Mary Poppins flies in. Michael and Jane are amazed to see her again. She announces that she is moving in to help and proceeds to take the children on a series of fantastical adventures. Behind all of this though is the looming threat of the repossession of the house.
---
Mary Poppins (1964) was one of the biggest successes of the 1960s for Disney. It was (depending on which charts you consult) one of the top box-office grossing films of its year, earning some $31 million (which would be about $252 million in today's terms) placing it just behind My Fair Lady (1964) and Goldfinger (1964). Based on P.L. Travers's series of children's books – eight of them published between 1934 and 1988 – it was turned into a musical by Walt Disney with an eminently quotable soundtrack from the Sherman Brothers, Richard M. and Robert B. It won five out of thirteen Academy Awards it was nominated for including one for Julie Andrews as Best Actress and others for Best Musical Score, Song and Visual Effects, although missed out on Best Director and Best Film.
The mark of Mary Poppins' classic stature is evident in its cultural imprint. It was never sequelised – although P.L. Travers (who had a lifelong love/hate relationship with the film) was apparently in negotiations with the studio to develop a sequel during the 1980s but this never came about. There was however a Russian sequel Mary Poppins, Goodbye (1983). The penguins make cameo appearances in Who Framed Roger Rabbit? (1988). There have been unofficial copies such as Nanny McPhee (2005) and Nanny McPhee and the Big Bang (2010) with Emma Thompson. Disney attempted to replicate the blend of live-action and animation with other works like Bedknobs and Broomsticks (1971). The prickly relationship between Walt Disney and P.L. Travers was even turned into a fine film in its own right with Saving Mr. Banks (2013) with Emma Thompson as Travers.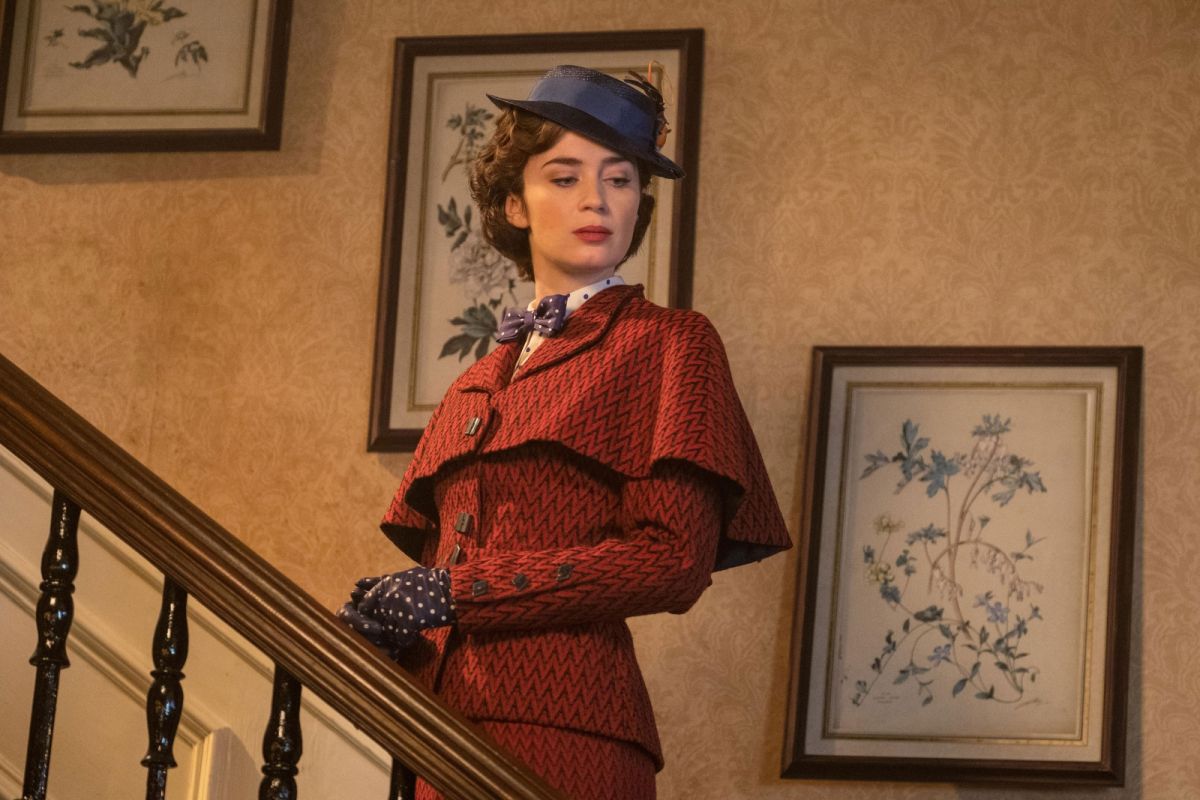 Mary Poppins returns comes as part of an ongoing phenomenon that began in the 1990s where Disney have sequelised and remade their classic films in live-action. They have made revivals of live-action films such as That Darn Cat (1997), Flubber (1997), The Parent Trap (1998), Freaky Friday (2003), Herbie: Fully Loaded (2005), The Shaggy Dog (2006), Race to Witch Mountain (2009) and Tron Legacy (2010). There have been live-action remakes of animated films such as The Jungle Book (1994) and 101 Dalmatians (1996), something that went into overdrive in the 2010s with the likes of Maleficent (2014), Cinderella (2015), The Jungle Book (2016), Pete's Dragon (2016) and Beauty and the Beast (2017). At the point Mary Poppins Returns was released, 2019 was just around the corner and had a slew of remakes of Disney films waiting in the wings with Aladdin (2019), Dumbo (2019), Lady and the Tramp (2019), The Lion King (2019), Mulan (2020), Cruella (2021) and Pinocchio (2022).
Mary Poppins Returns comes from Rob Marshall. Marshall emerged as a Broadway choreographer in the 1980s and won Tony awards for his work on shows such as Kiss of the Spider Woman, Damn Yankees and Cabaret. He became a film director with the adaptation of the musical Chicago (2002) and went on to the film adaptations of the musicals Nine (2009) and Into the Woods (2014), which he has interspersed with regular dramatic works like Memoirs of a Geisha (2005) and Pirates of the Caribbean: On Stranger Tides (2011). Marshall co-writes and co-produces Mary Poppins Returns with his real-life partner John De Luca who has worked as co-choreographer on all of Marshall's films. Marshall has also been announced as director of a live-action remake of The Little Mermaid (2023).
Mary Poppins Returns makes an exacting effort to be a sequel and pay homage to Mary Poppins. There are replications of Edwardian London, the house at Cherry Tree Lane, there are chimney sweeps and ventures inside animated realms replete with appearances from the dancing penguins. Dick Van Dyke turns up as Dawes Jr – and even gets up to do a dance number at the age of 93. The surviving Sherman brother Richard is credited as a music consultant. The grown-up Michele Dotrice (who played Jane in the original) is present in a small cameo as someone who asks for directions. There is even a 93-year-old Angela Lansbury, one of the original contenders for the role of Mary Poppins, who turns up as a balloon seller in the finale (Julie Andrews declined to return for the part).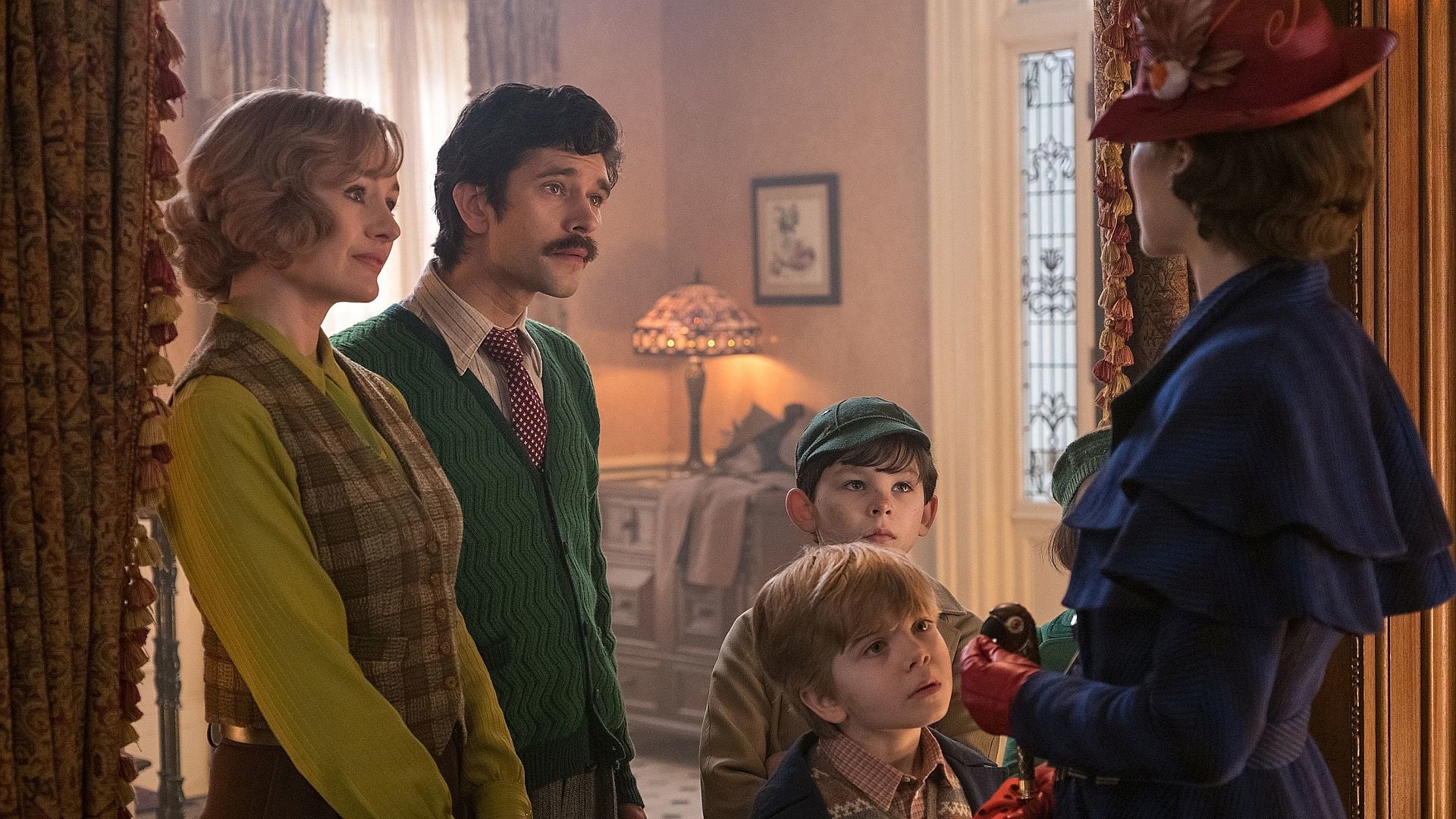 The script for Mary Poppins Returns goes back to the P.L. Travers source material, incorporating characters from other stories such as Topsy Turvy (a rather silly performance from an unrecognisable Meryl Streep), the maid Ellen and the Balloon Woman, as well as the sequence where Mary Poppins arrives via a runaway kite from the second book. Travers also originally had five Banks children but this was cut to two by Walt Disney, dropping John, Barbara and Annabel. The plot here has the first film's children Michael and Jane grown up (something Travers never depicted) but now introduces two of the three children that were dropped, John and Annabel, plus inventing another Georgie, and makes them into Michael's children. We sort of get the equivalent of Dick Van Dyke's Bert in the person of Lin-Manuel Miranda's Jack, an original character not in the Travers stories (although the spectre of Van Dyke's infamous atrocious Cockney accent does turn up during the Trip the Light Fantastic number, which tries to explain Cockney rhyming slang to the children).
The problem I have with Mary Poppins Returns is that we have gone from an original that burst with freshness, energy, wacky creativity and charm to a sequel that is making an exacting effort to replicate that. Marshall is principally a choreographer and all of his other films are adaptations or based on prior established works. There is the feeling that Marshall and De Luca regard Mary Poppins as another property that he is interpreting as he would one of his Broadway shows. There are chimney sweeps, adventures that mingle animation and live-action and the like not because the story requires them but because they were in the original.
It is worth comparing the approaches of the two directors. Rob Marshall emerged to film after celebrated success as a Broadway choreographer and his work on film has mostly been in musicals. Unlike the American Marshall, Robert Stevenson, the director of the first Mary Poppins, grew up in England (in fact during the period the films take place). He started out directing comedies, adventure films and television before arriving at the Disney stable with Darby O'Gill and the Little People (1959) and went on to become one of their best live-action directors with The Absent-Minded Professor (1961) and the first two Herbie films, The Love Bug (1969) and the delightful Herbie Rides Again (1974), among others. Under his hand, his films fly with a natural fantastic flair and nonsensical charms. Marshall had previously only come to fantasy through inherited material, On Stranger Tides and Into the Woods, and neither of these demonstrate any flair for the genre.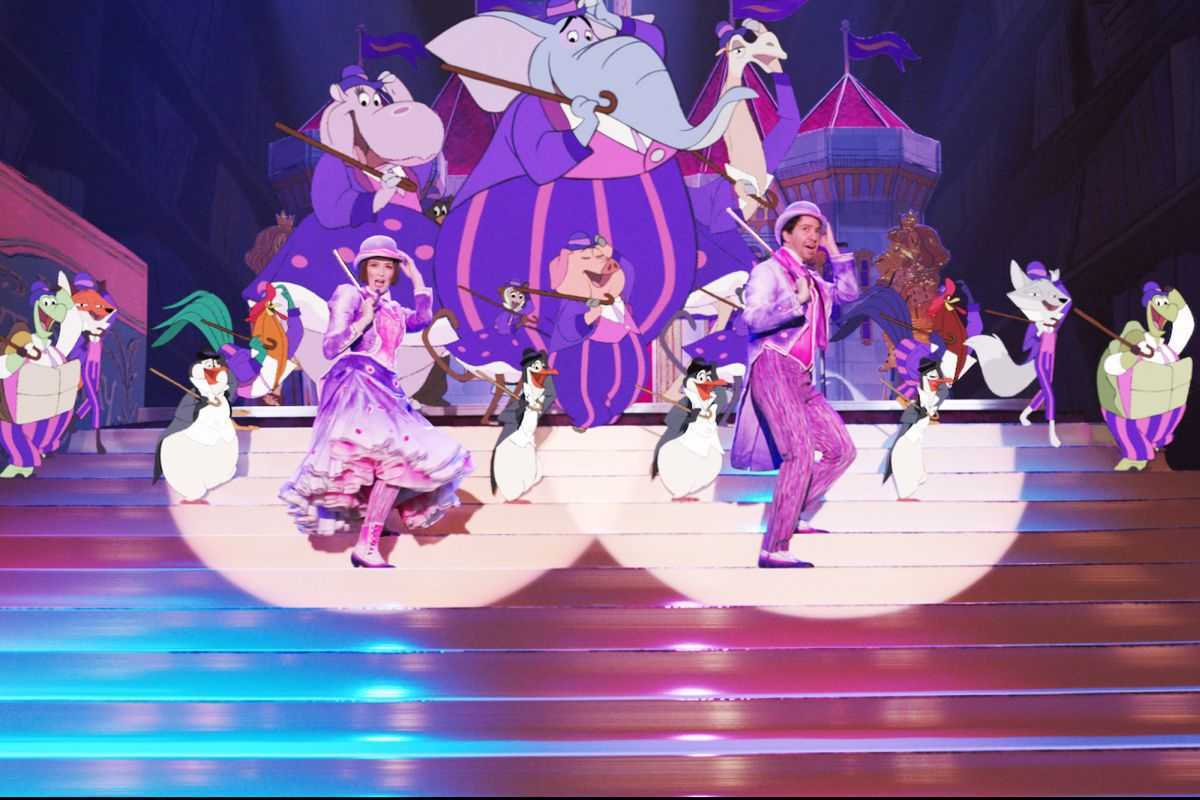 And that is the essential issue that Mary Poppins Returns is stuck with – Rob Marshall is choreographer and an adapter vs Robert Stevenson, a director who flourished and did his best work during the Disney live-action period. What Mary Poppins Returns feels like is less a film than one of the Broadway adaptations of successful films – most Disney films have enjoyed great success there in recent years and Mary Poppins was adapted in 2004. It is a series of nods back to the original film arranged around a succession of song and dance numbers but it never feels like a film that is out there creating its own dizzying enchantment in the same way that the original did. There are a only couple of sequences that do light up the way they should – one where Mary's attempts to give the children a bath ends up taking them down into an underwater realm and especially the nonsensical absurdism of the finale that involves every character throughout the film taking to the skies on balloons.
You can never say there is much here that charms with the freshness and originality of Robert Stevenson's set-pieces in the original. Rather it feels like all that Marshall is doing in between the music numbers is substituting are canned pieces of dramatic action – an animated cart chase through the bowl, the race to climb up to delay Big Ben's chimes by five minutes – something that Robert Stevenson never did. Even Marshall's expertise with staging dance numbers comes out as lively but never with much that soars with the memorability of the numbers in the original. Probably the best of these, aside from the finale, is the Trip the Light Fantastic sequence with dancing lamplighters.
And that finally brings one to Emily Blunt, a fine emerging actress over the last few years. She steps into Julie Andrews' shoes here and makes a younger Mary Poppins. Does she win the show? Most seem to think so and I enjoyed her performance, although in the end what it felt like was an imitation of Julie Andrews by a quieter but accomplished actress rather than one that lights up the screen with its own prim and pixieish charms.
---
---