(You Gu Zi)
---
Crew
Director – Ho Meng-Hua, Screenplay – Tsai Lan, Producer – Run Run Shaw, Photography – Tsao Hui-Chi, Music – Chen Yung-Yu, Art Direction – Chen Ching-Shen. Production Company – Shaw Brothers.
Cast
Li Hsiu-hsien (Sheng Yung), Chen Ping (Lin Chung Yu/Little Yu), Lily Li (Xiao Ly), Wang Hsia (Mr Hu), Lun Hua (Chen Fu Sin), Feng Ku (Uncle Ah Bah), Angela Yu Chien (Lam Yu Nian), Tung Lam (Inspector Shih), Lam Fung (Hong Te Min), Keung Hon (Chang Ah Gou), Kong Yeung (Yang Tin Choi), Ko Hung (Yang Tin Kin)
---
Plot
Crooked money lenders are trying to foreclose on the coconut oil grove of Lin Ah Bah. During a heated fight, Ah Bah ends up killing one of the men and is arrested and sentenced to be executed. Before he goes to his death, Ah Bah asks his neighbour Sheng Yung to come to him. Sheng Yung has been struck with polio since a child and walks on crutches. He also secretly loves Ah Bah's daughter Little Yu. Ah Bah asks Sheng Yung to copy down the spell that is tattooed on his back. Back home, Sheng Yung follows the instructions in the spell and digs a hole in the centre of his home. This fills with oil and he bathes in it to emerge as a monster made of oil. As the oily monster, he sets out to take vengeance and kill those who framed Ah Bah and are now trying to take the coconut oil grove away from Little Yu.
---
Between the 1950s and early 1980s, Shaw Brothers was the most prominent film production company in Hong Kong. During their heyday in the 1970s, they were producing some forty films and upwards per year. Mostly, Shaw Brothers are known for their production of a vigorous output of Wu Xia swordplay films, although these are generally more of the mundane variety than the fantastically styled moves the genre started to take on in the 1980s. Towards the end of the 1970s, they began to branch out into other genres such as the Category 3 (adult film) and a number of completely whacked ventures into horror with the likes of Black Magic (1975), Bewitched (1981), The Boxer's Omen (1982), Human Lanterns (1982) and Seeding of a Ghost (1983). And then there was Oily Maniac, which has gained a certain notoriety among these.
Ho Meng-Hua directed 57 films for Shaw Brothers between the 1950s and the 1990s in genres that range from romance to crime to martial arts and swordsman films. His other ventures into fantastic material include:- Seven Immortal Woman (1963) about a fairy on Earth; Monkey Goes West (1966), Princess Iron Fan (1966) and The Cave of the Silken Web (1967), a series of films based on the classic Chinese legend Journey to the West; the Wu Xia The Land of Many Perfumes (1968) and Vengeance is a Golden Blade (1969); The Human Goddess (1972) about a goddess come to Earth; the horror films Black Magic (1975) and Black Magic 2 (1978), the classically bad giant ape film The Mighty Peking Man (1977); and the horror films The Rape After (1984) and Evil Black Magic (1992).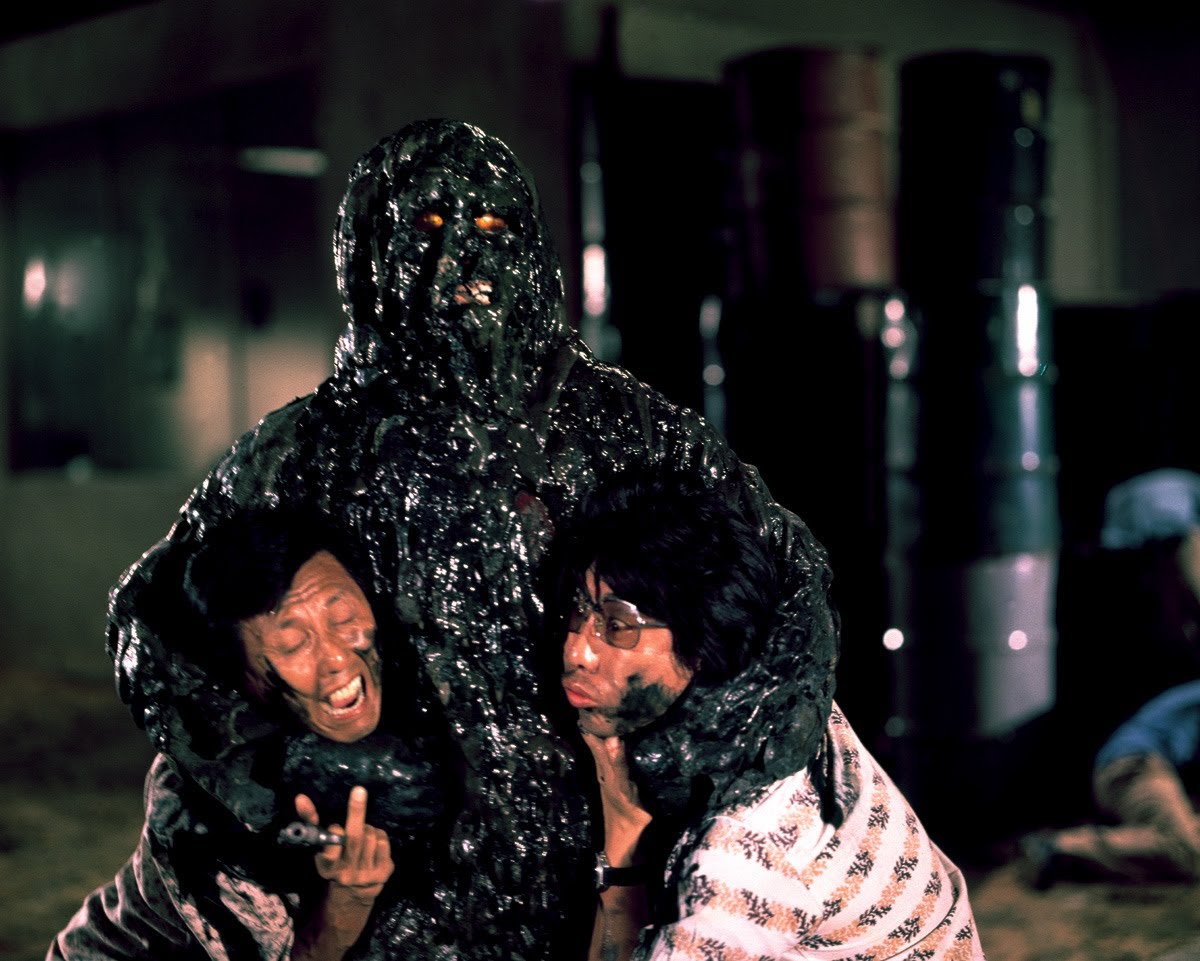 Oily Maniac came out before the superhero genre started to gain its feet on cinema screens in any significant way and so is a largely pitched as a horror film. As such, its' idea of a downtrodden guy jumping into a magic substance (coconut oil with a magic spell here, toxic waste there) and emerging as an avenging creature predicts what Troma Films would do with their more obviously tongue-in-cheek The Toxic Avenger (1984) and sequels. The conception of the Oily Maniac may well have been taken from DC's Swamp Thing – later filmed as Wes Craven's Swamp Thing (1982) and several tv spinoffs or for that matter Marvel's Man-Thing, later filmed as Man-Thing (2005), both of which had premiered in print only a few years earlier – to which the creature's ability to transform into an oil slick and instantly regenerate body parts (even his own head) is very similar.
Oily Maniac is crudely directed – in both senses of the meaning. Ho Meng-Hua's direction is without any sophistication – the drama happens in all the obvious places and the characters are all simplistic one-dimensional caricatures that play on a level of depth that is more appropriate to a children's cartoon. In the other sense, Oily Maniac is crude in that it has been directly to the lowest common denominator. Ho Meng-Hua takes almost every opportunity he can to get the female cast members topless, not to mention multiple scenes where girls are stripped and about to be raped before the creature bursts into interrupt. At one point, the Oily Maniac even invades an operating room to attack a girl as she undergoes an abortion.
It is a film that seems entirely driven by the absurdity that its title (or at least the English-language version) has attracted, the nonsensical conception of the creature and an attitude of brazen luridness, even if in itself it is not a particularly good film. One of the more amusing aspects is how every time the creature appears as an oil slick, the score plays a blatant copy of the 'der-dum-der-dum-der-dum' theme from Jaws (1975).
---
---