(Yu Po Tuan Er Zhi Yu Nu Xia Jing)
---
Crew
Director – Chin Man Kei, Screenplay – Simon Kan, Producer – Wong Jing. Production Company – Golden Harvest.
Cast
Lorretta Lee Lai-Chun (Saimun Yaiu), Elvis Tsui (Saimun Chien), Lok Tat-Wah (Fatau), Hsu Chi (Tsui/Mirage Lady), Ben Ng (Officer Ironman), Yut Fei Wong (Happy Taoist)
---
Plot
Saimun Chien is a follower of Zen sex secrets and believes it is his right to take the wife of any villager as his. His daughter Yaiu wants to go to school so he insists that she dress as a boy and wear chastity armour that will mutilate the hands and genitalia of anybody who touches her. At school, Yaiu is attracted to Fatau but he has his penis shredded by the armour when he discovers she is a girl. They travel to the scholar Happy Taoist who offers Fatau a mechanical prosthesis as replacement. Happy Taoist is then killed by the mysterious Mirage Lady in order to obtain a book of magic called 'Secrets of Virginity', which can allow her to change her appearance and devour her partner's essence. So disguised, Mirage Lady becomes Yaiu's idiot brother Lung's bride and then starts devouring all of Chien's wives.
---
Sex and Zen (1991) was an hilariously tongue-in-cheek erotic romp where beautifully stylised bedroom encounters sat alongside a riotously funny comic plot. This is a sequel that proves to be a big disappointment. It is not even the same type of film anymore – somewhere along the line the erotic set-pieces have gotten dropped and in has come a Wu Xia plot along the lines of A Chinese Ghost Story (1987) and numerous imitators about a battle with a sex-changing sorcerer. While such a story might have been okay on its own, as a sequel to the sublime Sex and Zen it is a disappointment.
Certainly, there are plenty of erotic encounters and bare flesh. However, these are no more than the usual bare flesh tumblings that take place in virtually any type of film with a R-rated release and none of these have the imagination of their predecessor's set-pieces. Worse most of the comedy seems conducted in a crude and noisy, not to mention unsubtle, tone of farce. The film tends to comes across as being directed by a smutty twelve year old boy – the heroine's father tries to lecture her while reaching a very loud climax via oral stimulation from one of his wives under the table; people engage in masturbation contests to see how far they can ejaculate and such like. While these may produce a crude laugh, they fall woefully short of their predecessor's comic highlights. There is also not much of a plot.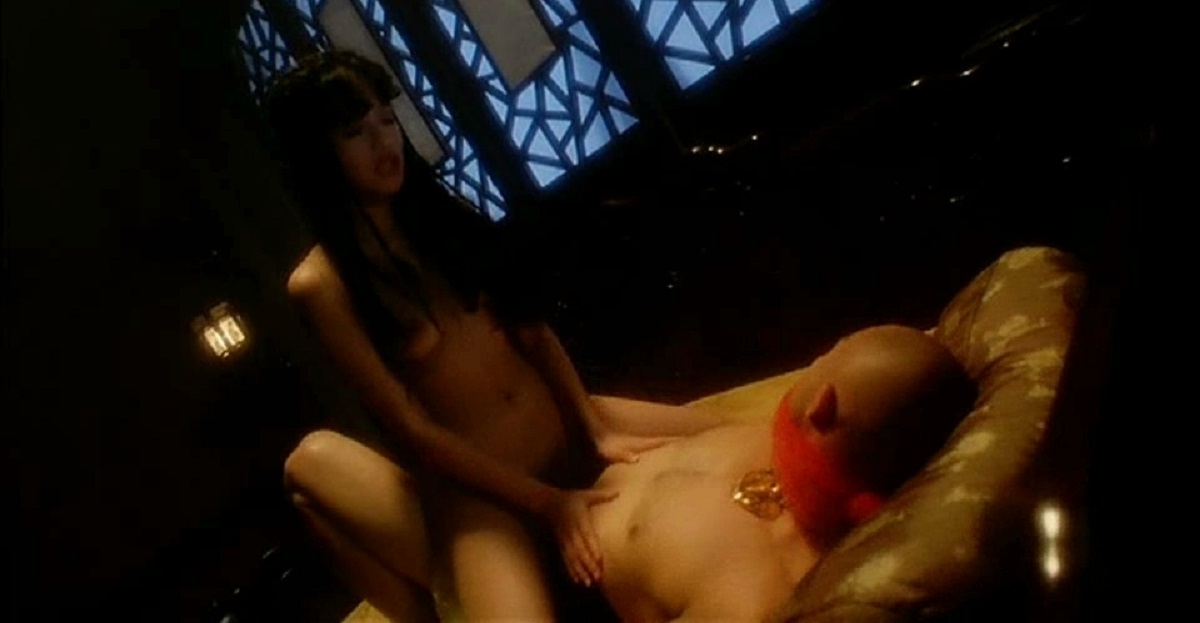 Unfortunately, while Sex & Zen II aspires to be a part of the Hong Kong Wu Xia cycle, it does not appear to have the budget to allow its swordplay to shine. There is one extraordinary image of one of the wives being snatched up and raped by a demonic figure who flies through space on an organic-looking chair, which fails badly through not having the budget to pull it off.
The one point that the film does transcend itself is at its 'climax' that features the heroine being raped by the sorcerer villain – who is now a woman with a penis – which becomes a competition between the two as to who can hold off achieving their orgasm the last and in so doing devour the other's life essence.
There were two further Sex & Zen sequels with the subsequent non-fantastical Sex and Zen III (1998) and the fantastical Sex and Zen: Extreme Ecstasy (2011).
---
---