(Sinnui Yauman II)
---
Crew
Director – Ching Siu-Tung, Producer – Tsui Hark, Special Effects – Nick Allder & David Watkins. Production Company – Golden Princess Films Productions.
Cast
Leslie Cheung (Ling Choi-sun), Joey Wong (Ching-fung), Jackie Cheung (Chi-chau), Michelle Reis (Yuet Chi), Feng Ku (Chu-kwok), Shun Lau (High Priest), Lau Siu-Ming (Lord Fu Tin-chau), Wu Ma (Yim)
---
Plot
The tax collector Ling Choi-sun is arrested, mistaken for a bandit. In jail, he meets the writer-philosopher Chu-kwok who helps him escape. Joined by the magician Chi-chau, Ling hides at a haunted temple. He encounters a group of others there and is astounded by Ching-fung who bears a startling resemblance to his former ghost love Siu-sun. She and her friends are planning to rescue her father from imperial capture and mistake Ling for the revered Chu-kwok. Both Ching-fung and her sister Yuet-chi are attracted to Ling but Ching-fung is engaged. They are attacked and have to fend off the twin threats of a giant monster and then an evil Buddha who is posing as the imperial high priest and singing a mantra that calls people to their deaths.
---
A Chinese Ghost Story (1987) was a huge hit in Hong Kong and a substantial crossover in the West. Its success was influential on much of Hong Kongese Wu Xia cinema of the 1990s. Director Ching Siu-Tung, producer Tsui Hark and all the stars of the original reteamed for this likable but lesser sequel. Most would also return for a further sequel A Chinese Ghost Story III (1991). Producer Tsui Hark later oversaw the animated A Chinese Ghost Story: A Tsui Hark Animation (1997), while A Chinese Ghost Story (2011) was a poor remake of the original.
A Chinese Ghost Story II repeats all the basics of the original – Leslie Cheung's comic tax inspector, his being forced to stay at a haunted temple, evil minions of the underworld, the wild martial arts moves and Joey Wong written in not as the ghost love from the first film but another girl who resembles her in all ways. A Chinese Ghost Story II is not quite as accomplished as the original in its extraordinary blend of outré Asian fantasy, lyrical poetry and humour. The emphasis here is more on comedy.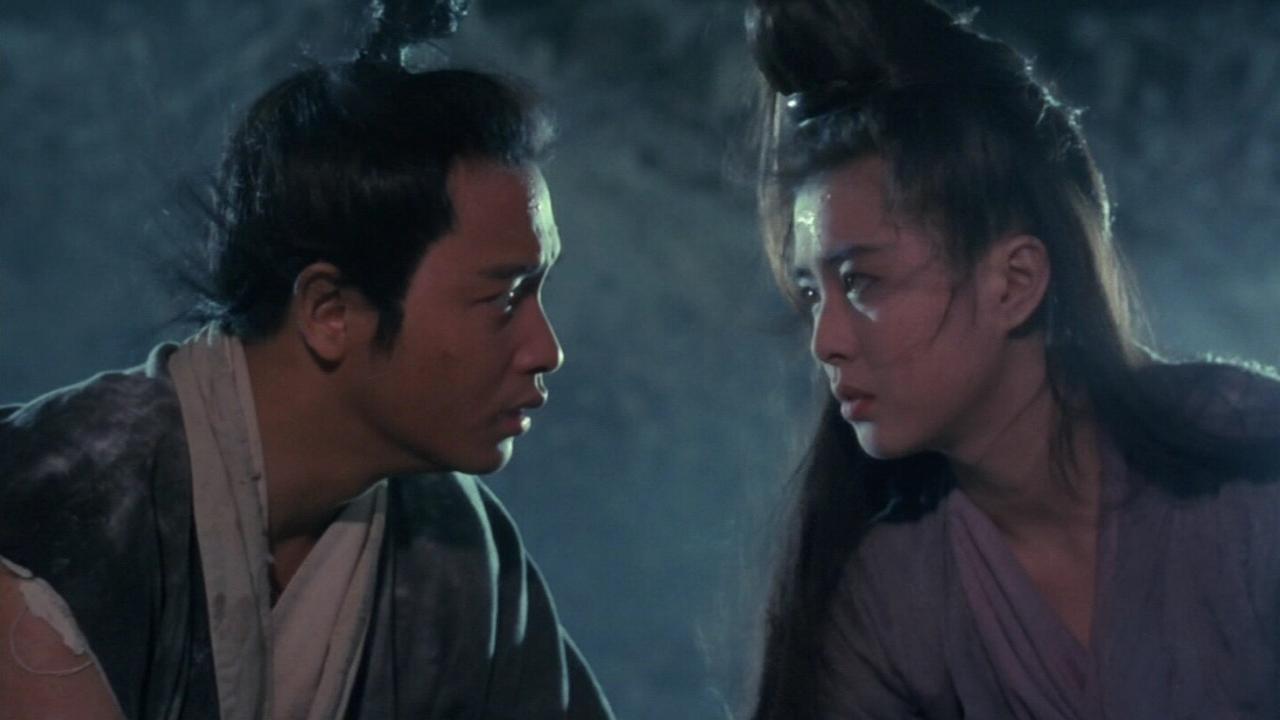 Certainly, when it comes to the comedy, Ching Siu-Tung conducts some snappy reversals based on mistaken identity and misinterpretations. The most accomplished sequence is the scene where the heroes are pursued by the giant monster and fend it off with a magic hand sigil that freezes and unfreezes it, ending with the accidentally frozen magician Jackie Cheung trying to communicate by rolling his eyes, the monster frozen with its claws almost around Leslie Cheung's neck, its saliva dripping onto his head and his sweat slowly erasing the symbol on his palm.
On the other hand, A Chinese Ghost Story II lacks a dramatic drive to its plot. There is no equivalent purpose like the quest to return Joey Wong's ashes and save her from marriage to the Lord of Hell as there was in the original. Instead, the plot is episodically stretched between two different menaces – the monster and the evil Buddha. Certainly, the monster is never present as a nemesis, only as a comic foil. It is fun and there is a good deal of the surreal fantastique images of the Wu Xia genre – a demented fight hacking up the monster where its legs walk away and its severed arm and head keep attacking; and an amazing climax with the giant golden Buddha's head and the beleaguered heroes flying into battle atop a flotilla of swords; and a venture into the intestines of a giant centipede, which can only be escaped when the heroes' allow their souls to leave their bodies.
---
---