aka Sheena, Queen of the Jungle
USA. 1984.
Crew
Director – John Guillermin, Screenplay – David Newman & Lorenzo Semple Jr, Story – David & Leslie Newman, Based on the Comic-Book Sheena, Queen of the Jungle Created by Will Eisner & S.M. Iger, Producer – Paul Aratow, Photography – Pasqualino De Santis, Music – Richard Hartley, Production Design – Peter Murton. Production Company – Columbia-Delphi.
Cast
Tanya Roberts (Sheena), Ted Wass (Vic Casey), Donovan Scott (Fletcher), Elizabeth of Toro (Shaman), Clifton Jones (King Jabalani), France Zanda (Countess Zanda), Trevor Thomas (Prince Otwani), John Forgeham (Colonel Jorgensen)
---
Plot
Sportscaster Vic Casey and his cameraman arrive in an African republic. There they become witness to the murder of Prince Otwani by his brother. When it is realised that they have filmed the murder, they are forced to flee into the jungle with the evidence. In the wilderness, they find a strange saviour in Sheena, a white woman who lives in the wild and has the power to telepathically communicate with animals.
---
Sheena, Queen of the Jungle was a comic book, originally created by S.M. Iger and comic book legend Will Eisner (the creator of The Spirit) and first appeared in Jumbo Comics #1 in 1938. Construed as a female take on Tarzan, Sheena ran in her own comic-book between 1942 and 1953. The character was briefly incarnated by model Irish McCalla in a short-lived but well-remembered tv series Sheena, Queen of the Jungle (1956-7), which was cancelled after 26 episodes. A big screen revival of Sheena had been planned as far back as 1977. Everybody from Raquel Welch to most of the cast of Charlie's Angels (1976-81) had been associated with the part. However, it was not until the successful revision of the Tarzan legend with Greystoke: The Legend of Tarzan, Lord of the Apes (1984), to which this film owes some debt, that the Sheena film was greenlit.
Many of the people present on the project did not exactly give comfort. Certainly, on script there was David Newman who had written Bonnie and Clyde (1967) and Superman (1978). Most prominently however, there was Lorenzo Semple Jr and director John Guillermin who had previously thoroughly trashed a great legend with the Dino De Laurentiis remake of King Kong (1976). Not unexpectedly a considerable camp element tends to dominate the film at times – lines like "Hello, Your Highness," "Hiya Baby." To their credit, Lorenzo Semple and David Newman have given the traditional comic-book relation a hip and sparring Post Sexual Revolution update – indeed Sheena is more of a Romancing the Stone (1984) with a sex reversal than it is a Tarzan film.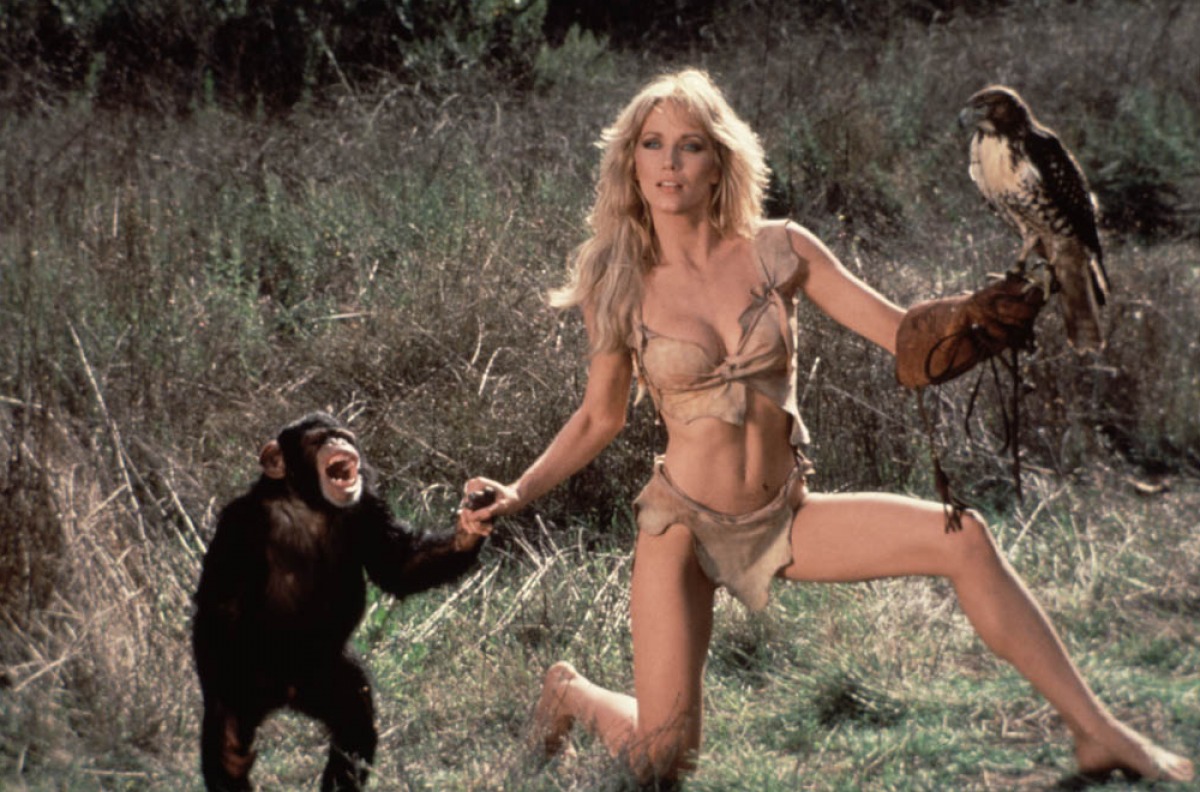 Sheena has many moments of the grand campiness that usually grants a film Golden Turkey status – like a climactic attack on a helicopter by flamingos or in some of the purple prose dialogue that Tanya Roberts gets to say. Moreover, the central relationship that the script is hung around is hamstrung by the perpetually awful, totally blank Tanya Roberts in the title role. On the other side of the relationship, Ted Wass has a likeably handsome charm. There is some beautiful scenery all shot on location in Kenya. The result makes for a film that sits just on the dividing line between occasional effectiveness and being extremely bad.
A better version of the comic book was the tv series Sheena (2000-1) starring Gena Lee Nolin.
John Guillermin was a British director who directed two of the Sy Weintraub Tarzan films with Tarzan's Greatest Adventure (1959) and Tarzan Goes to India (1962). Guillermin went onto other big adventure films, war films and spectacles such as Guns at Batasi (1964), The Blue Max (1966), The Bridge at Remagen (1969) and Shaft in Africa (1973). Guillermin is mostly remembered today for for the disaster film The Towering Inferno (1974) and the disastrous Dino De Laurentiis remake of King Kong (1976) and its equally terrible sequel King Kong Lives (1986).
---
Trailer here
---