---
Crew
Director – Charles S. Gould, Screenplay – Dwight V. Babcock & Jo Pagano, Story – Jo Pagano, Producer – Sam Katzman, Photography (b&w) – Henry Freulich, Music Conductor – Mischa Bakaleinikoff, Special Effects – Jack Erickson, Art Direction – Paul Palmontela. Production Company – Columbia.
Cast
Johnny Weissmuller (Himself), Jean Byron (Ellen Marston), Helene Stanton (Oma), Bill Henry (Bob Prentice), Myron Healey (Mark Santo), Michael Granger (Nolimo), Billy Curtis (Damu)
---
Plot
Ellen Marston hires Johnny Weissmuller to guide her through the jungle in the fabled land of the Baku in search of the lost temple of the sun god Ra. At the same time, Johnny's friend Nolimo from the Ariba tribe finds that his son has been killed by the Baku pygmies. Ellen's friend Bob Prentice is then abducted by the Baku. Johnny and Ellen set out in pursuit but the expedition is beset by the ruthless Mark Santo who has seen a diamond pendant that Nolimo's son was carrying and believes that the temple of Ra is rich in diamonds. They eventually come upon the temple where the Baku worship the blonde goddess Oma, an immortal many hundreds of years old. Believing Bob to be the reincarnation of her love, Oma has entranced him and made him into her high priest.
---
Former Olympic gold medal swimming champion Johnny Weissmuller will always be remembered as the most famous of the numerous screen Tarzans. First appearing in Tarzan the Ape Man (1932), Weissmuller went onto play Tarzan in a total of twelve films before retiring from the role. Although immediately after quitting, Weissmuller returned to the backlot jungle for producer Sam Katzman in the Jungle Jim series. The only real difference between Tarzan and Jungle Jim was that Johnny Weissmuller had traded loincloth for khakis and pith helmet and that his dialogue was no longer Pidgin English. The adventures were exactly the same as the Tarzan films but the budgets much cheaper. Weissmuller played Jungle Jim for thirteen movies – Jungle Jim (1948), The Lost Tribe (1949), Mark of the Gorilla (1950), Captive Girl (1950), Pygmy Island (1950), Fury of the Congo (1951), Jungle Manhunt (1951), Jungle Jim in the Forbidden Land (1952), Voodoo Tiger (1952), Savage Mutiny (1953), Valley of the Head Hunters (1953), Killer Ape (1953) and Jungle Man-Eaters (1953), as well as a tv series Jungle Jim (1955-6), which lasted for twenty-six episodes.
Following this, Weissmuller continued with Sam Katzman to make an even further series of jungle adventure films – Cannibal Attack (1954), Jungle Moon Men and Devil Goddess (1955) – where his character was simply billed as Johnny Weissmuller. By this point, Weissmuller had become so identified with the jungle adventure – he had only made a single other film outside of the Tarzan and Jungle Jim series in the last 20+ years – that his name in itself was generic.
For all their being pitched as jungle adventures, there was not a lot about these films that was ever very thrilling and not a single one of them that ever ventured off the studio backlot to shoot in a real jungle. Jungle Moon Men is a cheap and routine effort on almost every level. There is little mystery or adventure that comes in the quest for the lost city. Much of the film consists of stock footage of animals and African landscapes.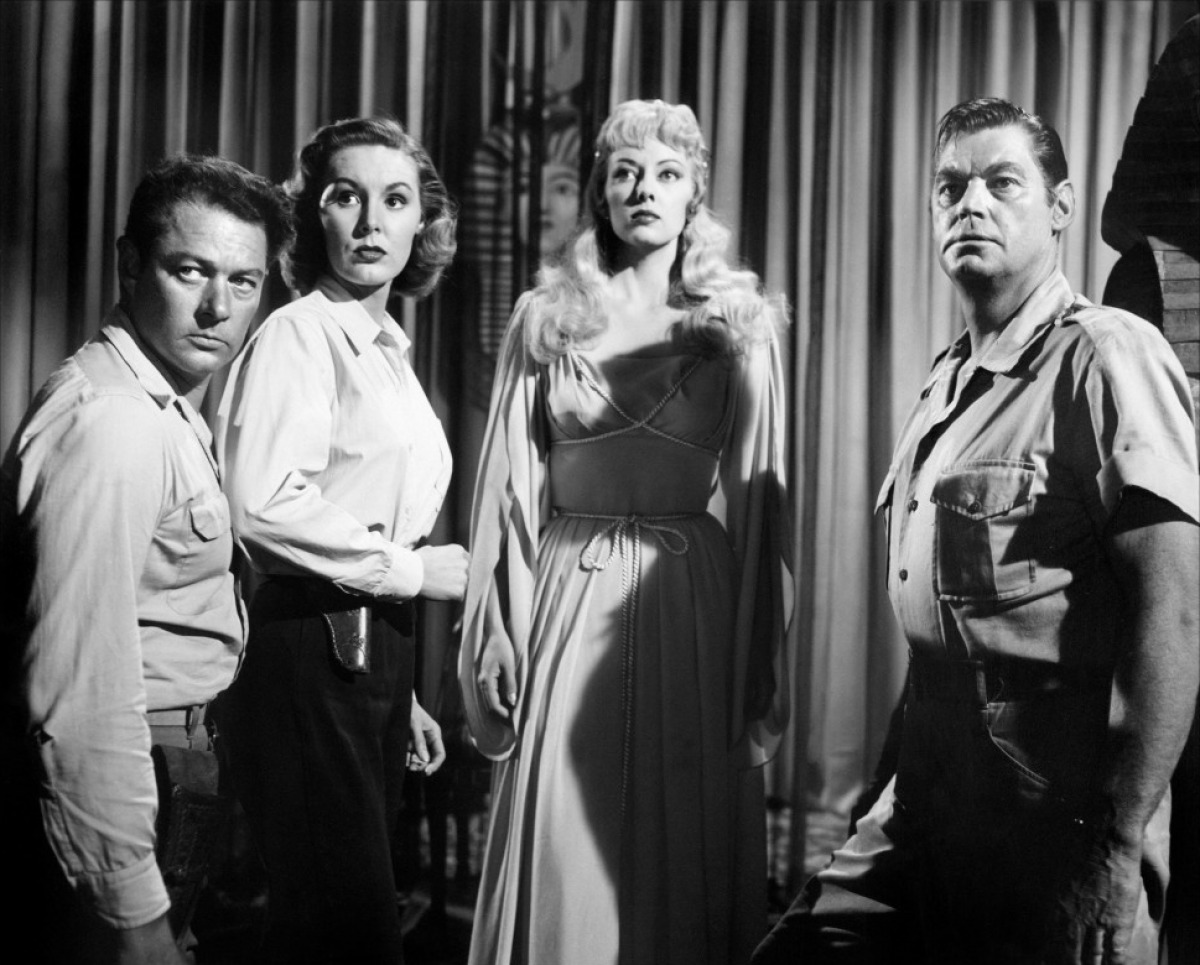 Things do pick up slightly at the climax with some passably routine fight scenes in the temple and a scene where the party is tied up and a winch wound to release lions into their cell. Just as in the Tarzan and Jungle Jim movies, Johnny Weissmuller is provided with a chimpanzee companion and much of the running time is devoted to its antics. The middle of the film also ends up being taken over by the comic frolics of a group of Pygmy natives fooling around with the chimp and a Jeep.
Jungle Moon Men is often misidentified as being a science-fiction film because of its title. What does need to be clarified is that the titular Moon Men are actually African natives, not alien visitors. Jungle Moon Men can however be considered a fantasy film. When we arrive at the temple, we find that the filmmakers have without credit stolen the plot from H. Rider Haggard's She (1886). [She has been filmed a number of times, most notably as She (1935) and She (1965)].
Here the plot of She has just been grafted onto standard Jungle Jim-type adventure, even down to the immortal queen having waited through the centuries for the return of her lover and believing him to be reincarnated as one of the members of the expedition whom she promptly anoints as her high priest. There is also the familiar climactic scene where all of her age catches up with her and she mummifies. Alas, in the equivalent of the Ayesha role, Helen Stanton lacks any kind of mystique.
---
---