---
Crew
Director – John Guillermin, Screenplay – John Guillermin & Bernie Giler, Story – Les Crutchfield, Producer – Sy Weintraub, Photography – Ted Scaife, Music – Douglas Gamley, Art Direction – Michael Stringer. Production Company – Solar Film Productions.
Cast
Gordon Scott (Tarzan), Anthony Quayle (Slade), Sara Shane (Angie Lowering), Niall MacGinnis (Krieger), Scilla Gabel (Toni), Sean Connery (O'Bannion), Al Mulock (Dino)
---
Plot
A group of white men disguised as natives massacre a native encampment and steal a supply of dynamite. Tarzan comes by soon after and realises that the white men are led by his old enemy Slade. Slade and his men head upriver by boat to a diamond mine, whose location only Slade knows, where Slade intends to use the dynamite to unearth the entrance. Joined by downed pilot Angie Lowering, Tarzan gives pursuit, determined to stop his old enemy.
---
Tarzan's Greatest Adventure was the 24th in the series of Tarzan films that began with Tarzan the Ape Man (1932) starring Johnny Weissmuller. By the point of Tarzan's Greatest Adventure, the Tarzan series was over three decades old and the title role has passed through two studios – MGM and then RKO Radio Pictures – and the loincloth has passed between three actors – Johnny Weissmuller and Lex Barker, before ending in the hands of Gordon Scott.
Most of the other Tarzan films had settled into a comfortable, easy formula – Tarzan swinging on a vine, speaking pidgin English; routine plots concerning evil white trappers, malcontent natives etc; and comic relief frolics with Cheeta and the animals. That all changed with the entry of producer Sy Weintraub into the series here with Tarzan's Greatest Adventure.
Sy Weintraub made a concerted effort to take the Tarzan film back to Edgar Rice Burroughs' original conception – that of a primal hero who speaks perfect English and could operate with equal agility in both civilised society and the world of the jungle – while going to shoot the film in actual jungles locations rather than on studio backlots. Weintraub would make six other Tarzan films – Tarzan the Magnificent (1960), Tarzan Goes to India (1962), Tarzan's Three Challenges (1963), Tarzan and the Valley of Gold (1966), Tarzan and the Great River (1968) and Tarzan and the Jungle Boy (1968) – with three different actors in the role. Many of these rank among the best considered of the Tarzan films by fans.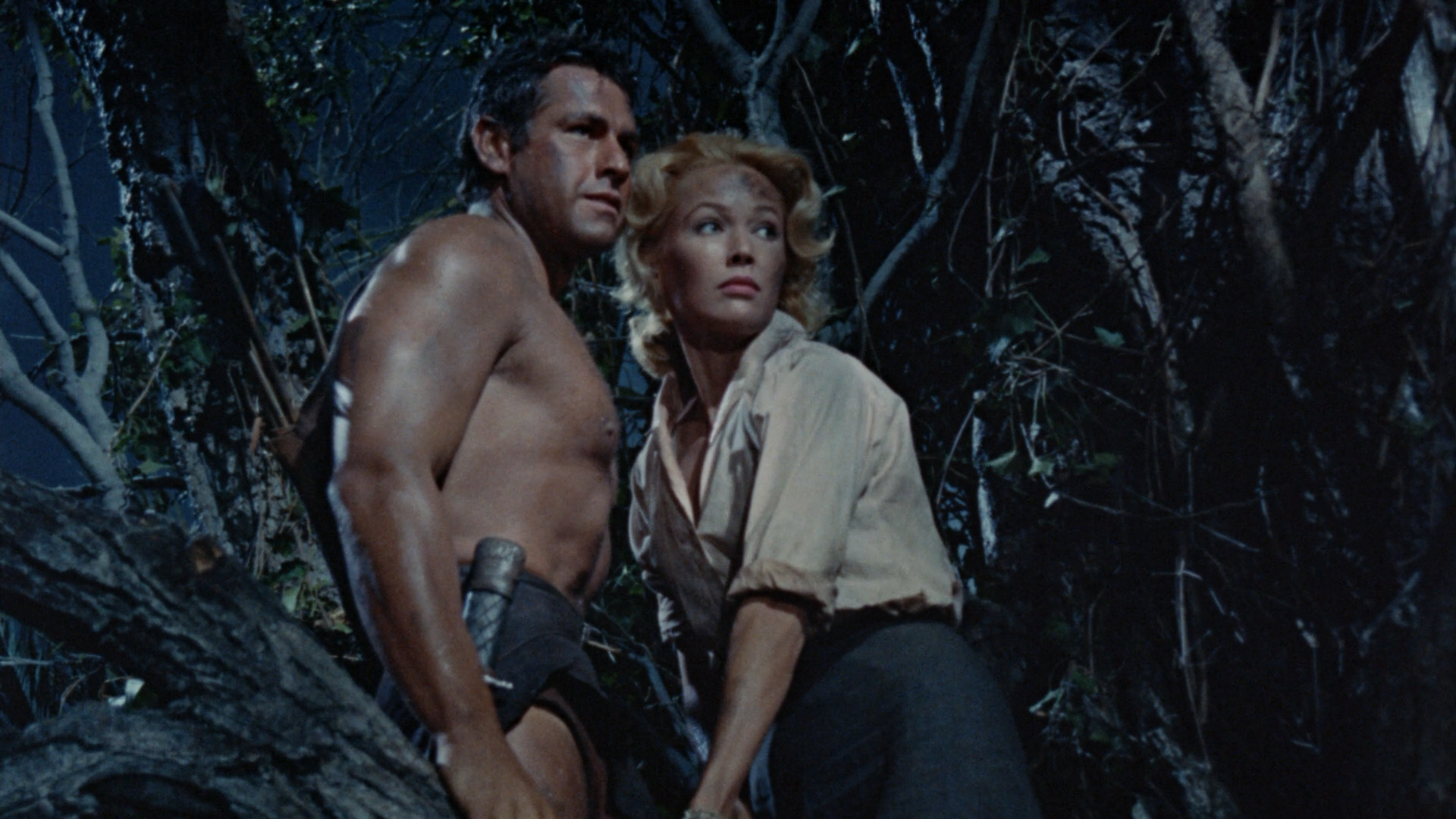 It is immediately apparent that care and attention has been placed into Tarzan's Greatest Adventure. John Guillermin gives the film a gritty realism that had been lacking in the Tarzan series since at least 1934. There are some exciting action sequences – Tarzan hunting through the jungle; firing down on his pursuers with arrows; an incredibly tense scene where a tarantula crawls up Gordon Scott's leg; Tarzan trapping Slade's boat with fallen trees and they throwing dynamite to try and kill him; Sara Shane's suspenseful venture into the villain's boat to get medicine for Tarzan; and especially the fabulous climactic clifftop fight between Slade and Tarzan.
Gordon Scott's Tarzan is given a toughness that you would never see in Johnny Weissmuller's far cuter version of the role – at one point, he shoots a man at point blank range with an arrow. At the end of the film, we see Gordon Scott standing atop the cliff looking down as Sara Shane's boat passes by on the river below – something that clearly emphasises that Tarzan's Greatest Adventure contains none of the warm fuzzy romantic fadeouts that the other Tarzan films do.
Gordon Scott was rather wooden as Tarzan in his initial entries but has grown comfortably into the part – without the pidgin English, his Tarzan comes with a grimly determined conviction. The villains are also depicted with an unusual degree of convincingly rough-hewn complexity – Slade is one of the few villains ever created in the films that was a worthy nemesis for Tarzan. One can also note one of the early screen appearances of Sean Connery – and in a rare villainous role for him – as one of Slade's gang who gets killed off by Tarzan.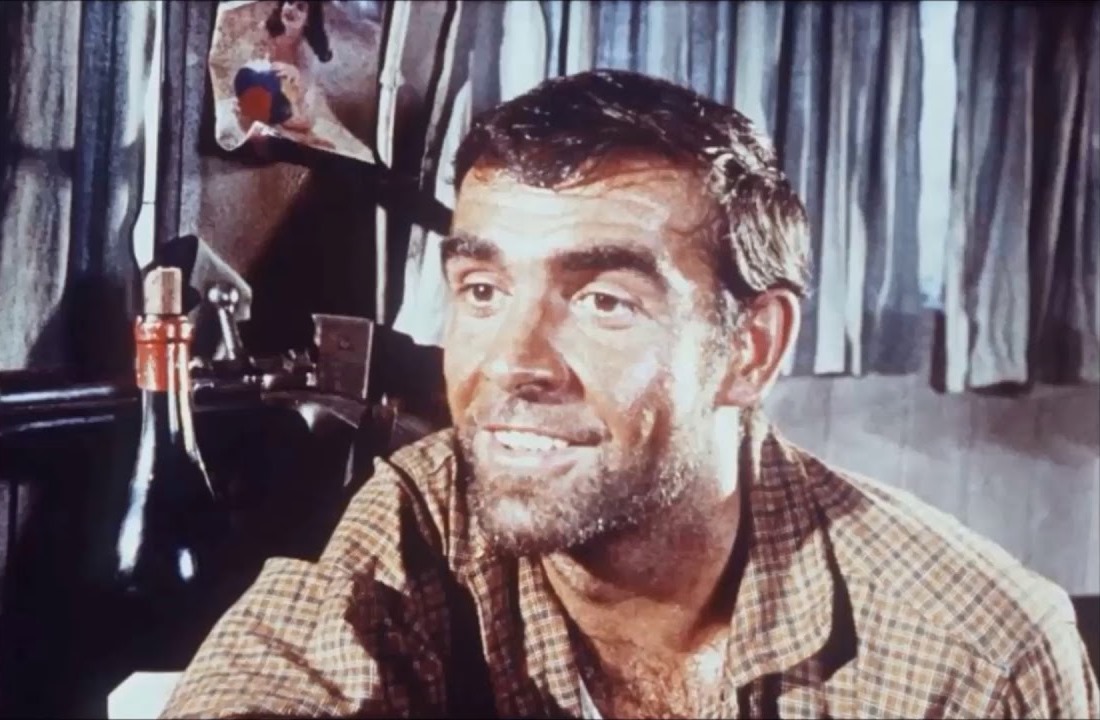 Gordon Scott's other Tarzan films are:- Tarzan's Hidden Jungle (1955), Tarzan and the Lost Safari (1957), Tarzan's Fight for Life (1958), Tarzan and the Trappers (1958) and Tarzan the Magnificent (1960).
Tarzan's Greatest Adventure was directed by John Guillermin, who would later go onto to also make Tarzan Goes to India for Sy Weintraub. The British-born Guillermin went onto other big adventure films, war films and spectacles such as Guns at Batasi (1964), The Blue Max (1966), The Bridge at Remagen (1969) and Shaft in Africa (1973). He is mostly remembered today for for the disaster film The Towering Inferno (1974) and the infamous Dino De Laurentiis King Kong (1976) debacle and its sequel King Kong Lives (1986), as well one further venture back into jungle adventures with Sheena (1984).
---
---