aka Arabian Knight; The Princess and the Cobbler
---
Crew
Director/Creator – Richard Williams, L.A. Production Director – Fred Calvert, Screenplay – Richard Williams & Margaret French, Additional Story/Dialogue – Parker Bennett, Terry Runte, Bette L. Smith, Tom Towler & Stephen Zito, Producers – Richard Williams & Imogen Sutton, L.A. Production Producers – Fred Calvert & Bette L. Smith, Photography – John Leatherbarrow, Music – Robert Folk, Songs – Robert Folk & Norman Gimbel, Master Animator – Ken Harris, Art Direction – Roy Naisbitt, Background Styling – Errol Le Cain. Production Company – Richard Williams Studio/The Forum.
Voices
Steven Lively (Tack), Bobbi Page (Princess YumYum), Vincent Price (Zigzag), Ed E. Carroll (Thief), Clive Revill (King Nod), Mona Marshall (Nurse/Witch), Joan Sims (Witch), Kevin Dorsey (Mighty One-Eye), Windsor Davies (Roofless)
[Voices for Arabian Knight]
Matthew Broderick (Tack), Jennifer Beals (Princess YumYum), Vincent Price (Zigzag), Jonathan Winters (Thief), Clive Revill (King Nod), Toni Collette (Nurse/Witch), Kevin Dorsey (Mighty One-Eye), Windsor Davies (Roofless)
---
Plot
A thief breaks into the home of the poor, overworked cobbler Tack. During their fight, Tack rolls out onto the street and drops several tacks into the path of the king's vizier Zigzag. Zigzag has Tack dragged away to be executed but this is stayed on a whim from the king's daughter Princess YumYum. She is attracted to Tack and asks to have him fix her shoe, much to Zigzag's displeasure. The thief, who desires all things gold, contrives to climb the tower where the three golden balls that protect the city from all intruders are mounted and steals them. YumYum sets out on a peril-laden expedition to find their whereabouts, taking Tack as a guide. Meanwhile, the treacherous Zigzag goes to the marauding One-Eyes and offers to lead them to conquer the city if he can have YumYum in return.
---
The Thief and the Cobbler is a unique film. It is unique as much for the finished results as for its deeply troubled production history. The film is the life work of animator Richard Williams. The Canadian-born but English-based Williams began making films in the 1950s and through the years has worked as an animator for hire on commercials and the credit sequences of several live-action feature films. Various of his short films and numerous of his commercials had won awards, although he was probably most well known for the animated credits sequences for the Peter Sellers Pink Panther films.
Williams started the Thief and the Cobbler project in 1968, initially financing it himself with profits from commercials. He made one other animated feature film, Raggedy Ann and Andy (1977) for 20th Century Fox, but this was not a success and, in a presage of things to come, completion of the film had been taken away from him by the studio after delays.
However, a ten-minute test reel from The Thief and the Cobbler circulated for several years and began to gain word of mouth. Williams' good fortune came when one of these reels was seen by Steven Spielberg and Robert Zemeckis who liked it enough to offer Williams the job as director of animation for Who Framed Roger Rabbit? (1988). Williams subsequently won an Academy Award for Roger Rabbit and this was a credit that proved influential enough for him to obtain funding from Warner Brothers in 1990 to complete The Thief and the Cobbler.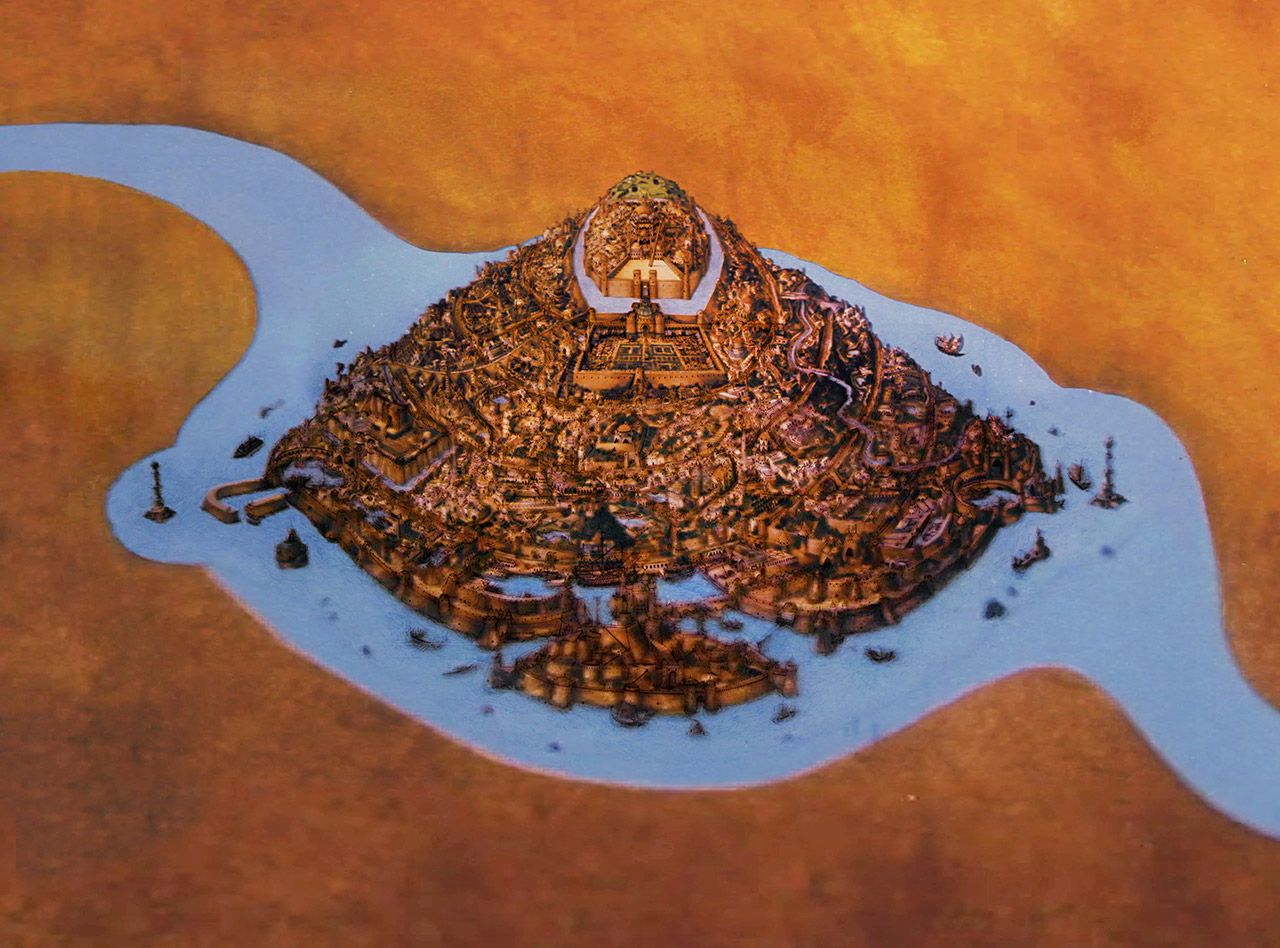 Unfortunately, Richard Williams was a perfectionist who wanted to make took such a long time to make The Thief and the Cobbler the most ambitious handdrawn animated film ever made. He would have sequences drawn and then order them redone. This went on so long that Warner's began to panic. In fact, the project had such a lengthy history, over its 27 years from its inception to its release (a world record), that several of the people doing voice-work – Vincent Price, as well as both Anthony Quayle and Donald Pleasence who did voices at one point but whose work did not end up on the finished print – ended up dying several years before the film ever saw the lights of theatres.
Fearing that the film's thunder would be stolen by Disney's Aladdin (1992), Warner Brothers panicked and called in the completion guarantors. With only fifteen minutes of footage left to complete, Williams was fired and director Fred Calvert and a South Korean animation-for-hire studio were assigned to turn the existing footage into something salvageable. Calvert took Williams's print and added songs and a romance and this version was released internationally in 1994 under the title The Princess and the Cobbler (the version seen here), which is somewhat truer to Williams's original vision.
Disney-subsidiary Miramax then purchased Calvert's print and substantially re-edited the film, adding voiceovers for the cobbler (whom Williams had originally intended to remain unspeaking) and the thief (who gets a particularly annoying babble of one-liners from Jonathan Winters), as well as substantially reworking the plot, including removing the character of the witch. This version went into US release in 1995 under the title Arabian Knight and met a dismal box-office reception.

For a film that has occupied nearly the entire life of one artist, it was an extraordinarily vulgar treatment to be afforded such a work. Sadly to say, neither version of the film ended up being noticed and it vanished without a trace, although there is a fan edit in circulation that restores some of Williams's original footage. Williams will reportedly not talk about the film to this day.
All of which is a shame as The Thief and the Cobbler is a mini-masterpiece. Even in butchered form, the dizzying joy of Williams's imagination shows through. Williams adopts an eccentrically stylised look that seems like a collision between Aubrey Beardsley and M.C. Escher – the only near equivalent in animation might be something a little akin to the Pink Panther animated shorts.
Williams delights in nonsensical visual play and optical absurdism for its own sake. The chase sequences are jewels of gonzo animation surrealism – the thief's wacky ascent up through the zigzag plumbing system of the palace; the hysterical sequence where the thief attempts to steal the three golden balls off the minaret, which could almost be a silent movie comedy routine; and the thief and the cobbler's madcap chase around the palace, which takes place in a dizzying series of zigzag optical patterns and eye-blinding colour contrasts. It all climaxes on a spectacular sequence with the thief flying around a series of madcap mechanical inventions as they collapse everywhere as a single one of the cobbler's tacks ends up destroying an entire army.

There is a wonderful eccentricity to Williams's characters – Vincent Price's evil vizier, for example, talks entirely in rhyme. Or else the thief who is perpetually accompanied by a swarm of flies circling around his head; the brutish bandits who are only drawn as animated sketches; and the maniacally cackling witch. In a delightful post-credits coda, the thief ends up stealing 'The End' and the film itself.
There is The Recobbled Cut, an unofficial fan edit in existence that pieces it together from some of the unseen footage and Williams' test reels that has been seen in successively more extensive versions since 2006. Persistence of Vision (2012) is a documentary of the behind-the-scenes story of the making of The Thief and the Cobbler.
(Winner in this site's Top 10 Films of 1994 list).
---
Trailer here (Arabian Knight version)
---