---
Crew
Directors – Saul Andrew Blinkoff & Elliot M. Bour, Screenplay – Tom Rogers, Story – Michael LaBash, Tony Leondis & Tom Rogers, Producer – John A. Smith, Music – Mark Watters, Animation Supervisor – David Block, Animation – Toon City Animation, Inc. (Directors – Dante Clemente & Russ Mooney) & Yowza Animation Inc (Supervisor – Roger Chiasson), Production Design – Colin Simpson. Production Company – Disney.
Voices
Patrick Warburton (Kronk), Tracey Ullman (Ms Birdwell), Eartha Kitt (Yzma), John Fiedler (Rudy), Wendie Malick (Chicha), John Mahoney (Papi), David Spade (Kuzco)
---
Plot
Kronk is now working as the chef at a pizzeria. He confides to a co-worker that he is dreading the imminent arrival of his father Papi because he has not found the wife, children and the house on the hill that his father always expected of him. He tells how the cat-transformed witch Yzma drew him into a scheme to sell a rejuvenation serum. This was a great success with old people who even sold their geriatric home for more serum before Kronk realised that the serum was a scam that was having no effect. Kronk was also a youth counsellor at Camp Chippamunka. He and fellow counsellor Birdwell became attracted to one another. With their two teams competing against each other, Kronk and Birdwell ended up in heated rivalry in a desire to achieve one-upmanship over the other.
---
The Emperor's New Groove 2: Kronk's New Groove is a sequel to The Emperor's New Groove (2000), one of the less successful Disney theatrical releases of recent vintage. Kronk's New Groove is one of a host of inferior sequels to their cinematic releases that Disney having been making mostly for video/dvd release over the last decade. Others amid these include:- The Return of Jafar (1994), Aladdin and the King of Thieves (1996), Beauty and the Beast: The Enchanted Christmas (1997), Pocahontas II: Journey to the New World (1998), The Lion King II: Simba's Pride (1998), Fantasia 2000 (1999), The Little Mermaid II: Return to the Sea (2000), Lady and the Tramp II: Scamp's Adventure (2001), Cinderella II: Dreams Come True (2002), The Hunchback of Notre Dame II (2002), Return to Never Land (2002), Atlantis: Milo's Return (2003), The Jungle Book 2 (2003), 101 Dalmatians II: Patch's London Adventure (2003), Stitch! The Movie (2003), Mulan II (2004), Lilo & Stitch II: Stitch Has a Glitch (2005), Tarzan 2 (2005), Bambi II (2006), Brother Bear II (2006), The Fox & the Hound 2 (2006), Leroy & Stitch (2006), Cinderella III: A Twist in Time (2007), The Little Mermaid: Ariel's Beginning (2008) and TinkerBell (2008).
Most of these Disney video sequels are dross, although there is the odd one that is passable – see Pocahontas II, The Lion King II, The Hunchback of Notre Dame II, 101 Dalmatians II. Unhappily to report, The Emperor's New Groove 2: Kronk's New Groove is not one of these. It has cheap Disney video sequel trying to get by on association with its predecessor written all over it.
As evidence, you need look no further than its plot. The two central characters from The Emperor's New Groove – the David Spade-voiced Emperor Kuzco and John Goodman's Pacha – have been almost entirely written out of the show and the film instead concentrates on the minor supporting character of Patrick Warburton's Kronk. Even then, Kronk is not the character he was in The Emperor's New Groove – in New Groove, Kronk was the witch Yzma's henchman who was redeemed throughout the course of the story, although here he has inexplicably become the head chef at a pizzeria. The plot seems to have no higher ambitions than the banal idea of Kronk having to prove himself to his judgemental father.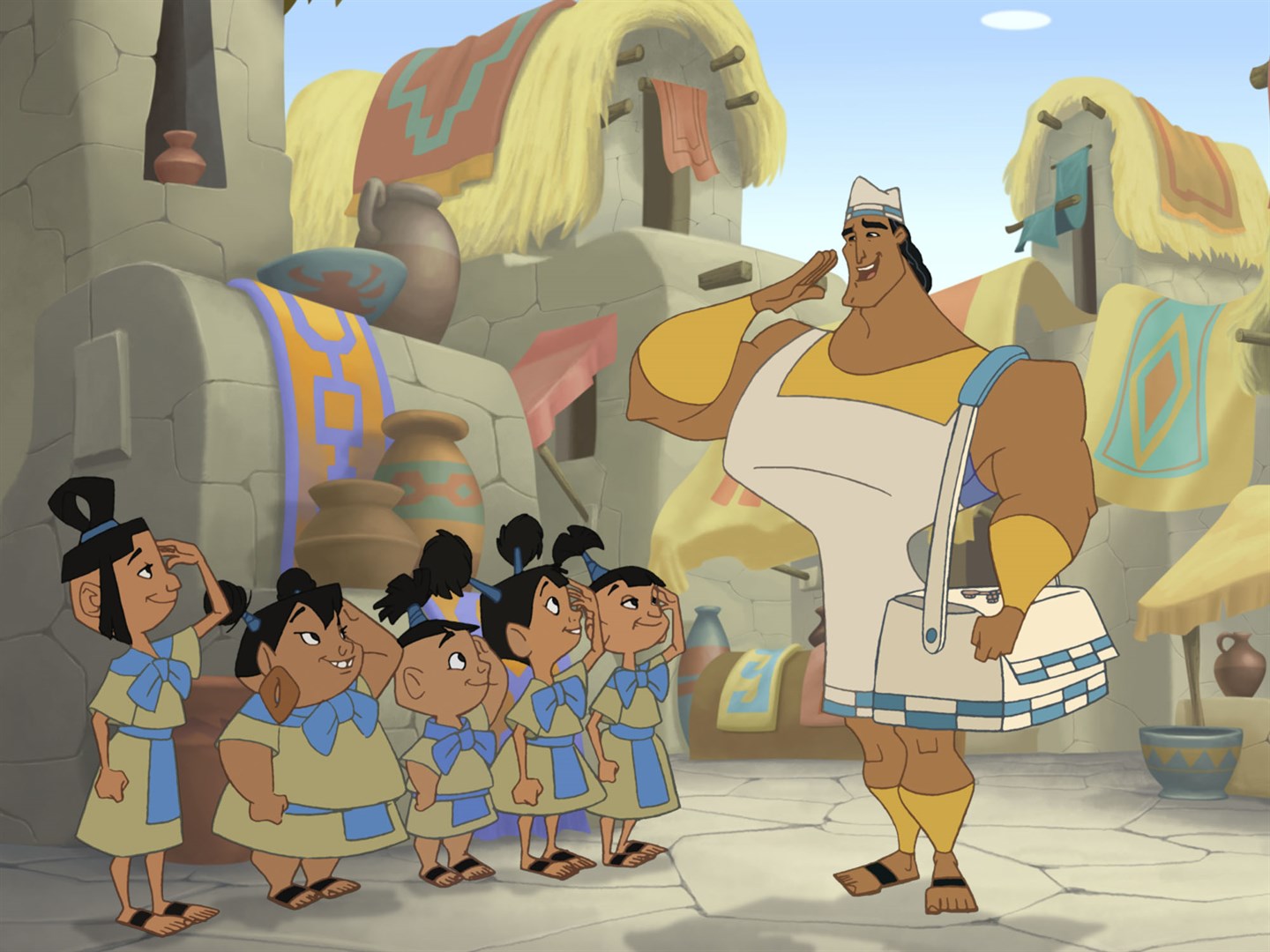 Like Atlantis: Milo's Return, The Emperor's New Groove 2: Kronk's New Groove feels like two episodes of a potential tv series slung together to pass as a film – indeed, the original film was later spun out as an animated tv series The Emperor's New School (2006-8) – with one episode about the return of Yzma and her winding Kronk into a scheme about a fake rejuvenation serum and another about Kronk finding romance with Birdwell at a summer camp.
The film directed in a visually busy way. However, there is little of the appealingly zany visual style of The Emperor's New Groove. It even looks like a different film. We get much inanity pitched at the youth market – seniors engaged in stunt chases on skateboards and scooters. There is a lot of in-references to other films – to Gollum out of The Lord of the Rings, to The Six Million Dollar Man (1973-8), Saturday Night Fever (1977), Titanic (1997), even a parody of the meatball scene out of Disney's Lady and the Tramp (1955). It is probably pointless mentioning the numerous anachronisms that turn up in the film's supposed Aztec era setting, including model trains in Kronk's house, scout troops and summer camps.
---
---