---
Crew
Director – Larry Peerce, Screenplay – Earl MacRauch, Based on the Book by Bob Woodward, Producers – Edward S. Feldman & Charles R. Meeker, Photography – Tony Imi, Music – Basil Pouledoris, Music Supervisor – Christopher Kennedy, Production Design – Brian Eatwell. Production Company – Feldman-Meeker/Lion Screen Entertainment.
Cast
Michael Chiklis (John Belushi), Ray Sharkey (Angel Velasquez), J.T. Walsh (Bob Woodward), Gary Groomes (Dan Aykroyd), Patti D'Arbanville (Cathy Smith), Lucinda Janney (Judy Belushi), Alex Rocco (Arnie Frimson)
---
Plot
Actor-comedian John Belushi wakes up on a morgue table. He meets an angelic taxi driver who has come to take him into the hereafter. However, Belushi refuses to accept that he is dead and so the angel takes him on a tour of his life. At the same time, Belushi's widow authorises journalist Bob Woodward to conduct an investigation into the death. Belushi and the angel travel back through Belushi's initial success on 'Saturday Night Live' to his partnership with Dan Aykroyd and subsequent fame in films. Along with these came Belushi's growing difficulties with cocaine addiction, culminating in his death from an overdose on March 5, 1982.
---
Wired is a biopic based on the life of comedian John Belushi (1949-82). Belushi was probably best known for his role as the slobbish Bluto in National Lampoon's Animal House (1978) and of course as Jake Blues in The Blues Brothers (1980). Wired is based on a 1984 non-fiction book about Belushi by Bob Woodward, best known as one of the Washington Post journalists who broke the Watergate scandal.
When it came out, Wired was one of the most hated films of its or any other year. It was greeted with a deep unpopularity by the studios for its no holds barred naming of actors like Robert De Niro and Robin Williams as Belushi's fellow drug users and the claim that the studios themselves actively promoted Belushi's drug use. The film's financing and release was deliberately obstructed and to add double ignominy the film was almost universally excoriated by critics and audiences when it finally appeared. The film ended up being such a flop that it virtually wrecked the career of star Michael Chiklis, who took several years before mounting a comeback in cop tv shows such as The Commish (1991-5) and The Shield (2002-8).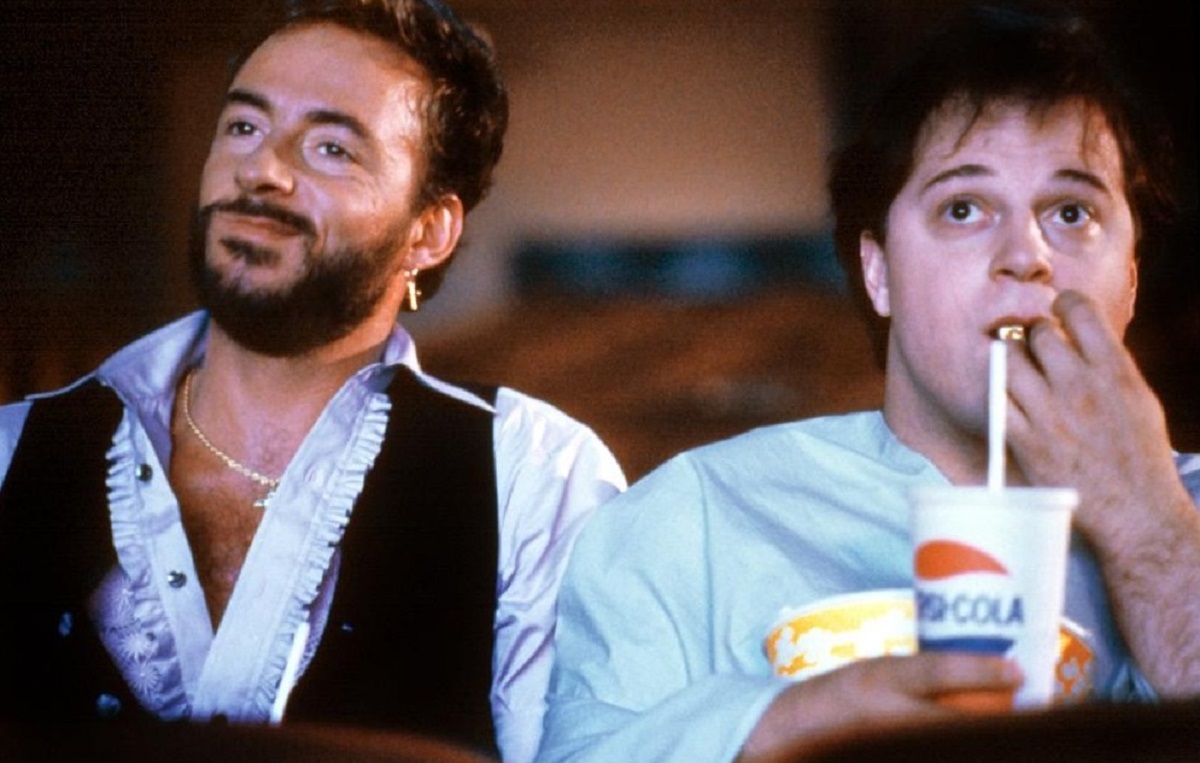 Wired is a mind-boggling film. Perhaps it is a novel idea in staging a film about John Belushi's life as one of the Saturday Night Live comedy sketches he starred in – certainly, it is hard to see when the sketches end and the drama starts; at least, the skits are funny. In casting the roles of Belushi and Dan Aykroyd, the film has certainly chosen actors that look like their real-life counterparts – and while Michael Chiklis gets John Belushi's slob role down right, Gary Groomes's playing of Dan Aykroyd is like a bad joke, a strung-out parody of Aykroyd's performance in The Blues Brothers, dropping 'man' with every second word. Alas the film has mistaken the screen personas the two actors play for the real-life characters – there is never the sense of two real people, rather you feel like it is Bluto from Animal House and Elwood Blues playing the parts of Belushi and Aykroyd.
To its credit, in between making a farce out of Belushi's life, some of the film's recreations of detail are meticulous. The last few minutes with J.T. Walsh's dishwater dull Bob Woodward moving through the motel to confront Belushi on his deathbed does a fair job in portraying the sheer hell of drug addiction. Elsewhere though, the film gets so over-the-top as to be entirely laughable – Michael Chiklis jumping up from his death bed to say 'boo' to Woodward; an absurd sequence where Belushi's oversized body falls out of a plane and comes crashing through the roof in the next scene unnoticed; and a fever-dream that turns a toilet into a giant cocaine factory. This isn't a biography, it's burlesque.
Larry Peerce had began as a tv director and enjoyed moderate success on cinema screens in the 1970s with films such as Goodbye Columbus (1969), The Other Side of the Mountain (1975) and Two-Minute Warning (1976).
---
Trailer here
Full film available online here:-