---
Crew
Director – Emile Ardolino, Screenplay – Perry Howze & Randy Howze, Producer – Mike Lobell, Photography – William A. Fraker, Music – Maurice Jarre, Special Effects – Stan Parks, Production Design – Dennis Washington. Production Company – Tri-Star.
Cast
Robert Downey Jr (Alex Finch), Cybill Shepherd (Corinne Jeffries), Ryan O'Neal (Philip Traine), Mary Stuart Masterson (Miranda Jeffries), Christopher McDonald (Louie Jeffries), Joe Grifasi (Omar), Josef Sommer (Judge Harrison Fenwick)
---
Plot
Lawyer Louie Jeffries is rushing home to his pregnant wife Corinne only to be hit by a car while crossing the street and killed. Up in Heaven, Louie is so anxious to return to Corinne that he rushes off without receiving the injection that all reincarnating souls are given to obliterate memory of their previous lives. Twenty-three years later. Louie is now in the body of Alex Finch, a librarian who works at the university that Miranda, his and Corinne's now grown daughter attends. Louie's old friend editor Philip Traine, who has harboured a longtime crush on Corinne, invites Alex to dinner at Corinne's place. Miranda develops an interest in Alex. However, while there, Louie's personality emerges and takes over Alex. Considerable upset is caused when he tries to convince Corinne of who he is and romance her again.
---
Chances Are was an entry in the late 1980s spate of bodyswap comedies, which also included the likes of Like Father, Like Son (1987), Big (1988), 18 Again (1988), Vice Versa (1988) and Dream a Little Dream (1989). In fact, the reincarnated father returns home to his family plot has a surprising number of similarities to the serious, more high-profile The Reincarnation of Peter Proud (1975) from a few years earlier.
The film held a certain initial promise. It was made by director Emile Ardolino, who had made a series of dance-related tv specials and just emerged on cinema screens with the breathily sensual teen pic Dirty Dancing (1987), which had become the smash hit of its year. It also featured Cybill Shepherd, the effervescent delight of that gem in the late 1980s tv wasteland Moonlighting (1985-9) and a young Robert Downey, Jr back when he was part of the Brat Pack and a full two decades before he was a Marvel superhero.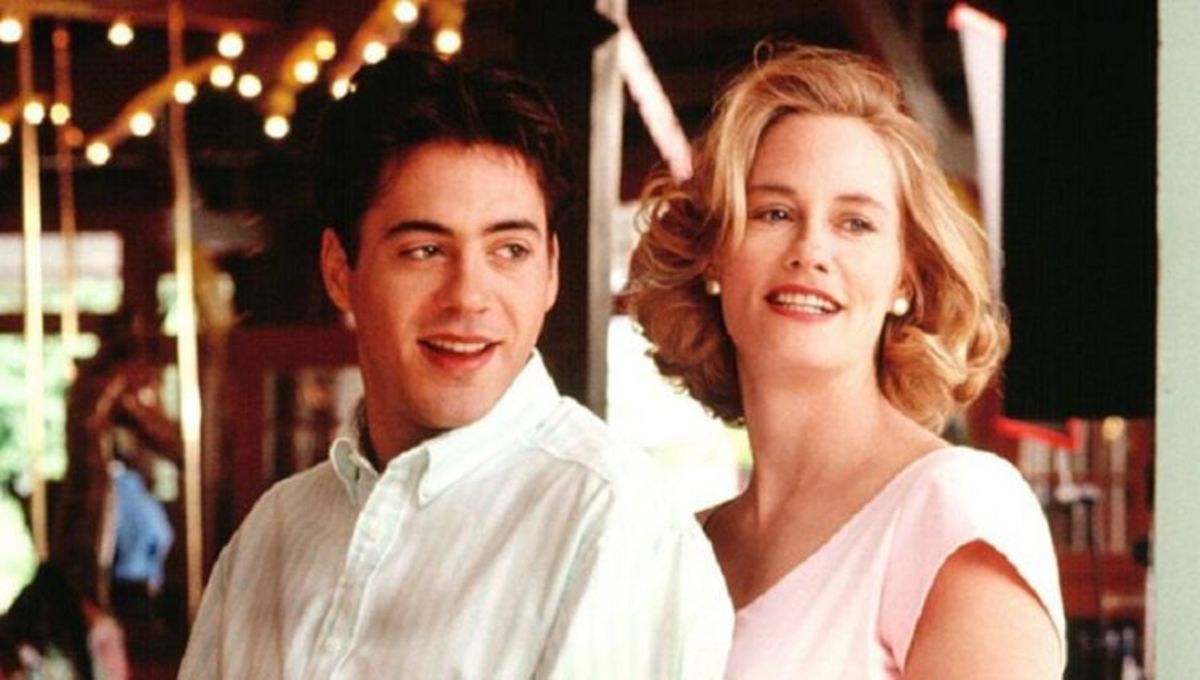 The results emerge as tedious. The cross-eyed Cybill Shepherd plays with a blank vacancy of expression. She is someone who needs a sympathetic director to bring her out and Emile Ardolino is unfortunately not that. He is happy to merely ship Shepherd and the rest of the cast about in a forced freneticism that he mistakes for comedy. Robert Downey Jr gives a hopped-up performance – given his later drug convictions, it is hard not to believe he was wired during the shooting. There is an embarrassingly silly scene where he dances with an old age dowager. Between the hyperkinetic Downey and the vacant Shepherd, there is not a single moment of conviction to the romance.
Everything is shot with a misty-lensed romanticism. It is a film that feels like it has been made for people in retirement homes – it has a corny heart, looks old-fashioned and is wound up with eminent predictability where everyone gets the object of their heart's desire and justice wins out. Nothing can describe what a boring film it is.
Emile Ardolino went onto direct Three Man and a Little Lady (1990) and Sister Act (1992) and then died of AIDS in 1993.
---
---