aka Ragewar: The Challenges of Excalibrate
---
USA. 1984.
Crew
Screenplay – Allen Actor, Story/Producer – Charles Band, Photography – Mac Ahlberg, Music – Richard Band & Shirley Walker, Visual Effects Supervisor – David Allen, Effects Animation – Tony Alderson, Makeup Effects – Mechanical & Makeup Imageries (Supervisor – John Buechler), Production Design – Julie Stroh. Production Company – Empire.
Stone Canyon Giant:- Director/Screenplay – David Allen, Demons of the Dead:- Director/Screenplay – John Buechler, Heavy Metal:- Director/Screenplay – Charles Band, Ice Gallery:- Director/Screenplay – Rosemarie Turko, Slasher:- Director: – Steve Ford, Screenplay – Jeffrey Byron, Cave Beast:- Director/Screenplay – Peter Manoogian, Desert Pursuit:- Director/Screenplay – Ted Nicolaou
Cast
Jeffrey Byron (Paul Bradford), Richard Moll (Mestema), Leslie Wing (Gwen), Mack Aldemia & Eddie Zamant (Cops), Danny Dick (Slasher), Jerri Pinthus (Cave Beast), Diane Carter (Angel)
---
Plot
Computer programmer Paul Bradford proposes to his girlfriend Gwen but she thinks he is too attached to his computer Cal, which he has constructed with a female personality and created a neural voice-link to. That night Paul wakes up to find himself in a realm where Gwen has been taken prisoner by Mestema, an incarnation of the Devil. Mestema transforms Paul into the warrior Excalibrate and gives him a wristband that provides many powers. As Excalibrate, he must overcome seven perils in order to win Gwen back. Paul passes through various adventure scenarios where he faces dwarves and a giant stone god come to life; zombies in the land of the dead; a heavy metal group who are torturing Gwen; a frozen gallery of figures out of history; a maniac killer who is threatening Gwen; a cave inhabited by a troll; and finally vehicular pursuit across a desert in a post-holocaust future.
---
The Dungeonmaster was one of the first films from Albert and Charles Band's Empire Productions. Throughout the 1980s and 1990s and their involvement in such companies as Empire and later Full Moon Productions, Moonbeam, Kushner-Locke and Pulsepounders, the Bands produced such enterprising sf/horror productions as Re-Animator (1985) and the Ghoulies, Trancers, Puppetmaster, Prehysteria! and Subspecies series, among a great many others. Indeed, The Dungeonmaster is like a roll call of many of the directors and creative personnel that would become the core of the Bands' subsequent success. Included as directors of various episodes are Charles Band himself; David Allen, an occasional director – Puppet Master II (1990), the long-running but never completed The Primevals project – but mostly a stop-motion animation artist who provided effects for numerous Band films; and John (Carl) Buechler who, along with his Mechanical and Makeup Imageries company, has provided cut-price makeup, goo and creature effects here and for just about every Band film ever made. Making their directorial debuts for the Bands here are John Buechler; Peter Manoogian, who went onto make Eliminators (1986), Arena (1989), Demonic Toys (1992) and Seedpeople (1992); and Ted Nicolaou, who would become one of the Bands' most prolific (and best) directors with the likes of the Subspecies films, Dragonworld (1994) and Magic in the Mirror (1996).
The Dungeonmaster is a rather woolly-headed film. The title seems chosen to tap into the mid-1980s fad for role-playing games and in particular the craze for Dungeons and Dragons. (Although, despite the title, The Dungeonmaster features no dungeons, nor any such title character). The film also taps into the mid-1980s PC revolution in a vaguely Luddhite way. The hero is sinisterly surrounded by various modern devices – digital watches, ATMs, traffic lights and has developed an unnatural attraction and a neural link to his computer, which has a feminine personality. If this were a mid-1990s Band film – their later Arcade (1994) would be a perfect example – this would all be preamble to a standard Virtual Reality film with the computer taking over the hero's life and propelling him through various simulated game levels. However, at the time that The Dungeonmaster was made, Virtual Reality was not even a concept in the public paradigm and instead the film goes off at a peculiar tangent where hero Jeffrey Byron is abducted into a nether realm by The Devil (Richard Moll) and turned into a videogame warrior where the female PC personality becomes his all-knowing aide via a wristband. (The Bands were probably trying to cheaply emulate Disney's Tron (1982), which had Jeff Bridges as a videogame warrior operating inside a computer environment). In watching The Dungeonmaster after having seen too many bad Virtual Reality movies, it is a surprise to see how the computer personality plot at the start is almost irrelevant to the rest of the story. For all the appeal to fantasy and computer games scenarios, The Dungeonmaster is only an old-fashioned diabolic temptation story. Moreover, after setting up a big conflict where the hero's girlfriend makes him choose between the computer and her, the film reaches an abrupt end where she simply shrugs her demands off and decides to marry him anyway.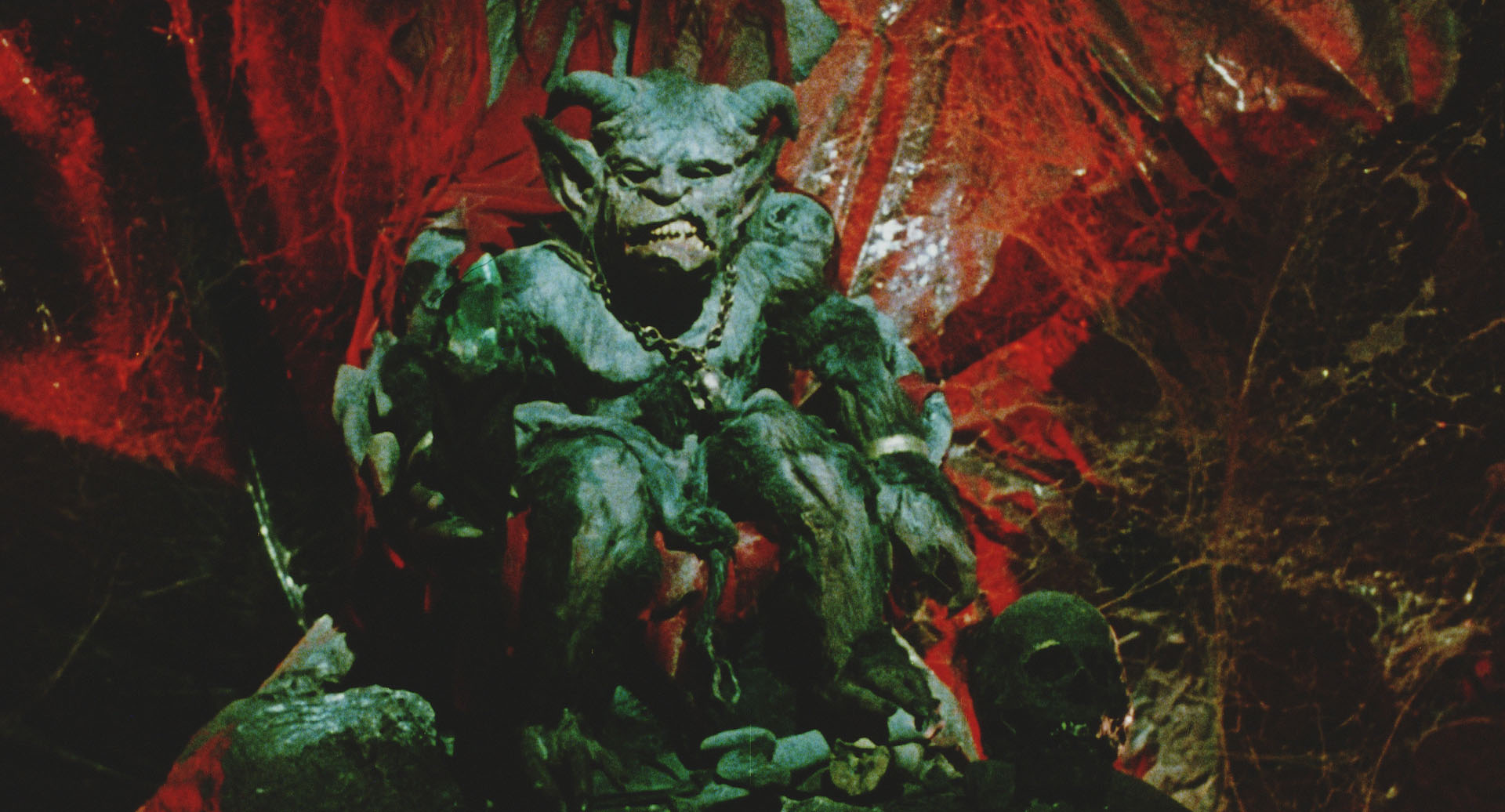 What is even more frustrating about The Dungeonmaster is the slightness of the various episodes. The entire film only hails in at a surprisingly short 70 minutes and of the seven episodes most of them average only around 2-3 minutes in length. Each is utterly forgettable. The episodes look more like effects test reels than dramatically sustained challenges. In the first, Jeffrey Byron encounters a stone giant and several dwarves who do nothing more than throw rocks at him. In the Land of the Dead segment, Jeffrey Byron ventures into a cave with a few zombies and a cackling John Buechler creation, which he zaps, and the episode is over without him ever doing anything and more importantly without entering the titular Land of the Dead. The third segment is centred around 1980s heavy metal group WASP who have the heroine tied up during a performance and simulate (badly) torturing her. Rosemarie Turko's Ice Gallery and Peter Manoogian's Cave Beast are the slightest of all segments – Ice Gallery consists of nothing more than Jeffrey Byron and Leslie Wing running in slow motion through what looks like a wax museum made of ice as it comes to life with no explanation offered of the setting; while in Cave Beast, Byron encounters a troll in a cave that is revealed in a twist ending to be an angel. Both segments can be forgotten the moment they end. Ted Nicolaou wraps the show up with a routine post-holocaust truck race sequence that has been copied from Mad Max 2 (1981). The only episode that mounts to anything is the Slasher sequence, which actually takes the time to develop some suspense (but not much).
What is frustrating about all of the episodes is their lack of any substance as stories, as anything other than effects showcases. Jeffrey Byron is cast as a hero but his heroism only seems to consist of zapping everything he encounters with some weak animation effects from his wristband. The Dungeonmaster might have worked better if it had been made after the revolution of interactive computer games like Doom and Tomb Raider, where one could see that each episode might have corresponded to a level of a game that the player/hero might have had to fight through. The framing story is wound up with an annoyingly abrupt casualness.
---
Trailer here
---