---
Crew
Director/Screenplay – Eric Red, Producers – Sarah Ryan Black, Ed Elbert & Jonathan Sanger, Photography – Ken Kelsch, Music – John Frizzell, Visual Effects – New Deal Studios, Inc. (Supervisor – Matthew Gratzner), Special Effects Supervisor – Matthew Kutcher, Makeup Effects – Paul Jones, Production Design – Marton Agh. Production Company – Grand Illusions Entertainment/ Film Visions Funding, LLC/New Deal Studios/Blue Rider Pictures.
Cast
Famke Janssen (Marnie Watson), Bobby Cannavale (Detective Louis Shanks), Ed Westwick (Joey Dicenzo), Michael Paré (The Ghost/Mike Watson), Patricia Charbonneau (Frances), John Fallon (Jimmy), Kevin Geer (Priest)
---
Plot
Marnie Watson is released back to her apartment home in Brooklyn after a two-year jail sentence for the shooting of her husband Mike. She claimed that it was self-defence, that Mike regularly beat her and that her official complaints against him were ignored because he was a cop. As things are set up in the apartment for her twelve months of home detention, Mike's former partner Shanks treats her with open hostility. She is left confined with an electronic ankle bracelet that only allows her to move a hundred feet from the control box. As Marnie settles in on her own, she realises that the apartment is haunted by Mike's spirit, still angry and determined to batter her.
---
Eric Red first emerged as a screenwriter and wrote two of the best genre films of the 1980s – The Hitcher (1986) and Near Dark (1987), as well as the thriller Blue Steel (1990), the latter two being the first two directorial outings for Kathryn Bigelow. Red then made his directorial debut with the quite good road movie thriller Cohen and Tate (1989). In between work as a novelist and comic-book writer, Red went onto several other ventures as director – the werewolf film Bad Moon (1996), Body Parts (1991) about possessed transplant limbs and the thriller Undertow (1996), as well as 100 Feet here and the subsequent killer dog film Night of the Wild (2015).
100 Feet has a nifty set-up. It is one that the film has largely borrowed from Disturbia (2007), which only came out eighteen months earlier and concerned a teenager placed under house arrest and doing the old Rear Window (1954) trick of spying through a set of binoculars and discovering that his neighbour is a serial killer. 100 Feet blatantly lifts the premise but substitutes a ghost for a serial killer. That said, Eric Red does the premise much more effectively than Disturbia did and rather than has it be about what the protagonist spies going on next door turns the story inwards and has them afraid of the space that they are confined in as a malevolent ghostly force starts to emerge. A not dissimilar premise was used, albeit in a horror comedy vein, in the New Zealand film Housebound (2014), and in the subsequent Dark Summer (2015).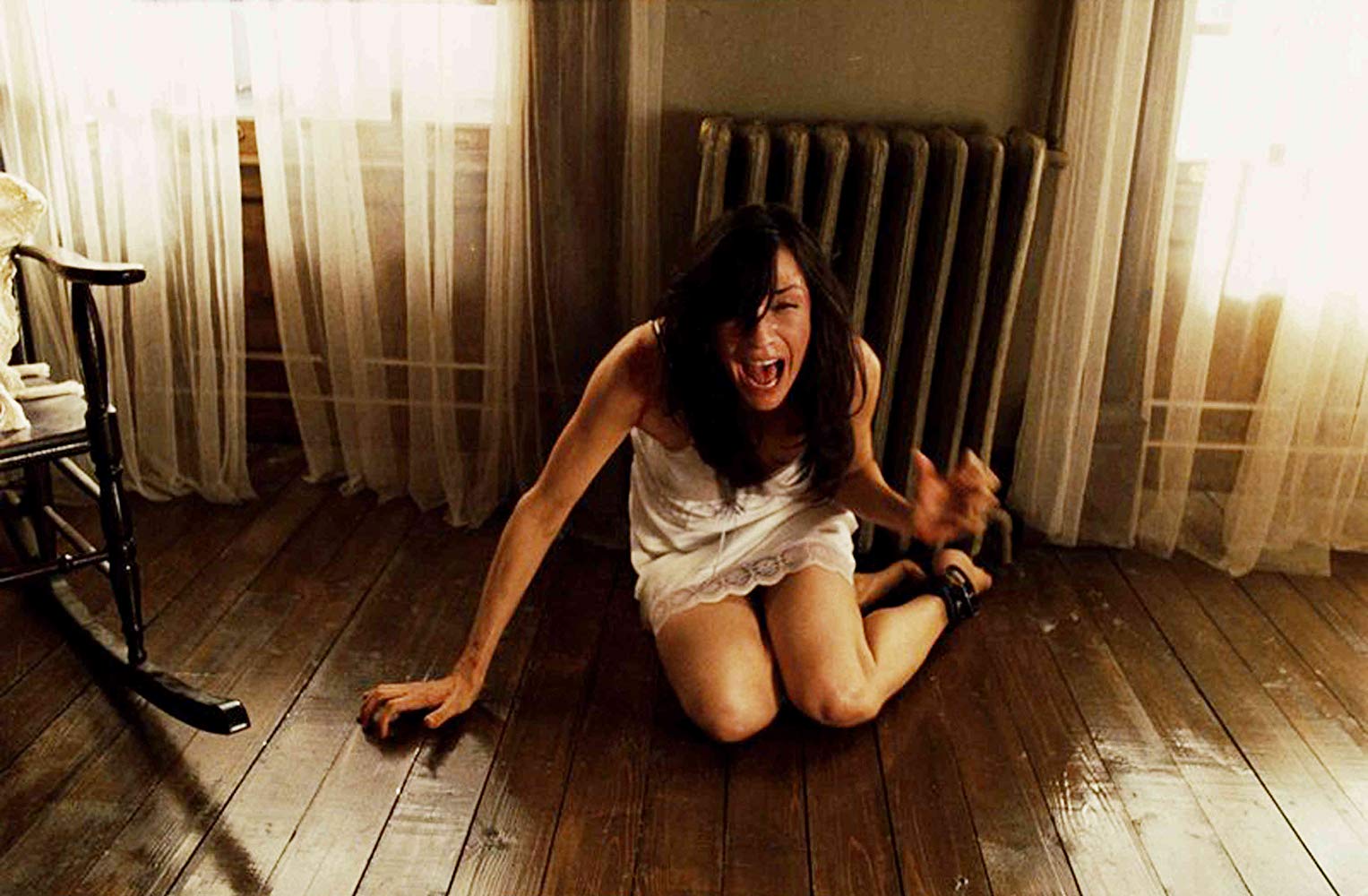 Eric Red has intended 100 Feet as an old-fashioned film of slow accumulating mood. This is none more evident than the slow build-up where we are introduced to Famke Janssen and her situation over the course of the first 24 minutes, before she settles into bed to read a book and smoke a cigarette and there comes the abrupt jump where a ghostly face appears before her with startling effect. There is one fine scene where Famke Janssen goes down into her cellar where her ankle bracelet alarm starts going off and she rushes to get back into range before the alarm goes off at the same time as the ghost starts trying to drag her back down the stairs.
Or a scene where she drops her wedding ring down the garbage disposal, is able to reach in and successfully retrieve it – where Red harrowingly cuts to the inside of the unit to show us her arm delving in among the blades – only for a ghostly hand to pop up and start dragging her hand down as the disposal suddenly switches on. Red keeps delivering these spooky apparitions, although the complaint might be that the film tends to be somewhat slow in between these scenes.
One of the best scenes in the film does not actually involve of suspense and spookiness but takes place on Halloween Night where Famke Janssen sits at her doorway dressed as Snow White unable to go any further, watching everything take place outside, where she lights up as trick-or-treaters come by only for this to fall to disappointment as they see her and turn away.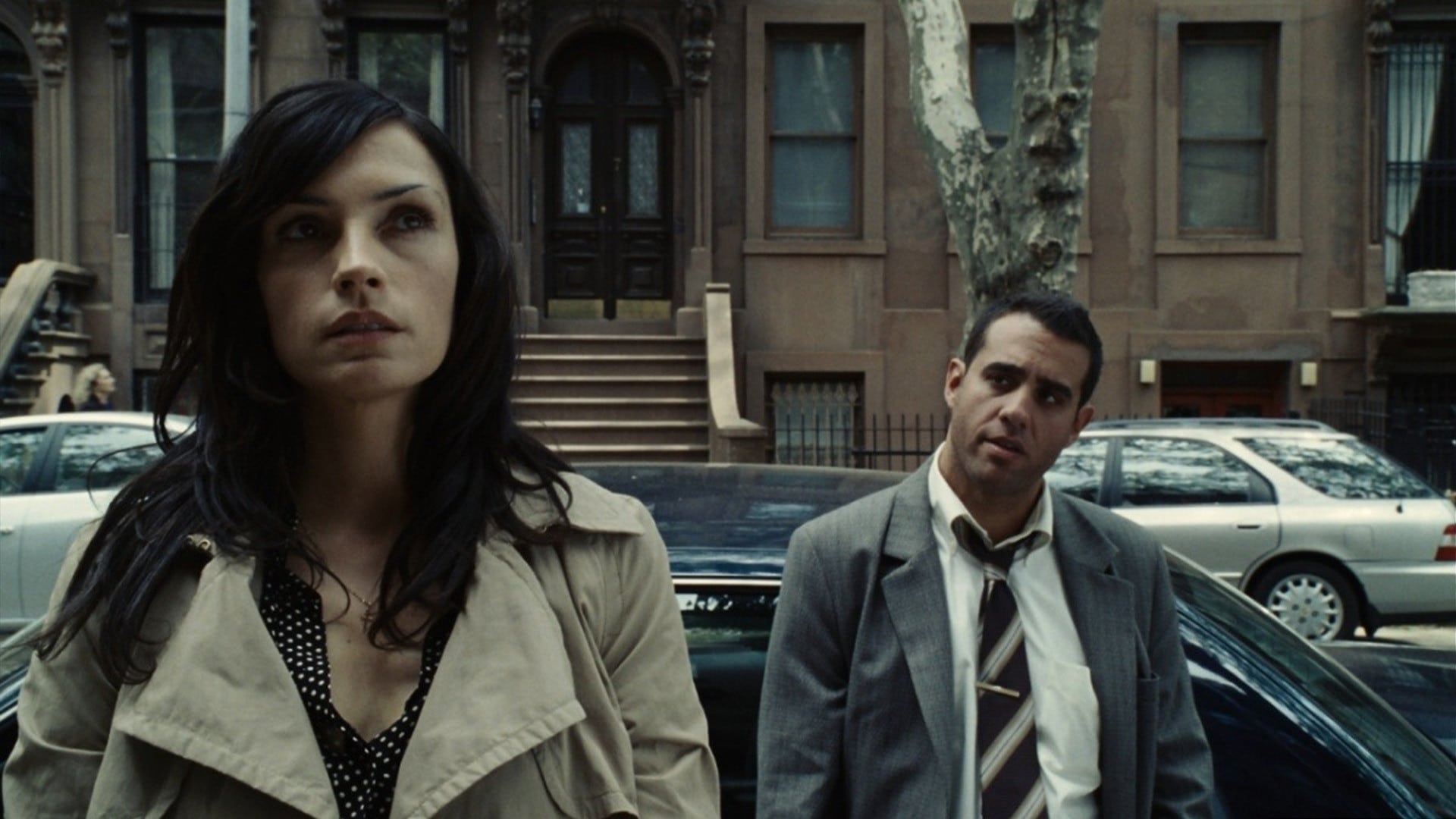 I have never been a huge fan of Famke Janssen. She has given a series of middle-of-the-road performances without distinction. The only occasions on which she has stood out is when she gets to play bad girl as in the James Bond film GoldenEye (1995) and tv's Nip/Tuck (2003-10). When, as here, she is required to play down and be just a regular woman rather than someone who has a fashion model elegance, it seems to require more acting than is in her range.
The other cast members are adequate, although you cannot help but suspect that Bobby Cannavale's detective who is constantly snooping outside the house and finding reasons to come in, could easily be construed as guilty of harassment by a decent lawyer, if not his superiors, in any real world situation.
---
---