---
Crew
Director – Pete Riski, Screenplay – Pekka Lehtosaari, Based on an Idea by M Lordi & Pete Riski, Producer – Markus Selin, Photography – Jean-Noel Mustonen, Music – Ville Riipa, Visual Effects Supervisor – Tuomo Hintikka, Special Effects Supervisor – Konsta Mannerheimo, Makeup Design – Jim Udenberg & Mari Vaalasranta, Creature Makeup & Costumes – Johanna Askola-Putaansuu & McLordi, Makeup Effects – Jim Udenburg, Jim Production Design – Tiina Anttila. Production Company – Solar Films Inc/YLE Co-Productions/Poem/North Finland Film Commission.
Cast
Noah Huntley (Ben), Skye Bennett (Sarah), Dominique McElligott (Emily), William Hope (Jon), Ronald Pickup (Tobias), Leon Herbert (Rick), Philip Bretherton (Walter)
---
Plot
After his daughter Emily panics during an MRI scan and the machine short circuits, Ben decides he would be better off taking her out of the hospital. He gets into an elevator with her in a wheelchair. However, the elevator stops on a floor that seems deserted and where all the exits barred. As Ben and the others in the elevator search for a way out, they discover they are surrounded by ghosts and monstrous entities.
---
Scandinavia became the home of death metal in the 1990s – in particular Sweden, although it has spread to other countries of the region. The Scandinavians seems proud of this heritage and there have been several documentaries on the subject. Dark Floors comes as part of the strange artistic fusions to emerge out of this where the music seems to be wanting to be more than the music. There was previously the Finnish-made Imaginaerum (2012) from the symphonic metal band Nightwish, which has many similarities to Dark Floors – both concern allegorical fantasy journeys undergone by children as they pass through a phantasmagoric dream world.
Dark Floors is the creation of Mr Lordi (born Tomi Petteri Putaansuu), the lead singer of the Finnish heavy metal band Lordi. Mr Lordi always appears in heavy makeup and costume (that makes him look like a Klingon) and designs the makeup, costumes and props used in the band's performances himself. Mr Lordi has also created the storyboards for other films and is the subject of the documentary Monsterman (2014). Director Pete Riski was previously a music video director who has shot many of the videos for the band. Mr Lordi and the band members appear in the film here as monstrous figures in makeup and costumes that Mr Lordi has designed.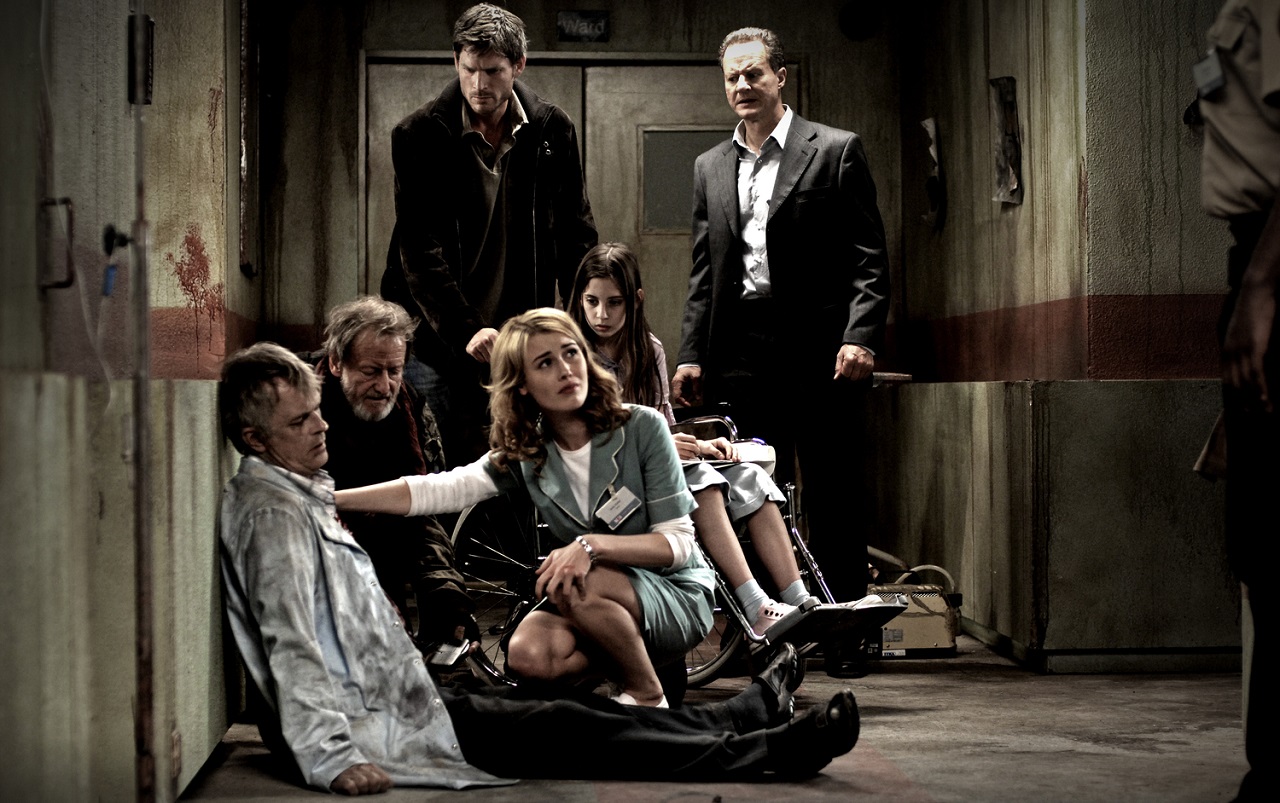 Dark Floors falls into a mini-genre of films about Medical Horrors. Aside from assorted works about mad surgeons and illicit organ harvesting schemes, the sinister hospital has a reasonable history in genre cinema with films like A Cure for Wellness (2016), The Void (2016), Fractured (2019) and Yummy (2019). Haunted hospitals feature in Unrest (2006), Nails (2017), Antidote (2021), The Power (2021) and to some extent in The Kingdom (1994). Dark Floors has a number of similarities to Sublime (2007), where the entire hospital was transformed into something that was happening in a dreamed twilight zone.
In practice though, Dark Floors is uninteresting. The characters make their way through several floors of a hospital in darkness and decay. There they are attacked by appearances of ghosts and other monstrous entities. These apparitions come with all the effect of a shabby worn down carnival haunted house. Pete Riski seems to have no real directorial style beyond popping these out at the characters every so often. In fact, they seem so undistinguished that I was not even able to work out which one of them was Mr Lordi. This comes in between assorted bickerings between the characters, all before young Skye Bennett wakes up and everything that has happened proves to have been All a Dream Ending.
---
Trailer here
---