---
USA. 1990.
Crew
Director – Kathryn Bigelow, Screenplay – Kathryn Bigelow & Eric Red, Producers – Edward R. Pressman & Oliver Stone, Photography – Amir Mokri, Music – Brad Fiedel, Visual Effects – R. Greenberg Associates, Special Effects – Wilfred Caban & Steve Kirshoff, Production Design – Toby Corbett. Production Company – Vestron.
Cast
Jamie Lee Curtis (Megan Turner), Ron Silver (Eugene Hunt), Clancy Brown (Detective Nick Mann), Kevin Dunn (Assistant Chief Stanley Hoyt), Louise Fletcher (Shirley Turner), Philip Bosco (Frank Turner), Elizabeth Pena (Tracy Perez)
---
Plot
On her first day on the job, rookie police officer Megan Turner is forced to shoot a felon involved in a convenience store robbery. Afterwards she is unable to find the felon's gun and is suspended for an unprovoked shooting due to lack of evidence to corroborate her story. However, the gun was picked up by stockbroker Eugene Hunt. He develops an unhinged fascination with Megan and starts shooting people with the gun, using bullets with Megan's name carved on them. Unaware of who he is, Megan allows Hunt to romance her. When she discovers who he is, she tries to arrest him. However, he manages to get off on legal technicalities and then keeps returning to taunt her.
---
Kathryn Bigelow made a startling arrival on the genre scene with the modern day vampire film Near Dark (1987). Blue Steel was her second film, which was produced by no less than Olive Stone. (Both films come from the same scriptwriter, genre regular Eric Red). Bigelow next made the brainless surfing-bankrobber action film Point Break (1991) and then showed strength with her subsequent entry, the millennial Cyberpunk film Strange Days (1995). Following that, Bigelow's next two films, the historical murder mystery The Weight of Water (2000) and the Russian submarine thriller K19: The Widowmaker (2002), never quite went anywhere. Throughout these she has demonstrated an enormous amount of visual style and a fine ability to direct hard-edged action. After an inordinate length of time, she returned to considerable strength with the highly acclaimed The Hurt Locker (2008) for which she became the first woman to win a Best Director Academy Award, and the true-life dramas Zero Dark Thirty (2012) and Detroit (2017).
Blue Steel a beautifully cool looking film. Kathryn Bigelow shoots with the dense visual texture and moody lighting schemes of a Ridley Scott or an Adrian Lyne. The low-lit love sequence is one of the most sensual in recent years (even despite the clear use of a body double for Jamie Lee Curtis).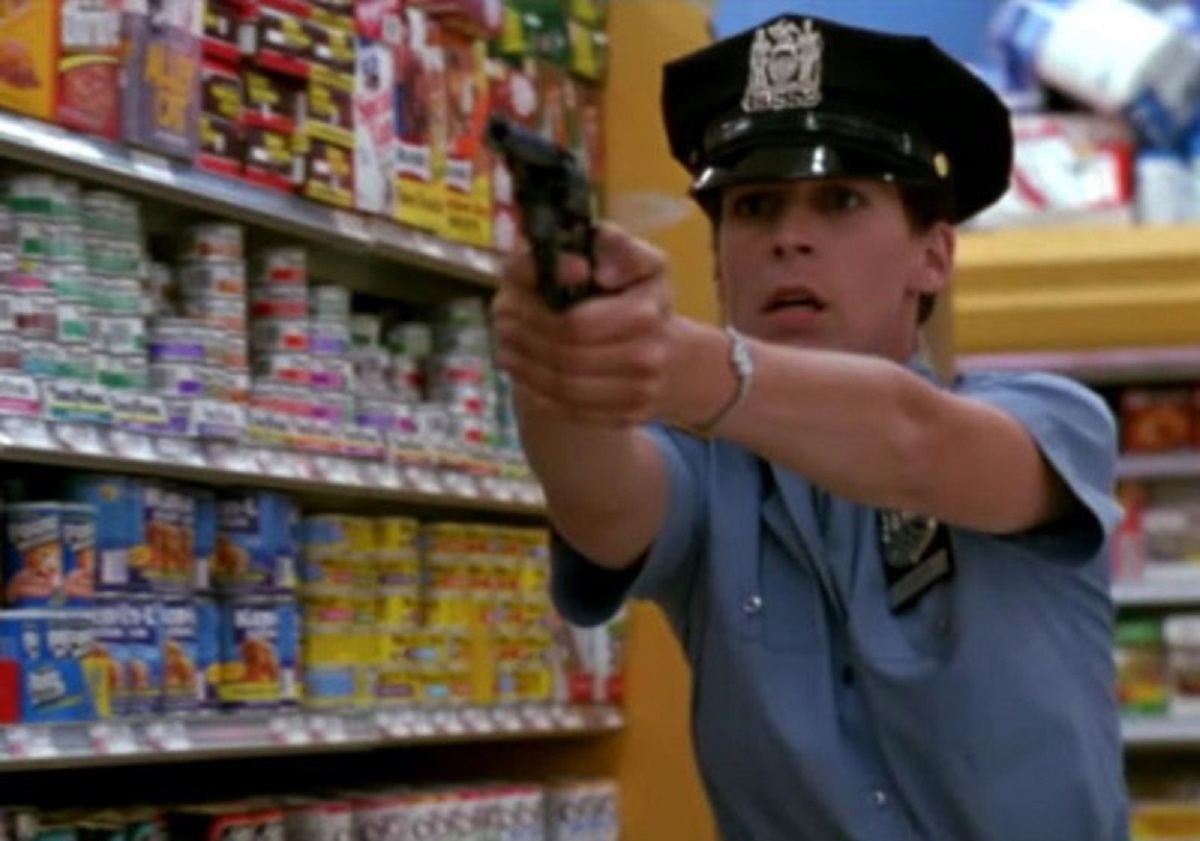 Bigelow does not pull her punches either – Ron Silver's psycho comes with considerable creepy effect, conducting conversations with God and blowing people away with a wild-eyed fascination. There is one particularly good scene where he asks Jamie Lee Curtis to pull her gun on him and starts raving about the radiance of her beauty before unnervingly lapsing back into perfectly composed normality to wait for the police to arrive.
Unfortunately, Kathryn Bigelow's accomplished shocks and atmosphere fail to raise Blue Steel above the increasing improbabilities of its script where Ron Silver's ability to escape on legal technicalities and turn up in the most implausible of places reaches a point of frank disbelief. These derail what otherwise could have been a top quality psycho-thriller.
---
---