---
Crew
Directors/Screenplay – Gerard Bush & Christopher Benz, Producers – Gerard Bush, Zev Foreman, Sean McKittrick, Raymond Mansfield, Christopher Renz & Lezlie Willis, Photography – Pedro Luque Briozzo, Music – Roman Gianarthur & Nate Wonder, Visual Effects Supervisor – Raoul Yorke Bolognini, Visual Effects – Atmosphere Visual Effects (Supervisor – Andrew Karr), Fotokem, Industrial Light and Magic (Supervisors – Jay Cooper & Craig Hammack), Lola|VFX, Outpost VFX (Supervisor – Luke Butler) & Tempest FX, Special Effects Supervisor – Guy Clayton, Production Design – Jeremy Woodward. Production Company – QC Entertainment/Lionsgate/Zev Foreman/Bush-Renz.
Cast
Janelle Monáe (Veronica Henley/Eden), Tongayi Chirisa (Eli/Professor Tarasi), Gabourey Sidibe (Dawn), Eric Lange (Him/Senator Denton), Jack Huston (Captain Jasper), Kiersey Clemons (Julia), Jena Malone (Elizabeth), Robert Aramayo (Daniel), Lily Cowles (Sarah), Marque Richardson (Nick), London Boyce (Kennedi), Caroline Cole (Hotel Concierge)
---
Plot
The slave Eve comes around on a plantation in Louisiana during the American Civil War. Life among the slaves there is tough and brutal where she is branded as punishment and used sexually by the master. In the present-day, Veronica Henley is a respected author and speaker on African-American women's matters. She departs for a conference where she is to deliver a lecture. However, after a night out on the town with friends, she is abducted.
---
Antebellum was a full-length film debut for the directing duo of Gerard Bush and Christopher Benz. Bush is African-American, while Benz is Caucasian. The two had previously made some ten short films together since the mid-2010s. The film was originally to go to theatrical release but with theatrical closures due to Corona Virus instead went to streaming, although did play some theatrical screenings internationally. The film received very mixed reviews.
Almost certainly, Antebellum was inspired by the huge success of Get Out (2017) and its tackling of race issues in a horror framework and hoping to find the same audience. However, the film confuses you. When I became aware of it, it was promoted as a horror film but as you start watching it does nothing to conform to or go the places you expect a horror film to go. The first section is set during the Civil War, opening with a brutal lynching and moving between life among the slaves on a plantation and Confederate soldiers preparing to go off to war. The film here gives all impression that it is being an historical work about the Civil War era, focused very much on the harshness and brutality of the treatment that the slaves received. This it delivers with undeniably grim effect.
After 38 minutes, the story then conducts an abrupt jump of tracks. It becomes one about Janelle Monáe (who we had seen as a slave in the earlier section) but is now in the present-day and a successful writer on African-American women's issues. This section follows her as she leaves her husband and daughter and goes to a writer's conference to deliver a lecture and then spends a night out dining with friends Gabourey Sidibe and Lily Cowles. These sections, particularly the dinnertable scene, are stolen by an hilarious performance from Gabourey Sidibe.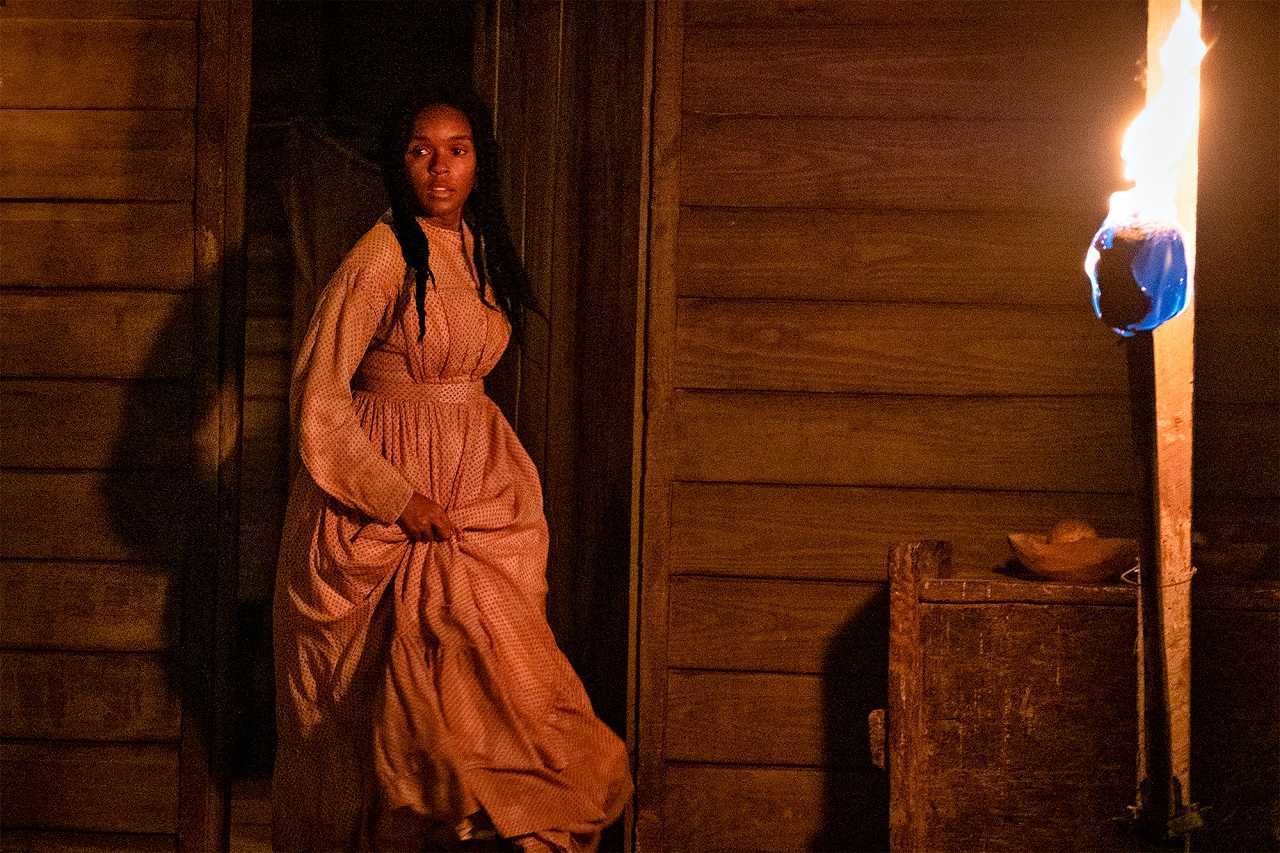 The tone throughout of modern African-American women enjoying success, partying (and doing so as equals alongside white women) come at complete contrast to the earlier sections showing downtrodden slaves, although we do still see an element of racism that exists not far beneath the surface – the way a hotel clerk ignores Janelle Monáe, their being seated at a small corner table at the restaurant.
The confusion that comes during these section is why Antebellum is being called a horror film. There is nothing within the first hour of its runtime that suggests anything horrific. There are very minor scenes during the present-day scenes – someone (a possible stalker?) entering and messing around with Janelle Monáe's hotel room and what would appear to be a ghostly child that enters the elevator with Janelle (something that is never explained).
At the end of the present-day scenes, Janelle is abducted by her Uber driver. We then see her back in the slave era. It is still confusing because we have no idea what is going on and how the two seemingly parallel stories work in relation to each other. It is then that things start to get weird. [PLOT SPOILERS]. As we follow life back among the slaves, WTF elements intrude. The first of these is when we anachronistically hear a phone ringing and slave master Eric Lange goes to his horse outside the house and pulls a cellphone out of his saddlebag to answer it. The other is when the slaves are out in the field and the camera turns and looks up at the sky as a plane passes overhead. (I only watched the trailer after seeing the film but it contains a bad case of the surprises being given away by it).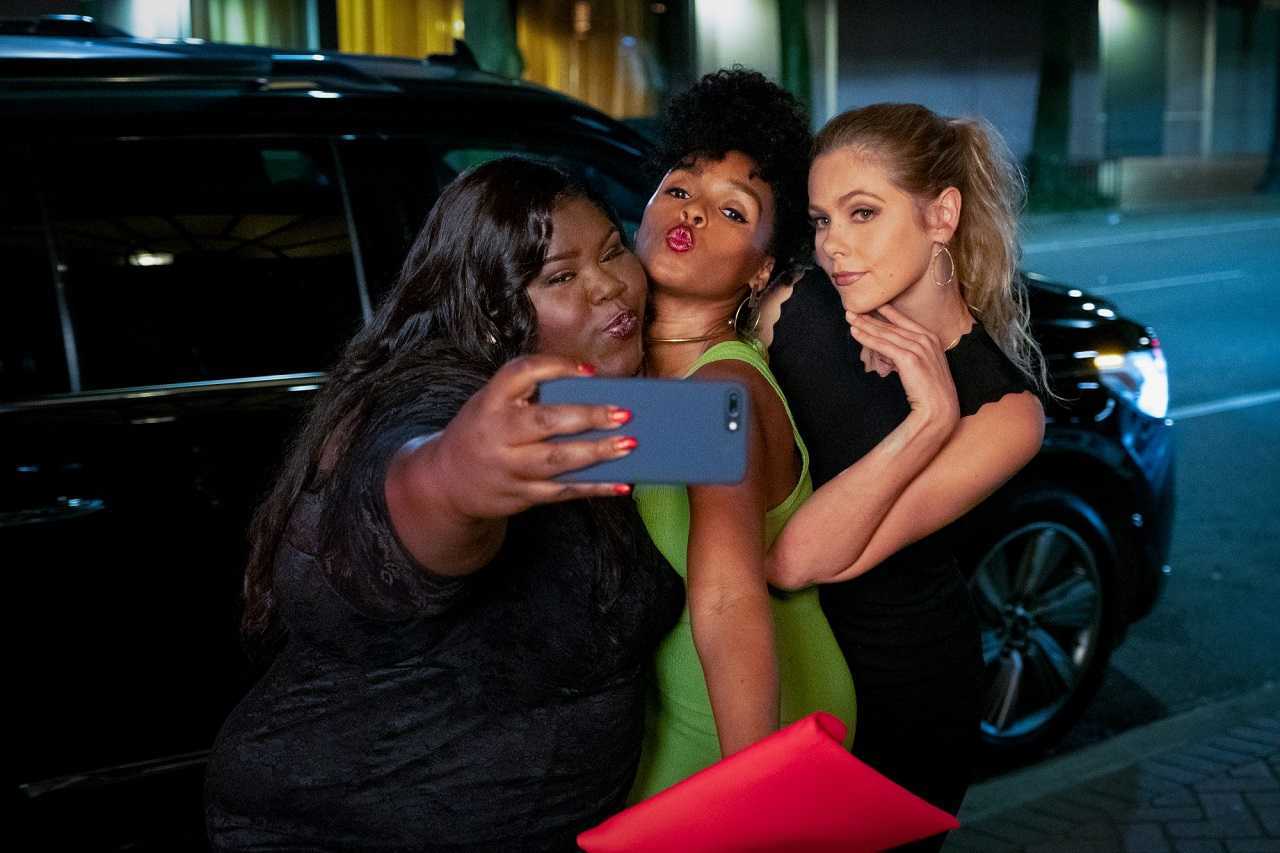 It is here that we gradually start to realise we are in some kind of scenario like the twist at the end of M. Night Shyamalan's The Village (2004) – I also kept being reminded of the bizarreness of the closeted world in Dogtooth (2009) – maybe crossbred with something akin to the recent The Hunt (2020) where people are abducted and placed into reality-bending scenarios. The concept of the recreated plantation world also takes more than a few leaves from Rivers Solomon's novel An Unkindness of Ghosts (2017), which set everything aboard a starship.
It also helps when you work out that the various sections of the film do not take place in linear order and that the middle section with Janelle Monáe going off to her conference is meant to take place before the earlier Civil War era sections. It becomes apparent that the film has been deliberately constructed this way to mess with our expectations – it's a major Conceptual Reversal Twist, albeit one where the story has been contorted if not contrived to this end. Still you have to applaud Gerard Bush and Christopher Benz for the cleverness with which they structure this.
The film has accrued a good degree of controversy, being accused of everything from trivialising slavery and reducing it to cheap horror effect – I don't feel that it does but one is free to make up their own mind. Much of the controversy seems to have accrued around the climactic scenes where Janelle Monáe frees herself and then rides across the plantation burning it down and killing those who oppressed her.
I am not so concerned with outrage at this – I felt too distracted trying to work out what was going on throughout to fully engage with Janelle Monáe as a sympathetic character and as a result her unleashed anger doesn't quite settle in with as much of the cathartic charge the film wants it to be. On the other hand, you have to celebrate the rage the film embodies. If nothing else it makes Antebellum the first film to emerge out of Black Lives Matter, upholding the flag of the movement and fully personifying the anger and protests that has engulfed the USA in late 2020 and their desire to tear down all remnant that upholds the Confederate past.
(Nominee for Best Supporting Actress (Gabourey Sidibe) at this site's Best of 2020 Awards).
---
Trailer here
---