---
Crew
Director – Brea Grant, Screenplay – Rachel Koller Croft, Producers – Paige Pemberton & Paul B. Uddo, Photography – Yaron Levy, Music – Brittany Allen, Visual Effects – VFX Legion, ULC, Special Effects Supervisor – Mik Kastner, Production Design – Owl Martin Dwyer. Production Company – Blumhouse.
Cast
Katey Sagal (Harper Dutch), Abby Quinn (Jordan Wilder), Alexxis Lemire (Leigh Blackhouse), Joshua Leonard (Richie Rowley Jones), Shiloh Fernandez (Caleb Crawford)
---
Plot
In Nashville, Jordan Wilder and Leigh Blackhouse are two aspiring county singers hoping that to find the big breakthrough. Their manager Richie Rowley Jones brings star singer Caleb Crawford to their performance, hoping he might sign them to his tour. Jordan spends the night with Caleb. In the morning, Caleb mentions he was working on a comeback for Harper Dutch, one of the hugely successful Dutchess Sisters of the 1990s and 2000s, before the act ended when Harper's sister Hope committed suicide. Jordan begs Harper's address from him and she and Leigh drive out to Harper's house, thinking they can persuade her to collaborate with them. The aging Harper invites them in where she proves to be in a state that raises eyebrows. Nevertheless, she agrees to sing with them. After a hard night's drinking, Leigh and Jordan wake up with their clothes missing and find that Harper is making increasingly more deranged demands of them.
---
The horror film will crosshatch with almost any genre you care to name – the Western, the war film, the rock film, Film Noir, the action film, the romantic comedy, even the musical, you name it. However, one you almost never hear of is a mix between horror and County and Western. The sole voice on the subject in the past was the incredibly lame comedy Hillbillys in a Haunted House (1967). Torn Hearts is another stab in the same direction.
Unlike Hillbillys in a Haunted House, Torn Hearts is not a country musical – it does feature some musical numbers but these are a part of its plot. The genre niche it falls into is more the Batty Old Dames/Grand Dame Guignol genre that began with What Ever Happened to Baby Jane? (1962), which was premised around aging stars Bette Davis and Joan Crawford going nuts and tormenting one another in a big old decaying house. For a few years afterwards, Baby Jane produced a number of copycat films where aging actresses were wheeled out of mothballs in their over-the-hill glory. As you enter into Katey Sagal's house and the story of her sister unfolds, you start to get undeniable Baby Jane vibes starting to come through.
Torn Hearts is a surprisingly good film. The script sets up the world of Country and Western music with what would appear to be some insider knowledge. Once we get the girls to the house, the script twists through a series of turns that become increasingly more deranged. I particularly liked the strength of the writing and the characterisations of the two girls, as well as the way that Katey Sagal comes to play their mutual weaknesses and desires off against the other. The film arrives at an ending that goes against expectation and ends on a decidedly sardonic note.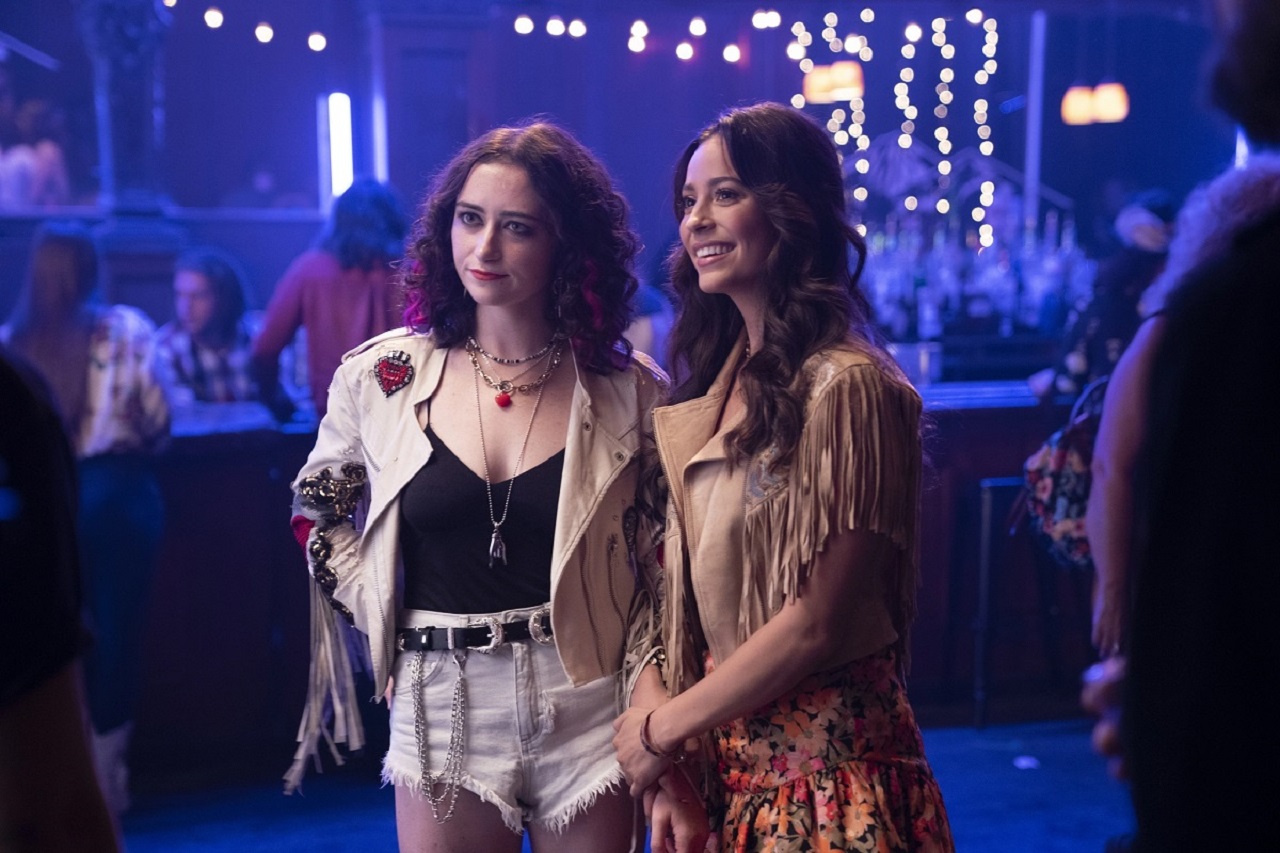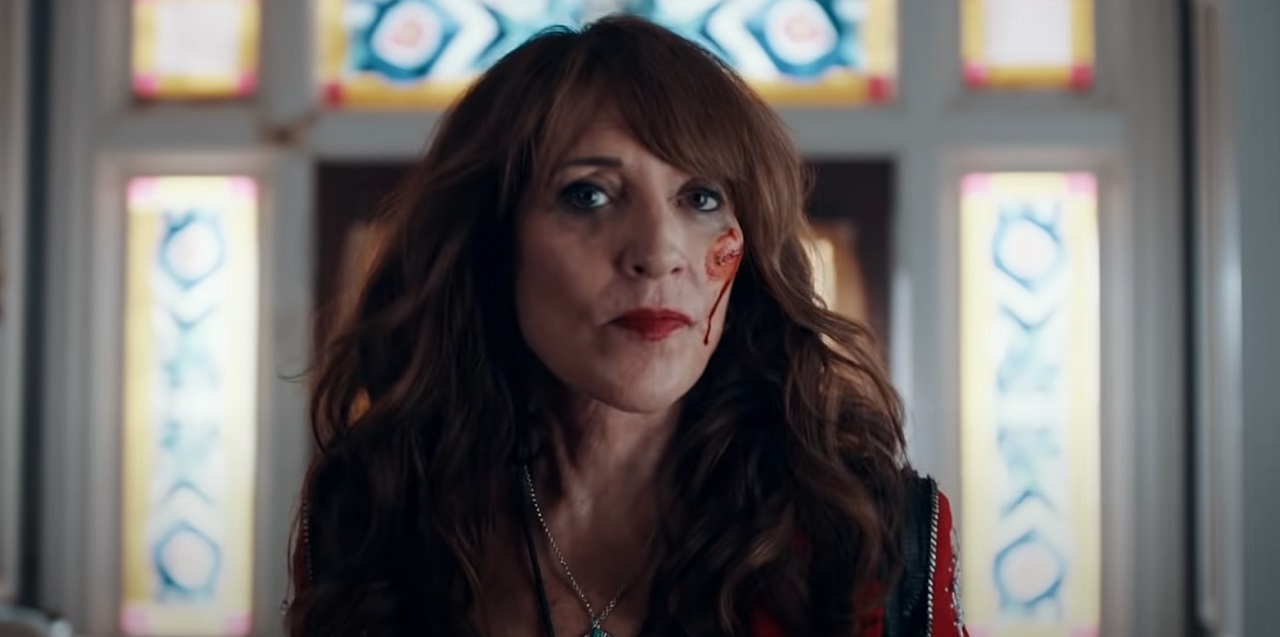 Katey Sagal is best known as Peg Bundy on tv's Married … With Children (1987-97) or as the voice of Leela on Futurama (1999-2013). She has done assorted drama roles before but nothing too much out of television. So it is quite a jolt here where she, at the age of 68, takes on the role of a deranged former Country and Western star. Sagal goes to town on the role and is great in the part – not to mention sings her own songs too. Also, excellent are all the other performances, especially Abby Quinn who gets into her part with a feisty fire.
Director Brea Grant is better known as an actress since the late 2000s. She can be spotted in parts in a number of genre vehicles including Halloween II (2009), Beyond the Gates (2016), After Midnight (2019) and as a semi-regular on tv's Heroes (2006-10). She has also made several films as a director with Best Friends Forever (2013), in which she also starred, a road movie set during a nuclear apocalypse, followed by the horror comedy 12 Hour Shift (2020), while she had also written a couple of other genre works that she had starred in with Lucky (2020) and the time travel film Madelines (2022). In between this, Grant also is a flourishing horror and comic-book writer.
Jason Blum and his Blumhouse production company have produced a number of other genre films including:- Hamlet (2000), Paranormal Activity (2007) and sequels, Insidious (2010) and sequels, Tooth Fairy (2010), The Bay (2012), The Lords of Salem (2012), The River (tv series, 2012), Sinister (2012) and sequel, Dark Skies (2013), Oculus (2013), The Purge (2013) and sequels, the tv mini-series Ascension (2014), Creep (2014), Jessabelle (2014), Mercy (2014), Mockingbird (2014), Not Safe for Work (2014), Ouija (2014) and sequel, 13 Sins (2014), The Town That Dreaded Sundown (2014), Unfriended/Cybernatural (2014), Area 51 (2015), The Boy Next Door (2015), Curve (2015), The Gallows (2015), The Gift (2015), Jem and the Holograms (2015), The Lazarus Effect (2015), Martyrs (2015), Visions (2015), The Visit (2015), The Darkness (2016), Hush (2016), Incarnate (2016), The Veil (2016), Viral (2016), Amityville: The Awakening (2017), Get Out (2017), Happy Death Day (2017), The Keeping Hours (2017), Split (2017), Stephanie (2017), Bloodline (2018), Cam (2018), Delirium (2018), Halloween (2018), Seven in Heaven (2018), Truth or Dare (2018), Upgrade (2018), Black Christmas (2019), Ma (2019), Prey (2019), Don't Let Go (2019), Sweetheart (2019), Black Box (2020), The Craft: Legacy (2020), Evil Eye (2020), Fantasy Island (2020), Freaky (2020), The Hunt (2020), The Invisible Man (2020), Nocturne (2020), You Should Have Left (2020), Black as Night (2021), The Black Phone (2021), Dashcam (2021), Firestarter (2022) M3gan (2022), Mr Harrigan's Phone (2022), Sick (2022), They/Them (2022) and Unhuman (2022).
(Nominee for Best Actress (Katey Sagal) at this site's Best of 2022 Awards).
---
Trailer here
---