---
Crew
Director – Max Pachman, Screenplay – Mark Mavrothalasitis & Max Pachman, Producers – Luis Ignacio Guerrero & Chris Lemos, Photography – Jeff Powers, Music – Joshua Moshier, Special Effects Supervisor – Josh Hakian, Production Design – Martina Buckley. Production Company – Vital Pictures.
Cast
Lynn Collins (Elizabeth Rhodes), Rigo Sanchez (Alejandro), James Tupper (Ben Rhodes), Josue Aguirre (Memo), Roberto Sanchez (Hector), Thomas Chavira (Tonio), Nicholas Gonzalez (Homero Silva), Edy Ganem (Sandra Silva), Andrew Burlinson (Richard)
---
Plot
Memo joins his older brother Alejandro in the US. Both are Mexicans immigrants who have come across the border illegally. Alejandro introduces Memo to the practice of day labour – where they wait on the side of the road and are picked up by anybody offering cash-in-hand work. Alejandro, Memo and two others are hired by Elizabeth Rhodes to work on her guesthouse. However, as the four start work, they discover that Elizabeth and her husband Ben have imprisoned them inside the property, which is surrounded by an electrified fence and a security gate. They find they are expected to work around the clock and keep going despite any injuries. As they try to escape, the Rhodes' pull guns on them and force them to keep working while employing a series of increasing cruel and degrading tortures.
---
The topic of US illegal immigration is one that has not been dealt with in any positive ways on movie screens – in genre material at least. There was Undocumented (2010) featuring vigilantes capturing and torturing illegals who had smuggled across the Mexican border, while Territories (2010) did the same with those who had crossed the Canadian border. Elsewhere, Alfonso Cuaron's son Jonas made Desierto (2015) with Jeffrey Dean Morgan as a vigilante making sport out of hunting a group of Mexican illegals through the desert, while No One Gets Out Alive (2021) depicted an undocumented girl trapped in a sinister boarding house by her circumstances. In genre material at least, one strains to find anything that does not depict a grim fate for undocumented persons.
Unless you have read too much about it beforehand, Beneath Us takes a long time to indicate how it is going to play out. There are no easy cliches to indicate where it is all going. However, once the guns are produced – some 33 minutes into the film in a jolting scene where one of the group is abruptly shot after entering the main house – things take a turn for the decidedly grim and twisted.
One of the best parts of the film is Lynn Collins, an actress who has flown under my radar without particularly distinguishing herself with roles in films like X-Men Origins: Wolverine (2009) and John Carter (2012). Here she does cold, entitled and bitchy rather well – be it crushing mice, hosing the sleeping Mexicans down or coldly threatening to call the authorities when Thomas Chavira comes pleading for help for a wounded hand.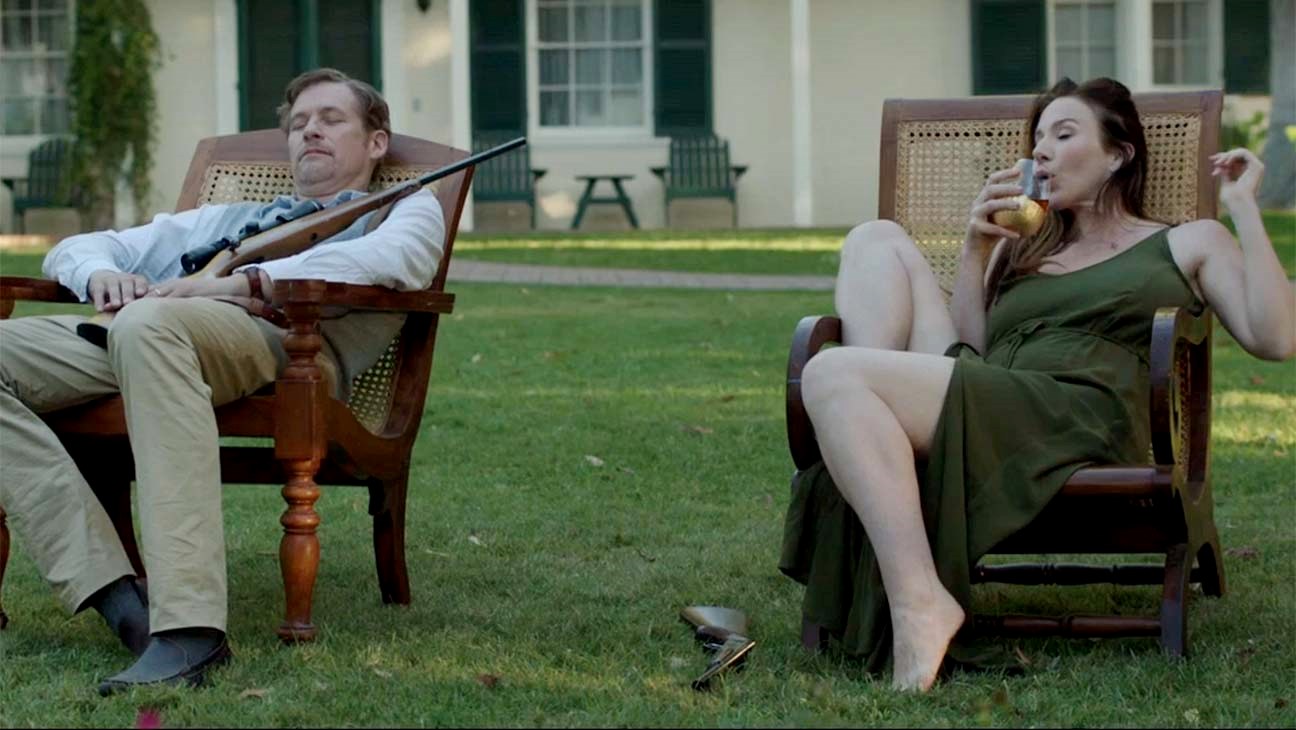 Collins cuts a particularly striking screen presence, her full figure outfitted in a white dress – we see her distaste as her matching white shoes are splattered with blood after grinding her heel into the head of one of the Mexicans – and flaunting her unattainable desirability as she dangles her bare legs over the side of a poolside recliner chair as the men scrub the blood of their comrade off the patio before her.
The film becomes particularly gruelling in its latter half as the Mexicans are imprisoned by Lynn Collins and husband James Tupper where the two of them unnervingly swing between a mannered charm and sadistic, taunting cruelty. It is really a film about entitled white privilege and its contempt for the less fortunates beneath them. This becomes particularly brutal to watch in the latter scenes during the Mexicans' attempts to escape and fight back.
Beneath Us was a directorial debut for Max Pachman. It leaves one very interested to see what he will do next.
---
Trailer here
---