---
USA. 1999.
Crew
Director/Producer/Story – Charles Band, Screenplay – Robert Talbot, Photography – Tom Callaway, Music – Riccardo Bizzetti, Visual Effects – Jerrod Cornish, John R. Ellis & David Lange, Makeup Effects – Christopher Bergschneider, Blood Dolls Design – Mark Williams, Production Design – Steve Ralph. Production Company – The Kushner-Locke Co.
Cast
Jack Maturin (Virgil Travis), Debra Mayer (Moira Yulin), William Paul Davis (Mascaro), Phil Fondacaro (Hylis), Warren Draper (Harrison Yulin), Naomi McClure (Cindy Agami), Jason Pace (Howard Loftus), Nicholas Worth (George Warbeck), Jodie Coady (Mercy Shaw), Venesa Taylor (Cotton Baby), Yvette Lera (Razor Baby), Persia White (Black Baby), J. Paradee (Shirley)
---
Plot
Journalist Howard Loftus and accountant Cindy Agami are summoned to the house of the strange and reclusive Virgil Travis. There they meet Travis who hides his face behind a rubber mask and keeps two servants – a dwarf and a man with a painted face, as well as a girl rock group who are forced to perform in an electrified cage, and two living dolls. Travis himself was born in a bottle and hides behind a mask because he has a tiny head on a normal-size body. Travis blames the two of them for his recent financial ruin. He kills Howard and uses a device to turn Cindy into one of his doll people. He then sends his dolls to kill his other enemies. However, Moira Yulin, the wife of one of his enemies, is astute enought to work out what is going on and comes to Virgil with a proposal that the two of them combine forces.
---
Low-budget producer Charles Band has had a strange fascination with dolls and toys, having made through his various companies such films as Dolls (1987), Dollman (1991), Demonic Toys (1992), Shrunken Heads (1994), The Creeps/Deformed Monsters (1997), Doll Graveyard (2005), Dangerous Worry Dolls (2008), Devildolls (2012) and, of course, the effort this most resembles, Puppetmaster (1989), which has so far spawned more than ten sequels.
Blood Dolls is clearly an attempt to create a new Puppetmaster-type series – the malevolent dolls have distinctive personalities and designs as well as built-in lethal attachments. They have obviously been designed with the intent of creating characters that Full Moon can sell as toys, as they do on their videos and website with the Puppetmaster dolls. Similarly, the film comes with its ending left open, no doubt with the possibility of spinning out a potential series in mind (although, given Band's preference for spawning multiple sequels to his films, it is a surprise that he has never sequelised Blood Dolls).
Here Charles Band takes one of his infrequent turns behind the director's chair, something that has often happened with variable results, ranging from the great Meridian/Kiss of the Beast/Phantoms (1990) – to mostly hackwork – Parasite (1982), Metalstorm: The Destruction of Jared-Syn (1983) and Dollman Vs. the Demonic Toys (1993).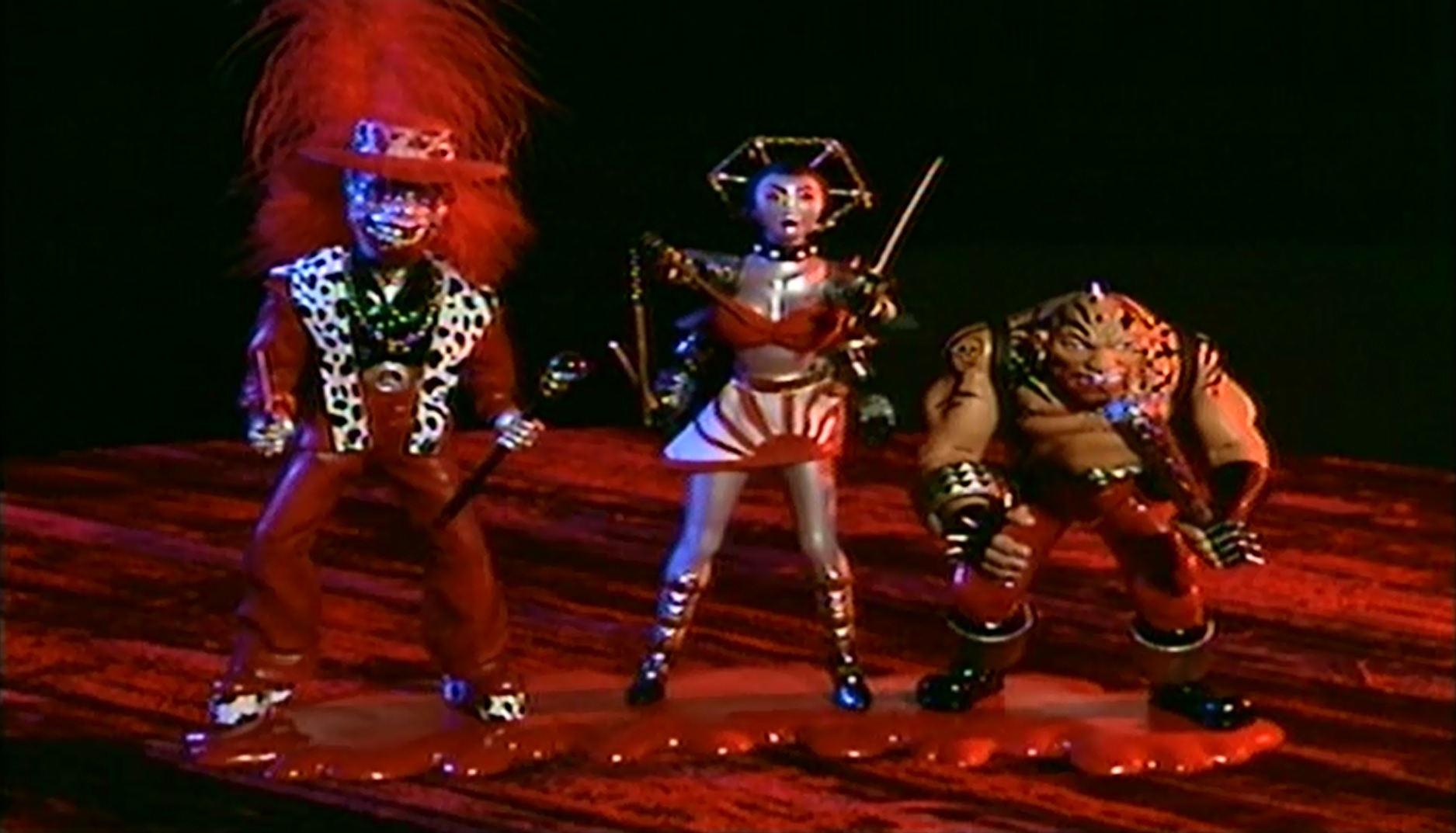 Blood Dolls is a totally gonzo film. The opening moments make you wonder what on Earth you have sat down to watch – people are invited to a house where they are greeted by a butler with a white-painted face; a dwarf who keeps forcing a girl rock group to play by electrifying the cage they are kept in; the villain with a Southern accent who hides his face behind a rubber mask then reveals he has a tiny doll-size head on a normal-size pair of shoulders; the two sinister dolls scuttling about; then the male visitor (Jason Pace) being pinned into his chair like some Bond villain trap where he is gutted with a scorpion drill-bit, while the Asian girl visitor (Naomi McClure) is reduced to a doll in the villain's electrical device.
The rest of the film maintains a similar level of bizarre nuttiness. Jack Maturin gives a strangely intense performance – he has a speech parodying Shakespeare, perfectly balanced between the touching and the whacko, which sums up the bizarreness of the exercise: "I alone of all creatures can permit myself no illusion of a soul. It is from emptiness that I came and that emptiness awaits me at the end. And what awaits between but a mad, pointless puppet show signifying nothing." Debra Mayer has a fascinating presence as a woman who treats her husband as a slave in a BDSM relationship. In the latter half of the film, she steps up to centre stage and the relationship between her and Jack Maturin takes on some fascinating tensions of sexual power games. In a device borrowed from the William Castle film Mr. Sardonicus (1961), the film here features the bizarre novelty of offering up two alternate endings, dependent on whether she accepts or rejects him.
Charles Band has produced over 200 films. As director, his other genre films include:- Crash (1977), Parasite (1982), The Alchemist (1983), Metalstorm: The Destruction of Jared-Syn (1983), an episode of The Dungeonmaster/Ragewar: The Challenges of Excalibrate (1984), Trancers/Futurecop (1985), Pulse Pounders (1988), Crash and Burn (1990), Meridian (1990), Trancers II (1991), Doctor Mordrid (1992), Dollman Vs. the Demonic Toys (1993), Prehysteria! (1993), Head of the Family (1996), The Creeps/Deformed Monsters (1997), Hideous (1997), Mystery Monsters (1997), Puppet Master: The Legacy (2003), Dr Moreau's House of Pain (2004), Decadent Evil (2005), Doll Graveyard (2005), The Gingerdead Man (2005), Evil Bong (2006), Petrified (2006), Dead Man's Hand (2007), Decadent Evil II (2007), Dangerous Worry Dolls (2008), Evil Bong II: King Bong (2009), Skull Heads (2009), Evil Bong 3D: The Wrath of Bong (2011), Killer Eye: Halloween Haunt (2011), The Dead Want Women (2012), Devildolls (2012), Puppet Master X: Axis Rising (2012), Ooga Booga (2013), Unlucky Charms (2013), Gingerdead Man vs Evil Bong (2013), Trophy Heads (2014), Evil Bong 420 (2015), King of Cult (2015), Evil Bong: High 5 (2016), Evil Bong 666 (2017), Puppet Master: Axis Termination (2017), Evil Bong 777 (2018), Barbie & Kendra Save the Tiger King (2020), Barbie & Kendra Storm Area 51 (2020), Corona Zombies (2020) and Evil Bong 888: Infinity High (2022).
---
Trailer here
---