---
USA. 1993.
Crew
Director/Story/Producer'– Charles Band, Screenplay – Craig Hamann, Photography – Adolfo Bartoli, Music – Richard Band & Anthony Riparetti, Songs – Quiet Riot, Stop Motion Animation – David Allen, Special Effects Supervisor – John Cazin, Makeup Effects – AlchemyFX (Supervisor – Michael S. Deak), Production Design – Milo. Production Company – Full Moon Entertainment.
Cast
Tim Thomerson (Brick Bardo), Melissa Behr (Ginger), Tracy Scoggins (Judith Grey), Phil Brock (Collins), Phil Fondacaro (Ray Vernon)
---
Plot
A bum breaks into the Toy Land factory and falls, his spilt blood reviving the Demonic Toys. The miniature cop Brick Bardo reads a tabloid magazine article about Ginger, a nurse who has been shrunken down to his size by aliens. He goes looking for her and the two become lovers. He is then contacted by the detective Judith Grey who is obsessed with proving the existence of the Demonic Toys. The three of them enter the factory to confront the Toys. However, Ginger is captured by the Toys who plan to mate with her at midnight so that the Devil can incarnate in a new body.
---
It is a question that cannot help but circle people's minds at some point – does the reality portrayed on screen ever stretch beyond the confines we are shown? Do the fictional characters on the great alternate reality of the film and tv screen ever meet one another, and what might happen if they did? Occasionally some tv series conduct crossovers – St Elsewhere/Cheers, Picket Fences/Chicago Hope, Homicide: Life on the Street/Law and Order. Usually, it is only a question that is answered by production companies with a horror franchise in need of a novelty boost – like when Universal started to team their various monsters up in the 1940s or Toho with their monsters in the 1960s. It is a concept just as prevalent in the 2000s though – witness Freddy Vs. Jason (2003), AVP: Alien vs. Predator (2004) and efforts like The League of Extraordinary Gentlemen (2003) and Van Helsing (2004).
With Dollman Vs. the Demonic Toys, the Band family and Full Moon Productions took the step of uniting their numerous films and running series into a single universe. Although perhaps the peculiar choice is that instead of combining their more popular ongoing franchises like the Puppetmaster films or the Trancers series, the Bands choose to combine some of their lesser films – Dollman (1990), Demonic Toys (1992) and (the title fails to mention) Bad Channels (1992), from which Melissa Behr's miniaturised nurse comes.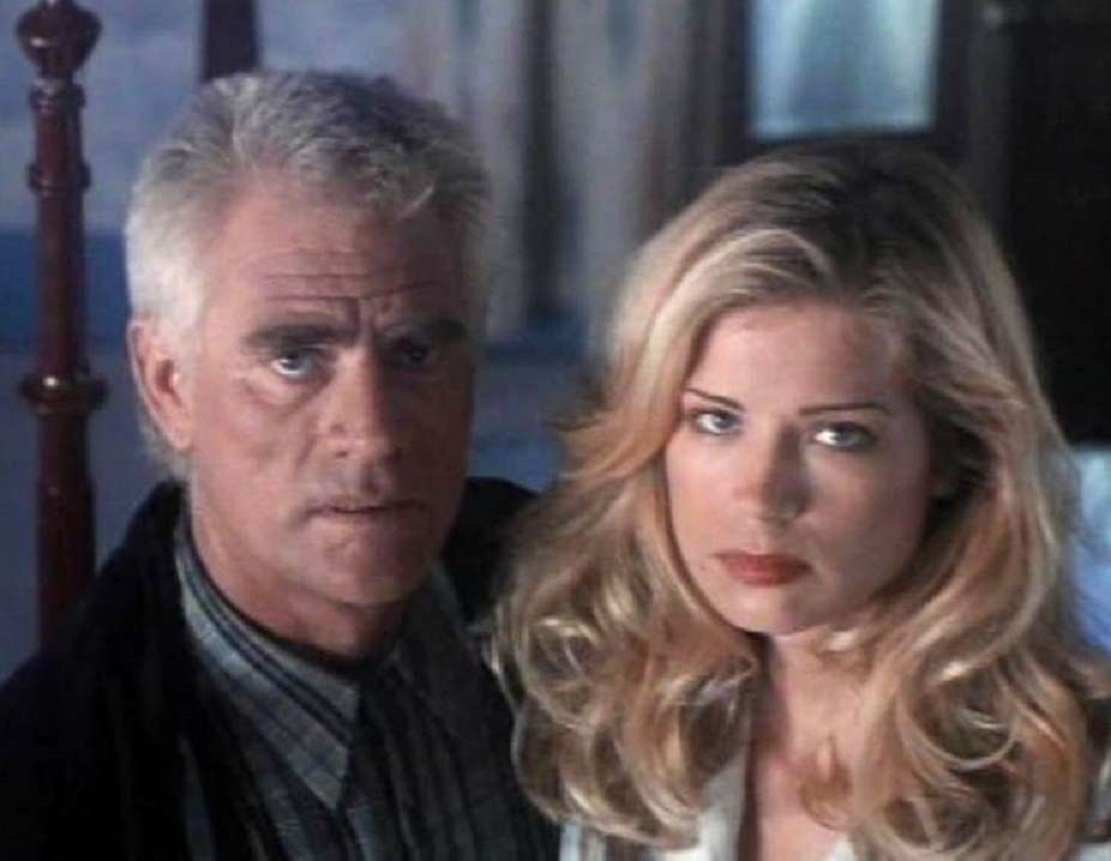 Unfortunately, the resulting film is not quite up to the melding of ideas. For one, it is only just over an hour long and a good twenty minutes of that is filled out with stock footage from the aforementioned films. It feels less like a crossover film than it does one of those corner-cutting tv filler episodes that are put together upon some flimsy pretext and made up out of stock footage. The original parts of the film consist of very little – just an extended chase through the factory. Tracy Scoggins's detective character is introduced then annoyingly knocked off halfway through.
On the plus side, Tim Thomerson's deadpan delivery is amusing, as it always in his various roles for the Bands. The miniature sets are well done, especially the giant kitchen set. There is a charmingly nonchalant scene where Melissa Behr gets up out of her bed in a kitchen drawer in the morning, turns the giant radio on and makes a breakfast out of a crumb broken from a cookie. The demonic toys are really quite malevolent creations. There is an amazingly perverse climax with the giant baby toy trying to rape Melissa Behr.
Full Moon subsequently crossed the Demonic Toys over with the popular Puppetmaster series in Puppetmaster vs the Demonic Toys (2004) and then spun them out in Demonic Toys: Personal Demons (2010).
Charles Band has produced over 200 films. As director, his other genre films include:- Crash (1977), Parasite (1982), The Alchemist (1983), Metalstorm: The Destruction of Jared-Syn (1983), an episode of The Dungeonmaster/Ragewar: The Challenges of Excalibrate (1984), Trancers/Futurecop (1985), Pulse Pounders (1988), Crash and Burn (1990), Meridian (1990), Trancers II (1991), Doctor Mordrid (1992), Prehysteria! (1993), Head of the Family (1996), The Creeps/Deformed Monsters (1997), Hideous (1997), Mystery Monsters (1997), Blood Dolls (1999), Puppet Master: The Legacy (2003), Dr Moreau's House of Pain (2004), Decadent Evil (2005), Doll Graveyard (2005), The Gingerdead Man (2005), Evil Bong (2006), Petrified (2006), Dead Man's Hand (2007), Decadent Evil II (2007), Dangerous Worry Dolls (2008), Evil Bong II: King Bong (2009), Skull Heads (2009), Evil Bong 3D: The Wrath of Bong (2011), Killer Eye: Halloween Haunt (2011), The Dead Want Women (2012), Devildolls (2012), Puppet Master X: Axis Rising (2012), Ooga Booga (2013), Unlucky Charms (2013), Gingerdead Man vs Evil Bong (2013), Trophy Heads (2014), Evil Bong 420 (2015), King of Cult (2015), Evil Bong: High 5 (2016), Evil Bong 666 (2017), Puppet Master: Axis Termination (2017), Evil Bong 777 (2018), Barbie & Kendra Save the Tiger King (2020), Barbie & Kendra Storm Area 51 (2020), Corona Zombies (2020) and Evil Bong 888: Infinity High (2022).
---
Trailer here
---