---
Crew
Director/Story – Charles Band, Screenplay – August White, Producers – Charles Band & Joe Dain, Photography – Mac Ahlberg, Music – District 78, Visual Effects – Erick Geisler & Patrick Murphy, Special Effects – Jeff Farley, Production Design – D.M. Casper. Production Company – Full Moon Features/Talos Entertainment/Forbidden Worlds/Shoot Productions.
Cast
David Weidoff (Alistair McDowell), John Patrick Jordan (Larnell), Mitch Eakins (Bachman), Brian Lloyd (Brett), Robin Sydney (Luann), Kristyn Green (Janet), Tommy Chong (Jimbo Leary), Michele Mais (Voice of Evil Bong/Eebee), Jacob Witkin (Cyril/Gramps), Sonny Carl Davis (Delivery Guy), Tim Thomerson (Jack Deth), Bill Moseley (Bong World Patron), Phil Fondacaro (Club Patron), Mae LaBorde (Rosemary Cornwallis)
---
Plot
Nerdy college student Alistair McDowell moves into an apartment with three other guys, Larnell, Bachman and Brett. All three of them are party animals and smoke large amounts of marijuana. Larnell finds a For Sale ad for a bong pipe whose owner believes it was possessed and decides he must own it. The bong is delivered and all of them except Alistair sit down to partake. However, as they smoke from it, the bong comes to life and they are sucked inside into the simulation of a stripper bar. As the dancers come to give them a lap dance, they are devoured, leaving their dead body on the outside. As more people fall prey to the bong, Alistair tries to find a way to fight its evil influence.
---
Producer and occasional director Charles Band has been one of the most prolific makers of low-budget films in the last half-century. Band began making movies in the 1970s. Along with his late father Albert, the two formed Empire Productions in the 1980s and went on to set up Full Moon Productions and a variety of successors to that. During his time, Charles Band had put out multiple series of low-budget genre films including the Ghoulies, Trancers, Subspecies, Prehysteria! and Puppetmaster films, among many others. (See below for Charles Band's other films as director). Full Moon love creating films that can be spun off into multiple sequels – indeed, Evil Bong has produced several sequels and crossovers with other Full Moon franchises (see below).
Evil Bong feels like a case of Charles Band having had an idea for a wacky title and then struggled to come with a film to go along with it. There's the idea of the evil (or is it demonically possessed?) bong, which is about three feet tall. This seems to involve whoever sits down to imbibe of the bong being sucked inside its' world after taking a few puffs. There they find themselves in the simulation of a stripper bar where the evil bong sits on a throne cackling malevolently. Each succumbs to the temptations of the strippers who gives them a lap dance whereupon the victim is swallowed up as the adornments on the stripper's bra – skulls, shark heads – come to life to attack them. This leaves their dead body on the outside. Each time this happens, the facial features on the bong become more distinctive in the outside world.
It is not the most gainly premise for a film and in the director's chair Charles Band seems stretched trying to do anything with it. The exterior scenes get by on a certain obnoxious frat humour that makes the film resemble one of the mid-1980s frat house comedies – National Lampoon's Animal House (1978), Porky's (1982) et al – albeit with a certain stoner emphasis. The rest of the time the film suffers from all the cheap effects that Full Moon films were noted for – the evil bong's face looks like it is made of papier-mache drawn with marker pen outlines, while the various stripper bra heads resemble inflatable plastic toys.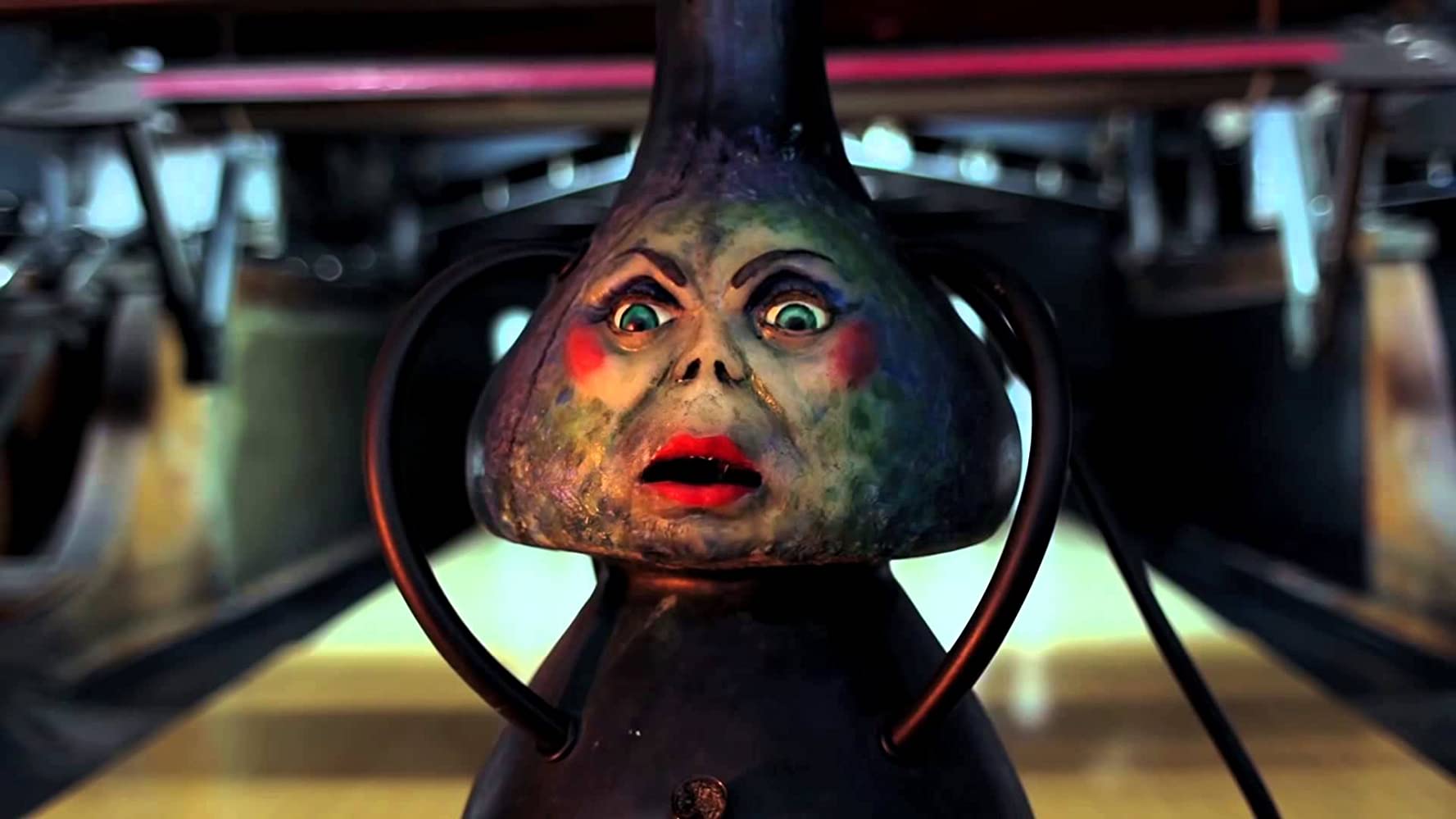 One of the things that Charles Band likes to do is cross over between Full Moon's other series and there seems to be a record number of these here. These include Tim Thomerson in an appearance as Jack Deth from Trancers (1985) and sequels, the evil dolls from Demonic Toys (1992) and Doll Graveyard (2005), plus The Gingerdead Man (2005). There is also an appearance from Bill Moseley who played in Band's Crash and Burn (1990), although it is not specified that this is the same character.
The sequels were Evil Bong 2: King Bong (2009), Evil Bong 3: The Wrath of Bong (2011), Gingerdead Man vs Evil Bong (2013), Evil Bong 420 (2015), Evil Bong: High 5 (2016), Evil Bong 777 (2018) and Evil Bong 888: Infinity High (2022).
Charles Band has produced over 300 films. As director, his other genre films include:- Crash (1977), Parasite (1982), The Alchemist (1983), Metalstorm: The Destruction of Jared-Syn (1983), an episode of The Dungeonmaster/Ragewar: The Challenges of Excalibrate (1984), Trancers/Futurecop (1985), Pulse Pounders (1988), Crash and Burn (1990), Meridian (1990), Trancers II (1991), Doctor Mordrid (1992), Dollman Vs. the Demonic Toys (1993), Prehysteria! (1993), Head of the Family (1996), The Creeps/Deformed Monsters (1997), Hideous (1997), Mystery Monsters (1997), Blood Dolls (1999), Puppet Master: The Legacy (2003), Dr Moreau's House of Pain (2004), Decadent Evil (2005), Doll Graveyard (2005), The Gingerdead Man (2005), Petrified (2006), Dead Man's Hand (2007), Decadent Evil II (2007), Dangerous Worry Dolls (2008), Evil Bong II: King Bong (2009), Skull Heads (2009), Evil Bong 3D: The Wrath of Bong (2011), Killer Eye: Halloween Haunt (2011), The Dead Want Women (2012), Devildolls (2012), Puppet Master X: Axis Rising (2012), Ooga Booga (2013), Unlucky Charms (2013), Gingerdead Man vs Evil Bong (2013), Trophy Heads (2014), Evil Bong 420 (2015), King of Cult (2015), Evil Bong: High 5 (2016), Evil Bong 666 (2017), Puppet Master: Axis Termination (2017), Evil Bong 777 (2018), Barbie & Kendra Save the Tiger King (2020), Barbie & Kendra Storm Area 51 (2020), Corona Zombies (2020) and Evil Bong 888: Infinity High (2022).
---
---