---
Crew
Director – David Schmoeller, Screenplay – Joseph G. Collodi [David Schmoeller], Story – Charles Band & Kenneth J. Hall, Producer – Hope Perello, Photography – Sergio Salvati, Music – Richard Band, Puppet Effects – David Allen Productions (Supervisor – Dave Allen), Makeup Effects – Patrick Simmons, Production Design – John Myhre. Production Company – Full Moon Productions.
Cast
Paul Le Mat (Professor Alex Whitaker), Robin Frates (Megan Gallagher), Irene Miracle (Dana Hadley), Jimmie F. Skaggs (Neil Gallagher), Matt Roe (Frank Forrester), Kathryn O'Reilly (Carissa Stamford), Merrya Small (Theresa), William Hickey (Andre Toulon)
---
Plot
A group of people are called to Bodega Bay Inn by their old friend Neil Gallagher, only to learn once they arrive that he is dead. All happen to be psychics who were befriended by Neil who was obsessed with finding Ancient Egyptian techniques of imbuing objects with life. A handful of animated toys created by the legendary toymaker Andre Toulon, all with various lethal novelty attachments built into their bodies, then slip out of Neil's coffin and start killing the guests.
---
Puppetmaster was first film made by Full Moon Productions, a company started by father and son producing team Albert and Charles Band following the financial collapse of their Empire Productions. Under the Empire banner, the Bands had made a number of low-budget genre films including the Ghoulies and Trancers series and hits like Re-Animator (1985). Full Moon went on to be an even bigger success than Empire was, with the Bands having produced some 60 genre films under the Full Moon label and spawning three subsidiary labels to date.
Puppetmaster proved to be an enormous hit on video shelves and Full Moon have churned out a long line of sequels and prequels. The result is a slim but modestly effective effort. It reminds much of Stuart Gordon's Dolls (1987) made back under the Empire aegis but is a much better film than Dolls, although in all probability it was conceived by the Bands as a copycat of the popular Child's Play (1988).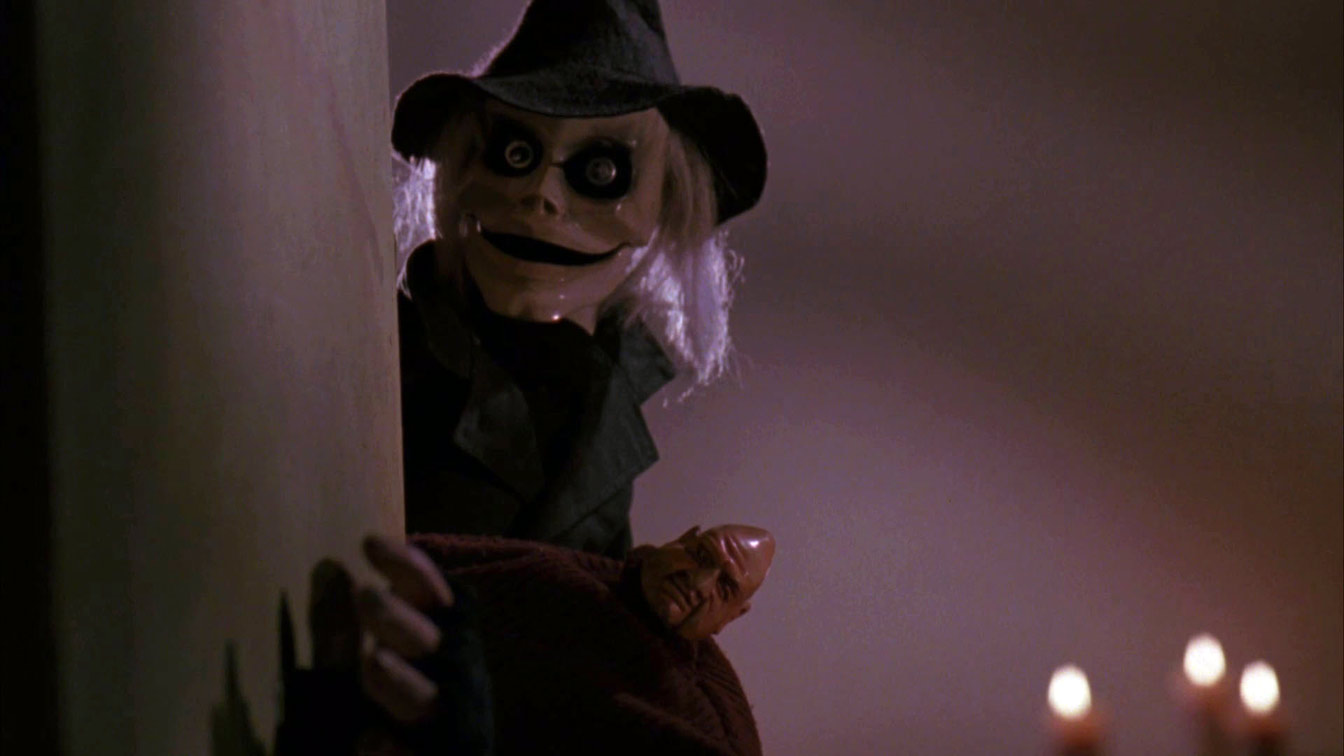 Director David Schmoeller, who has made a number of films for the Bands' going all the way back to their pre-Empire days with Tourist Trap (1979), maintains an eerie atmosphere with things scuttling behind people as their backs are turned. There are some striking images – the doll with giant human-sized arms suddenly pulling itself up out of the coffin; the doll with the blade and hook arms pulling chairs along and climbing up to peer through keyholes; and the doll with the rotating head that stops spinning right into camera, sinisterly smiling.
The various attacks are well handled – the scene where Matt Roe is blindfolded and bound in bed, thinking Kathryn O'Reilly is sexually stimulating him, while it is a doll vomiting forth leeches that burrow into his skin; the sequence where Irene Miracle is attacked, the doll with the giant hands punching her in the face and she simply throwing it down the stairs and then the blade-armed doll coming after her, trying to break into the elevator. Schmoeller also adds some eerie blurrings between dream and precognition. He does have a tendency to keep sequences going on far too long but other than that the atmosphere is well mounted.
Puppetmaster's major problem is its slimness – there is not a great deal more to it than strange things happening at the hotel and puppet attacks. The pre-credits sequence with Toulon is intriguing but leaves much unanswered, particularly as to who Toulon is and why the Germans are pursuing him (although this is dealt with in subsequent films in the series). Screenwriter Joseph G. Collodi is a pseudonym for director David Schmoeller – a Carlo Collodi was the author of Pinocchio (1881). The film's setting, Bodega Bay, is the name of the Northern California town used as location in Alfred Hitchcock's The Birds (1963).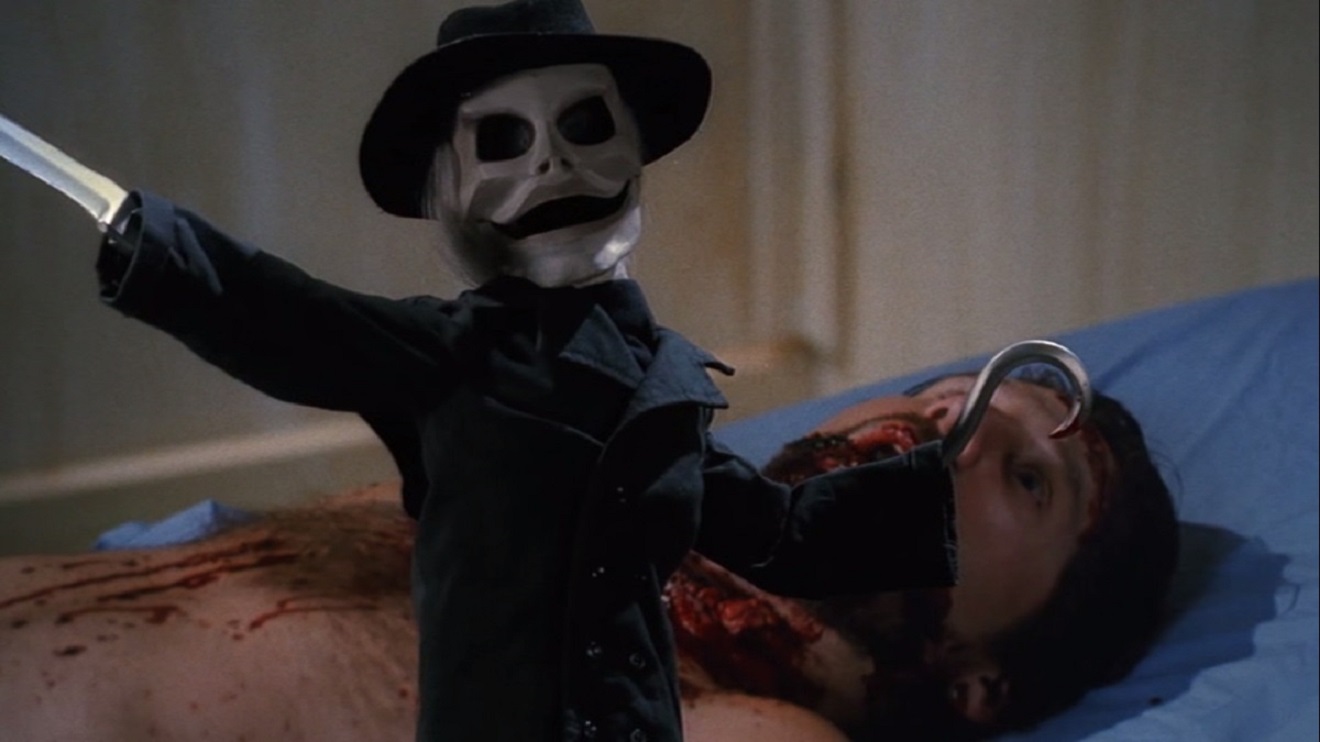 Puppetmaster was a success and Full Moon mounted a number of sequels. Nowadays fans can even buy Puppetmaster dolls via the Full Moon website and the videos come with commercials for them. The other Puppetmaster films are: Puppet Master II (1990), Puppetmaster III: Toulon's Revenge (1991), Puppet Master IV (1993), Puppet Master V: The Final Chapter (1995), Curse of the Puppet Master (1998), Retro Puppetmaster (1999), the compilation film Puppet Master: The Legacy (2003), Puppet Master vs Demonic Toys (2004), Puppet Master: Axis of Evil (2010), Puppet Master X: Axis Rising (2012) and Puppet Master: Axis Termination (2017), as well as the spinoff Blade: The Iron Cross (2020). The alien body snatchers film The Puppet Masters (1994) is unrelated.
Director David Schmoeller has made a number of other genre films, many of these for the Bands, including the strange Tourist Trap (1979) about a backwoods motelier and his living mannequins, the stalker thriller The Seduction (1982), the psycho film Crawlspace (1986), Catacombs (1988), the alien vampire film The Arrival (1991), Netherworld (1992) and the children's films The Secret Kingdom (1997), Search for the Jewel of Polaris: Mysterious Museum (1999) and Little Monsters (2012).
---
---