---
Crew
Director/Screenplay – Jeff Barnaby, Photography – Michel St-Martin, Music – Jeff Barnaby & Jeff Barrucco, Visual Effects – The Workshop (Supervisor – Josh Sherrett), Animation – E*D Films, Special Effects – Blood Brothers FX (Supervisors – Jean-Mathieu Berube & Carlo Harrietha), Makeup Effects – Lifemaker Inc. (Designer – Erik Gosselin), Production Design – Sylvain Lamaitre & Louisa Schabas. Production Company – Prospector Films.
Cast
Michael Greyeyes (Traylor), Elle-Meija Tailfeathers (Joss), Forrest Goodluck (Joseph), Kiowa Gordon (Lysol), Olivia Scriven (Charlie), Stonehorse Lone Goeman (Gisigu), Brandon Oakes (Bumper), William Belleau (Shooker), Kawennaheere Devery Jacobs (James), Gary Farmer (Moon), Kent McQuaid (Shamu), Trevor Hayes (Man), Natalie Liconti (Lilith), Felicia Shulman (Doris)
---
Plot
1981 at the Red Crow Indian Reservation. The territory's law enforcement officer Traylor deals with a series of incidents where fish that have been gutted and dogs that have been shot suddenly return to life. Next people begin to return from the dead. Six months later, The Red Crow Reservation has become a refuge against the zombie apocalypse that ravages across the outside world. The Indian peoples have a natural immunity against the zombie infection but everybody else succumbs. Traylor and his people try to maintain law and order, admitting only those outsiders who show no sign of infection. Chaos is now caused as one infected girl slips through their net.
---
Jeff Barnaby is a Canadian director of First Nations background – he comes from Mi'kmaq people and was born and raised on the Listuguj reserve near Quebec. Throughout the 2000s, Barnaby had made several short films, all of which concern themselves with Indian peoples and their place in the modern world. It wasn't until I looked Barnaby up that I realised I had seen his one other feature film Rhymes for Young Ghouls (2013), which I was disappointed to find wasn't a genre film despite a title that sounds like it should be but is actually about the horrors of the Canadian Residential Schools system. Blood Quantum was his second film as director.
Jeff Barnaby has turned to the horror genre with Blood Quantum and makes a Zombie Film but he is still making a film about First Nations people. The film is almost entirely cast with Indian peoples from both Canada and America. It is shot on Barnaby's home turf of the Listuguj reserve and the neighbouring Kahnawake (Mohawk) reserve in Quebec. Incidentally, the title 'blood quantum' refers to a series of laws passed in the US in the 19th and 20th Centuries that sets out to legally determine what percentage of ancestry a person has by lineage in order to still be classified as ethnically Indian.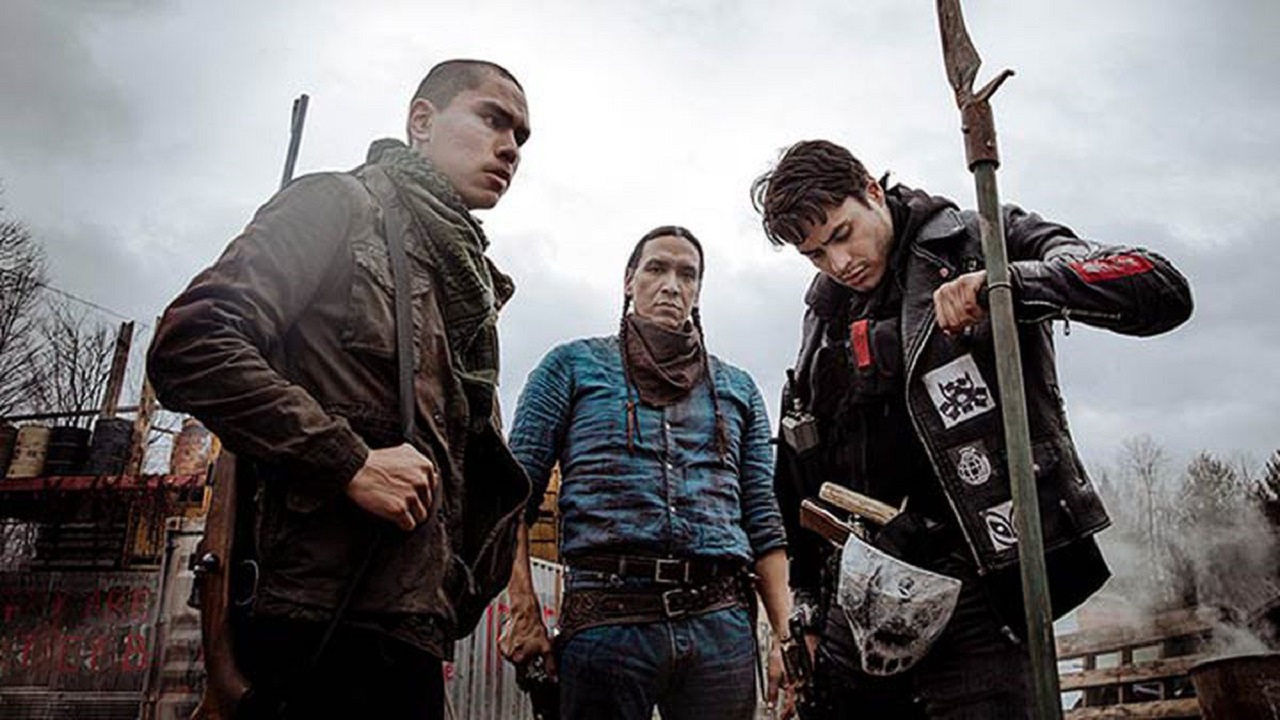 Jeff Barnaby directs with a low key, unsentimental realism. This is sometimes a little quiet and muted for its own good. For a time, the film seems to be centred around matters of survival and reservation politics rather than fighting zombies. There is a great piece of writing where Gary Farmer sees the zombie plague in terms of Indian myths and beliefs: "The earth is an animal, living and breathing. White men don't understand this. That's why the dead keep coming back to life. Because this planet we're on is so sick of our shit. This old, tired, angry animal turned these stupid fucking white men into something she can use again:"
When the film lets its stop go, it works well and Barnaby certainly does not stint when it comes to gore. Barnaby gets off a captivating opening with Stonehorse Lone Goeman finding the fish he has just gutted coming back to life and flopping about as they try to return to the lake, followed by the dog he has just shot in the trunk of his vehicle. Or the scenes with the pregnant white girl (Olivia Scriven) fearful that the half-Indian baby she is about to give birth to will eat its way out of her womb. The latter third of the film with various members of the cast fighting off zombies as they overrun the reservation comes with a suitably tough and bloody ferocity.
---
Trailer here
---