---
Crew
Director – Ruben Fleischer, Screenplay – Dave Callaham, Rhett Reese & Paul Wernick, Producer – Gavin Polone, Photography – Chung-Hoon Chung, Music – David Sardy, Visual Effects Supervisor – Paul Linden, Visual Effects – Crafty Apes (Supervisor – Mark LeDoux), Folks (Supervisors – Sebastien Bergeron & Gunnar Hansen), General Population, Rodeo FX (Supervisor – Mo Sobhy), Sony Pictures Imageworks (Supervisor – Christopher Waegner) & Spin (Supervisor – Steve Ramone), Special Effects Supervisor – J.D. Schwalm, Makeup Effects – Alterian Studios, Production Design – Martin Whist. Production Company – Pariah Productions.
Cast
Jesse Eisenberg (Columbus), Woody Harrelson (Tallahassee), Emma Stone (Wichita), Abigail Breslin (Little Rock), Zoey Deutch (Madison), Rosario Dawson (Nevada), Ayan Jogia (Berkeley), Luke Wilson (Albuquerque), Thomas Middleditch (Flagstaff), Bill Murray (Himself)
---
Plot
Columbus, Tallahassee, Wichita and Little Rock, clear out the abandoned White House and make it their new home. Columbus makes the decision to propose to Wichita. He then wakes in the morning to find that she and Little Rock have left. Columbus eventually gets out of his slump after he meets Madison, a blonde airhead, in a mall and the two quickly settle in together. Problems are caused when Wichita makes a return, informing them that Little Rock has abandoned her for the hippie Berkeley and they are heading to Graceland. And so all four of them set out on the road to bring Little Rock back.
---
Zombieland (2009) was a reasonable success when it came out. It took the standard zombie film and overlaid it with a wry sarcasm. The casting, especially Woody Harrelson's turn as Tallahassee, was great while the cherry on the cake was Bill Murray doing a scene-stealing turn as himself. It struck a chord with audiences and in the years since it has come out it has been acclaimed as one of the best of all zombie films. To my mind, it was amiable and enjoyable, nothing ground-breaking, and I failed to be sure where the classic status was coming from other than perhaps people who hadn't seen enough of the genre automatically promoting one of their first introductions to it to classic status.
Ruben Fleischer had made his directorial debut with Zombieland after emerging from comedy television. He went on to make a couple of uneven films with 30 Minutes or Less (2011) and Gangster Squad (2013), before the surprise hit of the Marvel Comics film Venom (2018). He, the first film's screenwriters and all the principals return here. A sequel was talked about for some years and there was even an attempt to create a Zombieland tv series, although this failed to go anywhere beyond a tv pilot that aired in 2013 in which Tyler Ross and Kirk Ward replaced Jesse Eisenberg and Woody Harrelson respectively.
The problem that Zombieland: Double Tap faces as it starts in is that the decade in between the first film and the sequel is one that has been inundated by a massive horde of other zombie comedies. The hit tv series The Walking Dead (2010-22) had not even premiered on airwaves at that point (Jesse Eisenberg is seen reading the comic-book in one scene here). The zombie comedy was still being defined by Shaun of the Dead (2004) and not a massive body of films with parody titles like Big Tits Zombie (2010), Santa Claus vs. the Zombies (2010), Bong of the Dead (2011), Abraham Lincoln vs. Zombies (2012), Scouts Guide to the Zombie Apocalypse (2015), Attack of the Lederhosen Zombies (2016), Pride and Prejudice and Zombies (2016) and Attack of the Southern Fried Zombies (2017). In 2009, Zombieland could still seem fresh and original; by 2019, there is the feeling (by this author at least) that the zombie genre has exhausted itself creatively and is just churning through the same moves.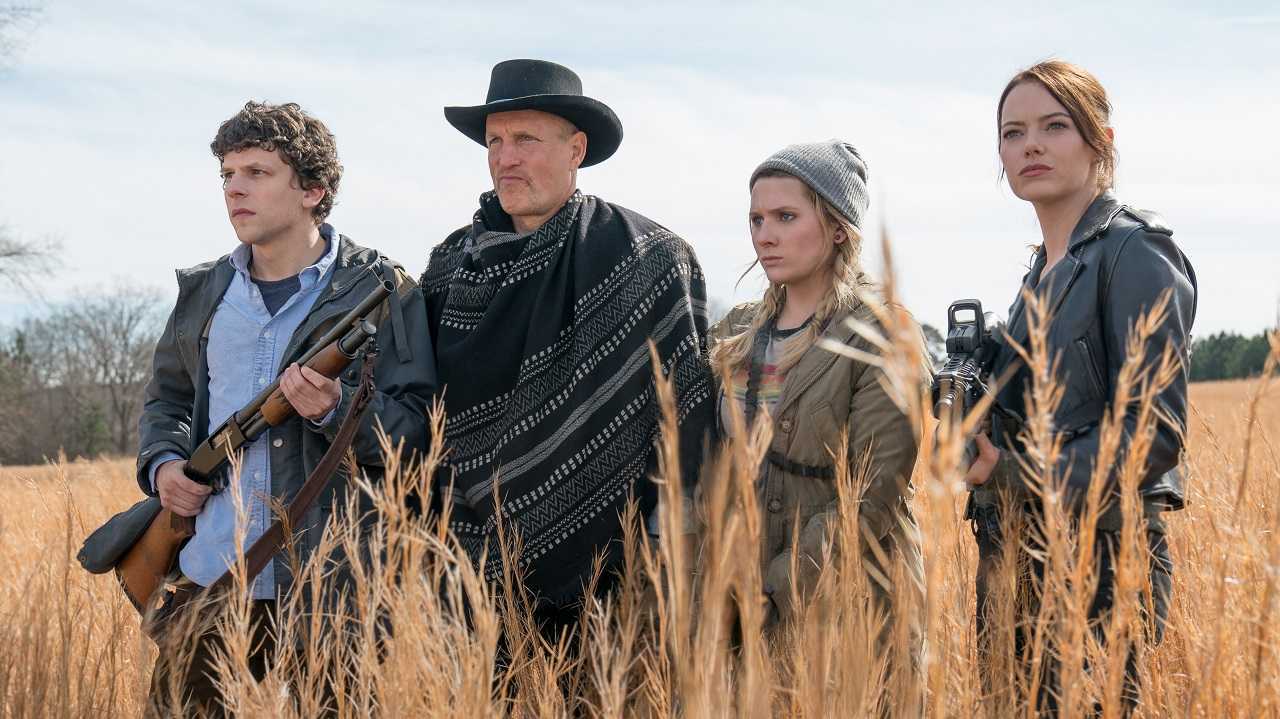 I felt sceptical about Zombieland: Double Tap going in. As it starts, the film seems all snide and sarcastic character snipping. It was the same with the original too, which didn't quite sustain the tone it set out for itself. Nevertheless, what made the original work was in particular Woody Harrelson's garrulously loudmouth performance. Here Harrelson does more of the same but never quite owns the show in the same way – his performance is far broader and much more random. Similarly, much of the rest of the show – especially the White House scenes at the start – seem stuck in the character's own self-congratulatory cleverness. Crucially, there is no cameo from Bill Murray throughout the film, although he makes a surprise appearance in the middle of the end credits promoting Garfield 3 and then eliminating zombies that overrun the tv studio (scenes that are not connected to the rest of the film). I was happy to chalk this up as another sequel that fails to ignite lightning in a bottle a second time over.
On the other hand, the film improves markedly with the arrival of Zoey Deutch. I had seen Deutch, the daughter of Lea Thompson, in various roles, mostly in Young Adult works such as Beautiful Creatures (2013), Vampire Academy (2014) and Before I Fall (2017), where she had seem capable but hadn't done a huge amount to stand out from otherwise generic roles. On the other hand, from the point she turns up here about fifteen minutes in, she ends up stealing the show. The role that she gets is that of the bottle blonde airhead that all the others are poking sarcastic aides that go over her head but Deutch quite aces the part. And from about that point, the film finds its feet.
Ruben Fleischer seems more confidant with the humour and delivers a number of appealingly eccentric scenes. One of these is the encounter with Luke Wilson and Thomas Middleditch as a mirror equivalent of Woody Harrelson and Jesse Eisenberg where a mutual admiration society turns into an entertaining comic set-piece as they become infected and the fight ends up wrecking an Elvis museum. The film climaxes on an appealingly absurd set-piece involving big wheels trucks taking on zombies as they mass to attack the hippie paradise of Babylon.
(Nominee for Best Supporting Actress (Zoey Deutch) at this site's Best of 2019 Awards).
---
---