(Infection)
---
Crew
Director – Flavio Pedota, Screenplay – Yeimar Cabral & Flavio Pedota, Producers – David Ferreira, Santiago Ortiz-Monasterio & Flavio Pedota, Photography – Eduardo R. Servello, Music – Blake Matthew, Visual Effects Supervisor – Gabriel Kerlegand, Visual Effects – Eterno VFX, Special Effects – Ricardo Arteaga & Oscar Victoria, Makeup Effects – Ronald Faramalia, Production Design – Francisco Bugallo. Production Company – Lux Creative Producciones/Desenlace Films/Mario Santa/Disruptiva Films/Eterno VFX/REMA Films.
Cast
Jesus Guevara (Adam Vargas), Leonidas Urbina (Johnny), Magdiel Gonzalez (Luis), Genna Chanelle Hayes (Dr Lucy Blake), Luca De Lima (Miguel Vargas), Anibal Enrique Garcia Belardinelli (Angel), Francis Rueda (Tina), Dennys Joel Alvarez (Jose), Ananda Troconis (Cristal), Ronnie Nordenflycht (Dr Carlos Nieves), Johanna Juliethe Gonzalez (Blanca Vargas)
---
Plot
A strain of mutated rabies has been unleashed in Caracas. A drug user becomes rabid after shooting up. After he bites another person, the outbreak spreads rapidly throughout the city. Adam Vargas is a doctor in the countryside, raising his son Miguel on his own following the death of his wife. He is forced to deal with the infection as it strikes a friend's wife and then spreads throughout the area. With society in an imminent state of collapse, Adam tries to get through the chaos to where Miguel is staying with his grandparents.
---
The zombie film has exploded during the 2000s following successes such as Resident Evil (2002), 28 Days Later (2002), Dawn of the Dead (2004) and the comedy Shaun of the Dead (2004), as well as tv's The Walking Dead (2010- ). By the 2010s, the genre had become so prolific, it felt as though all possible straight permutations of the zombie film were used up and the genre was left turning to deliberately ridiculous title mash-ups and gonzo conceptions. (See Zombie Films for a full listing of these).
Amid this massive proliferation of the genre, the zombie film has turned up from almost every country in the world. So far we've had zombie films from Italy – a whole heap of them made during the 1980s, Hong Kong – Bio-Zombies (2000), Ireland – Dead Meat (2004) and Boys Eats Girl (2005), Spain – [Rec] (2007) and sequels, Norway – Dead Snow (2009) and sequel, France – The Horde (2009), Japan – Big Tits Zombie (2010), Cuba – Juan of the Dead (2011), Mexico – Halley (2012), New Zealand – I Survived a Zombie Holocaust (2014), Taiwan – Zombie Fight Club (2014), Australia – Plague (2014), Wyrmwood: Road of the Dead (2014) and Me and My Mates vs. the Zombie Apocalypse (2015), Germany – Bunker of the Dead (2015), Austria – Attack of the Lederhosen Zombies (2016), South Korea – Train to Busan (2016), India – Betaal (2020) and Argentina – Virus: 32 (2022), among others.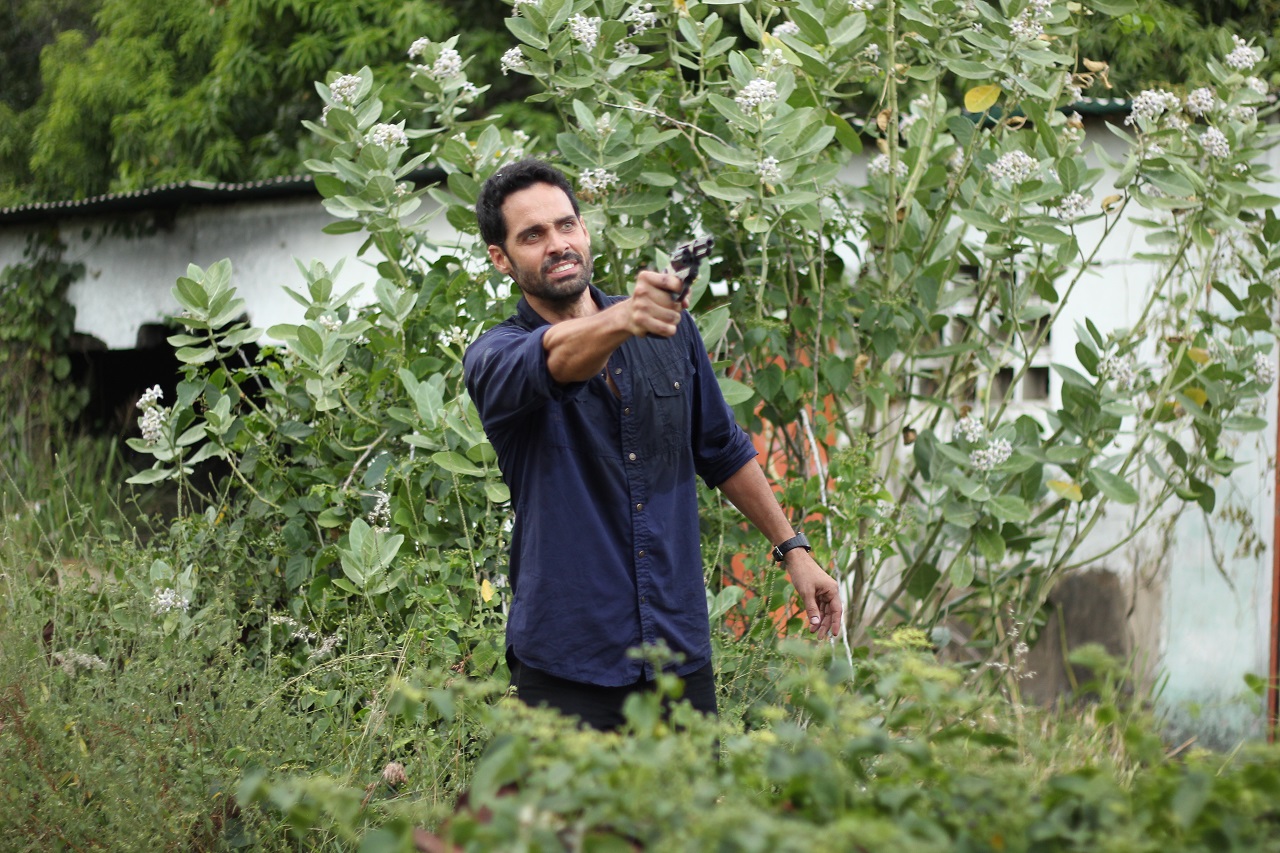 Infeccion is a zombie film from Venezuela. It was a directorial debut for Flavio Pedota who had previously worked in visual effects.
Infeccion does nothing to reinvent the zombie film but is a solid entry in the genre. While most modern zombie films give the impression they are made on B-budgets, this has a reasonable production finish to it and seems better budgeted than most. Pedota directs everything with a reasonable tension and ferocity. The zombies are fast-moving. They are also said to be created by a mutant strain of rabies, meaning that they only really bite people rather than engage in lots of flesh-devouring. The film goes through all the moves effectively, only reaching an ending that seems abrupt in its happy wrap-up.
---
Trailer here
---