USA. 2015.
Crew
Director – Henry Hobson, Screenplay – John Scott 3, Producers – Matthew Baer, Colin Bates, Bill Johnson, Trevor Kaufman, Ara Keshishian, Pierre-Ange Le Pogam, Arnold Schwarzenegger & Joey Tufaro, Photography – Lukas Ettlin, Music – David Wingo, Visual Effects Supervisor – Ed Chapman, Visual Effects – A52 (Supervisor – Patrick Murphy), Bootmaker Films, Cinesite (Supervisor – Aymeric Perceval), Company M, Elefant Studios (Supervisor – Miklos Kozary), Hill Lake VFX, Special Effects Supervisor – Guy Clayton, Makeup Effects – Bailey Domke, Marcus Gonzalez, Elvis Jones & Matthew O'Toole, Production Design – Gabor Norman. Production Company – Gold Star Films/Matt Baer Films/Sly Predator.
Cast
Arnold Schwarzenegger (Wade Vogel), Abigail Breslin (Maggie Vogel), Joely Richardson (Caroline Vogel), Douglas M. Griffin (Sheriff Ray), Jodie Moore (Dr Vern Kaplan), J.D. Evermore (Sheriff Holt), Rachel Whitman Groves (Bonnie), Bryce Romero (Trent), Raeden Greer (Allie)
---
Plot
The USA has been overrun by what is called the Necroambulism Virus, which is slowly turning the infected into zombies. Wade Vogel rescues his infected daughter Maggie from a quarantine hospital and brings her back home to his farm. The doctors warn him that he has 6-8 weeks before she turns and that he should be prepared for when she does. As Wade, Maggie and Wade's wife Caroline try to maintain a semblance of normalcy, Maggie's condition starts to become worse. Wade persists in protecting Maggie as everyone around warns him that she should be killed.
---
If the phrase 'Arnold Schwarzenegger zombie film' is not capable of getting of getting you excited about something then you are probably visiting the wrong site. It may or may not surprise you that Ah-nuld has not fought the zombie apocalypse before. Certainly, he has taken on just about everything else – fought aliens in Predator (1987), fought totalitarian futures in The Running Man (1987), his own clone in The 6th Day (2000), been an invincible killer android in the Terminator films, gotten pregnant in Junior (1994), been cast as a comic-book super-villain in the worst A-budget film ever Batman & Robin (1997), even fought The Devil himself in End of Days (1999). Perhaps the nearest he has ever gotten to the zombie film before was at one point being cast as the last man on Earth in what eventually emerged as I Am Legend (2007).
Maggie comes as part of Schwarzenegger's late phase career. From 2003 to 2011, Schwarzenegger ran as the Governor of California on the Republican ticket and dropped out of acting roles to devote himself to this. As his term of office finished, Schwarzenegger made a return to cinema screens first with an uncredited cameo in the action movie star team-up The Expendables (2010), becoming a regular part of the sequels, and then made a full starring return with the likes of The Last Stand (2013), Escape Plan (2013) and Sabotage (2014), as well as several projects that draw on his past successes such as Terminator Genisys (2015), the announced The Legend of Conan and a sequel to Twins (1988). What is noted about these roles is that they feature Schwarzenegger, who is now in his sixties, recognising his age. In many of these, he plays with beard and greying hair, while notedly in all his roles up until 2011 (including that of The Governor), he was still dying his hair and trying to give the impression of a man in his forties.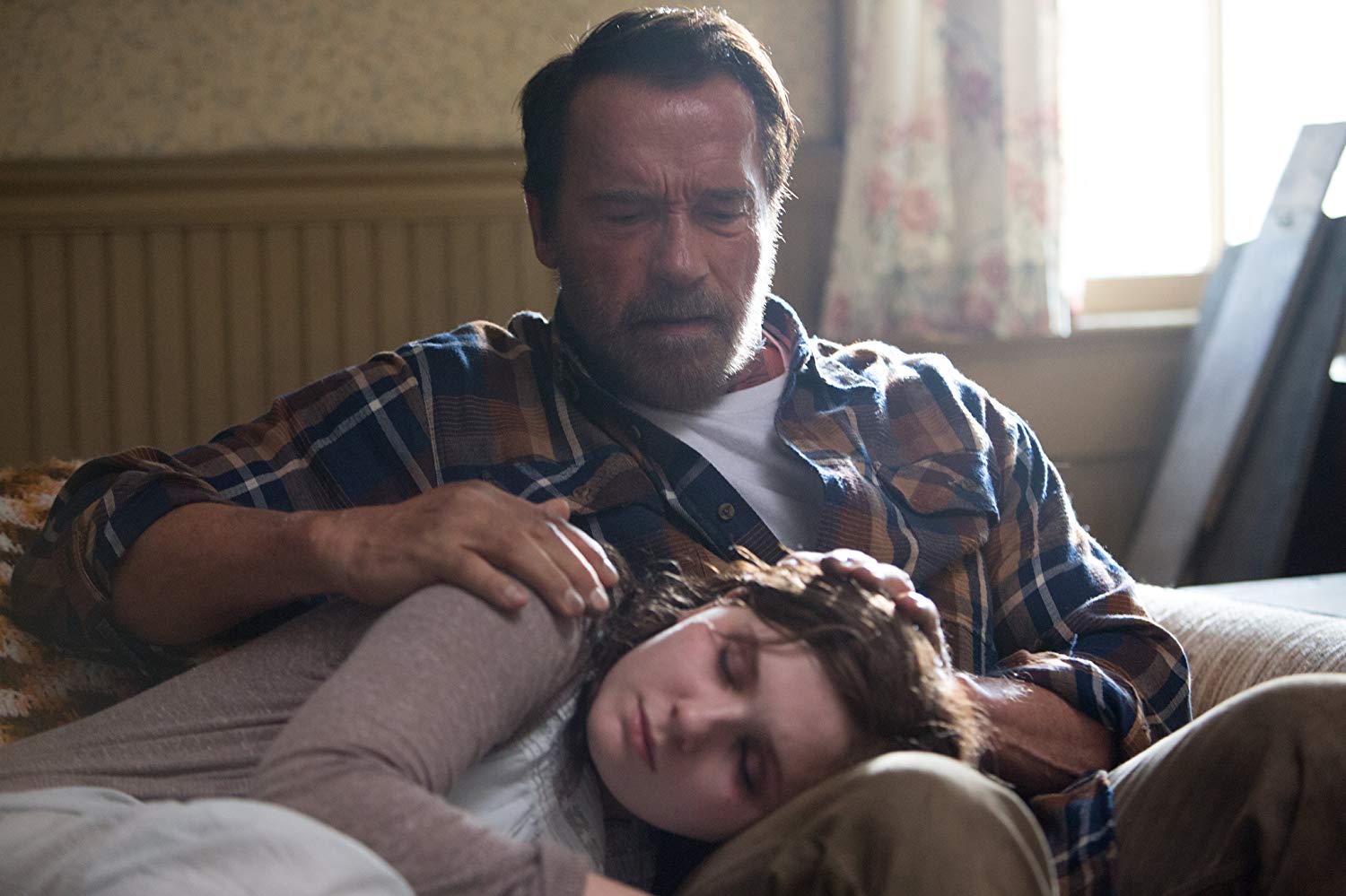 What is even more distinctive about Maggie is that it is Schwarzenegger trying to do something very different than what he has before. When you toss around the phrase 'Arnold Schwarzenegger zombie film', what immediately comes to mind is something akin to Steven Seagal's Against the Dark (2009), which featured Seagal wading into action with a sword to save the innocent and despatch the undead amid much in the way of action poses.
Contrarily, Maggie could not be more different from anything you expect either of an Arnold Schwarzenegger film or a zombie film. Schwarzenegger is bereft of his customary quips and one-liners – the most of his trademarks moves we get is him smoking a cigar in one scene. He is not even in action mode. We have one scene here where he is tackled by a sheriff's deputy where you sit expecting Schwarzenegger to rise up, tear off his shirt, trade fisticuffs with muscles rippling and pick up the nearest semi-automatic weapon to massacre all in the vicinity – the great surprise of the scene is that when he is tackled, he stays down.
In another scene, we see him kill a zombie with an axe but then stop at realising the accompanying zombie is the man's daughter – there is not the glee of despatch that comes in many zombie films or of the action film's pornography of action moves, but a sobering moment of moral realisation about what a decent man is prepared to do. Indeed, you only see Schwarzenegger kill the one zombie throughout, while the film casts him more as a decent family man trying to protect his daughter as she is changing. It is the nearest perhaps that we have ever seen Schwarzenegger giving a sober and serious performance where he is acting rather than attempting to be a larger-than-life cartoon character.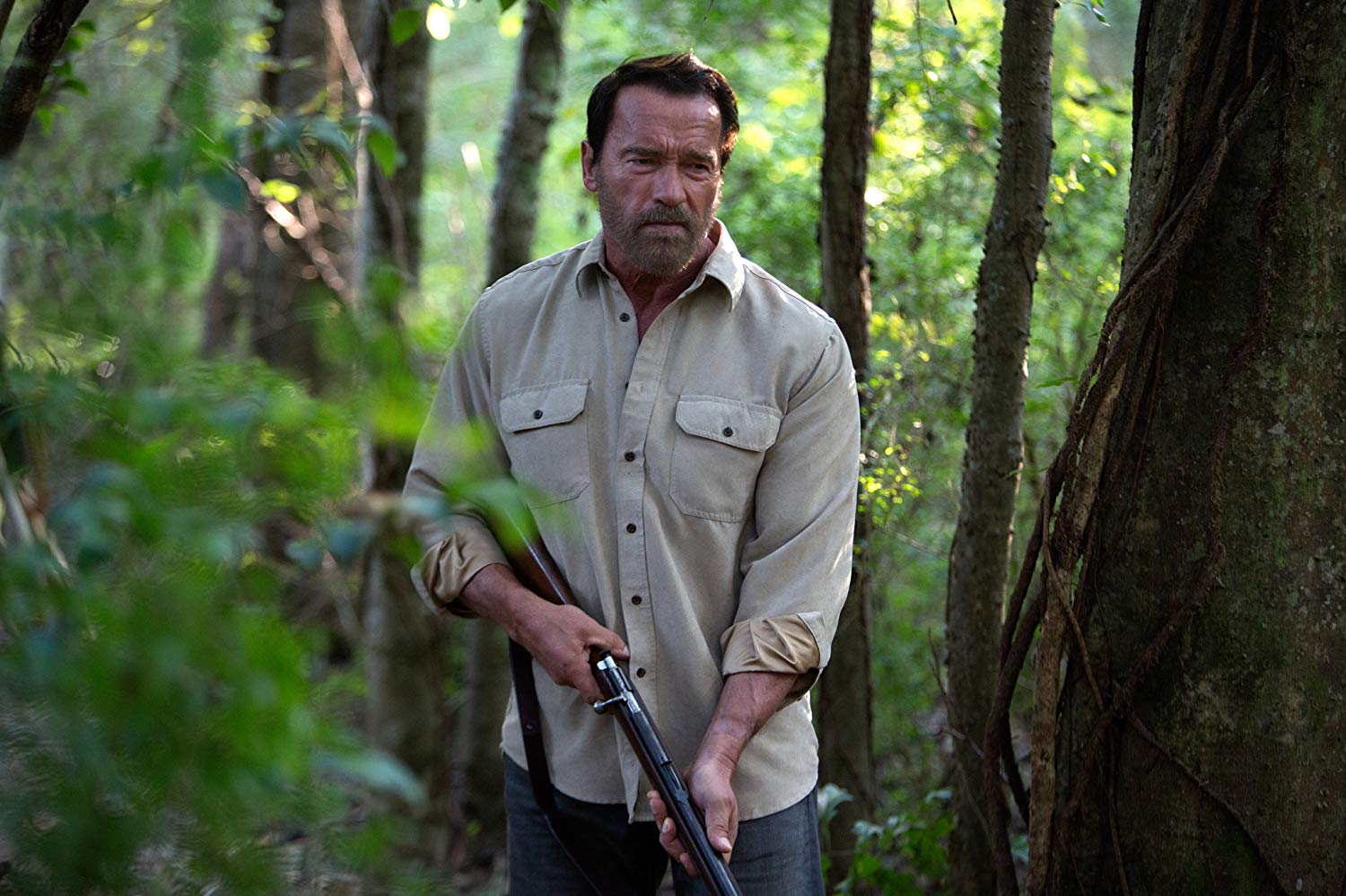 Beyond that, Maggie is also something different to what we expect of a zombie film. Rather than wading knee-deep through gore or taking enormous enthusiasm in the ways that zombies can be despatched, it is a slow, internal character piece that focuses on the relationship between a father and his daughter. The film is a directorial debut by Henry Hobson, previously a credits designer on a number of films and tv series including tv's The Walking Dead (2010– ) and various films, as well as a graphics designer for the Academy Awards. Hobson approaches the zombie film as something muted, a Midwestern drama – one was immediately reminded of the similar things that Jim Mickle did with the vampire film in Stake Land (2010) – where the story and its effect grows out of the characters and environment.
One of the more striking things about the film is just how low-key a zombie outbreak is regarded in contrast to everything else the zombie genre has conducted – there is a scene where Abigail Breslin's friend Radeen Greer turns up to invite her to a party and we expect everything to go sideways where instead the teens sit around doing what teens do as we see that others among the group also have the marks of infection. This is a zombie film that rarely gets gory – although there is one ick moment where Abigail Breslin cuts her finger off.
The only weak part about is the ending, which you feel is one that conveniently circumvents the moral issues that the film has been building up to in having Schwarzenegger have to do the unthinkable and kill his daughter.
---
---