---
Crew
Director – Aaron B. Koontz, Screenplay – Cameron Burns & Aaron B. Koontz, Producers – Aaron B. Koontz, Andrew Van Den Houten & Amir Zbeda, Photography – Chris Heinrich, Music – Steve Moore, Visual Effects – ZP Studios (Supervisor – Zach Passero), Special Effects – Spectrum Effects (Supervisor – Matt Kutcher), Makeup Effects – Beki Ingram & Robert Kurtzman's Creature Corps, Production Design – Maxwell Nalevansky. Production Company – Hood River Entertainment/Paper Street Pictures/4 Pete's Sake Pictures.
Cast
Christopher Denham (Jack Zeller), Nadja Bobyleva (Claire Zeller), Noah Segan (Walt), Catherine Curtin (Detective Dawson), Chase Williamson (Detective Ford), Jeremy King (Tad Buckley), Andrew Sensening (Charlie Hibbert), Carol Sutton (Dr Vogel), Rebekah Downs (Jill), Gretchen Lodge (Shannon), Charlie Talbert (Creepy Guy), Lance E. Nichols (Lieutenant Vincent), Dane Rhodes (Camera Store Manager)
---
Plot
Jack Zeller is a war photographer who has returned to civilian life but is suffering from PTSD and has not held a job for months. His wife Claire buys him a classic camera at an auction in an attempt to get him out of his rut. Jack shoots some photos but when he takes them to the lab, they report that they were damaged. Afterwards in examining the photos, Jack discovers that they all depict dead bodies in local settings. While trying to locate a building site in one of the photos, Jack is witness as a body falls in the exact same spot as in the photo. Jack realises that the camera predicts deaths ahead of time. He is able to use this to save a woman from a fire. He then finds that Claire's murdered body keeps appearing in the photos. In order to save her life, Jack has to kill other people and substitute their bodies for hers before the time stamp on the photo comes about.
---
Camera Obscura was the directorial debut of Aaron B. Koontz. It is based on Koontz's short film Aperture (2015) where he was given money to expand it to a feature film. Koontz subsequently went on to direct the horror Western The Pale Door (2020) and produce the horror anthology Scare Package (2019) and direct the Rad Chad's Horror Emporium, Horror Hypothesis episode, along with producing the films Old Man (2022), The Requin (2022) and Revealer (2022).
On a similar theme to this there was The Twilight Zone episode A Most Unusual Camera (1960) about a camera that predicts events five minutes in the future and the film Time Lapse (2014) about the camera that takes pictures 24 hours into the future. That said, the premise of Camera Obscura – a camera that predicts deaths ahead of time – is an original one. There is an undeniable fascination to seeing the rules of what is happening play out. The film finds its heart of darkness from about the point that Christopher Denham starts going to extremes to prevent wife Nadja Bobyleva from becoming the next victim. A very similar premise was subsequently used in Polaroid (2019).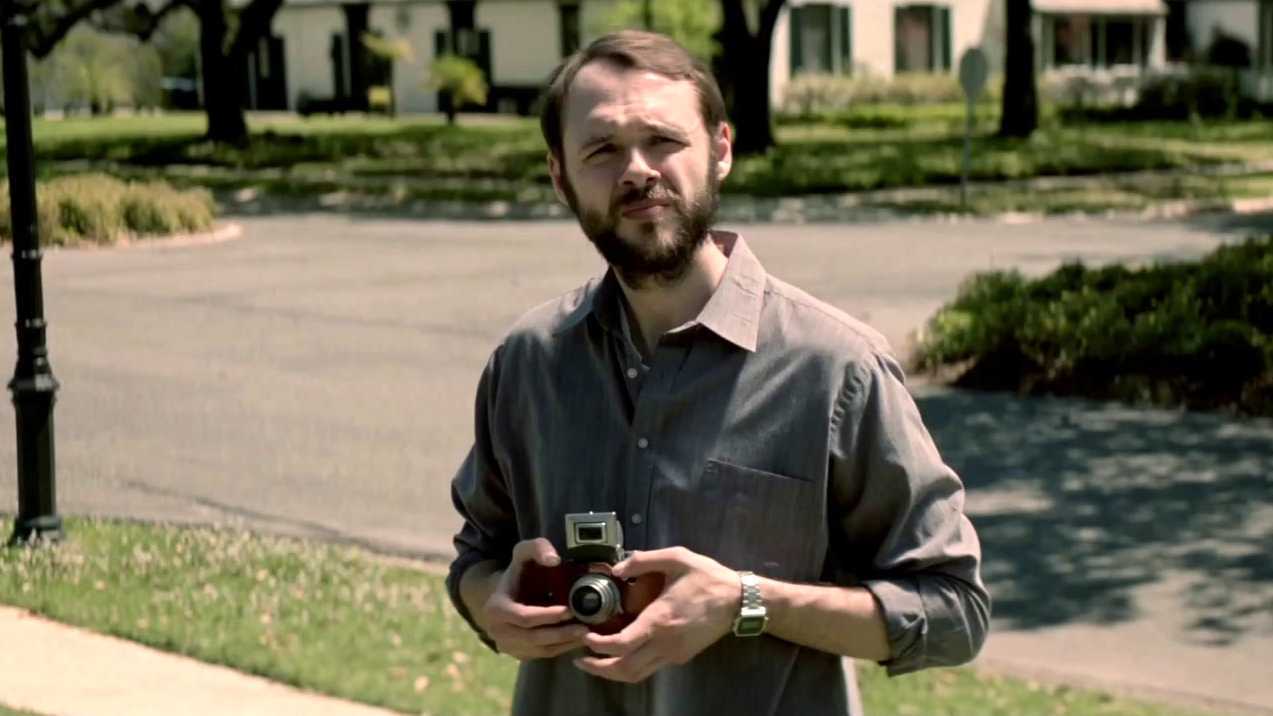 Aaron B. Koontz is a journeyman director and so you often get the feeling that someone more experienced might have tightened the film or drawn us into much more of a dark obsessiveness. Nevertheless, there are aspects of it that work very well. There are often quite subtle and effective directorial moments – like the scene where Christopher Denham is searching a construction site for where the body was only for it to fall in the background and he suddenly realise that the pictures predict deaths before they happen. Or the grim scene with Christopher Denham bashing the head of the imprisoned creepy guy (Charlie Talbert) in with a barbell weight and then standing over the body with the blood covered photo pleading "Please change." The sequence where Denham takes hardware store manager Jeremy King to the empty house and tries to kill him only for King to keep refusing to die is admirable for the protracted determination of the two to keep on fighting.
Christopher Denham is an actor who has appeared in various roles since the early 2000s – he even co-wrote Oren Peli's Area 51 (2015) – and here comes with just the right degree of average ordinariness. Another film might have been tempted to cast a more handsome, good-looking name lead but the very fact that the film doesn't works even more towards its conviction.
---
---