aka Nightworld: Door of Hell
---
Crew
Director – Patricio Valladares, Screenplay – Barry Keating & Milan Konjevic, Story – Loris Curci, Producers – Loris Curci & Silvester Yordanov, Photography – Pau Mirabet, Music – Luc Suarez, Special Effects – Ludmil Ivanov, Ludmil Nikolov, Sofia Rukova, Aleksandr Zdravkov & Emil Zdravkov, Production Design – Rossitza Bakeva. Production Company – Open Frames.
Cast
Jason London (Brett Anderson), Robert Englund (Jacob Keaton), Lorina Kamburova (Zara), Gianni Capaldi (Martin Barker), Diana Lyubenova (Ana), Atanas Srebrev (Alex), Nikolay Valentinov Lukanov (Goran Stoichkov), John Strong (Isaac Pritchard)
---
Plot
Brett Anderson is a former US police officer living in Varna, Bulgaria. He has slumped into himself following the suicide of his Bulgarian wife Ana. He is persuaded by his friend Alex to take a job as security for an apartment building in Sofia. There Brett finds that he is required to sit and watch a bank of video monitors. These only show the view of a locked area in the basement that is in near darkness and he is told to never go down there. Settling in, Brett puzzles over the nature of the job and the lack of details he is given. He becomes involved with the neighbouring barista Zara. Despite being assured that nothing has ever moved on the monitor before, he then begins to see shapes moving in the darkness.
---
Chilean director Patricio Valladares initially appeared with the horror anthology Dirty Love (2009), the post-apocalyptic film The Creation (2009) and the mob revenge film Toro Loco (2011) before gaining international exposure with Hidden in the Woods (2012). He was brought to the US to handle the English-language remake Hidden in the Woods (2014) and went on to several other horror films with Downhill (2016), Vlad's Legacy (2016), Embryo (2020) and Invoking Yell (2023). Nightworld was produced by the Bulgarian-based company Open Frames and shot in Bulgaria.
Nightworld comes with one of the best openings of any genre film I have seen in some time. Jason London accepts a job in Sofia as a security guard at a mysterious apartment. The job seems to only consist of watching tv monitors of the area in darkness behind a large set of sealed doors in the basement. He is to call a special number if he sees anything move but is told not to worry because nothing ever does. He settles in – only to then see mysterious shapes moving about on the monitor.
For well over half the running time, you are still trying to work out what is going on in the apartment building, what the job entails and what is on the other side of the door. Patricio Vallardes does a fantastic job in building up the mood of mysteriousness about the cryptically detailed job, warnings about never going down and hints of what it could be amid a brooding ominousness and teasing of expectation. Not to mention an appearance from Robert Englund as a blind man who used to do Jason London's job. There are a series of undeniable jumps – when Englund's hand comes out of the frame like a claw to unexpectedly touch Jason London on the shoulder; a dream sequence where London is having sex with Lorina Kamburova only for her throat to gash open as she rides him, covering him in torrents of blood.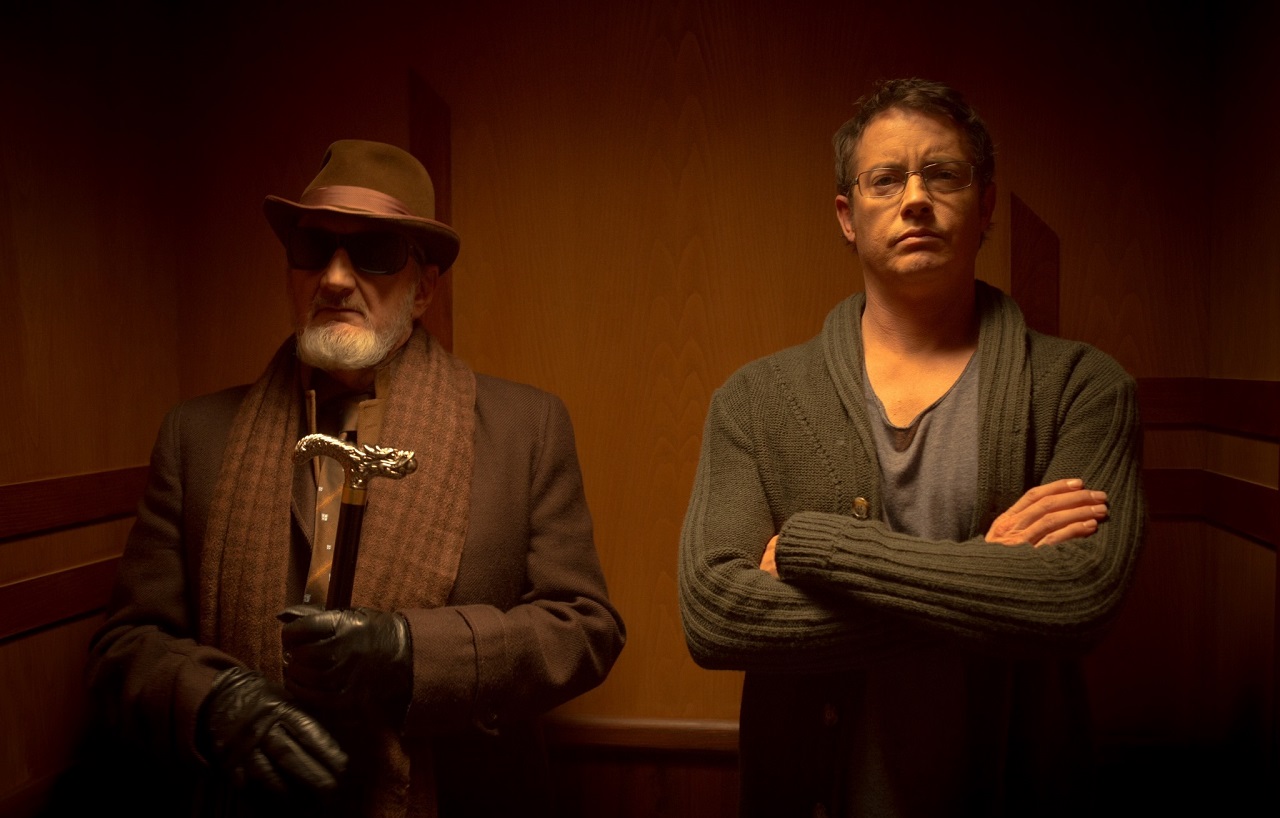 What is eventually revealed is [PLOT SPOILERS] that what is in the basement is a Portal leading to The Afterlife. This is an idea that has turned up in several films before most notedly The Sentinel (1977) and The Beyond (1981), elements of which are echoed here – the portal in an unassuming apartment building; the selected guardian; the portal being opened to spill the dead out at the end.
Where Nightworld falters is that it is a great build-up but the third act never quite delivers on that. There is an undeniably spooky scene where London, Englund, Lorina and Atanas Srebrev venture into the opened door – all minimalistically represented by them simply walking into what looks like a soundstage with the lights turned off. There's a great jump where they turn around to find the dead waiting there. However, the scenes with Jason London fighting his resurrected wife Diana Lyubenova seem a weak payoff on all of the promise. It feels like a film that almost demands a much bigger, more epical climax than that. Nevertheless, the fadeout with all the dead looking down on Jason London from the windows of the apartment building is undeniably effective.

---
Trailer here
---