USA. 2017.
Crew
Director/Screenplay – Adam Green, Producers – Sarah Elbert, Cory Neal & Greg Newman, Photography – Jan-Michael Losada, Music – Jason Akers & Sam Ewing, Makeup Effects – Aunt Dolly's Garage (Supervisor – Robert Pendergast). Production Company – Dark Sky Films/arieScope Pictures.
Cast
Parry Shen (Andrew Yong), Kane Hodder (Victor Crowley), Dave Sheridan (Dillon McMaster), Laura Ortiz (Rose), Krystal Joy Brown (Sabrina), Felissa Rose (Kathleen), Katie Booth (Chloe Benjamin), Chase Williamson (Alex), Brian Quinn (Austin), Tiffany Shepis (Casey), Kelly Vrooman (Sue), Jonah Rey (Del), Tezz Yancey (J)
---
Plot
Andrew Yong, the sole survivor of the Honey Island Swamp Massacre ten years earlier, is on a talkshow and signing tour with his book about the experience. Even though he was cleared of any charges, people still believe he murdered all the others. At the same time, Chloe Benjamin is attempting to shoot a trailer to raise money to make a film about the massacre and tries to inveigle Andrew into appearing. Andrew's agent persuades him to accept an offer from a tv show who want him to reflect on his experience. Meanwhile, Chloe and her crew begin shooting in the swamp. Rose consults a YouTube clip to try and get the voodoo ritual used to raise Victor Crowley right, only for this to cause the plane with Andrew and the tv crew to crash as it flies overhead. As the film crew rush to aid those trapped aboard the plane, Victor Crowley rises from the dead and begins slaughtering people anew.
---
Victor Crowley was the fourth of the Hatchet films. The series was begun by Adam Green who directed/wrote Hatchet (2006) and Hatchet II (2010) then stepped back to merely write/produce Hatchet III (2013). Outside of the Hatchet series, Adam Green has also made Spiral (2007), a study in disturbed psychology; Frozen (2010), a survival horror about a trio of people trapped on a ski chairlift; the The Diary of Anne Frankenstein episode of the spoof horror anthology Chillerama (2011); and the Found Footage monster film Digging Up the Marrow (2014); as well as created/produced the tv series Holliston (2012-8). Green also produced the pregnancy horror film Grace (2009).
I was not a huge fan of the Hatchet films. They seemed construed as a homage to 1980s slasher films and consist of little beyond drenching the screen in as much blood as censorship would allow and as many cameos of familiar horror genre faces as could be packed in. With Victor Crowley, Adam Green goes with the tactic of this being a sequel where people are making a film/tv special about the events of the earlier film – a novelty twist that some other series such as several of the Scream sequels, Wes Craven's New Nightmare (1994) and Halloween: Resurrection (2002) have used to mix things up.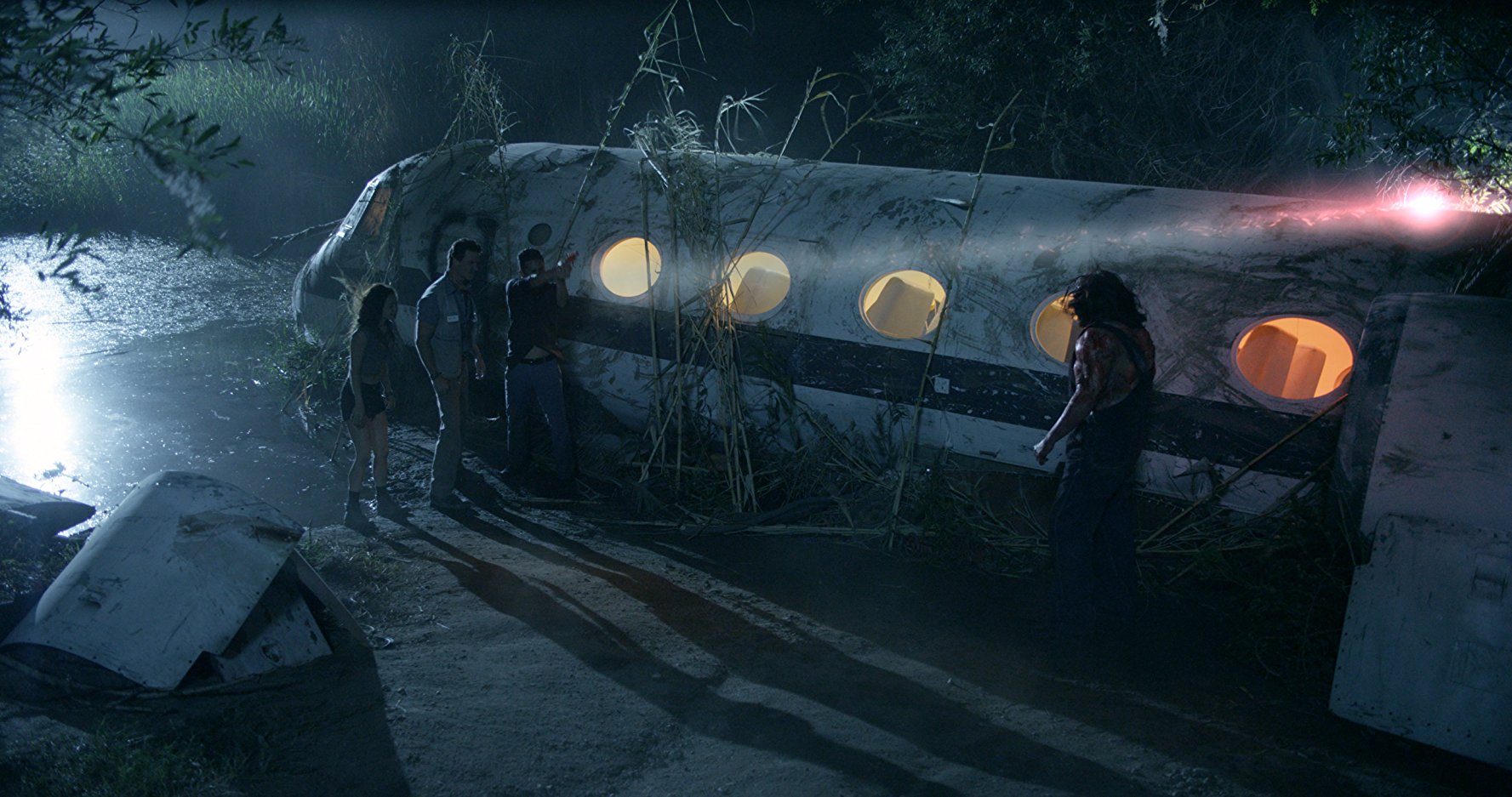 Green also introduces far more humour than in all of the previous Hatchet films combined. He has set out to skewer a set of film/tv set hangers-on – the eager wannabe director, the tranquilizer-addled publicist, the self-absorbed talkshow hostess and so forth. Green gives each of the characters hilariously bitchy and cutting dialogue – of which Felissa Rose, once the gender-confused lead of Sleepaway Camp (1983) reveals a heretofore unknown potential for comedy in her role as said agent/publicist. Green takes the time to thoroughly skewer the characters reactions to the events happening around them, plus throw in a number of potent digs at the vapidity of celebrity culture and the YouTube generation.
Green keeps the bulk of the film economically contained inside a small crashed private jet. There is some but never too much venture beyond that into the surrounding swamps. As before, Green layers on the splatter at levels that would make other filmmakers balk. Victor Crowley is never quite as extreme as some of the earlier Hatchet films, nevertheless that are memorable set-pieces such as Kelly Vrooman being held down and having her head and all of her limbs severed with an axe in the prologue; one character who has a hand holding a cellphone impaled up through her body and left coming out her mouth – and a rather funny aftermath where others are forced to prise the phone out of the hand only to realise they don't have the password; and a climactic scene that involves feeding multiple bodies into a jet engine.
There are slightly less of the familiar genre cameos this time around. Aside from Kane Hodder back as Victor Crowley again, Parry Shan who has played a different role in each of the Hatchet films, and the aforementioned Felissa Rose, we also have appearances from Scream Queen Tiffany Shepis as the member of the crew trapped in the plane seat; director Joe Lynch of Wrong Turn 2: Dead End (2007) and Mayhem (2017) fame, as one of the pilots; comedy actor Dave Sheridan who has appeared in Scary Movie (2000) and The Devil's Rejects (2005); and Tyler Mane who was Michael Meyers in Halloween (2007) and Halloween II (2009).
---
---