---
Crew
Director – John Shepphird, Screenplay – Steve Jankowski & John Shepphird, Producers – Steve Jankowski & Jeffrey Schenck, Photography – Neal Brown, Music – Penka Kouneva, Visual Effects/Animation – BFX Imageworks (Supervisors – BenniQue Blasini & Steven M. Blasini), Special Effects – Bill Davies, Creature/Makeup Effects – Active Imaginations (Supervisors – Ken Niederbaumer & Mark Viniello), Production Design – Laird Pulver. Production Company – Regent Productions.
Cast
John Rhys-Davies (Captain Randolph), Dylan Neal (Lance Thompson), Giancarlo Esposito (Dr Pena), Chelan Simmons (Jenny Randolph), David Millbern (Ricky McGraw), Paula Shaw (Millie Hartman), Mark Viniello (Chupacabra), Joe Miller (Officer Hamilton), Matt Anderson (Commander Link), Jason Pasquale (Eddie), Kyle Lemire (Jojo), Steve Jankowski (Admiral Williams)
---
Plot
In South America, the cryptozoologist Dr Pena succeeds in capturing a chupacabra, He has it tranquilised and crated up to be shipped back to the USA aboard the cruiser liner Regal Queen. Meanwhile, the Regal Queen's Captain Randolph has marshal Lance Thompson brought aboard undercover to investigate a series of robberies. As they set sail, two of the crew inadvertently free the chupacabra from the hold. It immediately begins slaughtering the passengers and crew, proving unstoppable against anything they bring against it.
---
Chupacabra Terror was a video-released horror film. It looks exactly like dozens of others that are churned out for the Syfy Channel, although does come with the attention-grabbing one-line premise 'Chupacabre on a Cruise Liner'. (Although why a scientist would use a cruise liner to transport dangerous animals as opposed to a cargo vessel – or even for that matter how he had any idea he would ever get it past US customs – is an exceedingly good question).
The film is cheaply made. The sets for the cruise liner look cheap and shabby, particularly when it comes to the casino. The creature effects at least are passable. That said, there is nothing interesting about Chupacabra Terror as a monster movie. It is formulaic and generic in every regard. The monster, for instance, could easily be replaced by a Bigfoot or an alien invader for all the difference it makes to the film.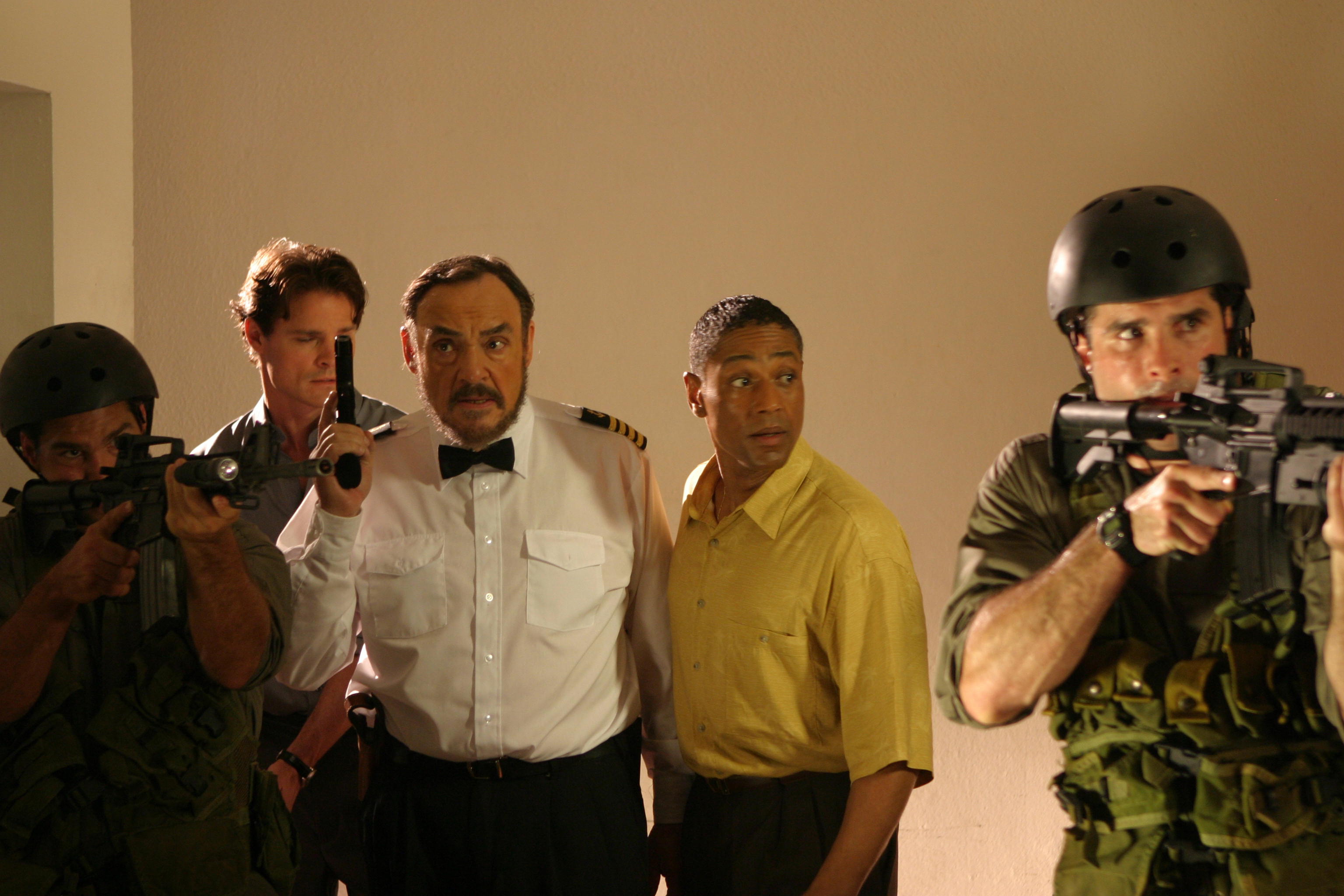 Headlining the film is John Rhys-Davies who was then enjoying a career boost following the success of the Lord of the Rings films. One of the most eye-opening names in the cast is Giancarlo Esposito, a few years away from attaining fame as the druglord Gus Frign on tv's Breaking Bad (2008-13), who plays the cryptozoologist. Also in the cast playing John Rhys-Davies' daughter is Canadian actress Clelan Simmons, the grown-up version of the kid who was killed at the start of the original tv version of It (1990).
Director John Shepphird has mostly made video and cable-released films in a variety of genres beginning with Teenage Bonnie and Klepto Clyde (1993). His other genre works include the sf film Firestorm (1997) and Jersey Shore Shark Attack (2012).
---
---