aka Caved In: Prehistoric Terror
---
USA. 2006.
Crew
Director – Rick Pepin [Richard Pepin], Screenplay – David Marie Edwards, Producer – Lisa Hansen, Photography – Adolfo Bartoli, Music – Aldo Shllaku, Visual Effects – Digital Slaves VFX (Supervisors – Keith Hamilton & Julia K.S. Miles), Special Effects Supervisor – Mihai Reti, Makeup Effects – The Healy FX Studio, Production Design – John Welbanks. Production Company – CineTel Films/Sci Fi Pictures/Caved In Films A.V.V.
Cast
Christopher Atkins (John Palmer), David Palffy (Marcel), Colm Meaney (Vincent), Angela Featherstone (Samantha Palmer), Chelan Simmons (Emily Palmer), Monica Birladeanu (Sophia), Marius Chivu (Hanz), Stevie Mitchell (Miles Palmer), Cristian Popa (Stephan), Tudor Vlad Jipa (Carlo), Razvan Popa (Muller)
---
Plot
John Palmer, one of the world's top spelunking guides, is about to depart on vacation with his wife and two children when he receives a substantial offer from Vincent to lead a team down into the abandoned Avreyes Salt Mine in Switzerland. However, once the expedition gets underway, Palmer discovers that Vincent's men are a group of criminals who are searching for a cache of emeralds that is buried in the mine. Moreover, the leader of the group Marcel has ordered his men to take Palmer's family hostage on the surface to ensure his cooperation. What none of them have reckoned with is the horde of giant beetles that live down in the depths of the mine.
---
Caved In is one of the films from Richard Pepin, a prolific director of B-budgeted sf/action hybrids during the 1990s. His films have included the likes of CyberTracker (1994), Dark Breed (1995), Hologram Man (1995), The Silencers (1996), The Sender (1997) and a number of others. (See below for Richard Pepin's other films). Pepin's directorial output has slowed in the 00s, where he spent more time as a producing capacity with his Sci Fi Pictures production company, while he appears to have dropped off the radar after 2009. He returned to the director's chair with Caved In, a co-production with CineTel films, the producers of a number of low-budget action films. Notedly, this time Pepin lists himself as Rick as opposed to Richard Pepin as he does on all his other films. Caved In has been Pepin's last credited film to date.
Caved In was almost certainly inspired by the spate of underground horror films that came out in 2005, including the sleeper hit of The Descent (2005) and others such as The Cave (2005) and The Cavern/Within (2005), all featuring cavers encountering troglodytes of some form (usually of humanoid origin). Caved In adds something to the mix that takes everything into the realm of the cheesily preposterous – the idea of the spelunkers being attacked by a horde of giant beetles that have been hiding in a salt mine.
Caved In is routine in all regards. The first half of the film up until the beetles get loose seems filled with routine set pieces designed to create suspense at regular intervals – people nearly falling out of the elevator cage, a horde of roaches appearing out of the wall. Pepin piles on a reasonably high level of gore, including a nifty shot of the beetles snipping Cristian Popa's head clean off.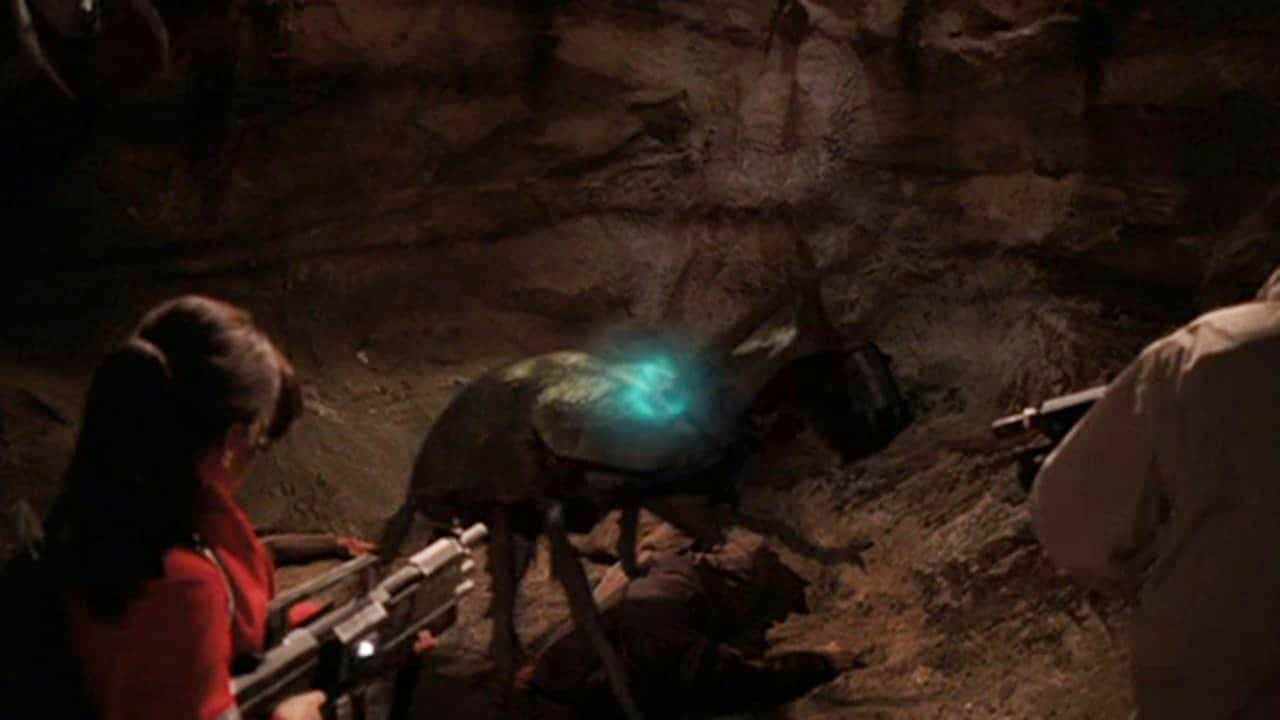 Unlike The Descent, The Cave et al, Caved In has not gone on location in genuine caves but was shot on a studio set in Romania. Unfortunately, the difference between the two is apparent – the mine floors here look too flat and the walls just too clean to seem like real cave locations. The plot is written to the predictably formulaic – a series of routine suspense set-pieces and betrayals to keep drama going below ground, the B plot of the family being taken hostage above ground.
The film assembles a typical cast for this type of fare. There is 1980s teen heartthrob Christopher Atkins who has at last grown up and matured into leading man looks where he holds the show reasonably well. There is also former Star Trek: Deep Space Nine (1993-9) regular Colm Meaney. Meaney has proven himself as an actor capable of maintaining his own outside of Trek fandom, although gives all evidence of slumming it here.
Richard Pepin's other films of genre note are:– Cyber Tracker (1994), Firepower (1994), Cybertracker 2 (1995), Dark Breed (1995), Hologram Man (1995), T-Force (1995), The Silencers (1996), The Sender (1997), Y2K/Terminal Countdown (1999) and Mindstorm (2001). PM Entertainment has produced some 80 plus films, almost all being action films. Their other genre productions include Death By Dialogue (1988), Hollow Gate (1988), The Art of Dying (1991), Alien Intruder (1993), CIA: Code Name Alexa (1993), CIA II: Target Alexa (1994), The Power Within (1995), Steel Frontier (1995), Rage (1996), Sutures (2009), as well as the children's films Storybook (1995), Two Bits and Pepper (1995) and Little Bigfoot (1997).
---
Trailer here
---