---
USA. 1993.
Crew
Director – R.J. Kizer, Screenplay – George T. Le Brun, Story – George T. Le Brun & Mike Norris, Producer – Gary M. Bettman, Photography – Glenn Kershaw, Music – John Massari, Special Effects – Guy Faria, Prosthetic Makeup – Todd Masters, Production Design – Nikko Preovolos. Production Company – Trans Atlantic Entertainment/Bennett.
Cast
Mike Norris (Matt Collins), Billy Drago (Danton Vachs), Chad McQueen ('Skylord' Harris), Don Swayze (John Blackwell), Isabel Glasser (Lauren Sadler), Elizabeth Fong Sung (Ms Ling), George Kee Cheung (Mr Chen), Donegan Smith (Temple), Henry Kingi (Apache), Victor Quintero (Iceman), Branscombe Richmond (Mr Cross), Dennis Lipscomb (Jessup), Tammy Stones (Cindy Macklin)
---
Plot
Former Special Forces operative Matt Collins wins the Survival of the Fittest race in San Diego, which has him labelled the toughest man in the world. He and his girlfriend Lauren Sadler are then abducted by heavies and taken to a remote island owned by wealthy Danton Vachs. Vachs announces that he has called a hunt, for which four hunters has each paid a sizeable fee. The target of the hunt is to be Matt. Lauren is held a prisoner by Vachs to ensure Matt's cooperation. The hunt begins. However, while his hunters have a range of weapons, Matt only has his bare hands and wits to fight for his survival.
---
Death Ring is a variant on the oft-filmed The Most Dangerous Game (1932), which was in turn based on a 1924 short story by Richard Connell. The Most Dangerous Game is a classic horror story about a man who is shipwrecked on the island of a Russian aristocrat Count Zaroff who likes to hunt 'the most dangerous game' – human being – and is forced to survive unarmed while being pursued by Zaroff and his dogs.
The Most Dangerous Game has been remade several times as A Game of Death (1945) and Run for the Sun (1956). In the 1980s and 90s, the story gravitated into the realm of the action movie first with Avenging Force (1986), followed by Hard Target (1993), Death Ring, Surviving the Game (1994) and The Eliminator (2004), which all had the hunting of humans turned into a private sport for a rich elite, and The Condemned (2007), which added reality tv to the mix. With Predator (1987) and Star Hunter (1995), Count Zaroff was replaced by an alien, while the premise transposed onto an alien planet in Slave Girls Beyond Infinity (1987).
Death Ring was directed by R.J. Kizer. R.J. Kizer had previously shot the American inserts for Godzilla 1985 (1984) and co-directed the hilarious Hell Comes to Frogtown (1987), although has failed to do anything subsequently and now works as a sound editor. Death Ring is made entirely to formula. There is a predictably solid hero, a predictably foppish and overacted villain and his lethal henchwoman (the film even makes a nod to the James Bond film Diamonds Are Forever (1971) and names two of the henchwomen Bambi and Thumper), a combat sequence every few minutes culminating in a climactic assault on the villain's mansion, a slew of gratuitous topless women and not much else.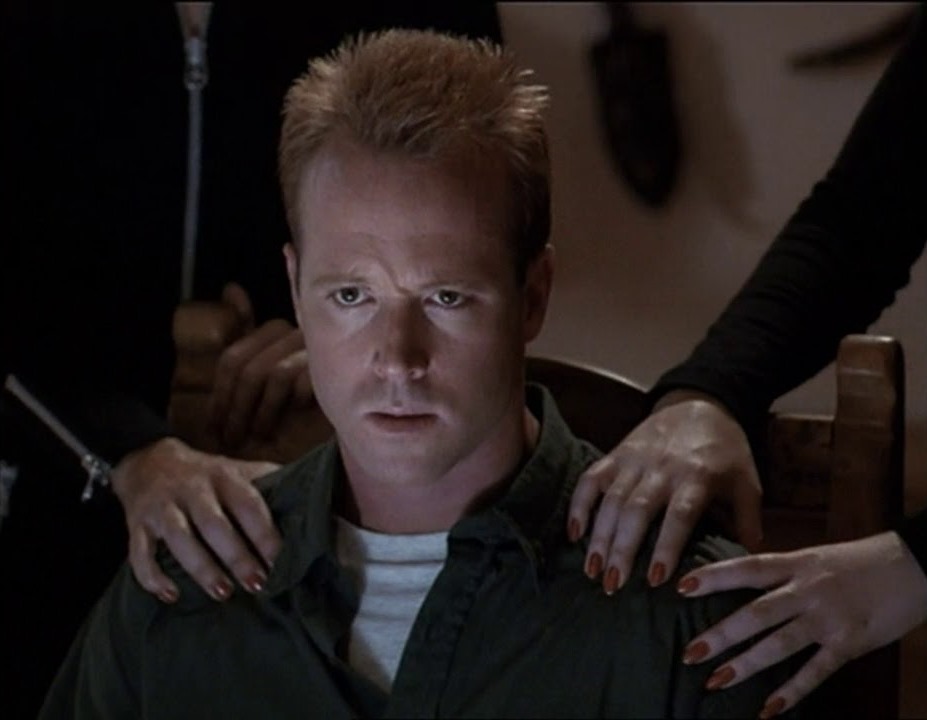 The dialogue is cheesy – "You Americans were always too weak with women," Elizabeth Fong Sung remonstrates Mike Norris in the midst of combat, whereupon he throws her out the window and comments "Ladies first." R.J. Kizer at least delivers up some action sequences that were competent for the era that Death Ring was made.
What is amusing about Death Ring is how it tries to convince us that it has much more of an A-list cast that it does – the video cover lists the surnames Norris, McQueen and Swayze, where the distributors are clearly hoping that if people did not look too closely they might end up thinking that the film stars Chuck Norris, Steve McQueen and Patrick Swayze rather than Chuck Norris's son Mike, Patrick Swayze's brother Don and Steve McQueen's son Chad.
Mike Norris certainly has a far more likeable presence and natural charisma than his father Chuck, whose macho presence tends to grate on screen. The perpetually over-the-top Billy Drago lets loose with typical regard – the guy always makes me think of a cartoon weasel – although Drago has at least found an outlet (a cheesy B movie) where his hammy theatrics are perfectly at home.
(Review copy provided courtesy of Ryan Kenner from Movies in the Attic).
---
---