aka Never Leave Alive
---
Crew
Director – Steven LaMorte, Screenplay – J. Amanda Sabater, Based on the Short Story by Richard Connell, Producers – Steven LaMorte & Jonathan Lee Smith, Photography – Ryan De Franco, Additional Photography – Dan Quill, Music – Daniel Silva & Joe Sloan, Visual Effects – Ross Arnold, Chris Clements & John Hamman, Makeup Effects – Christopher Dombos, Production Design – Michelle Baron. Production Company – Ante Up Productions.
Cast
John Hennigan (Rick Rainsford), Michelle Taylor (Anna Christie/Richards), Eric Etebari (Colonel Victor Zaroff), Joseph Gatt (Ivan), Alistair McKenzie (Thomas), J. Michael Evans (Samuel)
---
Plot
Rick Rainsford, a celebrity hunter who stars in his own reality tv show, leads the Wilderness Explorer cruise. Just as they are about to set sail, Rick turns up drunk and annoys guests with his egocentric behaviour. The ship then sinks at sea. Rick, along with the expedition's photographer Anna Christie and the wounded Samuel, wash up on an island. They are welcomed by the island's inhabitants Colonel Victor Zaroff, a former Russian military operative, and his associate Ivan. Zaroff has a love of hunting 'the most dangerous game' – the human being. He reveals that he staged the sinking of the ship so that he could lure Rick here as the next target in his hunt. With only their bare hands, Rick and Anna are forced to defend themselves on a run across the island as Zaroff and Ivan come hunting them.
---
Richard Connell's short story The Most Dangerous Game (1924) has become a classic. The story concerns a Russian aristocrat on a private island who enjoys hunting human game and a man who is forced to survive with only his bare hands. The classic film version was The Most Dangerous Game (1932) with Leslie Banks as Zaroff and Joel McCrea and Fay Wray on the run. This was remade several times – as A Game of Death (1945) and Run for the Sun (1956) where Zaroff became a Nazi instead of a Russian aristocrat, as well as exploitation ripoffs such as Bloodlust (1961) and The Woman Hunt (1973). Subsequent to this, there was another action-oriented version with The Most Dangerous Game (2022).
There have several unofficial translations such as Turkey Shoot (1983), where the concept was transferred into a totalitarian future prison setting; Slave Girls from Beyond Infinity (1987), which moved the story to an alien planet and the prey was bikini-clad bimbos; Predator (1987) and Star Hunter (1995) where Zaroff became an alien huntsman chasing human game; action movies such as Avenging Force (1986), Deadly Prey (1988), Death Ring (1993), Hard Target (1993), Surviving the Game (1994) and The Eliminator (2004); The Condemned (2007) and Turkey Shoot (2014), which turned the hunt into a reality tv show; and Darkweb (2016) where it was about selling snuff videos on the darknet; even The Hunt (2020) that has liberals hunting conservatives. (For a more complete listing see my essay Films About Human Bloodsports and Death Games).
Here the hero on the run is played by WWE wrestler John Hennigan who in a very contemporary touch is now made into the star of a reality tv big game hunting show. I developed a major dislike of Hennigan on the basis of his Asylum outing Sinbad and the War of the Furies (2016) where he was clearly taking none of the show seriously. The same attitude comes through in the opening scenes here where Hennigan, while he is playing more seriously, has been given orders to play the part of the reality tv star as a drunken jerk – only it is a role that Hennigan is unable to play very well and comes across with a broad obnoxiousness at the same time as none of it seems the slightest bit convincing.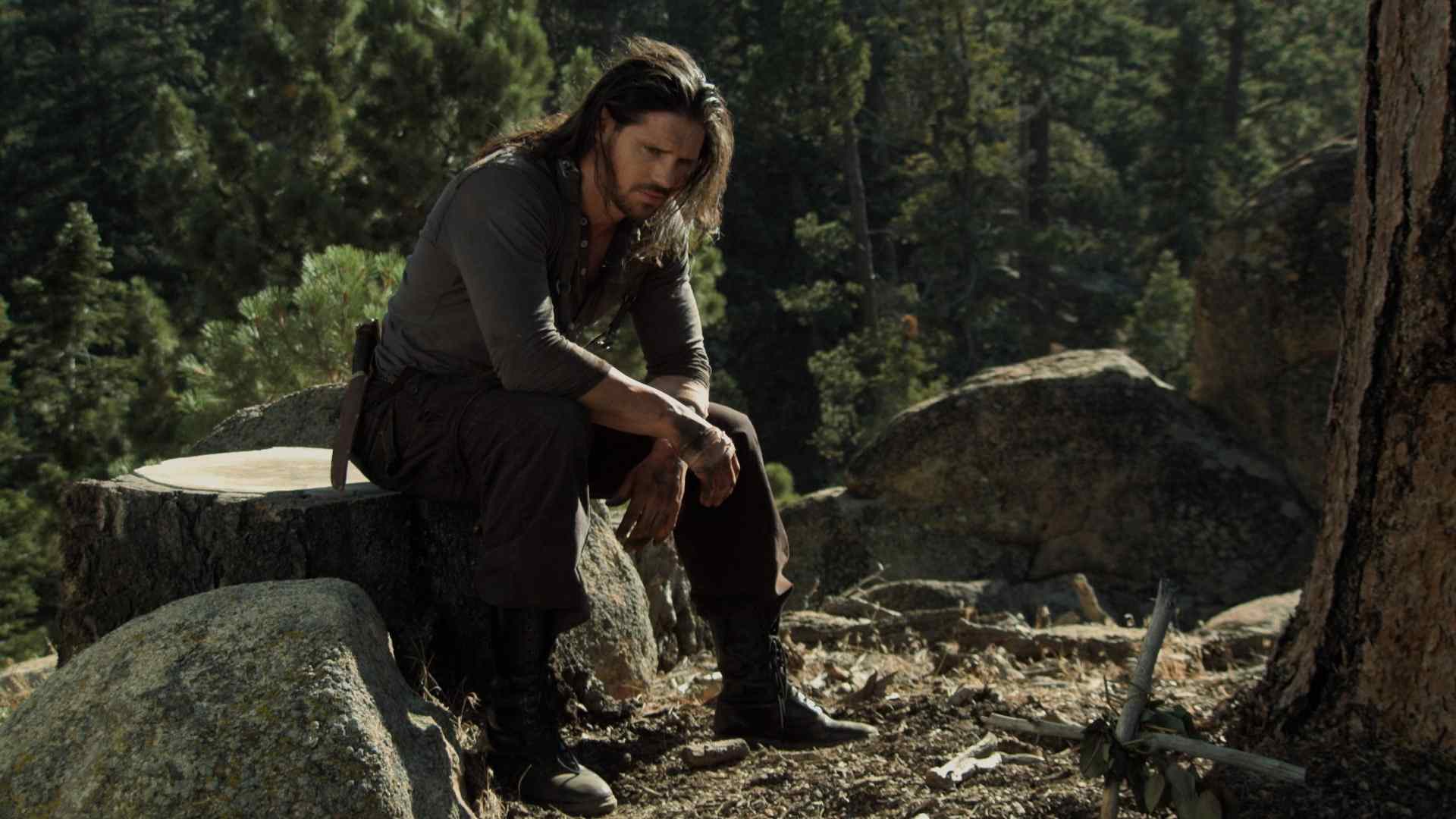 It is clear that this version of The Most Dangerous Game has been produced on a low-budget. The island location has only been shot around California's Big Bear Valley. Colonel Zaroff's home is no more than a small log cabin. Zaroff is without any of his famous hounds presumably in order to cut costs of hiring trained animals. A far better version of The Most Dangerous Game was the uncredited adaptation with Happy Hunting (2017) that came out the same year.
Aside from Hennigan, the only other known actor is Eric Etebari. Director Steven LaMorte may not have been able to afford Etebari for very long and so Zaroff's role has been minimised and is not much of a threat – his offsider Joseph Gatt (who plays with an intensity that holds your attention) actually gets far more of the action scenes and screen time and Zaroff only really enters the fray at the end.
The other odd thing about the film is that Steven LaMorte seems to prefer talk to action. It may well be that as a debuting director LaMorte lacked either the experience or the budget to create any decent action scenes but those he does present are minimal and of little interest. The Most Dangerous Game and usually any of its above listed variants are almost always a brutal game of survival as the protagonist is forced to defend himself with his bare hands – almost all of the modern variants on the story take place within the action genre. There is hardly any of that here – it feels more as though John Hennigan and Michelle Taylor are on a hike through the woods on a date where they are outfitted with one of those constantly bickering relationships that you know is going to turn to attraction by the end of the film.
---
---