---
Crew
Director – Dick Richards, Screenplay – Richard Rothstein, Producer – Elliott Kastner, Photography – Stephen H. Burum, Music – Dana Kaproff, Special Effects – Roy L. Downey, Art Direction – Allen H. Jones. Production Company – Universal.
Cast
Peter Billingsley (Billy Stanton), Catherine Hicks (Sally), Paul Le Mat (Mike), Stephen McHattie (Hal Pierson), A. Wilford Brimley (Sheriff Perry)
---
Plot
Young Billy Stanton joins his mother Sally and her boyfriend Mike on holiday as they travel through Death Valley in Arizona. When they stop by the roadside, Billy wanders off and finds a camper van containing the bodies of three victims that have just been slaughtered by a serial killer. Certain that Billy can identify him, the killer comes after them as they continue on.
---
Here we have a slasher film that presents itself with a degree of style and substance (and believe me by 1982, only two years after the slasher cycle had boomed, style and substance were in very short demand). With its plot centred around a child who is pursued by killers after becoming witness to a murder, this feels like it could be a slasher movie version of the subsequent high-profile Witness (1985).
Death Valley is not too badly directed – there are some particularly nice moments in a Western tourist town with the killer stalking young Peter Billingsley and being stopped in his pursuit to pose for tourist photos thought to be one of the town's gunslinger actors, and Billingsley's excitement afterwards thinking it was all part of the show.
Ultimately though, director Dick Richards is hamstrung by a weak script that hinges on silly plot elements – like why does the killer need to pursue Peter Billingsley so determinedly when Billingsley never even sees him at the scene of the crime, or why Catherine Hicks and Paul Le Mat seem suddenly inspired to leave their place of dinner and drive out to the killer's ranch. The characterisations are competent enough, although Peter Billingsley is far too precocious and resourceful for credibility's sake. In the end, Death Valley is just too routine to stand out.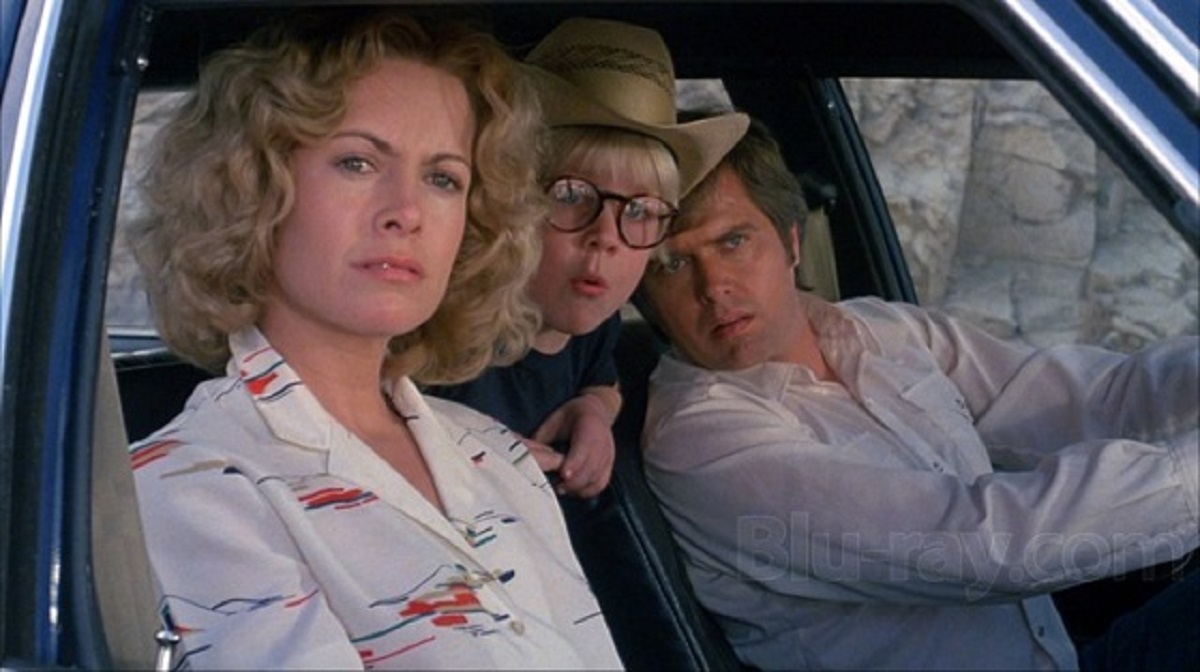 Dick Richards had made a handful of other films with The Culpepper Cattle Company (1972), Farewell, My Lovely (1975), Rafferty and the Gold Dust Twins (1975) and March or Die (1976). Richard Rothstein also wrote Human Experiments (1979), the tv movie Invitation to Hell (1984) and the high-profile action film Universal Soldier (1992), as well as directed the disastrous tv pilot for Bates Motel (1987).
Peter Billingsley went onto a handful of other roles as a child actor, most notably the lead in A Christmas Story (1984). More recently, he has emerged as a director with the comedy Couples Retreat (2009) and Term Life (2016) and as a producer including on Iron Man (2008) and varius tv shows. As the killer is a young Stephen McHattie who subsequently went onto a substantial career in genre roles in the 2010s.
---
---