aka Stirring
---
Crew
Director/Screenplay – Troy Escamilla, Producers – Troy Escamilla & Derek Huey, Photography – Derek Huey, Music – Mark D'Errico, Makeup Effects – Heather Benson. Production Company – FrightMeter Films.
Cast
Hailey J. Strader (Danielle), Brinke Stevens (Julie Cornell), Heather Bounds (Kayla), Billy Brannigan (Kyle), Ryan Poole (Grant Mosely), Mel Heflin (Angela Werner), Kaylee Williams (Amber), Jantel Fontenot (Monica), Jace Greenwood (Tyler), Helene Udy (Mrs Werner), Daiane Azura (Sophie Benson), Drew Shotwell (Jake), Ronni Lea (Alexandra), Minela Sljoka (Madison)
---
Plot
At the Delta Sigma Sigma sorority house, house head Amber plays a sexually humiliating hazing joke on Angela Werner. After Amber gives Angela a taunting Christmas card, Angela snaps, stabs Amber later that night and then hangs herself. Ten years later, Amber's sister Danielle has signed into Delta Sigma Sigma. It is nearing Christmas and the girls are planning to hold a party at the house. Danielle then receives a taunting Christmas rhyme and is harassed by Angela's deranged mother who insists that Angela was murdered. At the same time, someone starts killing their way through the girls of the sorority house.
---
The legacy of the Christmas horror film stretches all the way back to the All Through the House segment of Tales from the Crypt (1972) and what is regarded as the first slasher film Black Christmas (1974). The particular genre niche of the Christmas slasher took off with works like To All a Good Night (1980), Christmas Evil/You Better Watch Out (1980) and the classic Silent Night, Deadly Night (1984), which gets referenced here at one point. The modern slasher era has produced a number of Christmas-themed works such as Psycho Santa (2003), Silent Night (2012), All Through the House (2015), Christmas Slay (2015), Killer Christmas (2017) and two remakes of Black Christmas. (For a more detailed listing see Christmas Films).
Mrs. Claus is another of these modern Christmas slashers. The title is somewhat misleading and makes it sound more like it should be a family-oriented film about Santa's wife – something akin to the far more saccharine Mrs. Santa Claus (1996), Single Santa Seeks Mrs Claus (2004) and Finding Mrs. Claus (2012). We do get a killer who is wearing a mask, which is said to be a Mrs Claus mask, but that ends up being the sum relevance of the title.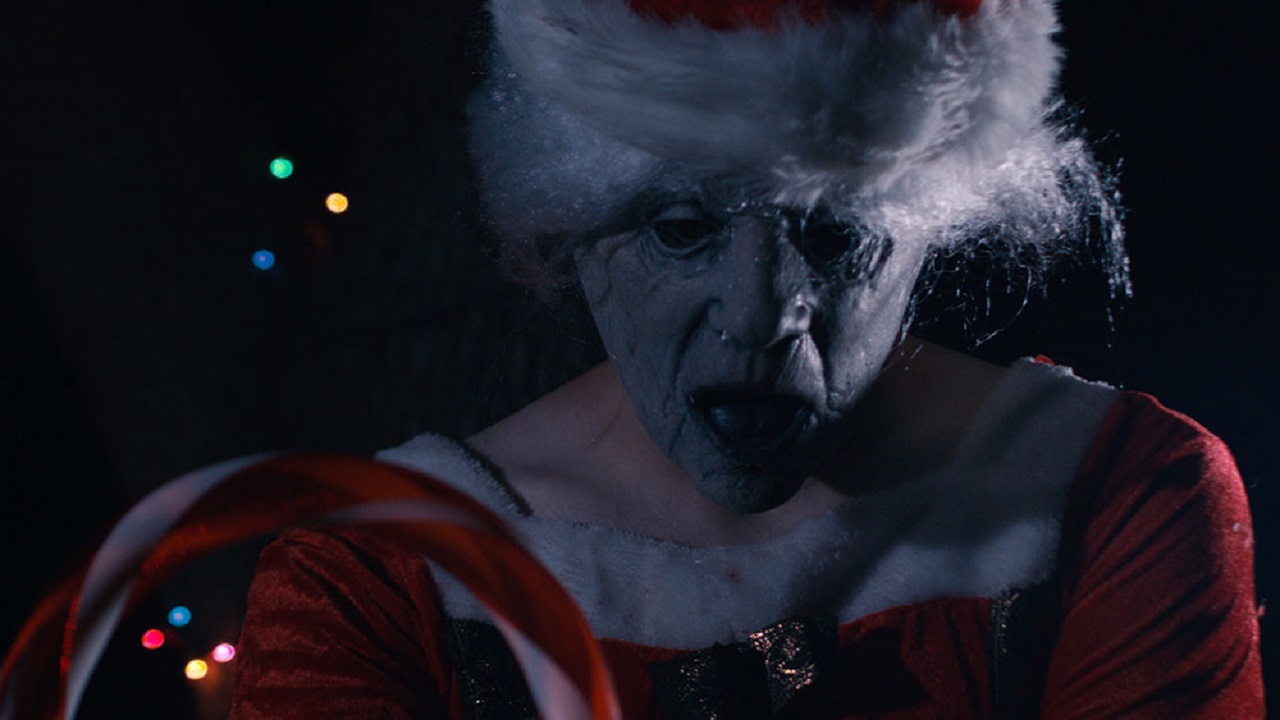 The prologue occurs over Christmas as does the main body of the film that takes place ten years later with the killer killing their way through the sorority girls using a variety of Christmas-themed accoutrements as weapons. This essentially makes Mrs. Claus not a huge amount different from the original Black Christmas, which had an almost identical plot about a killer slaughtering the girls of a sorority house over Christmas. About the only real difference is that this has more in the way of modern gore.
The film itself is passable. It is made on an economy budget where it looks as though the main set for the sorority was just a regular suburban home. The actors are passable, none of them terrible, and give their characters a smidgen more depth than we usually get. There are several gory deaths, mostly consisting of throats being slit. Overall the results are fairly negligible.
Troy Escamilla had previously made Party Night (2017) and the subsequent Teacher Shortage (2020), both slasher films as well.
---
Trailer here
---