---
Crew
Director/Screenplay/Photography – Gary Graver, Music – Roy Thorn. Production Company – A Gary Graver Production.
Cast
Jackelyn Giroux (Linda), Chris Graver (Christopher O'Keefe), Peter Jason (Malcolm O'Keefe), Carrie Snodgress (Joan O'Keefe Adams), David Carradine (Richard Adams), Steve Railsback (Bret), Jillian Kesner (Andrea), J.L. Clark (Bert), Catherine Coulson (Nurse Reeves), Paul Bartel & Jason Renard (Bums), John Blyth Barrymore (Mad Doctor)
---
Plot
Joan O'Keefe has her mentally unbalanced husband Malcolm dragged away in a strait-jacket and locked up in an asylum. Several years later. Linda, an aspiring actress, takes a babysitting job for Joan on Halloween Night, tending her son Christopher. As soon as Joan and her new husband depart, Linda must deal with the nightmare of Christopher constantly playing pranks on her. Meanwhile, Malcolm has made an escape from Western State Hospital after overpowering a nurse and taking her uniform. Added to Christopher's constant pranking, Linda must deal with phone calls from Malcolm as he announces he is on his way back home.
---
Gary Graver is a name that has been seen on hundreds of films as a cinematographer between the 1960s and right up until his death in 2006. He worked on many of the Z films of Al Adamson, a number of films for B-budget hackmesiter Fred Olen Ray and other efforts such as The Clones (1973), Invasion of the Bee Girls (1973), Mortuary (1983) and Twisted Nightmare (1987).
I have typed up Graver's name numerous times but what I was not aware of was that, besides Trick or Treats, he had directed another 141 films. That said, almost all of these are pornographic films. He did return to the horror genre a couple of other times as director in obscurities such as Moon in Scorpio (1987), Evil Spirits (1990) and Roots of Evil (1992) and one or two genre ventures into erotica with Love Ghost (1990) and Veronica 2030 (1999). What I did not know up until watching a documentary on the making of The Other Side of the Wind (2018) is that Graver had volunteered to work as cameraman for Orson Welles on his famous unfinished work and ended up having to take these other jobs to pay the bills.
Trick or Treats was a production that Graver financed himself, making it on a $55,000 budget, the majority of which he put up himself. Graver made most of the show in the home of actress Carrie Snodgress who also appears as the mother who has husband Peter Jason dragged away and locked up in the opening scenes and then hires Jackelyn Giroux to babysit.
It is fairly clear that Gary Graver took his inspiration from the slasher film of the day. The plot heavily echoes key films of the era such as Halloween (1978) and When a Stranger Calls (1979) – the maniac who escapes from the asylum and is determined to return home on Halloween night; his making taunting phone calls to the babysitter while she is alone in the house. All that seems missing is the pursuing detective/psychiatrist determined to stop the killer at all costs. (For a more detaiiled overview of the genre see Slasher Films).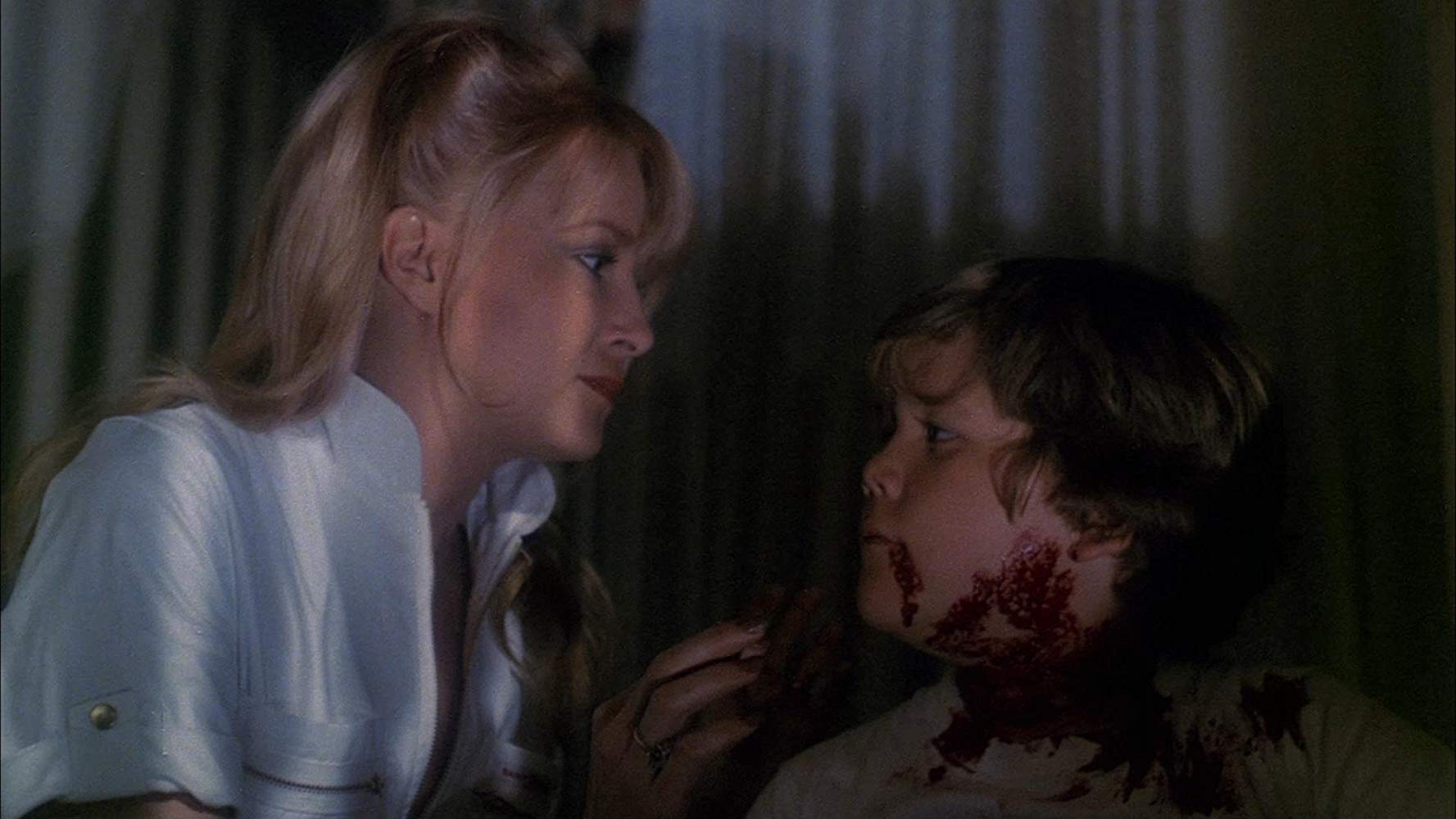 Gary Graver is not much of a director. In terms of style, he is workmanlike and Trick or Treats lacks anything in the way of memorable jolts. The film is also structured wrong – comparing it to its nearest likeness Halloween, nearly 70 minutes of the running time here is taken up by Jackelyn Giroux settling into the babysitting job and dealing with Chris Graver's pranks, interspersed with cuts back to the asylum and Peter Jason planning his escape, something that almost any other slasher film would get over and done with in the first tn minutes. The scenes with Peter Jason in the house threatening Jackelyn Giroux only come in the last twenty minutes. Most of the show is taken up by the scenes of Chris Graver (Gary's son) and his pranks, where it must be said that Graver Jr plays obnoxiousness to perfection.
The one thing that should be complemented is that Gary Graver has managed to obtain some great casting cameos, including from Carrie Snodgress as the mother; David Carradine as her second husband; Steve Raislback who was considered quite a hot name in the day and appears as Jackelyn Giroux's boyfriend (he was her husband in real life); director Paul Bartel of Death Race 2000 (1975) and Eating Raoul (1982) fame as a wino whose clothes Peter Jason steals; Catherine Coulson, later famous as the Log Lady in Twin Peaks (1990-1, 2017), as the nurse whose uniform Jason steals; and John Blyth Barrymore, one of the great acting Barrymore family, as the doctor at the asylum.
Trick or Treats should not be confused with several other films with the same title, including the heavy metal horror film Trick or Treat (1986) and the subsequent Halloween horror anthology Trick 'R Treat (2008).
---
---