---
Crew
Director – David Gordon Green, Screenplay – David Gordon Green, Danny McBride & Scott Teems, Producers – Malek Akkad, Bill Block & Jason Blum, Photography – Michael Simmonds, Music – Cody Carpenter, John Carpenter & Daniel Davies, Visual Effects – Cutting Edge (Supervisor – Simon Maddison), Special Effects Supervisor – Heath Hood, Makeup Effects Design – Christopher Nelson, Prosthetics – Vincent Van Dyke Effects, Production Design – Richard A. Wright. Production Company – Blumhouse Productions/Rough House Pictures.
Cast
Jamie Lee Curtis (Laurie Strode), Anthony Michael Hall (Tommy Doyle), James Jude Courtney (The Shape/Michael Myers), Judy Greer (Karen), Andi Matichak (Allyson), Will Patton (Officer Frank Hawkins), Thomas Mann (Young Hawkins), Robert Longstreet (Lonnie Elam), Dylan Arnold (Cameron Elam), Omar Dorsey (Sheriff Barker), Michael McDonald (Little John), Scott McArthur (Big John), Jim Cummings (Officer Pete McCabe), Michael Smallwood (Lance), Carmela McNeal (Vanessa), Kyle Richards (Lindsey Wallace), Charles Cyphers (Leigh Brackett), Nancy Stephens (Marion Chambers), Ross Bacon (Lance Tivoli), Lenny Clarke (Phil), Diva Taylor (Sondra)
---
Plot
Following the burning of her home, Laurie Strode is taken to hospital. She is certain that Michael Myers is dead. However, the firemen putting out the blaze are attacked by a still alive Michael. Michael then proceeds to slaughter his way through the streets of Haddonfield. Meanwhile, the now grown-up Tommy Doyle tries to organise the townspeople to stand up against Michael and kill him for once and all.
---
John Carpenter's Halloween (1978) is an undisputed genre classic. It has been enormously influential – the key influence it had was in its creation of the Slasher Film. There has been a long line of sequels under producer Moustapha Akkad with Halloween II (1981), Halloween 4: The Return of Michael Myers (1988), Halloween 5 (1989), Halloween: The Curse of Michael Myers (1995), Halloween H20: Twenty Years Later (1998) and Halloween: Resurrection (2002). Rob Zombie conducted a much disliked remake Halloween (2007), which produced a sequel Halloween II (2009).
Most recently, the series was revived with Halloween (2018) from Blumhouse under the late Moustapha Akkad's son Malek, director David Gordon Green, screenwriter Danny McBride and crucially with Jamie Lee Curtis brought back to the fold as Laurie Strode. This dispensed with the contorted continuity of the sequels and acted as a direct sequel to the original. The 2018 Halloween was a big box-office success. Similarly, Halloween Kills proved to be an unexpectedly sizeable box-office hit, even unseating James Bond in No Time to Die (2021). The same people returned to complete the trilogy with Halloween Ends (2022). I will openly admit that I wasn't a big fan of the 2018 film. My reasons are detailed in the above link – in short, David Gordon Green lacked the eerie suspense that John Carpenter gave the original.
With Halloween Kills, David Gordon Green and co recalibrate the approach they took with Halloween. One of the notable things about Halloween Kills is that it comes very much steeped in homage to the original. Aside from Jamie Lee Curtis back again and John Carpenter delivering the score (and both Carpenter and Curtis acting as executive producers), this also features other actors from the 1978 film including Kyle Richards, one of the kids from the original, Nancy Stephens and a very old Charles Cyphers who was the sheriff in the original. Into the bargain, we get Anthony Michael Hall as a grown-up version of Tommy Doyle and Robert Longstreet as the grown-up bully Lonnie (roles that were played by different actors in the original). There are flashbacks to the original incident in 1978 and a recreation of the Myers house where we also get a deep fake appearance from Donald Pleasence as Dr Loomis.
It is not long into Halloween Kills where David Gordon Green started to impress me far more than he did in the 2018 film. From the point that Michael emerges from the burning ruin of Jamie Lee Curtis's house and we see him slaughtering an entire contingent of firemen, impaling them on their axes, lifting bodies up into the air, all against the backdrop of the burning house and with shots stylishly seen through the visors of the fire helmets, I started for the first time to think David Gordon Green was doing something halfway watchable with the franchise.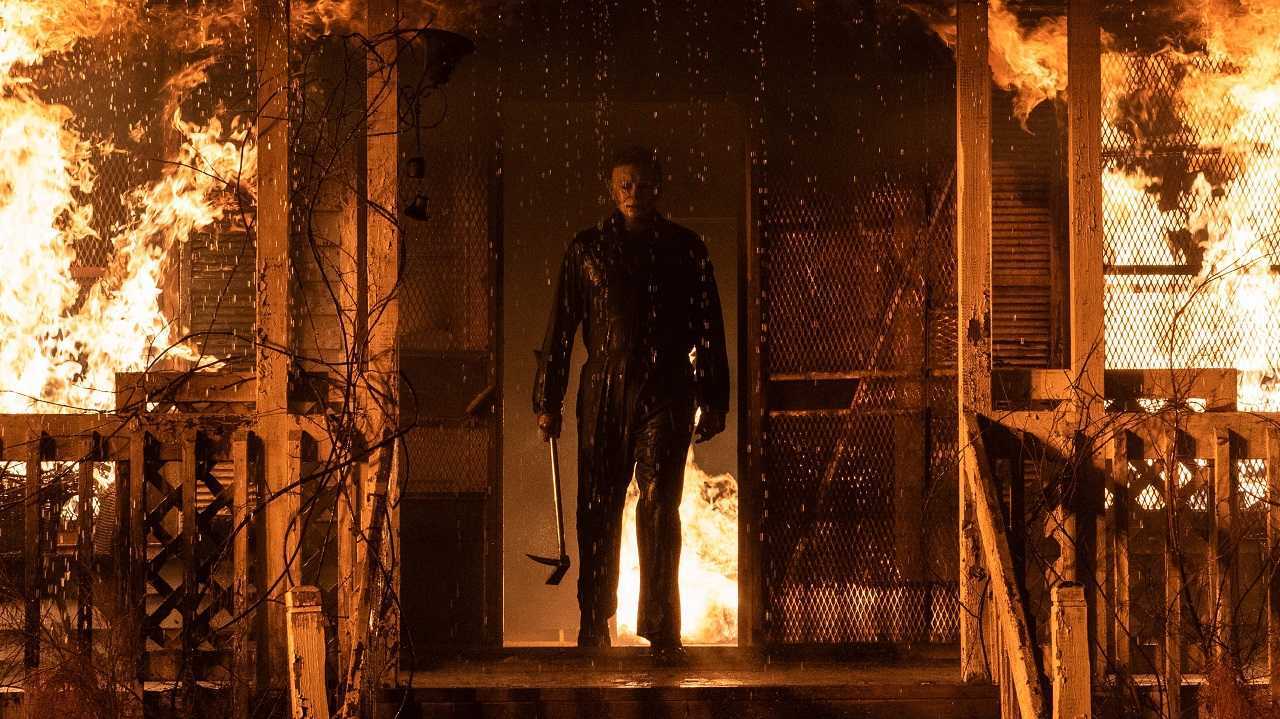 David Gordon Green delivers a range of deaths with an occasional stylishness. There is far more of an emphasis on brutal and savage deaths than we ever had in John Carpenter's original – this is more the Halloween of Rob Zombie than John Carpenter's eerie suspense. Although if anything I would place Green's contributions on a par with Rick Rosenthal in Halloween II, the best among the original sequels, which nevertheless began the slide from eerie suspense to serial slaughter scenes. That said, Green does reasonably with these. Michael is a quasi-supernatural Boogeyman once again.
The script follows directly on from the 2018 film in much the same way that Halloween II did from the 1978 film. Indeed, with Jamie Lee Curtis confined to the hospital for the duration of the show, I began to think we were in for a direct remake of Halloween II. In between all the usual deaths of victims, this has an interesting plot where Anthony Michael Hall gives an excellent performance as the obsessive grown-up version of Tommy Doyle (the kid who was babysat by Jamie Lee in the original) gathering the townspeople to finally corner and eliminate Michael Myers.
The disappointment of the film is [PLOT SPOILERS] that the big confrontation between Michael Myers and Jamie Lee Curtis it seems to build towards never happens. The townspeople are predictably slaughtered but the film ends with Jamie Lee still in hospital and Michael meaningfully looking out from the window of his old home, hinting at a promised confrontation. If nothing else, this makes the new Halloween saga one that has a predetermined story arc unlike all of the former sequels, which seem only centred around finding a reason to resurrect Michael Myers and have him kill some more people before being despatched again.
Elsewhere, David Gordon Green has made the comedies All the Real Girls (2003), Pineapple Express (2008), The Sitter (2011), Prince Avalanche (2013) and Our Brand is Crisis (2015), as well as several dramas with George Washington (2000), Undertow (2004), Snow Angels (2007), Joe (2013) and Manglehorn (2014). His one other genre film was the lame fantasy comedy Your Highness (2011). Green seems to have an interest in remaking classic horror properties and was at one point attached to direct the Suspiria (2018) remake and subsequently went on to revisit another classic horror franchise with The Exorcist: Believer (2023).
---
Trailer here
---