---
Crew
Director – Jack Sholder, Screenplay – Jack Sholder & Robert Shaye, Producer – Robert Shaye, Photography – Joseph Mangine, Music – Renato Serro, Makeup Effects – Tom Brumberger, Don Lumkin & Tom Savini, Art Direction – Peter Monroe. Production Company – New Line Cinema.
Cast
Dwight Schultz (Dr Dan Potter), Donald Pleasence (Leo Bain), Jack Palance (Colonel Frank Hawks), Martin Landau (Byron Sutcliffe), Erland Van Lidth (Frank 'Fatty' Eldridge), Deborah Hedwall (Nell Potter), Elizabeth Ward (Lylah Potter), Lee Taylor-Allan (Toni Potter), Philip Clark (Tom Smith), Carol Levy (Bunky)
---
Plot
Psychologist Dan Potter takes up a new job at the Haven asylum. However, the paranoid inmate Colonel Hawks believes that Potter has killed his predecessor, the charismatic Dr Leo Bain, and promises to kill Potter in return. Suddenly, the town's power supply fails, causing the asylum security ward's electronic locks to fail. Hawks and the rest of the psychopaths – Byron Sutcliffe, a preacher who likes to burn down churches with people in them; the obese child molester Fatty; and a fourth who doesn't like his face to be seen – simply walk out and head for Potter's place determined to kill him.
---
Alone in the Dark was one of the earliest produced by New Line Cinema, who since went onto become a major player in the American marketplace. (Indeed, the film is produced and co-written by subsequent New Line CEO Robert Shaye). It was clearly marketed as an attempt to jump aboard the early-1980s fad for slasher movies, although at least gave the promise of being more tongue-in-cheek than others of its ilk.
In premise, Alone in the Dark sounds great. It marshals a fabulous cast of B-movie veterans – Jack Palance, Martin Landau and Donald Pleasence – and gives them ample opportunity to act their heads off. The film's best moments include Donald Pleasence giving an all-out performance as a psychologist who smokes a feathered pipe and insists there is no such thing as madness, only people going on journeys where no others dare to. He gets to deliver instructions to his patients such as: "When you feel your intestines falling out, just wave your hands in front of your face three times and that will stop you from turning into porcelain." The film opens on a wittily bizarre dream sequence with Martin Landau entering a snowbound cafe filled with bizarre characters and ending up strung upside down and threatened by a meat cleaver-wielding cook played by Donald Pleasence.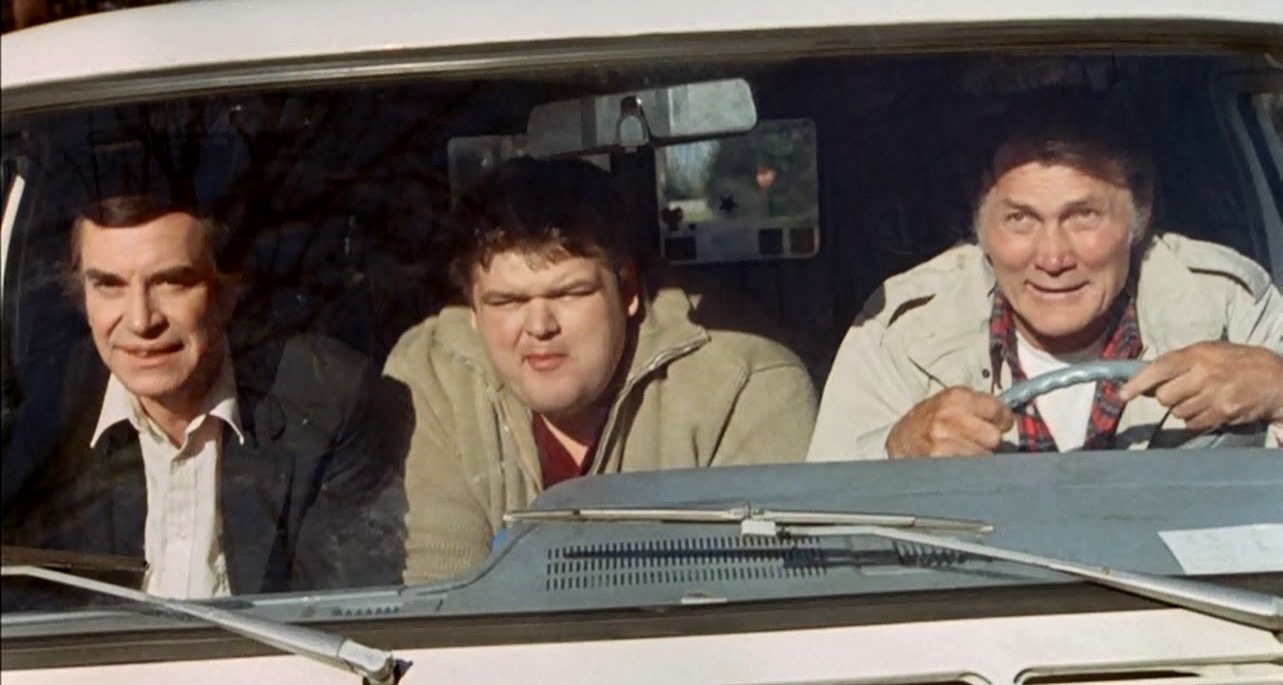 Unfortunately, where the film should start getting scary, director Jack Sholder only produces confusion. Frequently, Sholder disorientingly throws one into the middle of stalking sequences without any explanation of the events leading up to them. The psychos are bumped off too perfunctorily and the epilogue, which makes a vaguely satiric contrast between an escaped psycho and a punk rock band, is anticlimactic. In places, the derivative quoting of sources – most notably Halloween (1978) with the stalking of babysitters and sinister vehicles following people – becomes tiresome.
Alone in the Dark featured the directorial debut of Jack Sholder who next made the silly A Nightmare on Elm Street Part II: Freddy's Revenge (1985) for New Line Cinema, redeemed himself with the great The Hidden (1987), but then went on to waste his promise amid a string of mediocre genre tv movies – By Dawn's Early Light (1990), 12:01 (1993), Dark Reflection (1994), The Omen (1995), Generation X (1996), 12 Days of Terror (2004) – and the likes of Wishmaster 2: Evil Never Dies (1999) and Arachnid (2001).
Alone in the Dark should not be confused with the Uwe Boll videogame adaptation of the same name Alone in the Dark (2005).
---
---